Giro d'Italia stage 20: Start times, preview of leg-snapper time trial that will decide pink jersey
Monte Lussari and its 22 percent ramps will play kingmaker as Thomas, Roglič, Almeida close in on blockbuster Giro finale.
Heading out the door? Read this article on the new Outside+ app available now on iOS devices for members! Download the app.
After 3,300km and 82 hours of racing, a 7km wall of pain on Saturday's 20th stage will decide who wins the maglia rosa of the Giro d'Italia.
Geraint Thomas and Primož Roglič are separated by just 26 seconds after 19 stages of one of the most attritional and tightly wound corsa rosa in memory.
And with João Almeida in third only 59 seconds down on Thomas, the pink jersey is most definitely still in play ahead of a stage that could deliver more drama than the rest of the race put together.
Saturday's time trial will be determined by the Monte Lussari climb that's overshadowed the entire Giro so far.
Stage 20 is one that packs aerodynamic considerations and bike change complications, but that will be decided by this horror climb that's been likened to the Zoncolan. The Lussari's double-digit ramps could see the seconds that currently separate the Giro's "big three" evaporate in a matter of meters.
"It's going to be exciting to watch, horrible to do," Thomas previewed.
Thomas, Roglič, and Almeida will speed out of Tarvisio late Saturday afternoon for a deceptively rolling opening 9.4km of the Giro's third ITT.
A tightly policed bike change area will see them switch from time trial bikes to a pure-climbing machine for a decisive ascent that looks drawn straight out of a comic book.
Monte Lussari points skyward from the start with a 15 percent ramp that stretches 5km. The opening grades will put riders deep into the red before a false-flat breather and legbreaker kick to a finishline that's only a stone's throw from the Slovenian border.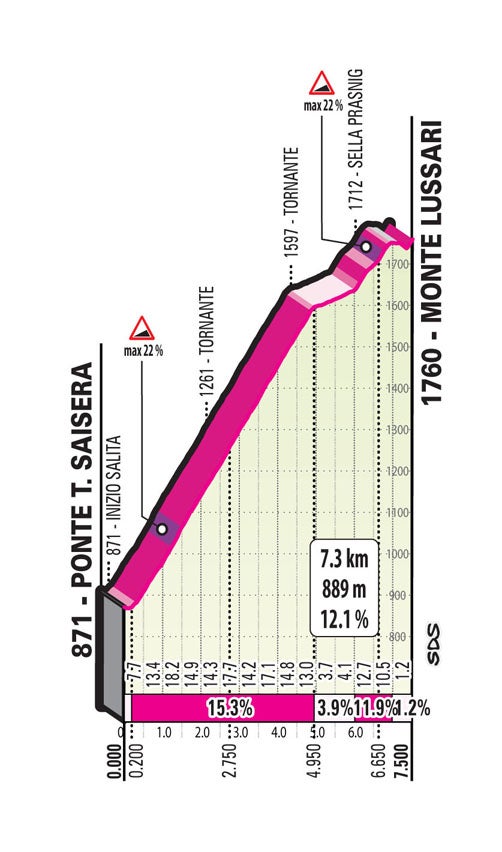 Despite the likelihood of massed support from home, Roglič might be getting chills Saturday morning. The Giro's Alpine TT looks like the Planche des Belles Filles final of the 2020 Tour de France, only turned up to factor 12.
The Slovenian wasn't giving much away Friday after he clawed three seconds back from Thomas on the Tre Cime di Lavaredo.
"If I wasn't confident, I wouldn't start," Roglič said of Saturday's stage. "The best one will win, eh."
And it's not just the podium positions that are on a knife-edge after 19 days of racing.
Classification spots four through nine are separated by less than two minutes and potentially palmarès-topping results are at stake all through the top of the GC.
Mechanics on motos and a tightly policed bike-change box
The goat path-style Lussari climb forced organizers to impose a series of unique regulations over the stage Saturday.
No time trial bikes will be allowed on the severe gradient of the Lussari.
A marked-out 25m bike change area close to the foot of the Alp will see racers scrambling onto climbing bikes that pack the tiniest gears on the team truck.
Team cars are also forbidden on the extra-narrow ascent, meaning staffers will be required to follow riders on motorbikes. Expect to see mechanics hauling spare bikes on their shoulders while they cling to the back of a stalling race moto.
The maglia rosa-defining madness kick-starts 11.30 CET. Almeida, Roglič, and Thomas roll down the start ramp in a six-minute window that starts at 17:08 CET.
Don't miss it.
Giro d'Italia stage 20: Start times
| | | | |
| --- | --- | --- | --- |
| 1 | Nicolas Dalla Valle |  Corratec-Selle Italia | 11:30:00 |
| 2 | Alberto Dainese |  Team DSM | 11:31:00 |
| 3 | Alberto Torres |  Movistar Team | 11:32:00 |
| 4 | Yukiya Arashiro |  Bahrain Victorious | 11:33:00 |
| 5 | Alexander Krieger |  Alpecin-Deceuninck | 11:34:00 |
| 6 | Alessandro Iacchi |  Corratec-Selle Italia | 11:35:00 |
| 7 | Mark Cavendish |  Astana Qazaqstan | 11:36:00 |
| 8 | Filippo Fiorelli |  Green Project-Bardiani CSF Faizané | 11:37:00 |
| 9 | Alan Riou | Arkéa Samsic | 11:38:00 |
| 10 | Fernando Gaviria |  Movistar Team | 11:39:00 |
| 11 | Charles Quartermann |  Corratec-Selle Italia | 11:40:00 |
| 12 | Fabian Lienhard |  Groupama-FDJ | 11:41:00 |
| 13 | Jonas Hvideberg |  Team DSM | 11:42:00 |
| 14 | Arne Marit |  Intermarché-Circus-Wanty | 11:43:00 |
| 15 | Simone Consonni |  Cofidis | 11:44:00 |
| 16 | Daan Hoole |  Trek-Segafredo | 11:45:00 |
| 17 | Campbell Stewart |  Jayco-AlUla | 11:46:00 |
| 18 | Max Kanter |  Movistar Team | 11:47:00 |
| 19 | Gianni Moscon |  Astana Qazaqstan | 11:48:00 |
| 20 | Filippo Magli |  Green Project-Bardiani CSF Faizané | 11:49:00 |
| 21 | Ignata Konovalovas |  Groupama-FDJ | 11:50:00 |
| 22 | Niklas Markl |  Team DSM | 11:51:00 |
| 23 | Jonathan Milan |  Bahrain Victorious | 11:52:00 |
| 24 | Aleksander Konychev |  Corratec-Selle Italia | 11:53:00 |
| 25 | Martin Marcellusi |  Green Project-Bardiani CSF Faizané | 11:54:00 |
| 26 | Otto Vergaerde |  Trek-Segafredo | 11:55:00 |
| 27 | Veljko Stojnic |  Corratec-Selle Italia | 11:56:00 |
| 28 | Cesare Benedetti |  Bora-Hansgrohe | 11:57:00 |
| 29 | Alex Kirsch |  Trek-Segafredo | 11:58:00 |
| 30 | Diego Sevilla Lopez |  Eolo Kometa | 11:59:00 |
| 31 | Lukas Postlberger |  Jayco-AlUla | 12:00:00 |
| 32 | Stephen Williams |  Israel-Premier Tech | 12:01:00 |
| 33 | Jake Stewart |  Groupama-FDJ | 12:02:00 |
| 34 | Thibault Guernalec |  Arkéa-Samsic | 12:03:00 |
| 35 | Senne Leysen |  Alpecin-Deceuninck | 12:04:00 |
| 36 | Edoardo Affini |  Jumbo-Visma | 12:05:00 |
| 37 | Alexandre Delettre |  Cofidis | 12:06:00 |
| 38 | Laurenz Rex |  Intermarché-Circus-Wanty | 12:07:00 |
| 39 | Henok Muluebrhan |  Green Project-Bardiani CSF Faizané | 12:08:00 |
| 40 | Michel Ries |  Arkéa-Samsic | 12:09:00 |
| 41 | Kristian Sbaragli |  Alpecin-Deceuninck | 12:10:00 |
| 42 | Karel Vacek |  Corratec-Selle Italia | 12:11:00 |
| 43 | Hugo Toumire |  Cofidis | 12:12:00 |
| 44 | Pascal Ackermann |  UAE Team Emirates | 12:13:00 |
| 45 | Davide Bais |  Eolo Kometa | 12:14:00 |
| 46 | JosE' Joaquin Rojas |  Movistar Team | 13:50:00 |
| 47 | Mirco Maestri |  Eolo Kometa | 13:51:00 |
| 48 | Maxime Bouet |  Arkéa-Samsic | 13:52:00 |
| 49 | Michael Hepburn |  Jayco-AlUla | 13:53:00 |
| 50 | Thomas Gloag |  Jumbo-Visma | 13:54:00 |
| 51 | Jasha Sutterlin |  Bahrain Victorious | 13:55:00 |
| 52 | Alex Baudin |  AG2R Citroën | 13:56:00 |
| 53 | Sebastian Berwick |  Israel-Premier Tech | 13:57:00 |
| 54 | Marius Mayrhofer |  Team DSM | 13:58:00 |
| 55 | Vincenzo Albanese |  Eolo Kometa | 13:59:00 |
| 56 | Salvatore Puccio |  Ineos Grenadiers | 14:00:00 |
| 57 | Rudy Molard |  Groupama-FDJ | 14:01:00 |
| 58 | Ryan Gibbons |  UAE Team Emirates | 14:02:00 |
| 59 | Thomas Champion |  Cofidis | 14:03:00 |
| 60 | Francesco Gavazzi |  Eolo Kometa | 14:04:00 |
| 61 | Andrea Pasqualon |  Bahrain Victorious | 14:05:00 |
| 62 | Davide Gabburo |  Green Project-Bardiani CSF Faizané | 14:06:00 |
| 63 | Michael Matthews |  Jayco-AlUla | 14:07:00 |
| 64 | Magnus Cort Nielsen |  EF Education-EasyPost | 14:08:00 |
| 65 | Ben Swift |  Ineos Grenadiers | 14:09:00 |
| 66 | Pieter Serry |  Soudal-Quickstep | 14:10:00 |
| 67 | Christian Scaroni |  Astana Qazaqstan | 14:11:00 |
| 68 | Joseph Dombrowski |  Astana Qazaqstan | 14:12:00 |
| 69 | Matthew Riccitello |  Israel-Premier Tech | 14:13:00 |
| 70 | Ben Healy |  EF Education-EasyPost | 14:14:00 |
| 71 | Nico Denz |  Bora-Hansgrohe | 14:15:00 |
| 72 | William Barta |  Movistar Team | 14:16:00 |
| 73 | Francois Bidard |  Cofidis | 14:17:00 |
| 74 | Jefferson Cepeda Ortiz |  EF Education-EasyPost | 14:18:00 |
| 75 | Anton Palzer |  Bora-Hansgrohe | 14:19:00 |
| 76 | Mattia Bais |  Eolo Kometa | 14:20:00 |
| 77 | Alberto Bettiol |  EF Education-EasyPost | 14:21:00 |
| 78 | Bauke Mollema |  Trek-Segafredo | 14:22:00 |
| 79 | Verona Quintanilla |  Movistar Team | 14:23:00 |
| 80 | Lorenzo Rota |  Intermarché-Circus-Wanty | 14:24:00 |
| 81 | Stefano Oldani |  Alpecin-Deceuninck | 14:25:00 |
| 82 | Vadim Pronskiy |  Astana Qazaqstan | 14:26:00 |
| 83 | Larry Warbasse |  AG2R Citroën | 14:27:00 |
| 84 | Alessandro Tonelli |  Green Project-Bardiani CSF Faizané | 14:28:00 |
| 85 | Edoardo Zambanini |  Bahrain Victorious | 14:29:00 |
| 86 | Bob Jungels |  Bora-Hansgrohe | 16:05:00 |
| 87 | Alessandro de Marchi |  Jayco-AlUla | 16:06:00 |
| 88 | Rohan Dennis |  Jumbo-Visma | 16:07:00 |
| 89 | Valen Paret-Peintre |  AG2R Citroën | 16:08:00 |
| 90 | Jay Vine |  UAE Team Emirates | 16:09:00 |
| 91 | Sam Oomen |  Jumbo-Visma | 16:10:00 |
| 92 | Marco Frigo |  Israel-Premier Tech | 16:11:00 |
| 93 | Michel Hessmann |  Jumbo-Visma | 16:12:00 |
| 94 | Jon Lastra Martinez |  Cofidis | 16:13:00 |
| 95 | Brandon McNulty |  UAE Team Emirates | 16:14:00 |
| 96 | Davide Formolo |  UAE Team Emirates | 16:15:00 |
| 97 | Toms Skujins |  Trek-Segafredo | 16:16:00 |
| 98 | Diego Ulissi |  UAE Team Emirates | 16:17:00 |
| 99 | Laurens Huys |  Intermarché-Circus-Wanty | 16:18:00 |
| 100 | Simone Velasco |  Astana Qazaqstan | 16:19:00 |
| 101 | Koen Bouwman |  Jumbo-Visma | 16:20:00 |
| 102 | Nicolas Prodhomme |  AG2R Citroën | 16:21:00 |
| 103 | Luis Leon Sanchez |  Astana Qazaqstan | 16:22:00 |
| 104 | Derek Gee |  Israel-Premier Tech | 16:23:00 |
| 105 | Lorenzo Fortunato |  Eolo Kometa | 16:24:00 |
| 106 | Patrick Konrad |  Bora-Hansgrohe | 16:25:00 |
| 107 | Jack Haig |  Bahrain Victorious | 16:26:00 |
| 108 | Filippo Zana |  Jayco-AlUla | 16:27:00 |
| 109 | Warren Barguil |  Arkéa-Samsic | 16:28:00 |
| 110 | Bruno Armirail |  Groupama-FDJ | 16:29:00 |
| 111 | Sepp Kuss |  Jumbo-Visma | 16:32:00 |
| 112 | Aureli Paret-Peintre |  AG2R Citroën | 16:35:00 |
| 113 | Ilan van Wilder |  Soudal-Quickstep | 16:38:00 |
| 114 | Santiago Buitrago |  Bahrain Victorious | 16:41:00 |
| 115 | Einer Rubio Reyes |  Movistar Team | 16:44:00 |
| 116 | Laurens de Plus |  Ineos Grenadiers | 16:47:00 |
| 117 | Andreas Leknessund |  Team DSM | 16:50:00 |
| 118 | Lennard Kamna |  Bora-Hansgrohe | 16:53:00 |
| 119 | Thymen Arensman |  Ineos Grenadiers | 16:56:00 |
| 120 | Thibaut Pinot |  Groupama-FDJ | 16:59:00 |
| 121 | Edward Dunbar |  Jayco-AlUla | 17:02:00 |
| 122 | Damiano Caruso |  Bahrain Victorious | 17:05:00 |
| 123 | Joao Pedro Almeida |  UAE Team Emirates | 17:08:00 |
| 124 | Primoz Roglic |  Jumbo-Visma | 17:11:00 |
| 125 | Geraint Thomas |  Ineos Grenadiers | 17:14:00 |