Giro d'Italia ticker: Almeida relishes career-best third on GC, Lefevere blasts mountain TT
All the headlines for the season's first grand tour at the Giro d'Italia from May 6-28.
Heading out the door? Read this article on the new Outside+ app available now on iOS devices for members! Download the app.
João Almeida on third-place finish: 'Hopefully this is just the beginning'
João Almeida was relishing being on the brink of a career-best grand tour podium finish after Saturday's dramatic stage 20 time trial.
The young Portuguese finished third on the stage Saturday to book himself in for third on the GC podium when the Giro concludes Sunday night.
The UAE Emirates captain will also take the top step after stage 21 when he claims the maglia bianca of best young rider.
"This is very good, I have achieved my goal, and I also won a stage. I'm very satisfied and can look forward to the future. Hopefully this is just the beginning," Almeida told Eurosport after stage 20.
Almeida's podium is the first by a Portuguese rider in a grand tour since the 1970s.
Almeida's ride to third Saturday was overshadowed by the drama unfurling behind him as Primož Roglič ousted Geraint Thomas from the pink jersey.
The 24-year-old finished an impressive two seconds back on Thomas in one of the most severe mountain TTs in memory.
"I tried to put in a good effort and not blow myself up. I think I did a good climb, getting better every kilometer. I'm very content. Primož was just incredible," he said.
"I expected them [Roglič and Thomas] to be faster than me. I think I was in the hot seat for 20 seconds, so I couldn't really enjoy it, but I am happy with the result."
Patrick Lefevere blasts stage 20 mountain time trial
Patrick Lefevere is no fan of the Giro d'Italia's stage 20 time trial.
The Soudal Quick-Step team boss used his column in Het Nieuwsblad to blast Saturday's stage and its extra steep Monte Lussari climb.
"A time trial decides the Giro today, although you can also call it a circus. I'm not going to weigh my words: how the course is designed, I am against it 300 percent," Lefevere wrote Saturday.
"I don't understand the fascination with these extreme gradients of climb. This Giro has provided proof,  the steeper the mountain, the more often it gives birth to a mouse."
Lefevere will see just two of his riders in action Saturday. Remco Evenepoel was the highest-profile victim when COVID decimated the Quick-Step squad in the second week of racing, and only Ilan Van Wilder and Pieter Serry remain.
Lefevere likened the gear ratios his riders were resorting to for the 15 percent ramps of the Lussari to those used by mountain bikers.
"In the stage to Crans Montana, the peloton wanted a shortening of the stage and they got it. But then I don't understand why they let today's time trial pass," he wrote. "Ilan Van Wilder rides the time trial with a 36×34 gear. That's mountain biking, not road racing. I think we should monitor the boundaries of the various disciplines more strictly."
Hugh Carthy abandons ahead of stage 19
Hugh Carthy became the 51st rider to leave the Giro d'Italia.
Carthy's EF Education-EasyPost team confirmed Friday morning that the Brit climber is leaving the corsa rosa sick.
The 28-year-old had been on the fringes of the GC top-10 through the past two weeks and finished the stage Thursday in 14th overall.
"Hugh Carthy won't be able to start today's stage of the Giro d'Italia. He has been struggling with stomach issues for a few days so he'll return home to rest and recover. Great effort, Hugh," read a message from the team.
EF Education-EasyPost is now down to four riders after Rigoberto Urán, Stefan de Bod, and Jonathan Caicedo previously abandoned.
Thibaut Pinot vows to defend climber's jersey
Thibaut Pinot was more subdued in his statements Thursday after losing the climbing stage to Filippo Zana in a two-up sprint to the line.
Last week, Pinot shot out at breakaway partners when he lost stage 13. On Thursday, the soon-to-be-retired Frenchman said he'd race to defend the King of the Mountains jersey to Rome.
"There is a lot less disappointment, it's part of the race," Pinot said Thursday. "I put in everything I had, it was a nice breakaway. I lost in the sprint, I started to sprint from a little far. I made a mistake but I have fewer regrets. The strongest won, and I missed it. I was not having a great day, otherwise I would have finished alone."
João Almeida limits losses
Joao Almeida limited his losses Thursday to keep his podium hopes very much alive.
UAE Team Emirates teammate Jay Vine helped pace the struggling Almeida on the steepest ramps, and though the Portuguese rider dropped from second to third, he's still firmly in range for what would be a first grand tour podium.
"They were stronger than me today. At the end of the day, I am still happy with the result. We are close to Rome, but it's still a long way to go," Almeida said. "Friday is still very hard. I hope to be close to them. It isn't a lot. If something happens, you can gain or less that easy. It's all about the legs. We will find out Friday."
Almeida started Friday 10 seconds behind Roglič and 39 seconds behind Thomas, but three minutes ahead of fourth-place Eddie Dunbar.
Eolo-Kometa makes plea for new sponsor
The second-tier Eolo-Kometa is making a public plea for new sponsors that will help the team hit its goal of reaching the WorldTour.
The team backed by ex-pros Alberto Contador and Ivan Basso posted a press release asking for help in its sponsor search.
"Our sporting future, that of the Alberto Contador Foundation, is settled and guaranteed. However, we need a title sponsor that will allow us to continue taking steps forward, to face new horizons with ambition and become one of the best teams in the Professional Continental category, always with the aim of reaching the WorldTour and competing in the best races, such as the Tour de France. It is time to find new travelling companions to help us make this project, which has already exceeded a decade of existence, even bigger," a statement read Friday.
Mark Cavendish unhappy at finish line
Mark Cavendish was not a happy camper at the end of Wednesday's bunch sprint.
The stage was an ideal chance for Cavendish to win a stage, but he was boxed out in the messy run to the line, and crossed the line 19th without contesting for the win.
Eurosport cameras caught Cavendish at the line arguing with a rider from Green Project-Bardiani CSF-Faizanè.
"You can see there are a couple of arguments," said Eurosport reporter Adam Blythe sat the finish line. "But we do not want to get involved with this. There are arguments and people getting in the way.
"It was such a technical finale, there is always going to be a little bit of a kick-off here in the finale of the Giro today.
"You can see that Mark Cavendish is not a happy man today. He has missed out on a sprint opportunity, and it looks to be something with arguments happening in the middle of the peloton."
Sunday's final stage in Rome could also finish in a bunch kick, but Cavendish and the other sprinters have to survive three straight days of climbing to get there.
Roglič hanging on in GC fight
Primož Roglič's sport director said that the Slovenian was running on empty during Tuesday's summit finish on the Monte Bondone.
Roglič was distanced in the final kilometers of the stage and was paced to the finish by Sepp Kuss. He ultimately lost 25 seconds to Geraint Thomas and Jao Almeida, and now sits 29 seconds behind Thomas in the general classification.
Roglič is the last rider sitting within a minute of the pink jersey going into the last five stages.
"We decided to take control and ride a solid pace on the final climb", he said. After the other teams got involved at the front, it turned out that Primoz didn't have his best legs", sports director Marc Reef said. "He rode completely empty with Sepp. The first three riders are within half a minute of each other. We lost a battle here, but certainly not the war. There is still a lot to come over the next few days, so we have confidence in the best possible outcome. In the coming days, we will utilize the team's qualities to fight for victory."
Pavel Sivakov abandon a blow for Geraint Thomas
Though he wasn't able to beat João Almeida for the stage win, Geraint Thomas moved back into the Giro d'Italia's pink jersey Tuesday after attacking on the final climb.
The Welshman has a slim 18-second lead over Almeida in the GC, but he suffered a blow to his chances with teammate Pavel Sivakov climbing off mid-way through the stage. The French rider had been struggling with injury after coming down in a fall that forced Tao Geoghegan Hart to abandon last week.
With Filippo Ganna also out of the race with COVID-19, Ineos Grenadiers has lost three riders from their eight-man line-up.
"G came back into the pink jersey. I'm super happy for him, but disappointed as I think winning the stage would have been great after many second positions. But in the end, it's a good day for us. The team was super strong. Today was the first big test, now it's super important to recover and focus for the next mountain stage.
"Pavel after the crash with Tao has not recovered. This morning and during the rest day he was suffering a lot. For us it's one less rider but I have five riders who are super strong. I have confidence in them and what's important now is recovery.
"G is strong and this was a perfect climb for him. The last two mountain stages are harder and now it's important to recover and stay calm."
Almeida ready for final-week attacks
João Almeida has survived everything in two weeks, from crashes and brushes with COVID, to illness and bad weather.
Now the Portuguese rider is poised for a podium and perhaps even more as the Giro pedals into the final week.
"I crashed, I was sick, and now I believe I'm arriving at a good moment," Almeida told MARCA. "We are ready to give everything. To have such a strong group around me makes things even easier."
Almeida starts Tuesday's stage in fourth, and UAE is flying high following stage wins from Brandon McNulty and Pascal Ackermann.
Almeida tried a flare in Sunday's stage as a test of his direct rivals.
"We are equal on GC, and I wanted to see how the others were. It was a bit boring stage and that's why I wanted to try," he said. "I am surprised that Primož hasn't attacked more, but maybe he's affected by his crash and didn't feel very good. He will move in the end, and we cannot just sit there with our arms crossed."
Twitter spat draws out Armstrong
A Twitter message posted by Jonathan Vaughters over the weekend drew out a reaction from Lance Armstrong.
Vaughters wrote a message congratulating Ben Healy in his gracious defeat to Brandon McNulty on Sunday, lauding his young charge for not complaining or blaming others for his defeat, and threw some shade at Thibaut Pinot.
Pinot reacted, asking, "Who are you?"
That prompted Vaughters' longtime sparring partner and nemesis Armstrong to react with his own pointed barb.
The Twitter tit-for-tat drew plenty of responses.
Proud to see that @_BHealyyy congratulated the winner, and didn't go cry to the media about how life is sometimes unfair. Great attitude. Great person. Great rider.

— Jonathan Vaughters (@Vaughters) May 21, 2023
Pinot rages at breakaway rivals
Thibaut Pinot railed at breakaway rivals Jefferson Cepeda (EF Education-EasyPost) and Einer Rubio (Movistar) after he missed his chance at a stage win Friday.
The Groupama-FDJ captain uncorked a full attacking assault on the Crans-Montana summit finish of stage 13 only to see his efforts parried by his two wily sparring partners.
Rubio sprinted for the win atop the Swiss climb, leaving Pinot second-best and steaming with rage.
"I'm disappointed, furious. They took advantage of me," Pinot said that the line. "They know I am generous in my efforts. Winning this way is impossible for me. If I don't ride, we get caught and the peloton overtakes us. I hope they [Cepeda and Rubio] come and thank me for my hard work."
Pinot didn't spare his fury at third-place finisher Cepeda, who he felt was worst wheelsucker culprit of his two rivals.
"I'm happy he didn't win. I really didn't want that," Pinot said. "I'd rather it was Rubio who took the stage victory. I would have given anything not to let Cepeda win."
#Giro #GirodItalia https://t.co/TCtqXeRdAs pic.twitter.com/IgpIFRYKwP

— Giro d'Italia (@giroditalia) May 19, 2023
Pinot's ride Friday was good enough to put him back in the blue KoM jersey he lost to Davide Bais on stage 7 last week.
The Frenchman also vaulted up to 10th overall, but asserts a career second Giro stage win is the ultimate prize.
"Fortunately, the mountain jersey is a small consolation prize. I'm going to try to keep it as long as possible," Pinot said. "I don't care about the GC, but I hope there are still chances for a stage victory. It would be great to be able to put my hands in the air again."
Mark Cavendish loses Astana wingman
Astana-Qazaqstan lost its first rider Saturday after Samuele Battistella left the race sick.
The Italian climber would have made for a key pacemaker in Mark Cavendish's gruppetto as the Manx sprinter hunts for victory in the few remaining sprint finishes sprinkled into the extra-mountainous final phase of the race.
"Unfortunately, Samuele Battistella won't take start today due to gastrointestinal problems with fever. He is negative for COVID-19," read a tweet from the team. "We wish a very speedy recovery to Samuele!"
Battistella's exit ahead of stage 14 means that Jumbo-Visma and Bahrain Victorious are the only teams in the peloton still packing all eight of their starters.
Bad weather prompts route change
Giro d'Italia officials altered the route of Friday's key mountain stage due to bad weather conditions.
Instead of climbing the Gran-Saint-Bernard climb as scheduled, the stage will bypass the snow-choked climb and start at Le Châble near the base of the Croix de Couer and finish as planned at Crans-Montana in Switzerland.
The new distance is 74km, nearly two-thirds shorter than originally planned. Bad weather has marked much of this Giro, and forecasters are calling for more inclement conditions across the weekend.
"Given the adverse weather conditions, especially on the Italian side, the Commission decided to meet the athletes' requests by applying the Extreme Weather Protocol," a press note read Friday morning. "Stage 13 will be shortened with the new km 0 being set at Le Châble, at the bottom of the Croix de Couer. The final part of the stage remains unchanged."
Riders attended the sign-in at the original start and rolled through the neutral start zone Friday morning, and then jumped inside team buses to be driven to the new start in Le Châble.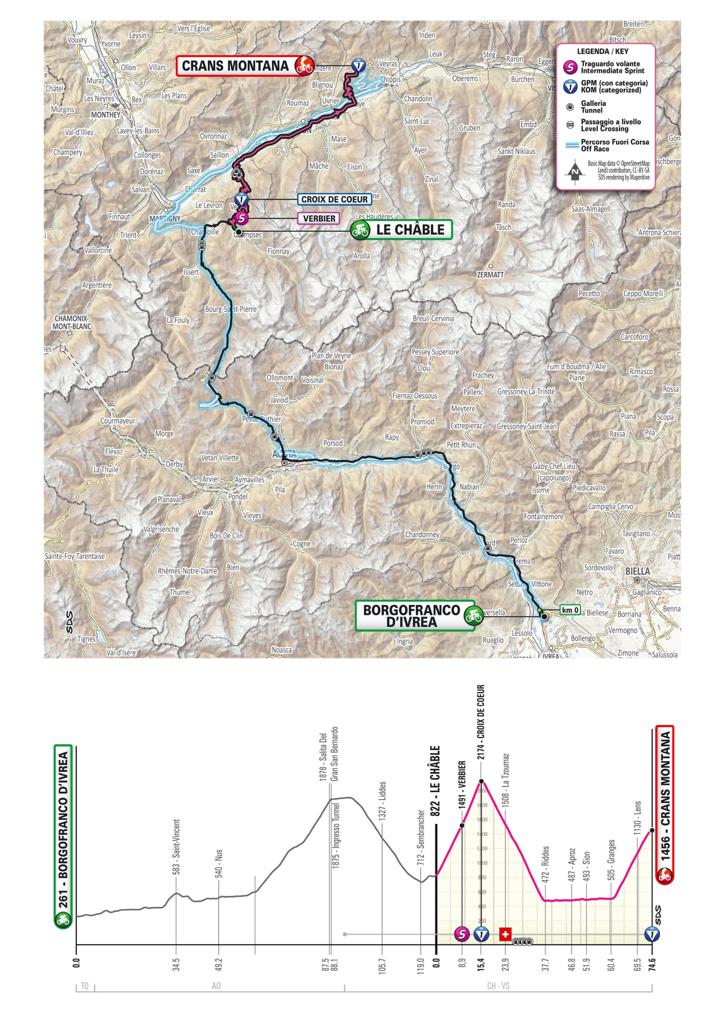 Mads Pedersen, Kaden Groves leave race with sickness
Two of the Giro's top sprinters left the race Thursday night and Friday morning.
Stage 6 winner Mads Pedersen is a DNS for stage 13 on Friday after suffering with a cough, while stage 5 winner Groves was a DNF on Thursday's 12th stage having picked up stomach problems.
Trek-Segafredo issued the following statement about Pedersen on Friday morning.
"Unfortunately we have to report that Mads won't take the start at today's stage of the Giro. Mads had a troubled night with a cough. He woke up this morning with a sore throat and tracheitis and is not fit to race."
Meanwhile, Groves failed to finish Thursday's stage into Rivoli.
"Sad news. Our sprinter Kaden Groves left the Giro d'Italia with gastrointestinal problems," read a statement from Groves' Alpecin-Deceuninck team.
"He has been suffering for several days and failed to recover sufficiently. So we have four riders left in the race. Have a speedy recovery, Kaden!"
The remaining pack of sprinters have few opportunities remaining as the Giro heads toward its extra-mountainous final week.
Stages 14 and 17 are the only sprinter-friendly stages remaining for the likes of Mark Cavendish, Pascal Ackermann, and points jersey-wearer Jonathan Milan.
Alessandro Covi DNS after crash
Alessandro Covi will not start Thursday's 12th stage at the Giro d'Italia. The Italian rider slipped out on a damp corner in a pileup in Wednesday's stage, and UAE Team Emirates officials said he will not continue.
"Alessandro sustained a possible fracture to his sacrum and will be unable to continue in this Giro. He will return home for definitive imaging," team doctor Jason Suter said.
Covi lost his front wheel and immediately went down, taking out several riders behind him, including the top-3 of the GC, with Tao Geoghegan Hart being forced to abandon.
"In one second, I was on the road," Covi said at the line Wednesday. "Sometimes that happens in cycling, and I am sorry for Geoghegan Hart. I hope I can recover and help João [Almeida]. I feel very bad. It was a very hard crash."
Sepp Kuss cuts finger in mishap
Sepp Kuss cut his finger taking off his shoe covers in Wednesday's chaotic stage, and made a joking reference to his high-speed move earlier in this Giro d'Italia when he changed his derailleur battery in a thrilling descent.
"I was taking off my shoe covers and my hand went into the front wheel," Kuss told Cyclingnews.
"I can change a battery on a rear derailleur but taking off my shoe covers got me," Kuss said.
Kuss was able to finish the stage and continues in the Giro. Despite the attrition hitting other teams, Jumbo-Visma started Thursday's 12th stage with all eight starters still in the race.
'Empty' Aleksandr Vlasov out of Giro
Bora-Hansgrohe lost its key GC rider Tuesday after Aleksandr Vlasov abandoned.
The Russian started the stage seventh overall, but suffered early in cold and wet conditions Tuesday. The team, which won the Giro last year with Jai Hindley, will now rally around Lennard Kämna.
"Aleks didn't feel 100 percent before the stage, but we weren't particularly worried then. After a few kilometers he was left behind and complained that he had no strength in his legs. It was clear then that he would not be able to finish the stage," said sport director Enrico Gasparotto. "In general, the conditions were on the limit today, with only four degrees plus rain on the first climb. There were also discussions of neutralizing the stage, but when the race organizer gave the green light, it then became a tough race."
Radsport-News reported that follow-up tests Tuesday revealed Vlasov tested positive for COVID-19, though team officials have yet to confirm that.
"Of course it's a pity that we lost Aleks," said sport director Jens Zemke. "We all put a lot of work into our preparation and on Sunday he put in a top performance in the time trial. This is a hard blow for us. The stage was really brutally tough as well. 2500 meters of elevation gain in the first part, then a long descent on cold and wet roads. Fortunately, Lenni made it through well. The guys did a great job and Koni was with him until the end."
Derek Gee oh-so-close again
Derek Gee (Israel Premier Tech) continued on his impressive grand tour debut Tuesday with his second second-place finish since the Giro d'Italia started.
The Canadian WorldTour rookie rode into the winning breakaway, and helped provide the turns to make it stick to the line.
"I think it's going to take a while for it to sink in what I did out there today but I'm really happy with my race," Gee said. "To be honest, this one hurts a little more [than the last second place] as I could really see the victory right there. I knew that Cort was faster than me and that I shouldn't go up against him head-to-head. I tried a late attack but ultimately, I ended in a sprint against him anyway. The Giro is still long but I will try not to think about that right now as my legs really hurt after today."
Soudal Quick-Step doctor steamed at Evenepoel exit
Soudal Quick-Step doctor Yvan Vanmol blamed poor health measures and safety protocols in part for Remco Evenepoel's COVID exit from the Giro d'Italia on Sunday.
Speaking to Sporza, the team doctor said more should have been done once a string of COVID cases popped up before the Giro started.
"Remco is very unhappy. You make so many sacrifices, but due to the negligence and lack of professionalism of the organization you have to leave the Giro as the leader," Vanmol said in a radio interview.
"If you see what happened in the first days; a press conference in a small room, full of people: that is not possible. Yes, this angers me," he said. "It is the chronicle of a death foretold, because before the Giro there were all those infections at Jumbo-Visma."
Evenepoel returned home to recovery, but Vanmol said the COVID concerns will carry over to the Tour de France and Vuelta a España.
"There were already questions to the organization, for example, to do the press conferences via video call, but that was apparently impossible," he said. "I am not saying that the infections of Remco and Ganna could have been avoided, but the chance should have been greatly reduced.
"These problems will also occur in the Tour and the Vuelta in the future," Vanmol said. "There must be clear protocols. Not that it has to be as strict as a few years ago, but people have to sit around the table, also with the team doctors."
Team boss Patrick Lefevere also said it's "too early" to talk about Evenepoel possibly rebooting to race the Tour de France in July.
Cima Coppi changed due to snow
The Giro d'Italia's highest point will not longer be the Gran-Saint-Bernard climb featured in Friday's epic climbing stage across the Alps.
Due to the threat of avalanches, race organizers will take the peloton through a tunnel rather than over the top of the 2,469m summit straddling the Italian and French borders.
"Given the exceptional snowfall, and in the light of the avalanche danger, it is announced that the race will not pass over the Great St. Bernard Pass, but through the tunnel," a race note stated. "The Cima Coppi will be moved to the finish at the Tre Cime di Lavaredo. The Gran San Bernardo remains a 1st category climb, and points will be awarded accordingly."
The first climber over the top receives a special prime for the prize named for the famed Italian racer Fausto Coppi.
Mask mandates back for Giro d'Italia
The high-profile spike in COVID-19 cases at the Giro d'Italia is prompting race organizers to revive mask mandates for public areas at the starts and finishes at each stage.
Several riders, including race leader Remco Evenepoel, Filippo Ganna, and Rigoberto Urán, have left the Giro following a COVID test diagnosis.
On Monday, the Giro organizers reinstated mask requirements that will extend to staffers, race personnel, and media. Here's what they said:
In the light of the latest developments concerning positive tests results on some riders, the Direction of the Giro d'Italia informs that wearing a face mask will be compulsory in all areas of contact with the riders. The areas in which the obligation will be enforced include, but are not limited to:
• team buses parking (at the start and at the finish);
• signature check podium area;
• prize ceremony podium area;
• post-race mixed zone;
• finish line area;
• press conference area;
• anti-doping control area.
Andreas Leknessund proudly cedes pink jersey
Andreas Leknessund knew his five-day run in the pink jersey would end in Sunday's time trial, but he went down swinging at the Giro d'Italia.
The Norwegian stopped the clock at 1:15 slower at 19th, and slipped out of the lead into sixth overall (now fifth with Remco Evenepoel's departure).
"It was my last day in pink and I was really motivated to give it my all, and that's what I did," Leknessund said. "As expected we lost the jersey but I think we finished off the five days in a good way. I'm looking forward to the rest day and then the last two weeks in the Giro where I think as a team we will continue to ride well and there is more to come from this group, for sure."
Team DSM coach Matt Winston said the team was proud of his efforts.
"I think Andreas did a really good job today. Finishing one minute and 15 seconds behind Evenepoel, I think that's a really solid effort," he said. "Even on a day where we weren't in the maglia rosa I would be happy with that performance. After some hard days racing, he did the jersey really proud, and did an excellent job. We of course lose the jersey this evening and I think we can look back on the last five days, nine days even, with a lot of pride and be really happy with what we have done this first week."
Evenepoel tips hat to Roglič
Remco Evenepoel tipped his hat to rival Primož Roglič and the Slovenian's impressive display Saturday. The reigning world champion ceded 14 seconds to Roglič, and hopes to claw some back in Sunday's time trial.
"I made a mistake by trying to bridge to Primož at a distance of 700 meters from the top," Evenepoel told Het Laaste Nieuws. "I get to about five meters, but I was blocked there. Then I saw Primož pull away meter by meter. He must have had a super day, because getting away in this stage is quite spectacular.
"Primož simply has more explosive power than I do. Just like Pogačar, he is among the best in the peloton in that respect," he said. "The loss of time is a pity, but it is what it is. Losing 14 seconds at eight kilometers is not very much, but it would have been better nothing. Still, I take my hat off to the work of his team."
For Sunday's time trial, Evenepoel is hoping for a repeat of his performance last week to open the Giro: "I got 43 seconds on everyone in the last time trial, so I hope to do that, if not even more."
UCI not happy with Giro helicopter transfers
The UCI expressed its consternation after Giro organizers flew some of the top riders off the summit of Gran Sasso on Friday, while others were forced to endure a long evacuation and transfer.
Race organizers have long ferried top stars and riders off faraway summit finales who appear on the winner's podium after each stage. The rationale is that the stage-winners and riders who are in the leader's jerseys see their respective recoveries and resting periods impacted by the post-stage protocols.
The cycling governing body, perhaps from pressure from other teams, called out the practice, and said it will try to prevent future helicopter trips. The UCI said the helicopter riders were both unfair and cited the flights' carbon footprint.
The UCI posted this note on its website:
"The Union Cycliste Internationale (UCI) notes that helicopter transport was used by some riders to leave the finish area after the end of the 7th stage of the Giro d'Italia, between Capua and Gran Sasso d'Italia.
"This constitutes an advantage that goes against the principles of fair play and the regulatory provisions for ensuring equal treatment for transfer of teams to their hotels. In addition, some riders' use of a helicopter transport for this purpose goes against the principle of carbon footprint reduction, as stated in the UCI WorldTour organiser specifications.
"The UCI will take necessary measures and sanctions to ensure that such a practice does not occur in the future.
"The UCI firmly condemns this behavior which goes against the principles of fair play and equity, the fundamental values of sport."
Mads Pedersen completes GT sweep
With victory Thursday, the Dane rounds out the "grand tour sweep," with victories in all three grand tours.
The W comes as Pedersen also won stages last year in both the Tour de France and Vuelta a España, giving him the distinction of becoming the first rider to win a stage at three consecutive grand tours since Tom Dumoulin (Vuelta 2015, Giro 2016, Tour 2016).
"Luckily we managed to catch De Marchi and Clarke, but it was an organized chase today. The team is built around me so I have to give something back and I'm happy with what I've done today," the Trek-Segafredo rider said. "I'm definitely not going for the stage win [Friday]. We first have to take care of the team as we burned a few matches today. Then we'll look at the road book to target another stage win. Right now, I'm just happy with the victory we came for."
The win is his 30th pro victory, and the last stage at the Giro for a Danish racer was by Lars Bak some 11 years ago at Sestri Levante.
Gusts blow down Marit, Cavendish
Mark Cavendish and Arne Marit were among the riders crashing in Thursday's sixth stage, with big gusts of wind cited as the culprit.
"I fell on a descent because the wind blew me away in a corner," the Intermarché-Circus-Wanty rider wrote on social media. "That's my third crash in two days. The coming days will be difficult, but we will keep fighting."
Astsana-Qazaqstan also pointed to heavy winds as the cause of the crash that took down Cavendish, who also crashed and slid across the finish line in wet roads Wednesday.
They rolled in with a group at 18 minutes back, and despite some more cuts and scrapes, both are expected to start Friday.
Remco Evenepoel brushes off crashes to continue in Giro d'Italia
Remco Evenepoel brushed off two heavy crashes to take the start in Thursday's sixth stage at the Giro d'Italia.
The world champion endured a rough night after crashing twice Wednesday. He was taken down early when a dog stepped into the race route and provoked a pileup. He later crashed near the finish line after bumping shoulders with another rider within the 3km to go "safe" zone.
"I had a good night's sleep and I was well looked after. We think everything is under control," Evenepoel told Sporza. "All is OK."
A smiling Evenepoel appeared at sign-on Thursday morning, and kicked around a soccer ball.
"That crash was frustrating," he said. "I did everything I could to safely enter the last kilometers. Arkéa-Samsic asked for space. I looked to the left and moved to the right. Then Trek passed me and with a shoulder bump I fell."
Peloton braces for more bad weather
The Giro d'Italia peloton is braced for the potential for more bad weather after the wet and wild fifth stage Wednesday that saw Remco Evenepoel, Primož Roglič, and Mark Cavendish among the many to hit the tarmac.
Local forecasts point toward showers and heavier downpours for the Napoli stage Thursday and cool weather for the Giro's first high mountain ascent Friday, the Apennine 2130m Gran Sasso d'Italia.
"The weather situation is expected to gradually improve, but it will be a variable day with local afternoon instability in the hilly and more inland areas," states IlMeteo of Thursday's stage around the notoriously sketchy roads of Napoli.
"The possibility of a short rainstorm that could cause a few problems for riders is not excluded. In case of rain, the road will be really dangerous with a high risk of falls."
Forecasts for the snow-capped Gran Sasso "Campo Imperatore" summit of stage 7 indicate largely dry weather but temperatures as low as 5 degrees C (41F).
❄️🧱 Nice 4 m high snow walls on Campo Imperatore – Stage 7 MTF. Next Friday on May 12. Summit at 2,130 m. #Giro pic.twitter.com/KZzsOeglfn

— ammattipyöräily (@ammattipyoraily) May 7, 2023
Alberto Dainese relegated from fourth place after Cavendish stage 5 crash
DSM sprinter Alberto Daniese was relegated for a dangerous move late in the stage 5 bunch sprint.
The high-speed finale saw riders squeezed up alongside the right-hand barriers on a rain-slicked road surface in Salerno. The jostle for position left Mark Cavendish losing balance and sliding across the finish line.
UCI officials confirmed shortly after the finish Wednesday that the young Italian would be penalized after he was deemed to cut into Cavendish's line.
"Following a review from the race jury, Alberto Daniese has been relegated in the results of today's sprint finish. We accept the jury's decision and once again hope those who crashed in the finale are OK," read a tweet from team DSM.
The ruling means Cavendish moves up to fourth in the day's results.
Geraint Thomas 'decent' after first touch of mountains
Geraint Thomas was content with Tuesday's first touch of climbing at the Giro d'Italia. Ineos Grenadiers put all of its key riders into the front, while GC favorite Remco Evenepoel was left isolated on the second-category summit.
"It was all good coming into the final climb. It was a good first day. It was nice to get a decent day in the legs, rather than a big explosion in the end," Thomas said at the line. "The hope is I get better through it, but at the moment it's OK."
Thomas and Ineos Grenadiers teammate Tao Geoghegan-Hart remain safely tucked into the top-10 on GC.
"You can see a few teams don't have the best tires, and they looked a bit nervous. but I have confidence in ours and I felt pretty safe and confident on the descents," he said.
"You never know if the weather stays like this, anything can happen at any time at any day," he said of expected cold and rain. "We can only take it day by day, and not look too far ahead."
Thibaut Pinot rides into KoM
Thibaut Pinot, set to retire at the end of the season, rode into the King of the Mountains jersey Monday. Despite a break moving up the road Tuesday, the Groupama-FDJ rider was back on the podium after the stage.
"It's always good to wear a distinctive jersey," Pinot said. "For now, that's not a goal. I'm focused on the GC. It's a nice bonus and it makes me happy to have this jersey for the first time. It is also my first distinctive jersey on the Giro, and it cost me nothing. It also allows us to break the bad spiral a bit, after Rudy's crash, the time trial where we were hoping for a bit better and yesterday's split. We can restart on the right foot and that's a good thing."
His GC hopes took a blow with a rough time trial and then splits in the first sprint, but he's settled into 20th overall at 2:33 back.
Illness takes out first Giro rider
Paul Lapeira became the first rider forced to abandon the 2023 Giro d'Italia.
The French rider on Ag2r-Citroën fell ill, and pulled out during Tuesday's fourth stage.
"Paul Lapeira has had a flu-like illness since the third stage of the Giro d'Italia which forced him to retire from the first kilometers of the fourth stage. He will observe a rest period on his return to France before returning to training," said Dr. Cyril Barthomeuf, Ag2r-Citroën team doctor.
The 22-year-old rider was competing in his first big lap. Escaped during the second stage, the Norman won the best climber's jersey that he wore one day.
Another Jumbo-Visma setback: Jan Tratnik will not race after training crash
Pre-race troubles continue for Jumbo-Visma and the team of pink jersey favorite Primož Roglič.
Key helper Jan Tratnik is out following a training crash Friday, and the UCI gave the team the OK to replace him with Tom Gloag.
Three others were replaced due to COVID-19 infections and Wilco Kelderman also missed the Giro due to injury, opening the door for Sepp Kuss to return to the Giro.
"Unfortunately we have to substitute a fifth rider due to the traffic accident with Jan Tratnik earlier today. He will be replaced by the talented Tom Gloag," a team note read.
Mark Cavendish hunting win 17 after bumpy start to season
Mark Cavendish accepts he's facing headwinds this month in his hunt for a 17th Giro d'Italia stage win.
The Manx speedster has yet to get off the mark since he joined Aatana-Qazaqstan this winter and is scrambling for form after he abandoned the recent Tour de Romandie with illness.
"I've had a couple of sickness bugs this year, but fortunately nothing too severe. Missing days of training or racing is never ideal, but I'll always try to make the most of where I'm at," Cavendish said Thursday.
Cavendish raced four Giri in his early career but then went nine years without the Italian race.
He immediately booted back to winning ways when he kicked to stage 3 victory in his return to the race last year.
"The Giro d'Italia is a race that I enjoy and has a special place in my heart," he said. "The nature of the course makes it unpredictable for how many sprint opportunities there are, but I'm looking forward to trying to add to my 16 stage wins."
Some eyebrows were raised when Astana Qazaqstan confirmed its Giro eight. Riders initially slated for leadout duties like Cees Bol, Gleb Syritsa, and Yevgeniy Fedorov are all out of the selection for this month's race.
Their absence will add to the difficulty of finding the winning line against the on-form Fernando Gaviria and Kaden Groves in the Giro's few bunch kicks.
"Having a team not focused solely on the sprints relieves the pressure from my shoulders slightly, though of course I'm hungry to try and win," Cavendish said. "Although we don't have a train, I know I have the confidence of my team around me in the flat days and I'll do all I can to support my teammates in the other stages."
Remco Evenepoel ready to take control early
Remco Evenepoel is ready to take control of the pink jersey as early as the opening "grande partenza."
Evenepoel is hunting a victory in Saturday's opening Abruzzo TT, a result which would land him directly into the "maglia rosa" with 20 stages still to come.
"If I can take the jersey on Saturday, why not," Evenepoel told the press Thursday. "We come here also to win stages. Last year I won the Vuelta with the red jersey on stage 6 so we already showed we're capable of controlling the race for a long period."
"We have a very balanced team, I think on paper we have maybe one of the strongest teams so I have a lot of confidence in them," he added.
With his huge TT engine, Evenepoel is being touted as a top favorite for this year's Giro d'Italia, which includes 70+ km of racing against the clock.
Although Evenepoel conceded Filippo Ganna might have the edge in the stage 1 time trial Saturday, the Belgian is eyeing the pan-flat 35km stage into Cesena the following weekend with a stage win and hint of pink in his eye.
"Stage 9 would be the perfect day to take the pink jersey and try to control the race from then," he said. "But the last week is so brutal that you can even take the jersey on stage 20 and become the winner of the Giro this year."
Evenepoel is focussing his Giro strategy around maxing out his gains in the easiest way possible.
The final week of this year's "corsa rosa" packs three huge mountain stages and an uphill TT into what is being touted as one of the hardest third weeks of the race in memory.
"I'm going to put everything on the TTs then take it as easy as possible in the other stages, not take actions myself," he said. "It's all about saving energy for the last week."
Ben Healy keen on big-mountain test
Breakout rider of 2023 Ben Healy is keen to test his mettle in the long-distance climbs waiting in the Giro d'Italia.
The Irish sensation, hot off an impressive showing in the Ardennes, is part of a deep EF Education-EasyPost team that also includes Rigoberto Urán, Hugh Carthy, and Magnus Cort.
"I surprised myself in the Ardennes and now the question is to find out how I can do in the Giro," Healy said a media call. "We're going into the Giro and take it day by day. We know it's going to be a hard race, so we hope the legs will still be good.
"I am an opportunistic rider, and this is a good race for me. I really like racing in Italy. It's brought me success in the past, and I am looking forward to the weeks ahead."
Healy won his first pro races this spring on Italian roads, and also won a stage in the 2021 Baby Giro. As a pro, he's never raced on the longer, high-altitude climbs that loom in the final week.
"It's also an unknown for me. It's not something I've had much of an opportunity to train on. I will find out in this race if it's something suits me well," he said. His goals? "I am here to test myself and see how far I can go. There are a lot of opportunities for breakaways and we will take it day by day."
EF Education-EasyPost swaps out Giro jersey
A fresh look for the team during the Giro. (Photo: Ashley and Jered Gruber/Gruber Images)
A new grand tour, and a new look for EF Education-EasyPost.
Both the men's team and EF Education-TIBCO-SVB will ride in special changeout kits at this year's Giro, but with a sustainable twist, officials said Wednesday.
The team's kit made by Rapha utilize a majority of excess fabrics to create the kits via up-cycling material otherwise destined for a landfill. The team-issue kit of the "Rapha Excess" line consists of 72 percent majority excess material. UCI rules around team kit consistency mandate that some new fabrics be used to ensure a degree of uniformity, officials said.
The sport's governing body mandates the EF Pro Cycling teams give up pink uniforms at the Giro since they closely resemble the pink jersey, worn by the race leader. The team's Cannondale bikes were not manufactured specifically for the Giro. but tap into the design with a color scheme utilizing excess paint and limiting waste.
Jack Haig headlines Bahrain Victorious
Jack Haig headlines Bahrain Victorious in a bid for the podium at the Giro d'Italia.
The Australian has started the Giro twice in his career, but always riding in support of another. He arrives on the back of a podium at The Tour of the Alps, and promising form in all four stage races in which he has participated this year, team officials said.
Damiano Caruso, second in the Giro two years ago, will play a support role, along with stage-hunters Gino Mäder and Santiago Buitrago. Jonathan Milan will try his luck in the sprints.
"Jack is our GC leader, and we also have Damiano, Gino and Santiago," said sports director Gorazd Štangelj. "There is some very strong competition at the race this year, particularly with so much time trialing, so our goal of the podium would be a really big achievement.
"Every day we will give the riders tasks and opportunities, as well as protecting the leaders. We will look at every stage to see where we might find our moment of glory. We have a great team here, and we will chase opportunities every day in this Giro d'Italia."
Brandon McNulty, Jay Vine support João Almeida at UAE Emirates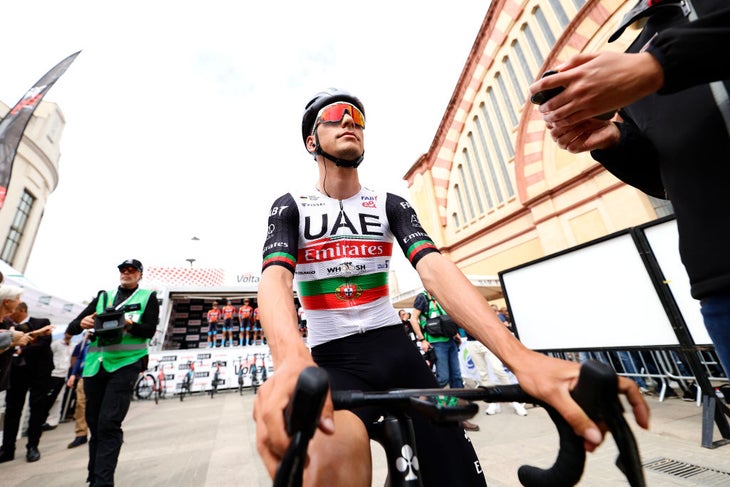 João Almeida will see some star climbing support from Brandon McNulty and Jay Vine at the Giro d'Italia.
U.S. ace McNulty returns to the "corsa rosa" for the first time since 2020, while Vine will make his debut when he hits the start ramp Saturday.
Team leader Almeida – who finished fourth and sixth in previous editions – has a score to settle with the Giro after sickness ended his race in 2022.
"After the disappointing end to this race last year I'm definitely hungry to come back and fight for a big result," he said.
"The preparation for the Giro has gone really well. I think I've been really consistent this year and we've just done a big block of great training at altitude in Sierra Nevada, Spain so as a group we are in a great place both physically and mentally."
The team also takes Pascal Ackermann to hunt sprint victories against the likes of Mark Cavendish and Mads Pedersen.
"Naturally my aim is to do a good GC but we also have Pascal for the sprints and some guys who have won stages here at the Giro before," Almeida said. "I think we are in for a great race."
UAE Emirates to 2023 Giro:
João Almeida (Por)
Pascal Ackermann (Ger)
Alessandro Covi (Ita)
Ryan Gibbons (RSA)
Davide Formolo (Ita)
Brandon McNulty (USA)
Diego Ulissi (Ita)
Jay Vine (Aus)
Israel-Premier Tech sees fresh jersey celebrating Vini Fantini
Israel-Premier Tech will take a fresh look to the Giro d'Italia. The team last week released a special edition jersey to celebrate the team's partnership with the Abruzzo-based winery Vini Fantini.
"Vini Fantini is an important part of the Israel-Premier Tech family so, as we did in 2021, we couldn't pass up the opportunity to celebrate our partnership at the Giro d'Italia, particularly with the 'Grande Partenza' in Abruzzo," said IPT General Manager Kjell Carlström.
"When our riders race against the clock on stage 1, they will cross the finish line in Ortona, where the Fantini Group factory and headquarters are located, in what will be a special moment for Fantini and Valentino Sciotti."
The blues and reds of the striking new kits is intended to recognize the team's traditional blue uniforms and nod to the rich red of Vini Fantini wines.
"We looked at a variety of ideas but it was the Fantini logo and bottle branding with the circular dot and line formation of the logo that really drew my eye, and this was the inspiration for the jersey design," designer Élie Desgreniers said.
U.S. talent Matthew Riccitello and GC warhorse Domenico Pozzovivo are among the IPT squad set to wear the EKOÏ-produced kits through the "corsa rosa" this month.
Bold, elegant, and best served at the Giro d'Italia! 🍷

Introducing our special edition jersey to celebrate Vini Fantini and the Grande Partenza in their home region of Abruzzo. Salute!

🇮🇹 #Giro pic.twitter.com/cI4Erk8skZ

— Israel – Premier Tech (@IsraelPremTech) April 26, 2023
Giulio Ciccone ruled out of Giro d'Italia due to COVID-19
Giulio Ciccone's race to compete at the Giro d'Italia has ended after he and his Trek-Segafedo team decided to pull the plug on his participation after he contracted COVID-19 earlier this month.
The Italian tested positive for the virus Monday but had hoped he would be able to get rid of the virus quickly enough to still make the Giro start in Fossacesia on May 6. However, a week on, he has continued to test positive and also remains symptomatic.
In the end, Ciccone and the team decided that he wouldn't have enough time to recover sufficiently to race. Trek-Segafredo hasn't announced a replacement for Ciccone yet.
"Giving up the Giro breaks my heart. I can't find any other words to describe my feelings right now. I would have faced my favorite race after the best start to a season of my career. I would have started from home, from my Abruzzo; a historic event, even unique. Everything was perfect and then… I mean, it feels absurd," Ciccone said.
"I have to swallow a bitter pill and the thought of what I could have done in this Giro will be in my mind for a long time. On the other hand, I have to listen to my body. I have to recover in the best way possible because the season is long and the risk of compromising it would be too high. It's a tough decision, but I have to accept the fact and look beyond it. As soon as I return to racing, I will turn this disappointment into determination."
https://twitter.com/TrekSegafredo/status/1652608099390300165
Riccitello, Gee make grand tour debuts with Israel Premier Tech
Promising North American talents Matthew Riccitello and Derek Gee make their respective grand tour debuts next week at the Giro d'Italia.
Israel Premier Tech confirmed both WorldTour rookies as part of their Giro Eight ahead of the season's grand tour.
The 21-year-old Riccitello is impressing so far in his rookie season, with a top-10 on GC at the Vuelta a San Juan, and was swinging with the top climbers at the Tour of the Alps.
Gee will take the Canadian time trial jersey into the Italian grand tour.
Other starters include Domenico Pozzovivo and Simon Clarke.
"We are lining up with at the Giro d'Italia with two main goals; the GC with Domenico Pozzovivo and also fighting for a stage win. We have a diverse team featuring riders with a lot of experience on one end and then the team's youngest guys and Grand Tour debutants on the other," said sports director Oscar Guerrero.
"We are not going with a team experienced in supporting a GC leader, but we will share the responsibilities between the riders and hopefully Domenico can get a top-ten on GC which he did last year. Of course, fighting for a stage win in the mountains can be another goal for him.
"Simon Clarke is a proven Grand Tour stage winner and is in great shape so we need to see the stages that really suit him, where he can get into a good breakaway and go for a win. Mads Würtz Schmidt is another rider who is in good shape and is very opportunistic so he will be on the look out for good breakaways and hilly stages where he can fight for the win, and also help on the flatter stages and in the stress of crosswinds to help Domenico."
Aleksandr Vlasov to lead Bora-Hansgrohe title defense
Defending Giro d'Italia champion Jai Hindley isn't back, but Bora-Hansgrohe brings a GC-focused squad anchored by Aleksandr Vlasov.
The Russian is tilting toward the Giro this year with its time-trial heavy course that could suit him. Vlasov was fourth in the 2021 Giro, and fifth last year the Tour de France.
Lennard Kämna and Bob Jungles bring more options for stages in the mountains and breakaways.
Bora-Hansgrohe for the Giro
Giovanni Aleotti (Ita)
Cesare Benedetti (Pol)
Nico Denz (Ger)
Bob Jungels (Lux)
Lennard Kämna (Ger)
Patrick Konrad (Aut)
Anton Palzer (Ger)
Aleksandr Vlasov (Rus)
Team DSM brings mixed roster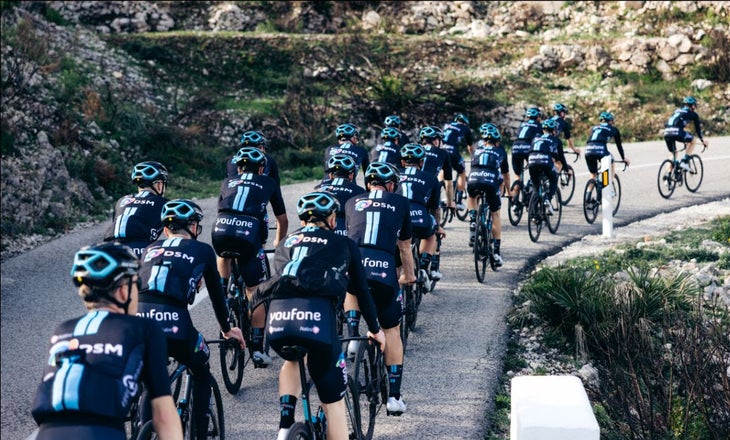 Team DSM brings a mixed squad of stage hunters, sprinters, and young riders topping up their grand tour experience.
There are no GC ambitions, but the team promises to mix things up.
"We head there with a good team that will focus purely on day results," Team DSM coach Matt Winston said. "For the sprint days we bring a strong block with Marius, Alberto and Niklas; who we believe can work really well together.
"On the breakaway days we will look to our climbing guys such as Andreas and Harm to seek out the right moves so we can race for those top stage results. To achieve these goals, we will need to work well as a team and do it together as a unit, this is where our focus is and remains to be so that as soon as we reach kilometer zero, we can be directly in the race and show ourselves."
Team DSM for the Giro
Alberto Dainese
Jonas Iversby Hvideberg
Andreas Leknessund
Marius Mayrhofer
Niklas Märkl
Florian Stork
Martijn Tusveld
Harm Vanhoucke