The road to Jerusalem: How the Giro ended up in Israel
Giro d'Italia organizers have a vision to unite two holy cities, Jerusalem and Rome, in the name of sport. Can politics be set aside?
Heading out the door? Read this article on the new Outside+ app available now on iOS devices for members! Download the app.
Want to watch the Giro d'Italia? Stream all the stages on Fubo.tv for a special first-month introductory rate of $19.99. Subscribe now >>
Sylvan Adams couldn't believe his surroundings. The Canadian-born real estate mogul turned Israeli émigré (and passionate cyclist) sat outside the offices of the leader of his newly adopted country. It was the summer of 2017, and Adams had come to Jerusalem to pitch Israeli Prime Minister Benjamin Netanyahu on bike racing.
Months of wrangling, flights back and forth across the Mediterranean, and lobbying efforts with the highest levels of Israeli government led the ebullient 58-year-old Adams to this moment. Adams was there to pitch Netanyahu on a bold idea: Israel should host the 101st edition of the Giro d'Italia.
After a short meeting, Netanyahu asked Adams for more information on the project. He liked what he heard.
"[Netanyahu] did want a debriefing on the project, and he gave us a message of support," Adams told VeloNews. "It was the final approval we needed."
It's not often that bike races require the official approval of a nation's leader. But everything about the Giro's Grande Partenza in Israel is different. The Giro has traveled to some interesting places over the past few years — Denmark, the Netherlands, and Northern Ireland. The deal with Israel is bigger, more ambitious, and riskier than anything in the Giro's history. The plan is also the most lucrative: Israel paid a reported $12 million to host the Giro's kickoff.
With Netanyahu's blessing, Adams returned to Italy to meet with Giro owner RCS Sport, ready to sign the papers. The deal was all but done.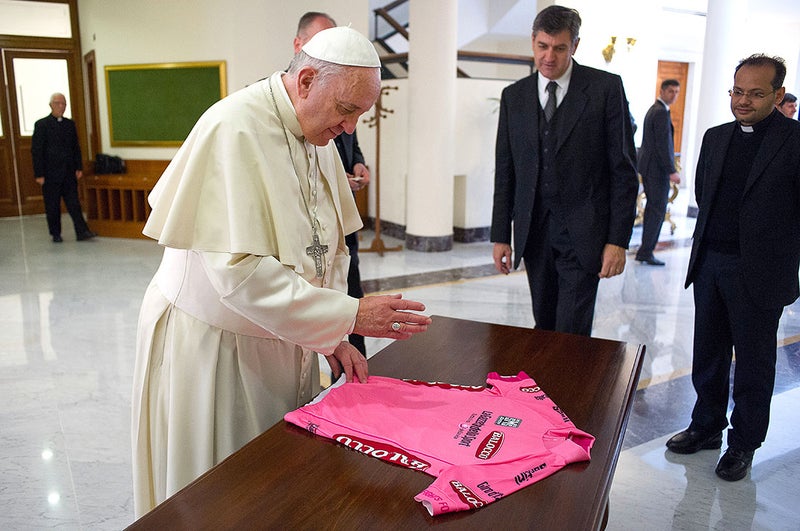 THE SAME WEEK THAT Adams met with Netanyahu, Mauro Vegni sat in his RCS office in Milan mulling over the details. The Giro d'Italia race director knew he was taking a risk with the Israel start. He predicted political blowback from critics of Israel, as well as the inevitable logistical tangle of moving the Giro entourage across the Mediterranean.
His visit to Jerusalem in 2017 changed his mind. Vegni, a devout Catholic, said he was moved when he visited the holy sites of the ancient city. Once he was convinced that logistics and safety wouldn't be major worries, Vegni signed off on the plan.
"The personal experience going to Israel was very emotional for me," Vegni said. "It's so full of history and culture, and it's truly fascinating. The philosophy of the Giro has always been about telling stories."
The Giro's kickoff, in one of the world's holiest cities, spins a narrative Vegni loves. Every year, Vegni and his staff attempt to craft a unique overarching story for the race through the design of the race's route. Using the Giro to link Jerusalem and Rome, as the corsa rosa pedals into its second century, was too tempting for the romantic Vegni to resist.
"I saw this as a big opportunity," Vegni said. "We were aware of some difficulties in terms of logistics, but there were more advantages than hurdles."
Vegni has long wanted the Giro to be the first grand tour to leave Europe. With the Israel start, Vegni and RCS upstage rival ASO and the Tour de France by breaking cycling's continental barrier.
Vegni had standing offers from the Middle East, and in the past, he considered taking the Giro as far away as New York City and Tokyo. Israel wasn't on his radar until the Israelis unexpectedly approached him in 2016.
The plan to bring the Giro to Israel actually started with a stalled racing career. Ran Margaliot, today the general manager of the Israel Cycling Academy team, fell short of his dream of becoming Israel's first Tour de France rider. After his pro career ended in 2013, Margaliot wanted to devise ways to promote Israeli cycling. One of them was to start Israel's first professional team, which he did. The other was to bring the Giro to Israel.
"Israel is perfect for cycling," Margaliot said. "We have good roads, great weather 10 months out of the year, and we're only two hours from Europe. Having the Giro here makes perfect sense."
Margaliot launched Israel Cycling Academy in 2014, and by 2016, Sylvan Adams joined as the team's co-owner and chairman. The Canadian, whose father was a Holocaust survivor who later started a billion-dollar real estate empire in Canada, quickly latched onto Margaliot's idea to lure the Giro to Israel.
"We made them this crazy, outlandish proposal to do the 'Big Start' in Israel. At first, they kind of laughed," said Adams, who is also a former masters cycling champion. "We followed it up and invited Vegni to pay us a visit. Once he saw how Israel is a modern, free, safe, and democratic country, and how beautiful the roads are, and how there is a growing cycling culture here, it no longer seemed such a crazy idea."
Adams and Vegni made contact in 2016. Adams traveled to Italy to ride the route between Florence and Assisi that Gino Bartali used to help Italian Jews evade Nazi persecution in World War II. By 2017, the plans for an Israel start had begun to take shape. Adams attended the Giro that year as an official guest. Then race officials visited Israel for a site inspection. One of the obvious concerns was safety. Would the Giro be protected in conflict-torn Israel?
"Right from the start, we addressed the security concerns. I am the one who brought it up," Adams said. "I didn't want to get to the end of long negotiations and then have issues. They vetted it on their end. The head of Italian police said, 'You'll be safer in Israel than you would be in Italy.' That seemed to end that discussion."
Adams handled negotiations on the Israeli side. It worked its way through all the respective agencies, from the police to security forces, to tourism and the sports federations, and to the local and regional municipalities. After everyone signed off, Adams finally got his one-on-one with Netanyahu. Various government agencies contributed to help pay RCS's asking price. Adams said he's personally paying any deficits.
"We had a negotiating team of one. You're talking to him," said Adams. "I am from real estate. We do contracts all the time. It's not rocket science. It's just words and numbers."
RCS always charges a start fee to the host city or country. Since the Giro would spend three days in Israel, the price would be higher. Eventually, the two parties settled on a hosting fee of $12 million. It was a succulent package too sweet for Vegni to resist.
The Israel start represents Vegni's greatest accomplishment since becoming Giro director in 2013, a role the 59-year-old seemed fated to adopt. An injury ended any hope of a professional cycling career, and he landed a job helping organize Tirreno-Adriatico. When RCS took over that race, Vegni helped run the Giro as technical director before reaching the top spot.
"There cannot be a better place to do this than in Jerusalem," Vegni said. "That's why we decided to move the finish to Rome. How special will it be, from Jerusalem to Rome?"
That the race is taking the start in Israel in 2018 also has significance. It coincides with the 70th anniversary of Israel's founding. To sweeten the pot, Netanyahu even officially invited Pope Francis to attend and bless the start of the Giro in Jerusalem. There has been no official confirmation from the Vatican of a Papal visit.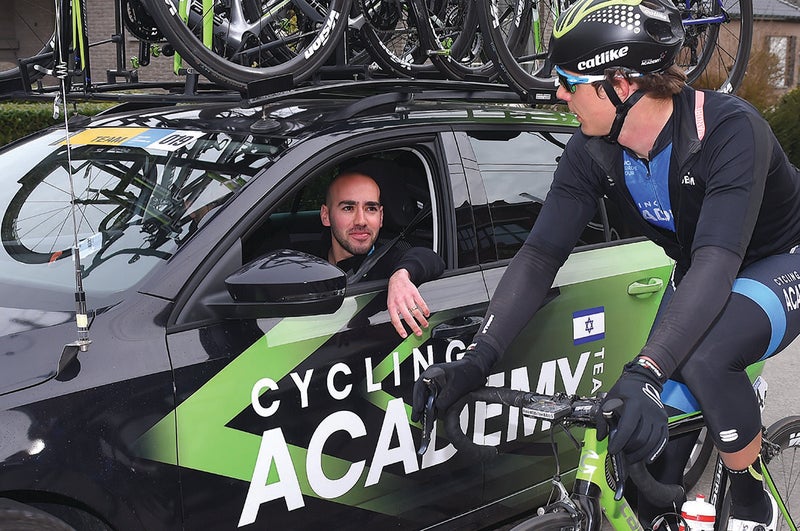 WHILE ADAMS AND VEGNI dream big, the crude reality of modern Israel could present a big problem this May. Perhaps nowhere else in the world do politics, religion, and conflict coalesce more than in Israel.
Vegni got a taste of the region's complexities in December 2017, when RCS caused a stir with an errant use of one word. In official Giro presentation materials, the first stage was said to be starting in "West Jerusalem." The Israeli government has viewed Jerusalem as a unified city since its annexation in 1980; the United Nations and numerous political opposition groups claim a divided city.
[pullquote attrib="Stephanie Adam"]"Does anyone really believe this isn't all about politics and sports-washing human-rights violations?"[/pullquote]
Israel's tourism and sports ministers issued an angry response, threatening to withdraw support of the Giro project. RCS Sport quickly back-pedaled, removed "West" from the materials, and shrugged it off as a "misunderstanding."
That incident revealed just how tricky this Giro-Jerusalem project could be. Since then, Vegni has tried to tiptoe around the political landmines that come with the Israeli project.
"We were always aware that this decision might create diverse reactions," Vegni said, "but we think that sport should stay away from politics."
That might be wishful thinking.
The Giro's three Israeli stages stay firmly within the country's territory, far from any occupied or controversial region. Still, the Giro-Israel deal has prompted calls of a boycott and protests from human-rights groups and Palestinian supporters across Europe and the Middle East.
One group told VeloNews the race is little more than an effort by Israel to "whitewash its brutal military occupation and apartheid regime."
"Does anyone really believe this isn't all about politics and sports-washing human-rights violations?" said Stephanie Adam, a spokesperson for PACBI, a group promoting a boycott and divestment of Israel. "Does anyone naively think that Israel is paying over $12 million to host the Giro out of love for cycling? This is a propaganda coup."
Groups like PACBI believe Giro officials have been duped by Israel's propaganda machine. Israeli officials acknowledge that the Giro's start will boost tourism and goodwill. In November, another group called on RCS Sport to snub Israel. After multiple calls for protest, RCS discretely produced a backup plan to start the race in Puglia in case of major unrest or political instability. Then, on March 10, protests against the Giro were held in 20 cities across Europe and the Middle East. Activists plan to hold more protests before and during the race. One British group has planned a protest ride during the race across occupied Palestinian territory.
[pullquote attrib="Sylvan Adams"]"We are going to put on a sporting event, and not mix politics and sports."[/pullquote]
The fact that the race is taking place during Israel's anniversary carries another political hurdle. Palestinians view the anniversary as "Nakba," Arabic for "catastrophe." Israel's founding forced an estimated 700,000 Palestinians to flee to create the Jewish state.
Israeli promoters reject the calls for a boycott. Sylvan Adams insists that the Giro project has good intentions. It's occurring to promote Israeli cycling, not advance a political agenda.
"There are certainly some haters," Adams said. "They have their own agenda. They're allowed to their opinion. We are going to put on a sporting event, and not mix politics and sports. We will let the world audience decide for themselves."
Adams cites Israeli census data, which shows that 20 percent of the country's population is Arab. Arab Israelis work in tourism, health care, and politics, he said.
"We do get along. This is a pluralistic society. This is the story that doesn't get told," Adams said. "The haters can say what they want, but some of the harshest opinions about Israel come from people in countries that are much less tolerant than ours."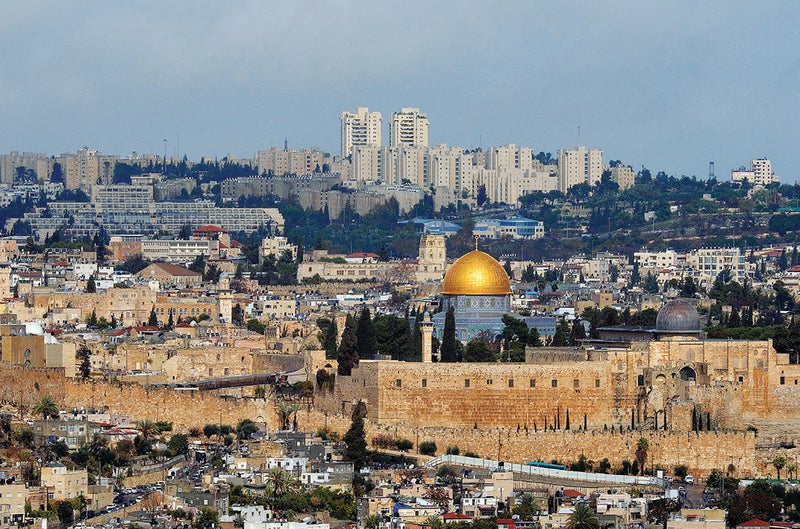 THE CONTROVERSY SURROUNDING THE Giro confirms Israel's complex reality. Blending sport and politics is always a complicated business. That fact isn't lost on race promoters and governing bodies, who have struggled with the issue for years.
The 2008 Olympics in Beijing drew criticism for China's alleged human rights abuses in Tibet. Pro cycling regularly holds major events in Bahrain, Qatar, and the United Arab Emirates, despite allegations of atrocities by these nations. Arab-backed teams, such as Bahrain-Merida and UAE Team Emirates, at one point, threatened to boycott the Giro. Both confirmed they would line up for the race.
There are two faces of Israel. One is the modern nation that Adams and the Israeli officials want to present to the world. Tel-Aviv, alive with trendy cafes, thumping bars, and restaurants, is a cycling hotbed. In Jerusalem, history and religious piety ooze from the 2,000-year-old stones that make the city's wall.
Then there is the Israel that viewers cannot see on television. The occupied territories, the walls, and the military checkpoints will not appear on the Giro telecast. Vegni downplays political concerns and insists RCS will keep the focus on the race.
"In the end, the decision to come to Israel was easy. There are some difficulties, but they are logistical, not political," Vegni said. "Some say it's impossible to do this, and some will criticize this project. It's impossible to have everyone agree. For me, I see it from the other side, that this is an incredible opportunity for the Giro to play a part in exporting cycling to such a vibrant and exciting country like Israel."
Vegni has bet big that enough people will agree with him.