GP Gloucester: Noble and White double-up
As they did on Saturday, Ellen Noble and Curtis White win the 20th edition of GP Gloucester.
Heading out the door? Read this article on the new Outside+ app available now on iOS devices for members! Download the app.
The classic Gloucester cyclocross course dried out Sunday, and Ellen Noble (Trek Factory Racing) and Curtis White (Cannondale-Cyclocrossworld.com) proved up to the tactical test, winning the women's and men's elite races, like they did Saturday in Massachusetts.
Noble solos to second victory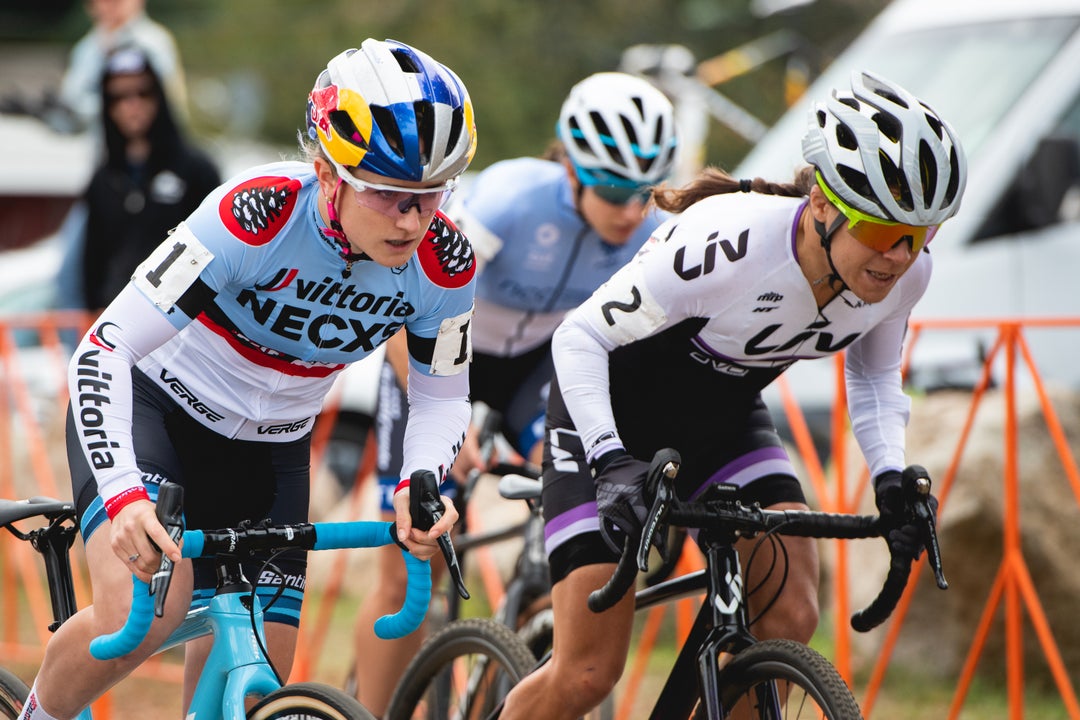 Realizing that the conditions weren't as slippery as they were on day one, Noble didn't plan to ride solo to another win in the 20th edition of this classic New England 'cross race.
"Today I went into it with a little bit more tactics," said Noble. "I wanted to get off the front with Erica [Zaveta] and kind of be able to work with her."
As planned, she rode with Erica Zaveta (Garneau-Easton) from the gun. However, that didn't last long as Zaveta got caught in the course tape and crashed.
"I took a weird line; I think I threw her off, so it left me on the front," Noble added. "I wasn't intending to go solo today. But that's how it ended up happening. Once I got a gap, I just tried to keep it."
Zaveta said the crash happened right before the pits on a fast section of corners.
"I took on Ellen's wheel and I was following behind really closely," said Zaveta. "It was a pretty fast crash, so she got away very quickly. I ended up with Crystal [Anthony] and the group behind me. I ended up riding with them a little until I settled down and figured out the lines again."
Noble won the race by a healthy 48-second margin. Behind, Zaveta gave Anthony the slip.
"Towards the end, I was like, 'I need to go,'" added Zaveta. "It was definitely back and forth. She's [Anthony] really strong. I just needed to commit to try to go, and then see if it worked. And it did."
Anthony ended up third to Zaveta.
"Today was a battle," said Anthony. "Erica and I were going back and forth. She got the last final punch, so she rode really strong. I was happy today to be in the fight. She was savvy. She sat on my wheel until she was ready to go, and then she went."
White times attack to perfection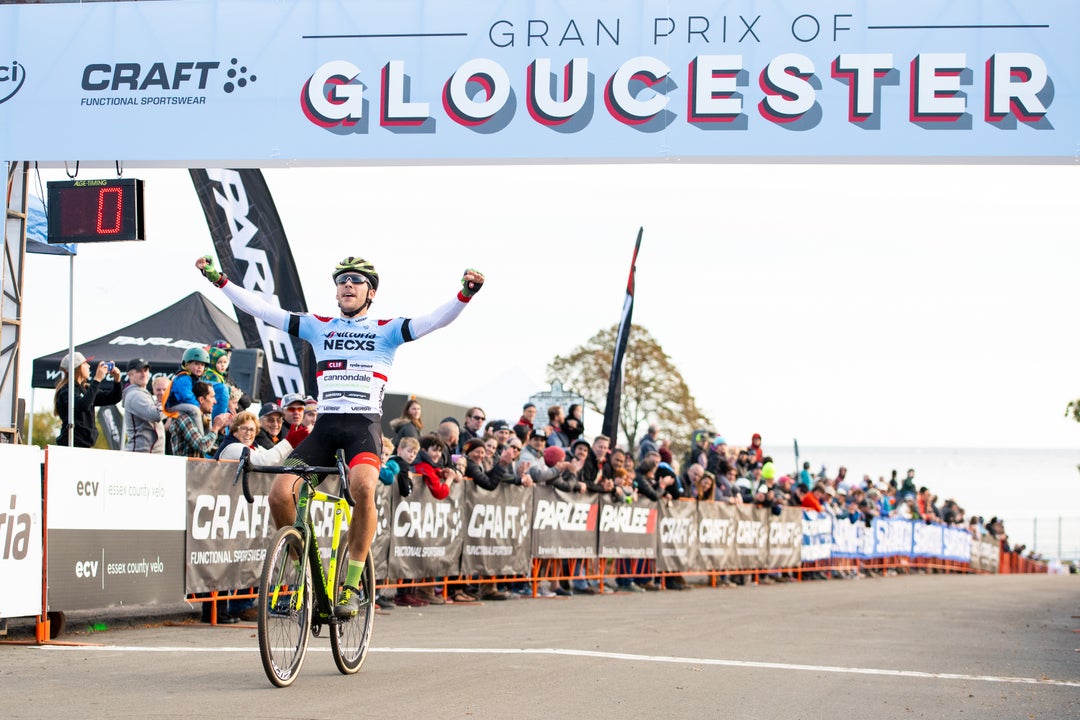 While the women's race split apart, the elite men faced a tactical battle, riding much of the 60-minute race as a group.
"The course today seemed like it played towards group racing — it was a bit tactical," said White. "Cooper Willsey was off the front early, so that put pressure on guys like Tobin Ortenblad, Jamey Driscoll. Jamey got to the front [chase group] and closed the gap quick so that we were all together. He had started the attack and strung the field out."
Driscoll went away with four laps to go. However, like Zaveta, he came to grief, clipping a course stake.
"It was unfortunate for him, but I think it also worked to my benefit," White added. "That was something I had to capitalize on and that was the gap. Once I got the gap, I wanted to crank out some of the fastest lap times that I could, work on accelerations."
With Driscoll out of the picture and White up the road, a group of four fought for the remaining podium placings: Lane Maher and Cooper Willsey (Cannondale-Cyclocrossworld.com), Anthony Clark (Squid Squad), and Tobin Ortenblad (Santa Cruz-Donkey Label Racing).
Maher took the lead in the final turns of the race and rode to second place.
"Curtis [White] attacked really hard, so that was pretty much gone, that was the win," said Maher, who was 22 seconds behind White for second. "I got to go out to the front of the race for the first time on the last lap. I felt really good, so I decided to attack with a few minutes to go and it stuck. I just put my head down and went as hard as I could, and hoped for the best."
Clark out-sprinted Ortenblad for third.
"After Curtis attacked, I went to the front. The Cannondale guys were racing as a team," said Clark. "I led the last lap. So I said 'I have to lead out the sprint, and Tobin is fast!' I didn't even think about it, I just went on the pavement and [pounded it]. I just went as hard as I could and didn't look back.
"As soon as I crossed the line, I was like 'I just got third at Gloucester!'"