Jingle Cross: Sweeck, Keough take Day 1
Laurens Sweeck (ERA-Circus) and Kaitlin Keough (Cannondale pb CyclocrossWorld) powered to wins during the UCI C1 event on the opening day of the three-day Jingle Cross Festival.
Photo: Wil Matthews wilmatthewsphoto.com
Heading out the door? Read this article on the new Outside+ app available now on iOS devices for members! Download the app.
Laurens Sweeck (ERA-Circus) captured the win Friday in the men's race on the opening night of the three-day Jingle Cross Festival, taking advantage of the absence of two-time world champion Wout van Aert (Crelan-Charles) and former world champion Mathieu van der Poel (Beobank-Corendon).
The racing took place under the lights on Friday night and despite being a UCI C1 event, many riders opted to rest their legs in preparation of Sunday's world cup race. However, many of the Americans were seen on the startline.
The course on Friday was hot and dusty with riders consistently turning in laps under six minutes. A lead selection of Laurens Sweeck (ERA-Circus), Quinten Hermans (Telenet Fidea) and Michael Boros (Pauwels Sauzen Vastgoedservice) broke free from the rest of the field early in the race when the other riders could not match their blistering pace.
Five laps into the race, Sweeck got a gap on Hermans on the technical back half of the course and then turned it into a lead he would not relinquish by powering through the long finishing straight. Hermans eventually broke free from Boros and finished second, and Lars van der Haar (Telenet Fidea) recovered from a slow start to finish third.
"There was a technical part at the end of the lap where I was feeling I was getting faster half way through the race," Sweeck said. "I went on the front of the group and I got a little gap. Then you had the long line at the finish, and I tried to get up to a high speed there.There was a small gap and then it was pushing to the end because Quinten was also strong."
National champion Stephen Hyde (Cannondale p/b CyclocrossWorld) was the best American of the night, coming in eighth place. "It hurt," Hyde said after the hour-long effort. "It feels good though for the second race weekend of the year. The level of racing here is just so high, it's really good. I'm really happy with my early-season form. I was real sick a few weeks ago, so I didn't think I'd be anywhere near where I am right now, so I'm really happy.
"I did a lot of training coming in to it, and I'm using this (race) as my opener for the World Cup. I think I'm good on this course. I was tense last year. I'd like to improve on that a little bit, and hopefully take advantage of some of the jet lag these guys have."
Top 10
1. Laurens Sweeck, (BEL) in 01:00:40
2. Quinten Hermans, (BEL), at 01:00:54
3. Lars Van Der Haar, (NED), at 01:01:06
4. Jens Adams, (BEL), at 01:01:16
5. Michael BoroŠ, (CZE), at 01:01:20
6. Daan Soete, (BEL), at 01:01:33
7. Corne Van Kessel, (NED), at 01:02:29
8. Stephen Hyde, (USA), at 01:02:39
9. Stan Godrie, (NED), at 01:02:48
10. Diether Sweeck, (BEL), at 01:03:14
In women's action, Kaitlin Keough (fomerly Antonneau) of the Cannondale p/b CyclocrossWorld team bested 13-time U.S national champion Katie Compton, as the duo dueled for most of the race.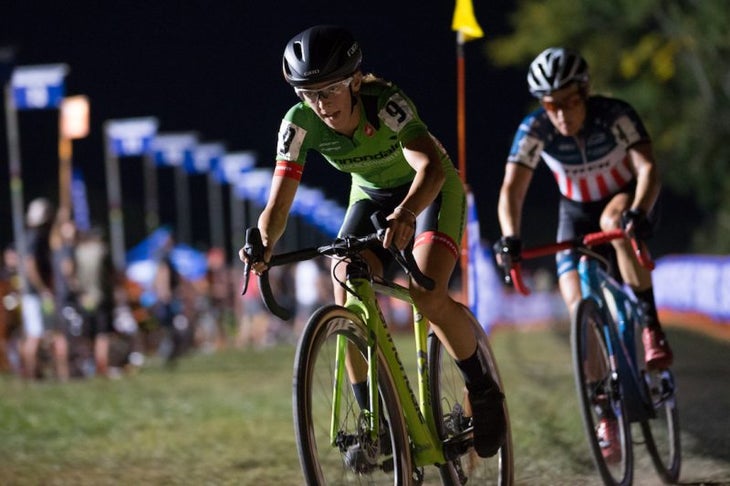 Compton, winner of the 2016 Jingle Cross World Cup, and Ellen Van Loy (Telenet Fidea) charged off the line in an effort to lead the 43-strong field up the infamous Mt. Krumpit run-up. However, Brit Nikki Brammeier (Boels-Dolmans) squeezed by before the flyover to lead up the steep, rutted climb.
After a slow start, 25-year-old Keough was on the move. She was at home in Iowa City, just a few hours from her native Wisconsin. "I've raced here since I was 15," Keough said about the Johnson County Fairgrounds course featuring Mt. Krumpit. "I excel at courses like this, the harder the better."
Keough set about granting her own wish after a crowded first lap. She soon connected with Compton and drew out Canadian National Champion Maghalie Rochette (Clif Bar) to put pressure on the rest of the field.
Keough hit the front with Compton, and within a lap the two dropped Rochette. Ellen Noble (Aspire) and Rochette took up the chase, and behind them, two Europeans, French National Champion Mani, who finished second at the 2016 Jingle Cross World Cup, and Helen Wyman (Kona) were roaring back.
Keough and Compton traded turns at the front, opening up their gap over the others as each of the seven laps went by, leaving the others to fight for third. As the end drew closer, Keough believed her best chance for the win was for it to come down to a sprint, but wanted to avoid Compton opening up a gap on the descent.
"I tried to lead going into [the run-up], and then I noticed I had a little gap, I wasn't really trying to attack," Keough explained.
Intentional or not, it felt like an attack to an at-the-limit Compton. "She attacked going over the run-up, and then I had trouble in the sand," Compton explained. "I kind of got off line and lost a bit of time there.
While the Keough and Compton battled for the win, behind, there was a suspenseful battle for third. While Noble and Brammeier faded, Mani and Wyman surged forward.
Keough rolled home in front of her Midwest fans, with a big boost of confidence heading into Sunday's World Cup.
Compton rolled in relaxed and content. "I did what I could, so I just tried to relax, and not bury myself too much," Compton explained. "I like racing under the lights, it's a C1, I need to get an effort on the course. It's good, I want to race, it's fun racing, it's a great atmosphere. I want to try to race as I can, but I need to make sure I recover for the World Cup."
Mani rounded out the podium in third.
The three-day Jingle Cross Festival continues Saturday night at the Johnson County Fairgrounds. Saturday night's race is a UCI C2 event and many riders are expected to rest ahead of Sunday's World Cup. The Telenet UCI World Cup race is Sunday afternoon. The women start at 3:00 p.m. Eastern and the men at 4:30 p.m. Eastern.
Women Day 1 Full Results
1. Kaitlin Keough, (USA), in 50:21
2. Katherine Compton, (USA), at 50:38
3. Caroline Mani, (FRA), at 51:03
4. Helen Wyman, (GBR), at 51:07
5. Ellen Van Loy, (BEL), at 51:20
6. Annika Langvad, (DEN), at 51:20
7. Crystal Anthony, (USA), at 51:33
8. Sunny Gilbert, (USA), at 51:38
9. Nikki Brammeier, (GBR), at 51:51
10. Courtenay Mcfadden, (USA), at 52:10
11. Rebecca Fahringer, (USA), at 52:23
12. Ellen Noble, (USA), at 52:26
13. Clara Honsinger, (USA), at 52:26
14. Fleur Nagengast, (NED), at 53:01
15. Maghalie Rochette, (CAN), at 53:15
16. Amanda Nauman, (USA), at 53:25
17. Bethany Crumpton, (GBR), at 53:41
18. Elle Anderson, (USA), at 54:03
19. Alicia Franck, (BEL), at 54:09
20. Emily Kachorek, (USA), at 54:11
21. Cassandra Maximenko, (USA), at 55:55
22. Ruby West, (CAN), at 54:57
23. Rebecca Gross, (USA), at 54:58
24. Jennifer Malik, (USA), at 55:03
25. Sofia Gomez Villafane, (ARG), at 55:52
26. Beth Ann Orton, (USA), at 55:57
27. Kim Hurst, (NZL), at 56:42
28. Courtney Patton, (USA), at 56:54
29. Catherine Sands, (IRL), at 56:57
30. Lily Williams, (USA), at 57:38
31. Emily Shields, (USA), at 57:50
32. Suzie Livingston, (USA), at 57:56
33. Carol Seipp, (USA)
34. Maria Larkin, (IRL)
35. Nicole Dorinzi, (USA)
36. Katie Isermann, (USA)
37. Siobhan Kelly, (CAN)
38. Anya Malarski, (USA)
39. Kelli Richter, (USA)
40. Lindsay Knight, (USA)
41. Turner Ramsay, (USA)
Men Day 1 Full Results
1. Laurens Sweeck, (BEL) in 01:00:40
2. Quinten Hermans, (BEL), at 01:00:54
3. Lars Van Der Haar, (NED), at 01:01:06
4. Jens Adams, (BEL), at 01:01:16
5. Michael BoroŠ, (CZE), at 01:01:20
6. Daan Soete, (BEL), at 01:01:33
7. Corne Van Kessel, (NED), at 01:02:29
8. Stephen Hyde, (USA), at 01:02:39
9. Stan Godrie, (NED), at 01:02:48
10. Diether Sweeck, (BEL), at 01:03:14
11. Tobin Ortenblad, (USA), at 01:03:16
12. Ian Field, (GBR), at 01:03:53
13. Lance Haidet, (USA), at 01:03:59
14. Anthony Clark, (USA), at 01:04:11
15. Gage Hecht, (USA), at 01:04:12
16. James Driscoll, (USA), at 01:04:16
17. Kerry Werner, (USA), at 01:04:21
18. Justin Lindine, (USA), at 01:04:36
19. Maxx Chance, (USA), at 01:04:59
20. Michael Van Den Ham, (CAN), at 01:05:12
21. Jeremy Durrin, (USA), at 01:05:22
22. Jonathan Page, (USA), at 01:05:43
23. Garry Millburn, (AUS), at 01:05:53
24. Cody Kaiser, (USA), at 01:05:53
25. Travis Livermon, (USA), at 01:05:54
26. Brannan Fix, (USA)
27. Jeremy Powers, (USA)
28. Bjorn Selander, (USA)
29. Matthieu Boulo, (FRA)
30. Skyler Mackey, (USA)
31. Eric Thompson, (USA)
32. Spencer Petrov, (USA)
33. Kevin Mcconnell, (USA)
34. Nicholas Diniz, (CAN)
35. Jules Goguely, (USA)
36. Michael Larson, (USA)
37. Andrew Giniat, (USA)
38. Tyler Cloutier, (USA)
39. Kyle Russ, (USA)
40. Matthew Clements, (USA)
41. Isaac Niles, (CAN)
42. Connor Dilger, (USA)
43. Tyler Stein, (USA)
44. Tyler Curtis, (USA)
45. Christian Sundquist, (USA)
46. Andrew Thompson, (USA)