Katerina Nash does the double in Bend, taking home Exergy U.S. Gran Prix of Cyclocross crown
Katerina Nash (Luna) did the double in Bend, sweeping the Deschutes Brewery Cup weekend and taking home the 2011 Exergy U.S. Gran Prix of Cyclocross title.
Heading out the door? Read this article on the new Outside+ app available now on iOS devices for members! Download the app.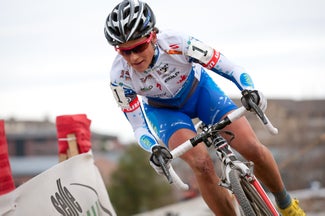 BEND, Oregon (VN) — Katerina Nash (Luna) did the double in Bend on Sunday, sweeping the Deschutes Brewery Cup weekend and taking home the 2011 Exergy U.S. Gran Prix of Cyclocross title.
It is not often in racing that all three of the podium finishers leave happy, but that is exactly what happened Sunday after Nicole Duke and Teal Stetson-Lee rounded out the top prizes.
In a more aggressive opener than Saturday, Duke (Cannondale-Cyclocrossworld.com) took the holeshot, but once again Nash quickly took the race by the horns, riding Duke and the rest of the field off her wheel and setting her own tempo to the finish.
Duke settled into a chase with Stetson-Lee (Cal Giant-Specialized), but they were racing for second — a race that Duke won on the final lap, putting a little daylight between her and Stetson-Lee and finishing eight seconds behind Nash. Stetson-Lee hung on for her second third-place finish of the weekend.
Krasniak kicks it early
Julie Krasniak (Rapha-Focus) took the lead early in the first lap. Nash was there, with Stetson-Lee right on their heels at the barriers, but teammate Meredith Miller was nowhere to be seen as the first lap came to a close — she had flatted right at the start and had to hit the pits.
A four-woman lead group went into the second lap. Nash took the front with Duke on her wheel. Stetson-Lee was a few bike lengths back, with Krasniak behind her. Mo Bruno-Roy (Bob's Red Mill) and Coryn Rivera (Exergy 2012) swapped fifth place, a long ways back.
Nash continued accelerating, but Duke stuck to her. Krasniak struggled on the staircase, but Stetson-Lee was still in striking distance as the second lap came to an end — and suddenly Nash punched it on the pavement and was off and on her own.
Three laps to go. Nash hit the deck on the dry, hard circuit but got up and back after it, blood dripping from her right knee. Duke and Stetson-Lee didn't get much benefit from the bobble, though — they were still seven seconds back at the barriers, with the second chase another seven seconds back.
The gap held steady as the women hit the stairs, and Nash raced through the start-finish with seven seconds' advantage and two laps to go. Duke and Stetson-Lee were 12 seconds behind Nash at the barriers.
A determined Duke
Duke looked strong and after Saturday's bitter disappointment at the hands of a final-lap broken derailleur, the former gravity racer appeared poised to close down on the now-former Czech national champion (Nash missed her title defense this weekend).
"I even had Katerina in mind up there toward the end and thought I could get close to her, but there just wasn't enough time," said Duke. "I didn't realize my body had it until the last lap when I tried to push away from Teal."
Bell lap: Nash had 12 seconds over the Duke-Stetson-Lee chase.
As they passed through the start/finish, Duke slowed and lurched wide to urge Stetson-Lee to pull through, but Saturday's third-place finisher refused.
"I didn't want to be pulling her around like I did yesterday," said Stetson-Lee. "I still have quite a bit to learn about tactics and my own ability, where I'm going to be strongest as far as making a move or attacking."
Behind them, Krasniak was a half-minute down, with Kaitlin Antonneau (Cannondale-Cyclocrossworld.com) at 45 seconds.
Stetson-Lee doffs hat to Duke
Stetson-Lee's tactical gamble would fail her two minutes later when Duke put the hammer down in the winding, sandy singletrack on the backside of the course and took a slight gap. She widened it at the barriers.
"She just had some amazingly smooth lines and I just made the slightest mistakes, just not quite as smooth as she was, and that's where the gap started opening up," said Stetson-Lee. "I think she could feel the gap and then she just hammered it."
Nash was ultimately out of reach, eight seconds up the track, but Duke wasn't waiting around for the Cal Giant rider. Second place would do just fine.
"On that last lap she just out-rode me; just flat-out out-rode me," said Stetson-Lee.
Duke had four seconds on Stetson-Lee going up the stairs. But Nash was already on the pavement and took her second consecutive win — plus the overall title. Duke followed for second at eight seconds back with Stetson-Lee third at 11. Krasniak finished fourth at 35 seconds while Antonneau rounded out the top five at 54 seconds down.
Nash won five of eight stops on the USGP this year and walked away from Bend in the position she entered — a distant series champion.
"One mistake and the lead is gone," she said. "You're probably never going to see me walking across the finish line or anything silly like that."
As for Duke, she felt redemption after her hard luck on Saturday had her near tears on the turbo trainer after the race.
"My heart and soul was in that race, for sure," she said. "Today I feel like I finally got the placing where my fitness was and all the training I've put into it and my team. I'm really pleased with myself."
Online editor at large Patrick O'Grady contributed to this report.
Quick results
1. Katerina Nash, Luna Pro Team, 37:24
2. Nicole Duke, Cannondale-Cyclocrossworld.com, 37:33
3. Teal Stetson-Lee, Cal Giant-Specialized, 37:36
4. Julie Krasniak, Rapha-Focus, 37:59
5. Kaitlin Antonneau, Cannondale-Cyclocrossworld.com, 38:18