Geoff Kabush finds legs in the mud of the 2010 New Belgium Cup
Geoff Kabush finally gets back on top of the podium in Fort Collins.
Heading out the door? Read this article on the new Outside+ app available now on iOS devices for members! Download the app.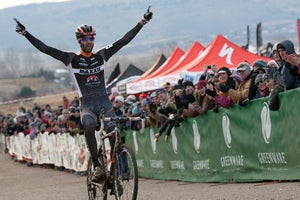 FORT COLLINS, Colo. (VN) _ Geoff Kabush (Maxxis-Rocky Mountain) overpowered Jamey Driscoll (Cannondale-Cyclocrossworld.com) on a frozen, muddy circuit to take a frosty, filthy New Belgium Cup opener on Saturday in Colorado.
The win was Kabush's first in the U.S. Gran Prix and the first time this season that one of Driscoll's teammates hasn't taken top honors in the series.
Ryan Trebon (Kona-FSA) left Todd Wells (Specialized) and national champion Tim Johnson (Cannondale) late in the race to finish third. Johnson assumed the USGP series lead from teammate Jeremy Powers, but Wells drew closer in the standings.
Saturday's race was the first time the national series has seen muddy conditions this season. Snow flurries welcomed the 3 p.m. start time and the dry soil of the technical, hilly course became wet glass. Three climbs between 600 and 1,000 feet long carried riders up 150 vertical feet per lap. A number of high-speed, slick corners dropped the field at the base of the open field each lap, while tricky, off-camber weaving sections sent rear wheels sliding and feet to the ground.
Powers flares, then fades
Powers got the hole shot and held the lead for a spell until Kabush grabbed the front on the loose, sloppy course on the third lap. Driscoll was sitting second with teammate Tim Johnson in tow and Ryan Trebon (Kona) on his wheel. Powers would not last long on the front, however, and began to fade three laps in, landing in 11th at one point.
"It was a bit of an off day," said Powers, who eventually finished seventh. "I had a really bad two or three laps. The pressure in my tires was all wrong. I had a mechanical and I slammed into a post. It was just one thing after the next."
Meanwhile, Kabush, a professional mountain biker and Pacific Northwest mud specialist, looked to be running away with the race. He pushed out a maximum lead of 20 seconds, but Driscoll surged back halfway through the hourlong race and the pair came together on the course's first long climb with five laps remaining.
When Kabush pitted, Driscoll assumed the lead and focused on the technical descent to the second climb of the lap.
"You just don't think about anything and handle your bike," said Driscoll. "In a race like that, if you get a gap, you take it and you take as much as you can get."
Johnson drifted back into fourth as Driscoll took to the front. Kabush was chasing just five seconds back with a resurgent Trebon on his wheel.
With four laps to go Driscoll still led Kabush by a handful of seconds with Trebon third and Wells and Johnson closing in on the big Kona rider.
Kabush kicks
Kabush finally caught Driscoll with three laps to go. Wells, Johnson and Kabush were a half-minute back. Then the Maxxis man retook the lead on the backside of the course, powering away from Driscoll on a climb as the leaders worked their way through lapped riders.
"He just whacked me pretty good on the fire road. I just didn't have much. He hit me, got a gap on the road and I couldn't close it on the technical sections," said Driscoll. "I was in the red and making more mistakes than when I was leading the race."
The Cannondale rider got caught in traffic and slipped to seven seconds behind Kabush as the leader hit two laps to go. Wells followed at 44 seconds with Trebon at 48 and Johnson at 50. Kabush looked smooth in the slick, rutted mud while Driscoll bobbled behind.
At the bell lap Kabush had a commanding lead of 24 seconds over Driscoll. Wells was clinging to third at 55 seconds back, with Trebon and Johnson holding down fourth and fifth just behind him.
Kabush decked it with half a lap to go, but even that couldn't stop him. After a moment of hesitation he was back on the bike and pounding along. He had time to high-five spectators on both sides of the course as he took the win.
"It was really great to ride that last lap and enjoy the crowd," he said.
Driscoll keeps second as Trebon grabs third
Driscoll held onto second at 22 seconds back, while Trebon grabbed third from Wells.
"I was just trying to get a gap so that I could keep my advantage through the technical sections," said Trebon of the three-way battle late in the race. "All I was trying to do was trying to get in front of them and try to slow them down to my pace through those turns."
The Kona rider has been the most persistent rival for the Cannondale squad in 2010.
"Those guys are going really good," he said. "Sometimes when you take a week off of racing you're not as fresh.
"I still got beaten by one Cannondale guy today. I'm just glad somebody else … it's good to see Geoff win."
Johnson had to settle for fifth. In a season that they've dominated, the showing was the most disappointing of the USGP for the Cannondale-Cyclocrossworld.com team.
"If those guys were as strong as they were the other weeks, they would have been up there too," said Kabush. "They were just a little bit off. … Everyone has good and bad days and I had a great day."
Powers lost his series lead on a tough day, but was able to focus midway through the race and ride back into the top 10.
"I just had to take a deep breath and say, 'All right, I'm standing here and there's nothing going on here but a bike race that I'm crashing in,'" he said.
Racing in the mud is largely a coin toss and Kabush was heads up Saturday.
"When it goes well it feels easy," he said. "Even with a couple mistakes … I just kept riding my rhythm. I really felt in control today.
"It's been a long time coming. I was getting pretty pissed off at all these fourth places."
Men

1. Geoff Kabush (Can), 1:00:06
2. James Driscoll (USA), 1:00:28
3. Ryan Trebon (USA), 1:00:53
4. Todd Wells (USA), 1:01:01
5. Timothy Johnson (USA), 1:01:05
6. Zach Mcdonald (USA), 1:01:45
7. Jeremy Powers (USA), 1:01:50
8. Adam Craig (USA), 1:02:49
9. Nicholas Weighall (USA), 1:03:06
10. Tristan Schouten (USA), 1:03:09
11. Christopher Jones (USA), 1:03:16
12. Troy Wells (USA), 1:03:22
13. Barry Wicks (USA), 1:04:14
14. Brian Matter (USA), 1:04:24
15. Sean Babcock (USA), 1:04:29
16. Adam Mcgrath (USA), 1:04:36
17. Luke Keough (USA), 1:04:36
18. Aaron Schooler (Can), 1:04:44
19. Allen Krughoff (USA), 1:05:23
20. Brady Kappius (USA), 1:05:45
21. Mitch Hoke (USA), 1:05:49
22. Matt Pacocha (USA), 1:06:04
23. Spencer Paxson (USA), 1:06:12
24. Jeremy Ferguson (USA), 1:06:16
25. Cody Kaiser (USA), 1:07:13
26. Justin Robinson (USA), 1:07:14
27. Jesse Anthony (USA), 1:07:15
28. Dave Hackworthy (USA), 1:07:20
29. Jack Hinkens (USA), 1:07:35
30. Brandon Dwight (USA), 1:07:37
31. Skyler Trujillo (USA), 1:08:13
32. Jake Wells (USA)
33. Tim Allen (USA)
34. Eric Emsky (USA)
35. Chris Hurst (USA)
36. Alex Howes (USA)
37. Frank Spiteri (USA)
38. Brad Cole (USA)
39. Spencer Powlison (USA)
40. Robin Eckmann (Ger)
41. Steve Fisher (USA)
42. John Curry (USA)
43. Mike Sherer (USA)
44. Shawn Harshman (USA)
45. Chris Brandt (USA)
46. Conor Mullervy (USA)
47. Kevin Mullervy (USA)
48. Doug Johnson (USA)
49. Colby Pearce (USA)
50. Mathew Ankney (USA)
51. Caley Fretz (USA)
52. Will Ross (USA)
53. Joseph Schmalz (USA)
54. Scott Tietzel (USA)
55. Ross Holbrook (USA)
56. James Archer (USA)
57. David Block (USA)
58. Bryan Mickiewicz (USA)
59. Geoffrey Nenninger (USA)
60. David Sheek (USA)
61. Aaron Bouplon (USA)
62. Casey Hill (USA)
63. Adam Mills (USA)
64. William Gault (USA)
65. Keith Batstone (Can)
66. Nathan Miller (Gbr)
67. Lane Miller (USA)
---

Editor's Note: Brian Holcombe is a reporter with VeloNews. He covers all things racing in the U.S. and has been accused of attacking too much on the VN lunch ride.