Levi Leipheimer, Chris Horner finish 1-2 in stage 7 of the 2011 Amgen Tour of California
Levi Leipheimer and race leader Chris Horner finished one-two in the queen stage of the 2011 Amgen Tour of California on Saturday
Heading out the door? Read this article on the new Outside+ app available now on iOS devices for members! Download the app.
MOUNT BALDY, Calif. (VN) — Levi Leipheimer and race leader Chris Horner finished one-two in the queen stage of the 2011 Amgen Tour of California on Saturday as their RadioShack team performed to perfection, methodically reeling in an early break and then discarding anyone of consequence remaining on the final ascent to Mount Baldy.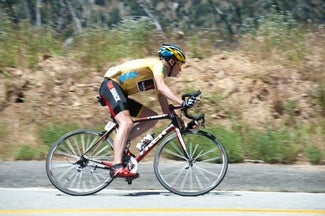 That early break — featuring Garmin-Cervélo teammates Andrew Talansky and Ryder Hesjedal — came apart late in the 121.9km seventh stage from Claremont to Mount Baldy as RadioShack drove the peloton relentlessly in pursuit. And in the finale there were just two men left standing, both of them teammates as well — Horner and Leipheimer, first and second on the overall.
With their rivals dispatched, Leipheimer escorted the race leader up the final steeps to the finish line, where the two men crossed practically shoulder to shoulder, then raised clasped hands.
"I'm very happy," said Leipheimer. "We didn't make any mistakes. Ben King and Matthew Busche were extraordinary."
Race leader Horner likewise praised his teammates, particularly Busche and Jason McCartney, for "an unbelievable job."
"I told our guys in the bus that I thought Busche was going to be good here," he said. "I've seen his power. I saw what he did in the Tour of the Basque Country last year and what he did there this year to help (Andreas Klöden) win. We have a fabulous rider in Busche that just devastated the field today. Really a fantastic squad all the way around. No weak links anywhere."
Horner also tipped his hat to Andy Schleck's Trek-Leopard squad for assisting the pursuit and to Garmin-Cervélo for putting two dangerous riders into the day's long breakaway.
"They did what they had to do," said Horner. "That was a stellar performance from all those guys. Hats off to Garmin-Cervélo, they really put on a great show today."
But the really big show came once Leipheimer and Horner had shed their final rival en route to Baldy.
Said Horner: "Levi kicked it and I was just hanging onto the train."
How it unfolded
Stage seven was a comparatively short but taxing day in the saddle. It began with a 5.8km neutral section, then got straight down to business with an eight-mile climb to the village of Baldy and the first of two KOMs, the category-3 Glendora Ridge Road. After another mile of up the peloton faced 12 miles of narrow, winding roads followed by a fast descent along the backside of Glendora Mountain Road and East Fork to Highway 39 and the town of Azusa.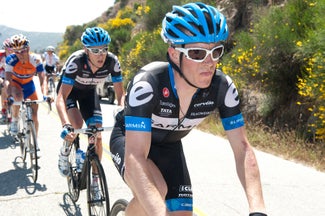 The only sprint of the day awaited 74.2km into the stage, in Glendora. After that, it would be time for the climbers to put on their dancing shoes — there would be just two flat miles in the final 30 to the beyond-category summit finish at Mount Baldy.
Horner was in the driver's seat, albeit with a reduced advantage over teammate Leipheimer following Friday's stage-6 individual time trial in Solvang. Leipheimer sat second overall at 38 seconds back with Rory Sutherland (UnitedHealthcare) third at 1:38.
The stage got off with a bang as a nine-rider break went away at 12km. It contained Talansky; Christopher Froome and Ben Swift (Sky); George Hincapie (BMC); Francesco Bellotti (Liquigas-Cannondale); Grischa Niermann (Rabobank); Alexander Efimkin (Team Type 1-Sanofi Aventis); mountains leader Patrick McCarty (SpiderTech-C10) and Rob Britton (Bissell). Swift got dropped, but Hesjedal bridged up, and that gave the escape some authority — Hesjedal sat eighth overall, at 2:27 behind race leader Chris Horner, while his teammate Talansky was 11th at 2:56.
Mountains leader McCarty took top honors at Glendora Ridge ahead of Hesjedal and Talansky, who were driving the break, which had nearly two minutes' advantage over the RadioShack-led peloton.
Fifty kilometers into what would be a very hot day's work, with temperatures in the 80s and almost no wind, the break was still at two minutes with a gruppetto settling in two minutes behind the chase. It was a man down, though; Froome had lost contact as the escapees raced down toward Glendora.
Once in town, Bellotti took the day's only sprint ahead of Hesjedal and Talansky, with the peloton following slightly less than two minutes later.
McCartney and U.S. champion King were on tow-truck duty for RadioShack with 37km to race, and Horner was looking serene among his lieutenants. A bit further along Leopard-Trek contributed a rider to the chase, perhaps to give Schleck (10th overall at 2:54) a chance to stretch his legs on the final steeps, and the break's margin was thinning a bit. The pace of the chase was popping riders off the back.
Ahead, McCarty collected the second and final KOM of the day in front of Niermann and Britton, extending his lead in the mountains-jersey competition. Two minutes later, regular as clockwork, the bunch hit the KOM, RadioShack's hold on the leash unwavering.
Leopard-Trek added another man to the pursuit and the gap started coming down, to 1:20 with 21km remaining.
Meanwhile, McCarty slid backward out of the break, his red mountains jersey safe for another day.
Behind, RadioShack was shedding helpers, King and Markel Irizar Aranburu among them, the break's advantage now under a minute with 16km remaining. UnitedHealthcare was moving forward to keep Sutherland protected. Linus Gerdeman, meanwhile, was there for Schleck.
The gap was 45 seconds just 3km further along, with the left turn to the final ascent just ahead.
The final kilometers
Ten kilometers from the finish there were still four RadioShacks on the sharp end of the bunch, with Busche on point, McCartney second wheel and Leipheimer and Horner sitting pretty.
Ahead, Niermann and Talansky popped backward out of the break as first Hincapie, then Britton lifted the pace. Hesjedal, too, fell back as the diminished peloton drove along. And then, suddenly, the break just came apart — Hincapie faded, then Britton and Bellotti … and Efimkin soldiered on alone.
With 5km to go three RadioShacks still sat on the front of the chase. Schleck was with them, as were Steve Morabito (BMC) and Laurens Ten Dam (Rabobank). Garmin's Christian Vande Velde was in contact, but just barely. Sutherland had finally popped, dropping out of the Horner group as Busche drove it mercilessly.
Schleck, too, lost contact, but fought back on as the group closed to within 25 seconds of Efimkin with 3.5km to go.
Just as the chase — down to three Radioshacks, Ten Dam and Schleck — had the leader in sight, the Leopard-Trek man cracked again, sliding off the back and watching Garmin's Tom Danielson roll past him. The red-and-black juggernaut gobbled up Efimkin, discarded Ten Dam, bid adieu to an exhausted Busche, and then Leipheimer took over the pacemaking duties for race leader Horner — a one-two RadioShack punch swinging for the finish line with 2km to go.
"It was our hope to race well here, but RadioShack has double speed; they're really strong," said Efimkin. "We've been focusing on this stage and I was really close."
Leipheimer towed Horner through a double column of running, screaming fans into the safety of the barriers with 1km to go. Their margin was, in a word, insurmountable. The two men crossed the line side by side, both thrusting their arms into the sky.
Ten Dam hung on for third at 43 seconds back with Danielson fourth at 1:01 and Morabito fifth at 1:21.
When the times were tallied, Sutherland proved the big loser on the day — finishing more than two and a half minutes back on the RadioShack tandem, he had slid right off the podium. Horner remained in the overall lead with Leipheimer at 38 seconds and Danielson a new and distant third at 2:45.
"We were put under extreme pressure to have a good showing here," said Horner. "We can't just show up here and finish second. It's either win or nothing."
As for Danielson, he said he had ridden the climb last week and knew what to expect, but added: "To be honest, I'm not at the same level as the two RadioShacks so I just went with my own pace."
"I'm excited about it. It's a really nice result for me. I'm happy, really happy."
And while Sutherland may be less than enamored of the Mount Baldy course after Saturday, Leipheimer couldn't have been more pleased.
"The course is spectacular. It felt like the Tour de France," he said. "I hope this becomes a staple in the Tour of California. It'll be an iconic stage."
It already has been.
Race notes
• DNFs: Among the abandons on the day were Alastair Loutit (Jelly Belly-Kenda); Andreas Schillinger (Team NetApp); Alejandro Alberto Borrajo (Jamis-Sutter Home); and Jesse Anthony (Kelly Benefit Strategies-OptumHealth).
Quick results
Stage 7
1. Levi Leipheimer (USA), Team RadioShack, 3:33:03
2. Chris Horner (USA), Team RadioShack, same time
3. Laurens Ten Dam (Ned), Rabobank, at 0:43
4. Thomas Danielson (USA), Team Garmin-Cervélo , at 1:01
5. Steve Morabito (Swi), BMC Racing Team, at 1:21
GC
1. Chris Horner (USA), Team RadioShack, 20:50:02
2. Levi Leipheimer (USA), Team RadioShack, at 0:38
3. Tom Danielson (USA), Team Garmin-Cervélo, at 2:45
4. Christian Vande Velde (USA), Team Garmin-Cervélo, at 3:18
5. Tejay Van Garderen (USA), HTC-Highroad, at 3:23