Nash and Cleppe close out Jingle Cross with wins on day 3
In one final day of muddy mayhem, Katerina Nash and Nicolas Cleppe come out on top at Jingle Cross in Sunday's UCI C1 race.
Heading out the door? Read this article on the new Outside+ app available now on iOS devices for members! Download the app.
On the third and final day of racing in Iowa City, Katerina Nash (Clif Bar) and Nicolas Cleppe (Telenet-Fidea) emerged victorious from the mud at Jingle Cross Sunday.
Evie Richards (Trek), who was second in Saturday's World Cup took the holeshot early in the women's race, forming a selection of three riders with herself, Nash, and Maghalie Rochette (CX Fever-Specialized).
However, the Brit wasn't able to stay with the front group, losing contact on the heavy course.
Rochette and Nash rode together until the penultimate lap. Once former teammates on the Clif team, they were battling for victory in the UCI C1 race.
The Czech got a 10-second gap and built on her lead in the final lap to take the win ahead of Rochette.
"I was surprised that we got away so quickly, but Maghalie [Rochette] pushed the pace early on," said Nash. "I don't know what lap, but on the run-up, I just felt good, and I could sense that she was starting to slow down just a little bit. So, I pushed it up the hill, and I had to keep pushing all the way to the end. I wanted to win yesterday and was disappointed, so I'm really excited. I will take a win when I can and today was awesome."
Nash won the Jingle Cross World Cup in 2017, in markedly drier conditions.
Top-10 elite women
1. Katerina Nash (Cliff Pro Team), 44:43
2. Maghalie Rochette (CXFever p/b Specialized), 45:12
3. Ellen Noble (Trek Factory Racing CX), 45:47
4. Kaitlin Keough (Cannondale/Cyclocrossworld.com), 46:02
5. Evie Richards (Trek Factory Racing CX), 46:28
6. Sunny Gilbert (Van Dessel Factory Team), 47:01
7. Clara Honsinger (Team S&M CX), 47:15
8. Rebecca Fahringer (Kona Maxxis Shimano), 47:26
9. Manon Bakker (Experza-footlogix), 48:06
10. Katie Clouse (Alpha Bicycle Co.- Groove Subaru), 48:16
Belgians continue to dominate Iowa mud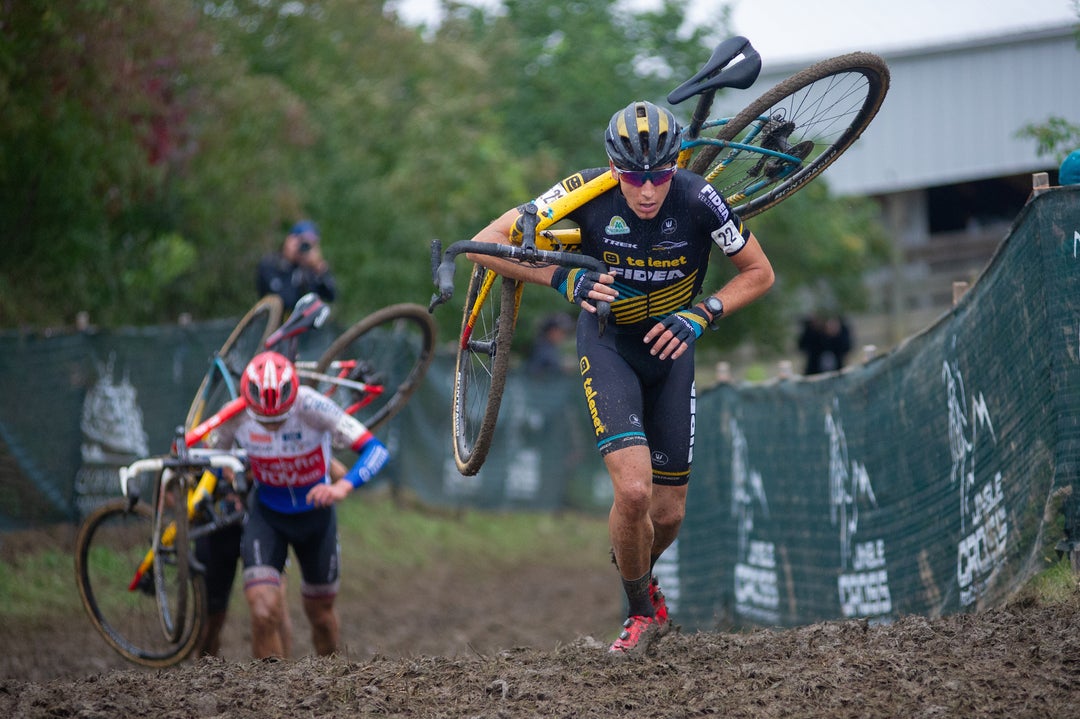 Cleppe made it a clean sweep of all three Jingle Cross elite men's races for Belgian riders. Laurens Sweeck won Friday and Toon Aerts won Saturday.
Cleppe rode clear of teammate Jim Aernouts early in the muddy race, but he wasn't going to ride alone to victory.
"In the first laps, my teammate Aernouts made the tempo and I followed," said Cleppe. "The second or the third round, I was in the lead position and I was able to ride tempo — one hard enough for the whole race. In the head, it was concentration, concentration, concentration all the way to the finish. I won the race, and I am very happy."
A group of Thijs Aerts (Telenet-Fidea), Kerry Werner (Kona-Maxxis-Shimano), Michael Boros and Sieben Wouters (Creafin-Tuvsud) eventually pulled him back.
However, Cleppe was undeterred. After the group had shed Werner and Aerts, Cleppe again attacked, and this time for good.
"With four to go, I think I was still in a group for three, and then they started to pull away," Werner said. "I was making some small mistakes that were causing me to get gapped. And then I was in no man's land. With three to go, I just put my head down and tried to hold on for sixth place."
Wouters out-sprinted Boros for second.
Werner ended the day in sixth, top American finisher in a strong field of European riders.
"It's always great when these guys come over here to the U.S. It's always a learning experience," added Werner. "I found myself on the front row, like the fourth guy to get called up. Usually, I can get a good start if I get clipped in, so I got the pedal and went for it. I just about had the holeshot, was second wheel. I was feeling pretty good, really good technically, so I slotted myself in the front pretty early."
Top-10 elite men
1. Nicolas Cleppe (Telenet Fidea Lions), 1:04:39
2. Sieben Wouters (Creafin – Tuvsud), 1:05:37
3. Michael Boros (CCreafin – Tuvsud), 1:05:38
4. Jim Aernouts (Telenet Fidea Lions), 1:05:38
5. Thijs Aerts (Telenet Fidea Lions), 1:06:25
6. Kerry Werner (Kona Maxxis Shimano), 1:06:36
7. Michael van den Ham (Garneau-Easton p/b Transitions), 1:06:54
8. Curtis White (Cannondale/Cyclocrossworld.com), 1:06:59
9. Jack Kisseberth (Garneau-Easton p/b Transitions), 1:07:26
10. Alois Falenta (Team Cross UCI Safir Ganova), 1:08:09