NBX Gran Prix: West and Powers take first wins on Saturday
Ruby West and Jeremy Powers were victorious on day one of the NBX Gran Prix of Cross in Warwick, Rhode Island on Saturday.
Heading out the door? Read this article on the new Outside+ app available now on iOS devices for members! Download the app.
Ruby West (Cannondale p/b Cyclocrossworld.com), the women's under-23 Canadian national cyclocross champion, rode away for her first elite victory of the year Saturday at day one of the UCI C2 NBX Gran Prix of Cross in Warwick, Rhode Island. The NBX Gran Prix of Cross is the final weekend of racing in the Vittoria Northeast Cyclocross Series.
West would lead the race from the start with the duo of Arley Kemmerer (Fearless Femme Racing) and Rebecca Fahringer (Stan's NoTubes p/b Maxxis/gofahr). She would finish eight seconds ahead of Kemmerer, who settled for second.
"I had a good start off the bat," noted West, who was third in this race last year. "I got the holeshot and then kind of drilled it for a little bit to see where people were behind me. Then Becca (Fahringer) and Arley (Kemmerer) were fighting with me for the first couple laps. I decided to try and go myself and get my own lines. I don't think I was riding as smooth as they were.
"So when I was out front and had some room to move around it was a lot better for me. I went into a corner and took an inside line on Becca one lap and she went down, or something happened. So I got a bit of a gap there and I just went."
Kemmerer would follow West's wheel from the start. "After being down and out for two weeks, I felt riding a wheel in the longer, flatter sections would be a good move, and just check out how everyone was cornering," Kemmerer said. "These corners, they look pretty simple, but they are really quite tricky. So I think we took it down to just the three of us – Ruby, Rebecca and I.
"Rebecca went down in a sandy turn, and (I) almost ran over her, but got around her and stayed upright. So that is how the separation happened with the three of us. That was before the beach run. Ruby got a head start on us. I didn't feel like I could close it down. I felt like I was conservative. I was gaining in the corners, but was losing on the long, flat stretches," Kemmerer said about the way the race worked out for the podium finish. "I still have the remnants of this really persistent sickness (sinus infection), which Monday will be three weeks. It's just hanging on."
It would be Cassie Maximenko (Van Dessel/Atom Composite Wheels) who would reel in Fahringer and overtake her in the final turns of the race for third place, four seconds behind Kemmerer. Also fighting a cold like Kemmerer, Maximenko took a conservative approach to the day.
"The lead group set a pace a little bit harder than I was able to keep up with the first few laps," Maximenko said. "So, I just stayed in fourth and I was like 'hold off whoever wants to get by me'," Maximenko said."And then all of a sudden I saw Becca off the lead too, so I was like, 'oh, I have a chance'. You get remotivated. With two laps to go I was just on a mission to reel her back in.
"We were kind of bouncing off one another in the corners on that last lap. I was trying to find out where I was going to make my move. There is this long straightaway before the twists, before the finish straight, so I was like, alright, this is my chance. Becca is such a powerful rider that I didn't know if I would be able to make it. So I just shifted a couple gears, put my head down, and sprinted by her."
Elite women top-10
1. Ruby West, CANNONDALE CYCLOCROSSWORLD.COM, in 39:26:00
2. Arley Kemmerer, FEARLESS FEMME RACING, at +00:08
3. Cassandra Maximenko, VANDESSEL/ATOM COMPOSITE WHEELS, at +00:02
4. Rebecca Fahringer, STAN'S NOTUBES P/B MAXXIS / GOF, at +00:04
5. Jennifer Malik, AMERICAN CLASSIC PRO CX TEAM, at +00:01
6. Danielle Arman, TENSPEED HERO, at +00:03
7. Julie Wright, TEAM AVERICA, at 1:18
8. Natasha Elliott, GARNEAU – EASTON P/B TRANSITION, at +01:24
9. Stacey Barbossa, MIDATLANTIC COLAVITA WOMEN'S TE, at +01:30
10. Rachel Rubino, FEARLESS FEMME RACING, at +01:47
Powers scores first UCI victory in over a year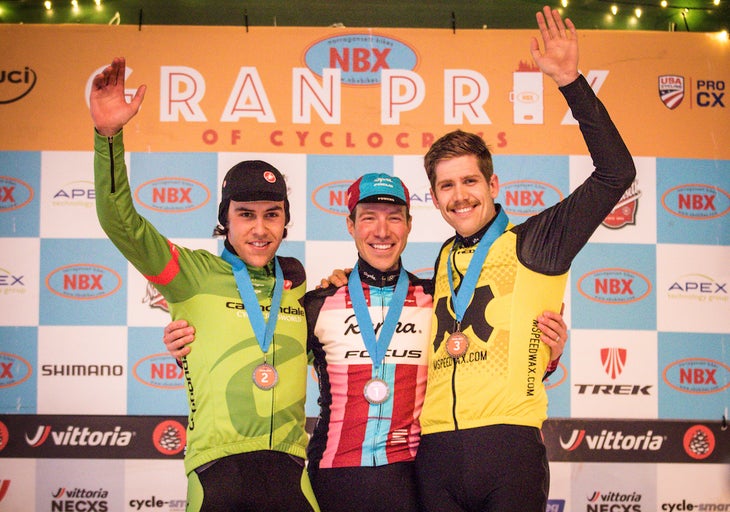 For the Elite Men, Saturday's race would showcase a familiar sight with Powers taking a solo victory. After six podium finishes this year, veteran Powers (Aspire Racing) captured his first UCI win of the year. It is also his first UCI victory since sweeping the Rochester Cyclocross weekend to kick-off the 2016/17 season.
A group of four riders would separate from the field after two laps, including Powers, Curtis White (Cannondale p/b Cyclocrossworld.com), Eric Thompson (M Speed Wax), and Justin Lindine (Apex/NBX/Hyperthreads).
"It was about three to go, Curtis laid out a pretty serious attack," Powers said. "I was kind of yo-yoing off the front at first, then we got into a good rhythm. With three to go, I tried to ride the sand section. Curtis could smell blood in the water, so he made a huge attack, laid it down. I suffered a little bit, but I kept the gap consistent, I came back to them.
"And then I immediately launched an attack. I think over the last two laps after that I was able to keep the pressure on. And then in the back section here in the sand, I heard Curtis just going for me just as hard as he could. And I knew if I just launched one more time that was going to be it. I did and I was able to go away with it."
White, the elite men's Vittoria Series leader, would eventually succumb to the pressure of Powers' attacks on the group. He secured second place, finishing eight seconds behind Powers.
"We were all really taking our turns and the race just seemed like it was getting faster and faster," said White. "Technically, Powers was riding really well. He was riding the sand, he got a gap a couple of times over there. It was just one move too many for me to follow. I think with maybe one and a half [laps] to go, he got a gap in the sand. I closed through some of the trees, but then he was able to open it up again and I just was never able to bring it back."
Eric Thompson (M Speed Wax) took turns on the front of the group throughout the race. "I had a front row start, so that always helps to get up there in the beginning," said Thompson, who would hold on for third place. "I didn't have the greatest start, so I had to punch it."
"Once I was up in the front, I took the lead a few times just to keep things steady. You know, not get too excited, not have to chase back on all the time. So I just wanted to try my hand at the front, when Jeremy and Curtis kind of surged be able to answer it and stay cool as much as possible.
"My saddle actually fell two or three inches in the last two laps. So I had to ride that and it felt like a little kid's bike. But Jeremy and Curtis were pushing it really hard. With those accelerations out of the corners, I just didn't have that, it wore on me. I knew if I tried to hold it long enough I might be able to make it to the finish, but that was not the case."
Racing continues on Sunday in Rhode Island with another UCI C2 event at the NBX Gran Prix of Cross. Sunday's races will decide the overall winners of theVittoria Northeast Cyclocross Series presented by Clif Bar and Cycle-Smart.
Elite men full results
1. Jeremy Powers, ASPIRE RACING, in 01:03:40
2. Curtis White, CANNONDALE P/B CYCLOCROSSWORLD, at +00:08
3. Eric Thompson, M SPEED WAX, at +00:09
4. Justin Lindine, APEX / NBX / HYPERTHREADS, at +01:23
5. Merwin Davis, CYCLE-SMART INC., at +02:01
6. Derrick St John, VANVV DESSEL P/B HYPERTHREADS, at +02:04
7. Dan Chabanov, HOUSE IND/NOKIA HEALTH/SIMPLEHU, at +02:22
8. Michael Owens, HANDS-ON CYCLING P/B GUERCIOTTI, at +02:22
9. Trevor O'donnell, LAKESIDE STORAGE CYCLOCROSS, at +02:33
10. Andy Scott, RIVERSIDE RACING, at +02:37
11. Max Judelson, VOLER/CLIF/HRS/ROCK LOBSTER, at +02:40
12. Adam Myerson, CYCLE-SMART, at +03:26
13. Patrick Collins, MINUTEMAN ROAD CLUB, at +03:26
14. Kevin Bouchard-Hall, WRENEGADE SPORTS/TEAM PLACID PL, at +03:48
15. Andrew Borden, X-MEN, at +03:50
16. Michael Landry, VOLER/CLIF/HRS/ROCK LOBSTER, at +03:53
17. Samuel O'keefe, HOUSE IND/NOKIA HEALTH/SIMPLEHU, at +04:35
18. Dylan Mcnicholas, POLARTEC, at +04:59
19. Bryan Horsley, SEA SPORTS CYCLERY & OUTDOOR, at +04:59
20. Doug Thorp, COLONIAL BICYCLE COMPANY, at +05:02
21. Evan Murphy, LUDWIG & LARSEN RACING, at +05:03
22. Christopher Rabadi, UNATTACHED, at +05:03
23. Zachary Curtis, BRIDGEWATER STATE UNIVERSITY, at +05:15
24. Nate Morse, MINUTEMAN ROAD CLUB, at +05:22
25. Matt Mollo, SQUADRA FLYING TIGERS | MAD ALC, at +05:30
26. Brendan Mccormack, APEX/NBX/HYPERTHREADS, at +05:34
27. Gennaro Ameno, GREEN LINE VELO DRIVEN BY ZIPCA, at +05:45
28. Sean Curran, IMSHI CYCLES, at +06:00
29. Ben Powers, RIVERSIDE RACING, at +06:08
30. James Norris, COWBELL RACING P/B WORLD BICYCL, at+0 6:44
31. Nick Lando, UVM CYCLING, at +06:49
32. Tim Willis, JAM / NCC, at +06:56
33. Travis Wold, WPI, at +07:12
34. John Funke, TEAM MIKE'S BIKES P/B EQUATOR C, at +07:18
35. Andrew Nicholas, RPI, at +09:03
36. Clyde Sebastian Logue, COLONIAL BICYCLE CO, at +09:31
37. Colin Reuter, CROSSRESULTS.COM
38. Dan Fitzgibbons, GREEN LINE VELO DRIVEN BY ZIPCA
39. Sam Hedlund, UVM CYCLING
40. Kyle Murphy, LUDWIG & LARSEN RACING
41. Mark Hewitt, JAM / NCC
42. Gregory Colby, B2C2/JRA CYCLES
43. Chris Goguen, RACE CF | RACECF.ORG
Elite women full results
1. Ruby West, CANNONDALE CYCLOCROSSWORLD.COM, in 39:26:00
2. Arley Kemmerer, FEARLESS FEMME RACING, at +00:08
3. Cassandra Maximenko, VANDESSEL/ATOM COMPOSITE WHEELS, at +00:02
4. Rebecca Fahringer, STAN'S NOTUBES P/B MAXXIS / GOF, at +00:04
5. Jennifer Malik, AMERICAN CLASSIC PRO CX TEAM, at +00:01
6. Danielle Arman, TENSPEED HERO, at +00:03
7. Julie Wright, TEAM AVERICA, at 1:18
8. Natasha Elliott, GARNEAU – EASTON P/B TRANSITION, at +01:24
9. Stacey Barbossa, MIDATLANTIC COLAVITA WOMEN'S TE, at +01:30
10. Rachel Rubino, FEARLESS FEMME RACING, at +01:47
11. Katherine Northcott, WEST HILL SHOP, at +01:52
12. Anne Usher, FAST FUN NICE, at +01:58
13. Taylor Kuyk-White, PHILADELPHIA BIKE EXPO, at +02:20
14. Natalie Tapias, JAM / NCC, at +02:24
15. Sophie Russenberger, DAH─NGER/ BARD COLLEGE, at +02:24
16. Erin Faccone, TEAM AVERICA, at +02:37
17. Jauron Vetter, MAD ALCHEMY | ZANCONATO, at +02:40
18. Leslie Lupien, TEAM AVERICA, at +03:17
19. Katie Carlson, LADIES FIRST P/B MILTON CATERPI, at +03:22
20. Brittlee Bowman, HOUSE IND/NOKIA HEALTH/SIMPLEHU, at +03:33
21. Meghan Owens, UVM CYCLING, at +03:34
22. Taryn Mudge, FEARLESS FEMME RACING, at +03:43
23. Alixanna Norris, COWBELL RACING P/B WORLD BICYCL, at +03:47
24. Kayla Brannen, COWBELL RACING P/B WORLD BICYCL, at +03:55
25. Christin Reuter, MAD ALCHEMY | ZANCONATO, at +04:00
26. Natalie Forsythe, RIVERSIDE RACING, at +04:28
27. Philicia Marion, AMERICAN CLASSIC PRO CYCLOCROSS, at +04:34
28. Allison Mrugal, RENSSELAER POLYTECHNIC INSTITUT, at +04:47
29. Heather Richard, LADIES FIRST P/B MILTON CATERPI, at +04:47
30. Shane Ferro, TWO SECONDS AHEAD RACING, at +05:23
31. Katina Walker, PARK AVE. BIKE P/B BORAH, at +05:50
32. Jenny Wojewoda, PEDALPOWERTRAINING.COM, at +06:12
33. Elizabeth Huuki, ARMY WEST POINT CYCLING, at +06:32
34. Kelli Montgomery, STAGE 1, at +06:40
35. Paige Williams, FUJI CROSS CREW, at +06:55
36. Mary Maroon, VOLER/CLIF/HRS/ROCKLOBSTER
37. Sara Melikian, PEDALPOWERTRAINING.COM