Rochette and Hyde take victory in Rochester cyclocross day 1
Rochette wins solo in her first Pro CX event of the season, Stephen Hyde wins the C1 race for the second year in a row.
Heading out the door? Read this article on the new Outside+ app available now on iOS devices for members! Download the app.
Maghalie Rochette (CX Fever-Specialized) took her first cyclocross win of the season at Rochester, New York, beating Ellen Noble (Trek Factory Racing), and Crystal Anthony (Liv Cycling), who placed second and third respectively.
In the men's race, two-time U.S. cyclocross national champion Stephen Hyde (Cannondale-Cyclocrossworld), won the Saturday race for the second year in a row, distancing Kerry Werner (Kona-Maxxis-Shimano) in the final lap. Tobin Ortenblad (Santa Cruz-Donkey Label Racing) completed the podium in the second weekend of Pro CX racing.
Rochette wins in perfect first outing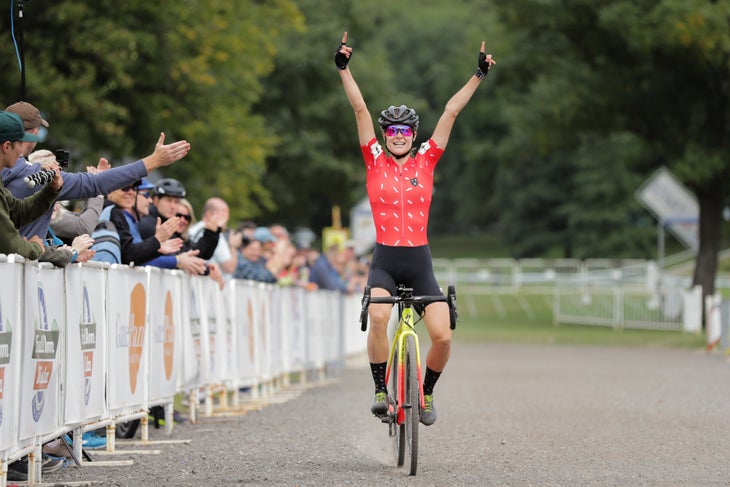 Noble and Rochette built a gap early on, working together for the initial laps. Following a seesaw battle between the two, Rochette went on to launch the winning attack on the fourth lap, with two laps to go. "I just went without really thinking about it," she said. "My thought was, 'Oh, all right I'm attacking her so let's make it count.' The gap grew, so I just kept focusing on what I was doing, and not on her really."
Noble said after the race, "I made a couple of really, really, really small mistakes that allowed Maghalie to get away. On a course like this, it's really just about not making mistakes."
Behind, Antony moved into third place with four laps to go, as the chasers, including Katie Keough (Cannondale-Cyclocrossworld), Caroline Mani Van Dessel Factory Team), and Erica Zaveta (Garneau-Easton Cycling), began to fade.
"Everything went right and nothing went wrong," said Rochette. "I'm super happy."
Hyde hops to victory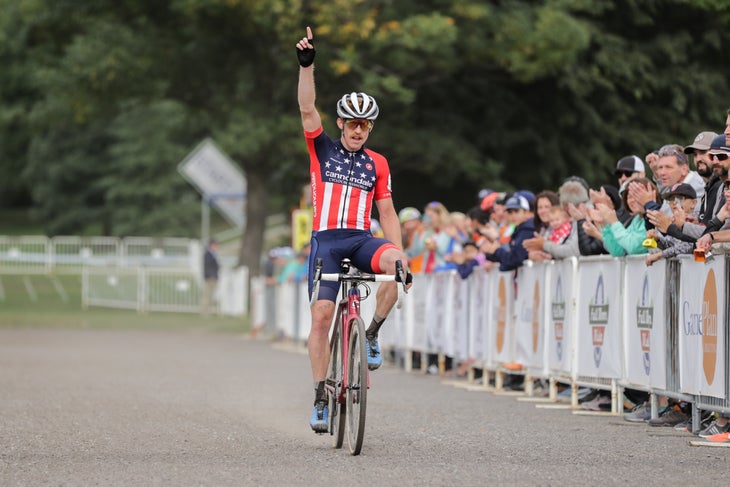 Hyde took the lead in the first lap, followed by Werner, Gage Hecht (Alpha Bicycle Co.-Groove Subaru) and Lance Haidet (Donnelly Sports), and the foursome set a fearsome pace for the initial four laps.
"My legs felt good," Hyde said. "I was just super consistent. It worked. It was a good testament to my fitness."
With five laps to go, a chase group of three riders — Ortenblad, Jack Kisseberth (Garneau Easton-Transitions) and Jeremy Powers (Aspire Racing) — worked together to close the gap to the leading quartet to just five seconds.
Hyde continued attacking Werner in the final two laps whilst the pair held the chasers at bay. Hyde finally distanced Werner when he hopped the Full Moon Vista barriers on the final lap, while his rival dismounted. He went on to win in a time of 1 hour, 2 minutes, 53 seconds, with Werner 18 seconds back.
With two laps to go in the chase group, Ortenblad caught and passed Hecht and held off Kisseberth to take third place.
"I just tried to ride forward most of the day, pick guys off one at a time," Ortenblad said. "I was able to do that for sure, but I like to think that maybe if I was in that front group I could have made a move, gone with Hyde."