After record sixth green, Sagan will 'respect' world title
The Innsbruck worlds course doesn't suit Peter Sagan, but he'll do his best to defend rainbow jersey in September.
Heading out the door? Read this article on the new Outside+ app available now on iOS devices for members! Download the app.
A battered and bruised Peter Sagan leaves the City of Light with a record-tying sixth green jersey.
Now the Bora-Hansgrohe superstar will set his sights on another cycling milestone: a fourth world title.
The Innsbruck world championship course certainly doesn't bode well for Sagan to try to become the first rider to win four rainbow jerseys. Team officials confirmed the worlds remain the central late-season focus for Sagan despite an unfavorable course and a rough and tumble Tour.
"Peter is the three-time world champion — he will be there out of respect of the world title and the world of cycling," Bora-Hansgrohe sport director Patxi Vila told VeloNews. "Peter will show up in the best possible condition he can."
On paper, the climb-heavy worlds course in Innsbruck seems to be the anti-Sagan worlds route. The course features more than 5,000 meters of climbing on ramps as steep as 28 percent.
Sagan's three previous world championship titles came on circuit courses that presented some hilly terrain — at least in Richmond and Norway (Qatar was flat) — but nothing like what the peloton will face in September.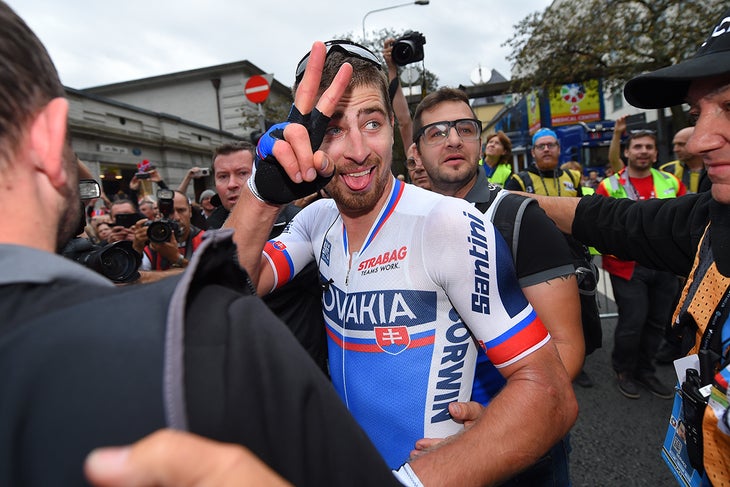 Some were wondering if Sagan's surprising breakaway rides into the mountains of the Tour de France were in part related to Sagan's goal of testing his body against higher-paced steeper terrain. Sagan rode into several breakaways bumping elbows with the pure climbers. He already had the green jersey all but wrapped up, so why was he out there?
Vila, who also coaches Sagan, said those Tour breakaways were not with one eye on Austria.
[related title="More on Peter Sagan" align="right" tag="Peter-Sagan"]
"No, no, Peter just tries his best every day," Vila said. "When he is the mountain stages, he is just thinking about the best way to beat the time cut. When he wants to, he can climb a lot. He was just trying to find himself in the best possible position."
That aggressive mountain racing, however, came back to bite Sagan when he crashed coming off the Col de Val Louron-Azet in stage 17. Sagan said he misjudged a corner and "flew into the forest and hit a big rock with my ass."
Sagan made it through the next day's transition stage but suffered horribly to make the time cut in stage 19. Vila said there will be a before and after for Sagan after this Tour.
"That was his hardest day on the bike ever for Peter," Vila said. "That day will change the Peter we've known. That was the first time he really had to push himself to the absolute limit to make time cut. He's pushed himself before to the limit but that was for victories. When the Tour is finished he will change how he will think about the race."
Sagan's post-Tour racing schedule remains up in the air. He is penciled in to return to the Vuelta for the first time since 2015, but Vila said that Sagan's race schedule is not confirmed.
"We need to see how Peter recovers from the crash and the Tour, and then we will see," said Vila, adding that Sagan also might want to take a run at the WorldTour points title. That might see him return to the Canadian WorldTour races in September. "We really need to see how he recovers from the crash."
What is confirmed is that Sagan will be heading to Austria in September.
"[A fourth title] would be really, really hard, just looking at the parcours," Vila said. "That's Peter — if he really wants something, then he will be there. Of the last worlds he's raced, this is the hardest one."
Fred Dreier contributed to this report from Paris.