An emotional Cav' sets sprinters' record with 13th Tour stage win
Thursday's win breaks the sprinters' record of a dozen Tour victories, held by Mario Cipollini, Erik Zabel and Robbie McEwen.
Heading out the door? Read this article on the new Outside+ app available now on iOS devices for members! Download the app.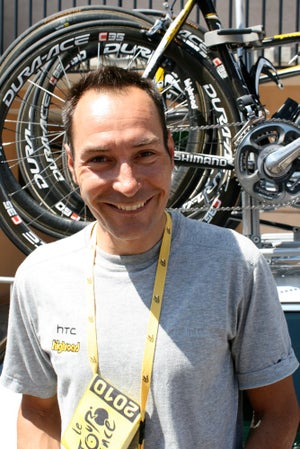 Although you wouldn't know it to look at him sitting glumly after the stage, Mark Cavendish set a Tour de France record Thursday with his 13th career stage win. He surpassed the mark of 12 sprint stage wins set by Mario Cipollini, Erik Zabel and Robbie McEwen, but Cavendish was clearly more focused on the ejection of his lead-out man Mark Renshaw.
It was an emotional reaction from an emotional rider — something that his mentor Zabel said is part and parcel of a sprinter's character.
"Sprinters are a different type of rider," Zabel said. "Sometimes in just the last kilometers a single second makes the difference between wining and losing. For GC riders, if you make a mistake on a climb, you have an hour to make it good again. Sprinters are more like the goalies in a soccer game. They are much more emotional. Cav is the prototype of a sprinter."
The 25-year-old Cavendish racked up his record number in just his fourth Tour, and he really only hit his stride in 2008, after crashing and struggling a bit in his debut in 2007.
Other riders have won more stages — six riders have won more than 20 stages each, including Eddy Merckx with the record 34 and Lance Armstrong with 25 — but Cavendish's win Thursday broke the four-way tie for most career sprint wins.
"Now he is a completely different Cavendish that we see," said Zabel, who at age 40 is retired from racing and working as a consultant with HTC-Columbia rider.
Zabel said Cavendish is learning how to deal with the intensity of the Tour.
"Now that he has won stages he is much more relaxed, and he has something in the pocket," Zabel said. "If more will come, then perfect, but it's not a must."
"When I was young, sometimes the pressure was too much for me," Zabel said. "All the adrenaline in the last kilometer is so high, that it's difficult to come down from 100 to 0 in just 5 seconds after you cross the finish line. So sometimes you don't know in which direction you have to put your emotions. Sometimes it goes in the wrong direction. It's like that. I remember very well when I was young I was a bit the same. I'm here at the finish line to take care of Cav, and try to help him in this situation."
McEwen, who also has the distinction of 12 Tour stage wins — along with three green jerseys — is racing against Cav in the 2010 Tour. On stage 11 he finished fifth. Despite crashing at high speed earlier in the Tour, the 38-year-old McEwen is still keen to take risks and mix it up with guys 15 years his junior.
"If you hesitate you're going to stay in 100th position," McEwen. "You're never going to get to the front. There's no hesitation. I'm not frightened of crashing. I'm still here, I'm hurting like hell, so I think, 'shit, it can't get any worse, so just go for it.'"
Cavendish won stages 5 and 6 and took the field sprint on stage 10 before winning again on stage 11.
Looking ahead, Cavendish was optimistic that he could continue to up his record.
"There's still two, possibly three sprint days left," he said of the 2010 Tour. "Hopefully we'll get some more wins."
With no categorized climbs — and falling on either side of the critical 52km time trial — stages 18 and 20 are quite likely to come down to field sprints. Stage 13, with three Cat. 4 and two Cat. 3 climbs, is more likely a day for the breakaway, but could be a sprint, too.
Whenever the sprints may come, Cavendish will continue to pour himself completely into the effort whenever HTC sets it up. He often talks about the stress he feels to not let his team down; as much as he loves winning, he may hate the feeling that he's disappointed his teammates more. Zabel said that this attitude — along with world-class fast-twitch muscles — may be part of the winning formula.
'Pressure is pressure. At the end of my career I handled it really well, but I was not winning so often any more, so it was easy then," Zabel said with a laugh.
Cavendish clearly appreciates Zabel's mentorship, saying that his 13th Tour stage win really could count as Zabel's 25th.