Analysis: No, Roglič isn't peaking too soon
Having taken yet another victory at the second stage of the Dauphiné Thursday, some say Roglič is too strong for his own good.
Heading out the door? Read this article on the new Outside+ app available now on iOS devices for members! Download the app.
There's no doubting it, Primož Roglič is on a tear.
Remember when the Slovenian was last on this type of form? That's right, about one month before he crashed and burned out of the pink jersey at last year's Giro d'Italia.
As of Friday morning, the Jumbo-Visma captain has taken three stage wins from five in the past week, and bettered Tadej Pogačar at June's Slovenian national championships. And as a result, speculation is flying that he's too hot for his own good. If Roglič is intent on playing a role in his team's grand plan of winning the Tour de France, surely he's in form too early?
With the pivotal final week of the Tour still four weeks away, there's ever-loudening whispers that Roglič is on course to repeat the drastic decline he suffered at last year's Giro d'Italia. Having blazed through the start of the 2019 season with overall wins at the UAE Tour, Tirreno-Adriatico and Tour of Romandie, Roglič went through two weeks of either wearing the Giro's pink jersey or playing de facto race leader, only to unravel at the last, hanging on for third overall in Verona.
Is Roglič going to repeat last May's Giro disastro? Is he just too good right now?
Not necessarily. Here's why.
Roglič is no longer alone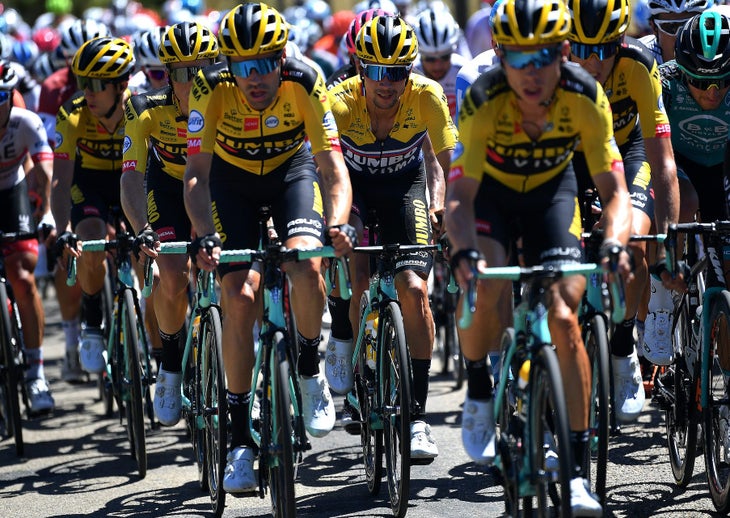 Roglič didn't lose his grip on the Giro just because he lost his legs.
Jumbo-Visma spread their ambitions wide in 2019, with equal ambition at both the Tour and the Italian race. After key lieutenant Robert Gesink was ruled out on the eve of the Grande Partenza with injury, Roglič was left with a youthful and arguably underpowered team at the Giro, pinning his hopes on Laurens De Plus and Sepp Kuss for support in the mountains while Steven Kruijswijk, George Bennett and Wout van Aert waited for the Tour. And new-signing Tom Dumoulin wasn't even in the equation back then.
When De Plus abandoned early in the race, it was down to Kuss, who was a very different rider then compared to the unstoppable mountain man he is now. Inevitably, Roglič was time and time again left to fend for himself when the road tilted upward as Movistar and Bahrain-Merida ramped up the pressure on behalf of eventual winner Richard Carapaz and second-place Vincenzo Nibali.
Compare that to the Jumbo-Visma of August 2020.
The Dutch squad has steamrollered all before them since they returned to racing, with even Team Ineos left out-Ineos'd as their rivals drilled the pace in the mountains at Tour de l'Ain and again on Thursday at the Dauphiné's major mountain finish. If the Tour de l'Ain and the battle on Col de Porte Thursday showed anything, it's that Roglič will not be going to get his own bottles while swatting away attacks at this year's Tour in the way he had to at the Giro in 2019.
Firstly, the team is stronger, and secondly, Roglič knows how to use them. It may be Roglič's face we keep seeing on the podium, but it's the work done by his team that has got him on top of it. There's been no unnecessary spraying of bullets; only lazer-sharp closing-kilometer attacks off the back of the hard work of his domestiques.
Jumbo-Visma knows what it takes to win a grand tour
Let's not forget what has happened between last May and now – Roglič and his team rallied from their Italian disappointment to win the Vuelta a España.
"After the war, you can always be smart to change or to be different," the slumped Slovenian had said at the close of the Giro. "I am super happy and proud of this Giro. Also, the first part of the season, with all the races I did. For sure, I learn these moments and I will try to take something out of it."
The 2019 Giro was just Roglič's fourth three-week race and only his second riding for GC. As he promised in Verona 14 months ago, he would learn.
Later that year, Roglič and Jumbo-Visma bounced back to win the Vuelta through patience and tactics, not overenthusiastic race-and-hope bravado. The Slovenian used his skills against the clock to take the lead in the stage 10 time trial, and defend it from thereon. He didn't get caught up in marking out red herrings in the way he mistakenly latched himself onto Nibali's wheel through the Giro, and he didn't fight for the leader's jersey until he needed to.
The Vuelta marked a turnaround for both Roglič and the squad behind him, and they're unlikely to be forgetting those hard-earned takeaways from Italy.
2020 is not 2019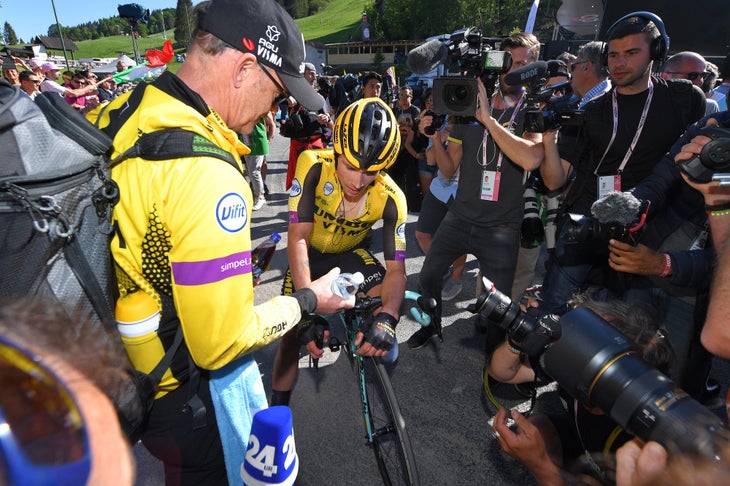 Sure, none of the pro peloton has had many race days this year, but Roglič is a contender for having the least. He didn't touch his race bike before the coronavirus racing stop, and has now competed for a grand total of seven days all year; two of those being months back at the Slovenian national championships. He's not exactly carrying a weight of fatigue in his legs.
Roglič seems so totally dominant right now because the season – or the season we remember after the long coronavirus lockdown – is just two weeks old, and the Slovenian has started it hot. Heck, he could be planning a 2020 race calendar that closed at the conclusion of the Tour in five weeks' time for all we know. If he were to do that and come away from it with a Tour de France winner's jersey, few would blame him for it.
Compare that to last year, where Roglič won the opening time trial at the Giro having already steamed through three stage races in 10 weeks. He had been at the top of his game since the UAE Tour in February as he looked to somehow ride a "peak" that had a very long flat top to it. He was riding his luck, and his luck ran out somewhere in Italy.
Would we say the same about Bernal?
Roglič's Giro defeat is an albatross around his neck. Take a look at Egan Bernal, the Slovenian's number-one rival for both this week's Critérium du Dauphiné and the Tour.
The young Colombian took second at both of Tour de l'Ain's major mountain tests behind the Roglič, and was third in the opening stage of the Dauphiné. And most significantly, he's done most of that alone after Jumbo-Visma stripped away every last Ineos rider that was there to provide him support.
Sure, Bernal is a super talent, but he too is starting the season head and shoulders above the rest of the bunch.  Are we saying the Ineos captain is treading dangerous ground this early in the season? No.
Roglič's Giro defeat lives long in the memory and may remain attached to him some time yet.
He may hold his form, but Tour success is far from guaranteed
Now, don't go betting your house on Roglič winning the Tour de France just yet.
This year's Tour is far from straightforward, with traps at every turn for both Roglič, Bernal, and wildcards such as Pogačar and Thibaut Pinot. With high mountains and summit finishes from the opening week, Roglič could be on the back foot if he's not on the ball from day one.
Also, consider that Team Ineos could be plotting a very carefully-timed rise in form for their riders, leaving Bernal, Thomas and company still a little off the boil with two weeks until the Tour rolls out of Nice. Remember what Team Sky did with Froome at the 2018 Giro? Should they be trying the same again, Roglič's August palmarès is overstated.
However, the British team clearly wants to win stages at the Dauphiné this week as it looks to strike a psychological blow after taking a battering at Tour de l'Ain earlier this month – just look at how they tried bullying Jumbo-Visma back into a corner with their relentless mountain train on the Col de Porte Thursday.
Bernal's shake of the head in frustrated bewilderment as Roglič accelerated clear from him at the finale yesterday was telling.
Primož is on a roll and he and his team have the momentum to keep it moving in the right trajectory. Bernal is going to have no walk in the park defending his title at the Tour this summer, and he knows it.