Brent Bookwalter: Tour bound and talking pressure
Brent Bookwalter is headed this week to his second Tour de France on the Vendée coast in western France. He talked with VeloNews about the pressure of entering the season with the Tour on his schedule, BMC Racing teammate George Hincapie's record-tying 16th Grande Boucle and his recovery from a broken collarbone suffered in April.
Heading out the door? Read this article on the new Outside+ app available now on iOS devices for members! Download the app.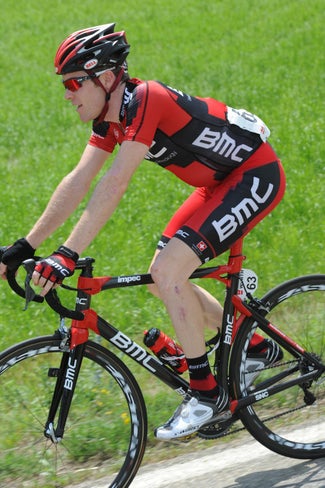 He gets less press than some of his young American compatriots, but Bookwalter will start his second Tour de France in a row, his third grand tour overall, on Saturday. A stage winner at the Tour of Utah and a multiple-time collegiate national champion, Bookwalter broke out in Europe with a second-place ride to Bradley Wiggins in the Giro d'Italia prologue last year.
Bookwalter is a vital part of Cadel Evans' supporting cast at BMC, particularly with a team time trial, potentially tough Brittany weather and two hilltop finishes in the first 10 days of the Tour de France. Bookwalter spoke with VeloNews in Livigno, Italy, where he spent the last week training with teammates Hincapie, Marcus Burghardt and Manuel Quinziato.
Q. The Tour de Suisse was your first European race since early April when you broke your collarbone at the Volta a Catalunya. What did the Tour de Suisse tell you?
A. What did it tell me? Man, this sport's really hard. It was a little bit of a shock. I had similar sensations to Paris-Nice, which was my first WorldTour race of the year. I had decent legs and form for each of them, but a few months away from Euro peloton and roads… I felt progression. I didn't feel great when I started, and didn't feel worse when I finished, so it was good. You almost click into that grand tour mentality over nine days. It's good to remind the body and mind of that rhythm.
Q. You came into 2010 with the Tour on your schedule, but the collarbone fracture had to put that into doubt. Did you arrive to Switzerland knowing that you really had to prove your place in the team?
A. I don't know. At the beginning of season the Tour was part of my program; it was never taken off, but an injury always brings uncertainty about every race in your schedule. I was definitely feeling a little unsure during Tour de Suisse and going in. I had a decent (Tour of) California, decent nationals, but as you get closer you really realize how many guys are on the team and motivated and fit.
Unless you're a guy like George or Cadel, proven veterans, time and time again, your spot's not secure until it's announced and really until you're at the race.
Q. A month after you finished your first Giro, the team threw you into the Tour last year at the last minute. You've had the race on your schedule since January this year. How has that changed your preparation?
A. It's made a big difference in my build. I've taken a different approach in a lot of ways and am learning as I go. Last year the Tour was plopped in front of me a week or ten days out. I didn't have the respect or experience of having it in your sights all year and the pressure and expectations of the team all year and then delivering on it.
If I could have changed one thing last year, it would have been to have known and psyched myself up and prepared for it. I got that (more time) this year and it's been huge. It's beneficial and brings its own challenges. Having responsibilities, expectations and having a clear, announced goal is different; it's like winning race as underdog and a favorite. It's a lot harder to come back and win when everyone expects it.
Q. This year's Tour parcours is potentially more demanding over the first nine days with time splits possible on a number of stages. What do you make of the first week-and-a-half, when you'll really work a lot for the team?
A. It depends on how the race unfolds. Relative to the Tour last year, it's more diverse with more time (differences possible) before we hit the mountains. It's a pretty diverse and extremely challenging first nine days. That region of France, the little bit of racing I've done there, I have tough memories in that region. It's up and down, by the coast, windy and the weather can change really fast.
Q. We have the team time trial on day two. You're a very important part of that squad and 12 BMC riders gathered in Belgium earlier this month for a TTT camp. What was the mood in the camp?
Q. I came straight over after nationals the next morning. I got on the TT bike and nuked myself for two days. I feel like we have good camaraderie and dynamic; no one was trying to flick each other, but with 12 guys, nine who make Tour team, it was really hard. But I can't imagine it being any better on any other team. We really enjoy each other's company at dinner every night and we talk about things other than bike racing.
Q. George will start his record-tying 16th Tour on Saturday. How much of a discussion topic or a focus for the team has that been in the build-up to the Tour?
A. You know, it hasn't been verbalized or voiced a lot. He hasn't gotten anywhere in his career pursuing records, numbers and stats. He just loves his job and really enjoys riding.
Q. As a young American going into your third grand tour, just how important is it to you having a veteran like George to guide you through?
A. George is really important to this team. He's helped me along more than I can say, from at home in Greenville to the races. He's so pro; you see how hard he works. You see he sometimes suffers and hurts, even if it's not as much as I would like (laughs). He still gets emotionally fatigued and blown out, but he's not as fragile as me.
Last year I remember one morning in the bus I was complaining and he joked back, 'What, your legs hurt? My legs never hurt in bike races.' He's a different beast than I am. Eighteen years and 16 tours is a lot different than two Tours.
Q. How are you feeling physically compared to a week out a year ago?
A. I'm more confident. Last year coming out of the Giro, I think what I kept telling people was I didn't know how I was going to feel at the Tour. Each day I got through the Giro was a new day of discovery of how I was feeling and recovering and getting through it. Coming off two grand tours last year, I've had really good prep this year aside from the collarbone.
Q. It was apparent at the Dauphiné that Cadel's midseason focus had returned. What indications do you get from him ahead of the Tour?
A. My first indication is his performances all year. I watched the Dauphiné on TV and spoke with teammates. The world can see he's on track and ready and it's no surprise to me. I think that's what makes Cadel Cadel. He's always ready, prepared and he's been spot on in Tour tune-ups.
I've only raced with him this year at the Volta a Catalunya. I really admire the guy because he always shows up to race. Even when he acknowledges he's not at his best he goes for it, like in the finish in Macerata at Tirreno-Adriatico. He was patient and bided his time until the finish.
The pressure is ramping up for everyone. He's handled it before and I'm sure he will again.
Q. A few years ago you were winning collegiate national titles with Lees McRae, now you're starting your second Tour de France in a few days. Just how cool does that feel?
A. It's everything that I could have imagined and more. At the time, three or four years ago, you have goals and ambitions and dreams down the road, but I was so focused that I didn't let myself drift too far down the future. It means a lot to me to have improved each year to this point to be where I am now.