Brian Nygaard on Tour de France: 'It's not just Andy versus Alberto'
Brian Nygaard, team manager at Leopard-Trek, promises that the Schleck brothers will be attacking in the Tour de France and especially aggressive in the high mountains.
Heading out the door? Read this article on the new Outside+ app available now on iOS devices for members! Download the app.
Brian Nygaard, team manager at Leopard-Trek, promises the Schleck brothers will have the support they need to make a run for the yellow jersey at this year's Tour de France.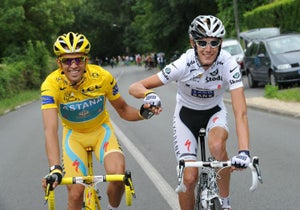 Andy and Frank Schleck line up Saturday as five-star favorites to win the Tour and will start as what many see as the only legitimate threats to Alberto Contador for the Tour crown.
Nygaard, however, is quick to caution that the Tour shouldn't be viewed as a showdown between Andy and Alberto. Nygaard insists that's not how the Leopard-Trek team is approaching the 2011 Tour. Instead, Nygaard said that fans should expect the unexpected in the three-week clash of the titans that could see either one of the Schleck brothers emerge as the team leader. Here's what Nygaard had to say about the Tour, Contador and racing against Bjarne Riis:
VeloNews: What is the mood of the team with less than a week to go to the Tour?
Brian Nygaard: We cannot wait to get started. We go in with the mindset that we're quietly confident. It will be an exciting race. Man-by-man, we will have one of the strongest and most competitive teams in the Tour. Many people are expecting a great duel between Andy and Alberto, and they certainly start as the favorites, but I think a lot of other stuff can happen at this Tour. The Tour always brings surprises. I think we could see something happen unexpectedly in the first half of the Tour. There are some very challenging transition stages. This is our first Tour, so we're very excited. We have a lot of experienced guys and we start with high ambitions. But it was barely a year ago when we started to talk about this project. To be at the Tour shows just how far we've come along and we're very excited to be going there.
VN: Everyone expects Andy Schleck to be the No. 1 rival to Contador, do you start with the mindset of winning?
BN: I think the best approach should be that we've done everything we could to get ourselves in position to do the best we can for the race. We can only control what's controllable. We cannot control what other riders can do or how the race will unfold. We're not going to say if we do not win 'X' amount of stages or finish on this place on GC. Let's see what kind of opportunities we can create. We have a couple of guys who can win it. So let's put them in position to try to win and give it our best shot.
VN: Either one of the Schleck brothers could win the Tour, but does Andy start with more support within the team in light of his two consecutive second places?
BN: I think the race will decide who our team leader is. It's never a disadvantage to have two strong guys instead of just one candidate. The brothers do not have a problem between them. We will support the strongest rider. They will be attacking; they will be aggressive in the high mountains. We will have some tactical moments where two GC riders will be a big plus. I think that's our advantage over other teams.
VN: Last year, how much of a difference did you think it made when Frank crashed out in the first week?
BN: Well, looking at it from the outside, I think Frank would have had a massive influence on the outcome of the race had he been there. He was coming into the race very strong. He had just won the Tour de Suisse. This year, both have had a pretty good lead-up to the Tour. Both are coming into the Tour in good shape, they've had no problems leading up to the race. I know they will be ready for the decisive second part of the Tour. We have a very strong team that can help them in all terrain.
VN: Leopard-Trek will be one of the deepest teams in the Tour, but would you try to defend the yellow jersey early if Fabian Cancellara or someone else gets it early? Perhaps with the team time trial or a stage win?
BN: It's a fairly short team time trial. I do not think it will have a massive impact for the GC teams. I think there will be two races that one – one for the yellow jersey and another between the GC teams. Of course, it would be fantastic if we could have the maillot jaune. But would it be risky to try to defend it all the way to the Pyrénées? We don't want to burn too many matches early. You want to use the TTT to gain as much time as you can on your rivals. If you can win the stage and take the jersey, that would be fantastic. Maybe it would be worth to have it for a few days, but maybe not ride to defend it too early.
VN: As you mentioned earlier, this is Leopard-Trek's first Tour, how do you characterize the first half of the season for the team? There have been some critics who said the team hasn't lived up to expectations.
BN: Sure, I would have loved to have traded some of those second places in the spring classics for a big win, but that's racing. You have to accept that. I don't think we did anything wrong. We were present in all the classics. Even though people might not believe it, we came into the season quite humble. We wanted to make sure we did the right things. And I am very happy where we are right now. We are a team that can win a race in any month of the calendar. Maybe we didn't get that big win in the spring, but let's settle the score at the end of the season. There's still a lot of racing left.
VN: One of the big stories was the departure of riders and staff from Bjarne Riis and Saxo Bank to create Leopard-Trek. There have been some suggestions that Riis might have some sort of advantage now with Contador because he knows the Schleck brothers so well, that he will be able to know when they might be in trouble. But does Leopard-Trek have a similar advantage against Riis, at least knowing how he thinks and operates?
BN: I think that's one of the things that's going to make this Tour so interesting to watch. Bjarne is a very savvy, he's very tactical. He's won a Tour on his own and he's won a Tour as a team owner. Our advantage will be to try to bring a team that's stronger than any of the other GC teams, and I think we will have that. We have to be a little cautious, because this will not just be a race of Alberto against Andy, or Leopard against Saxo Bank. A lot can happen in three weeks. Of course, those two are the big favorites. And there's no secret that Alberto, on paper, is the man to beat. But I am sure there will be some surprises in this Tour and we have to be ready to react to those.
VN: What is the team's view of Contador's participation in the Tour despite his unsettled clenbuterol case from 2010?
BN: It's not good for cycling, it's not good for the fans and it's not good for Contador, because I am sure he wanted this resolved before we got to this point. The case has been delayed and no one can stop him from racing. We just have to deal with it. It's very hard to make a judgment call on this, and perhaps that's why it hasn't been decided yet. It's a very complicated case. I feel sorry for the people watching the sport from the outside, because the sport hasn't been able to decide if this guy's in or if this guy's out. But now he's in, and the rules have stated that he can race. Looking from the outside, it's a little bit confusing.
VN: Do you think that fans should believe what they see in this year's Tour? Has cycling done enough to clean up its act?
BN: The sport has done a massive effort in that direction. If you look at where cycling is now compared to where it was five to 10 years ago, it's in a much better place. It's been going in the right direction for several years now. The scandal stories have a big attraction for the media, and I can understand that, but the true story gets clouded sometimes because these things pop up. The sport has done a lot to improve, but cycling can do better to tell that story.
The whole issue of the biological passport, it's been a real revolution for what it's done in cycling. Before, anti-doping controls were a bit like fishing in a pond. You threw in your line and once in a while you caught something, but really never knew why or how. Now, it's more like you're inside the pond and you're standing underneath the water, and you can see the fish move, you can see which ones got bigger from yesterday.
With the biological passport, all the tests create a cumulative body of evidence. It's not just one random test here or there. It's a series of tests over several months and years that provide a complete picture of what's happening. It's such a huge achievement and I don't think it's really sunk in yet among fans and media. I think the sport can do a better job to convey that. The biological passport is like a nail in the doping coffin. It's a different way to catch the cheaters.