Cadel Evans and BMC silence critics by being tougher than a very tough 2011 Tour de France
n securing the first Tour de France title for Australia Saturday, Cadel Evans and his eight BMC Racing teammates silenced their critics after three weeks of seizing every opportunity they could find en route to the Champs-Élysées.
Heading out the door? Read this article on the new Outside+ app available now on iOS devices for members! Download the app.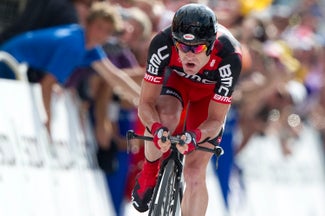 GRENOBLE, France (VN) — In securing the first Tour de France title for Australia Saturday, Cadel Evans and his eight BMC Racing teammates silenced their critics after three weeks of seizing every opportunity they could find en route to the Champs-Élysées.
The scrum around the black-and-red team bus and trailer was intense after the stage-20 individual time trial. Flag-waving Aussies shouldered up with journalists and cameramen. The crowd heaved under shouts of "Aussie!" A few feet away, team president Jim Ochowicz said that his squad came into the Tour with a plan to work early and work hard for Evans in a first week that tore the race apart and took many GC hopefuls out of the picture with injuries or lost time.
"We had to and that's why we brought the bulldozers here – George (Hincapie), (Marcus) Burghardt, (Manuel) Quinziato, (Michael) Schär – these guys are classics guys, but they can ride in the wind and on the front all day long," Ochowicz told VeloNews. "They protected Cadel for three weeks and the other guys worked on the climbs. We weren't an overwhelming team, but we were there every day when we had to get the job done."
Evans entered the day with a 57-second deficit to Andy Schleck and four seconds to Fränk Schleck. When he crossed the line in 55:40, just seven seconds slower than stage winner Tony Martin (HTC-Highroad), BMC staff and riders filling the team bus cheered. Moments later team manager John Lelangue rolled up in the follow car and sat, concentrated on the race radio as Leopard-Trek's Schlecks approached the finish.
Radio tour confirmed 58:11 for Andy Schleck and Lelangue's face gradually assumed a measured smile before he spoke into the radio. Shouts came from the overflowing bus. When the team emerged soon after, riders and staff exchanged hugs, handshakes and high-fives. Evans had delivered after 20 days of stressful racing.
American Brent Bookwalter, who will finish his second Tour, had difficulty finding words to describe how he felt knowing that he would ride onto the Champs-Élysées Sunday with a Tour champion in his team.
"Beyond a dream come true," he told VeloNews. "We're all empty. We left it all on the road and whatever happened today we had to be happy we left it all out there. Like I said, I can't even describe it. It's surreal."
While the win will earn Bookwalter his first set of yellow armbands, Evans' triumph makes it nine Tour wins for the team's road captain, George Hincapie. For two weeks critics doubted the team's strength and accused them of working too hard in the race's opening stages.
"We love to hear that," said Hincapie. "They only talk about other teams and when they talk about us, they say we worked too much in the beginning. For us it's kind of motivation to hear that our tactics aren't right, we're working too much, but I think I have a little bit more experience than the journalists saying that we're working too much because I have won a bunch of Tours.
"I'm really proud of the way the guys rode. Sure, maybe we worked more than others at times, but that's what it takes to keep Cadel out of trouble and keep him up front and confident in his team."
Italian strongman Manuel Quinziato took a harsher line with the team's critics.
"I think somebody has to think about that and shut up next time, maybe," he told VeloNews. "It's true. We worked really hard; we were a really strong team in the flats. We were so dangerous in the first part of the Tour de France. We spent a lot of energy, but we kept Cadel in a safe condition, which was really, really important."
Evans raced the Grenoble course in the Critérium du Dauphiné in June and previewed it again Saturday morning. Swiss climber Steve Morabito said he hoped for a lot from Evans on Saturday, adding that the Aussie surpassed all expectations after two hard Alpine stages.
"Everybody knew he was strong in the time trial, but to do that he had really good legs and for the team it's a really good present," said Morabito.
Evans was not without drama in his chase of the yellow jersey. His GC rivals forced him to lead the chase of Andy Schleck to the summit of the Col du Galibier on Thursday. On Friday, a mechanical mishap forced him out of an early breakaway with Andy Schleck and Alberto Contador (Saxo Bank-Sungard), but Hincapie, Morabito and Amael Moinard pulled Evans back before the finishing climb of L'Alpe d'Huez.
"He's shown that he's a leader and that he's matured and confident in himself. In all of those situations he didn't panic. I may have been more inclined to panic if it had been me. He stayed cool and he did the right things," said Ochowicz. "He almost lost the Tour on Thursday. If he hadn't made that effort to close the gap on Andy Schleck, that would have been it.
"If the team hadn't chased down some time off (Thomas) Voeckler the day he got in the break – there were some crashes but in the end we had to make some time back – if we hadn't done that, Voeckler would have been winning. There were a lot of things in the race where we played a part and decisions had to be made. It was either win or lose at that point and there was nothing to lose."
After Lelangue exited his car, answered a question from Belgian television and made his way through the scrum to his men, he said Evans and the team rode hard and smart from day one to the finish in Grenoble to deliver the American squad's first Tour win.
"It was nice to make three time trials in three days. One time on the first side of the Galibier, we had the Lauturet, the second time after the bike change and today in Grenoble. So, three time trials in one Tour de France is not so bad," he told VeloNews. "I think they can be proud of what they've done."
Quinziato, on the eve of finishing his sixth Tour de France, couldn't believe that he would ride to Paris a winner Sunday.
"Cadel was amazing. He was amazing yesterday, he was amazing the day before chasing down Andy Schleck and he really deserves it," he said. "I remember every year to ride onto the Champs-Élysées it's an explosion. To think about riding with the maillot jaune in my team, I have goosebumps."