From the pages of VeloNews: Friendly Fire, Inside the Armstrong-Contador showdown at the 2009 Tour de France
"I won two races, one on the road and another in the hotel," Contador said.
Heading out the door? Read this article on the new Outside+ app available now on iOS devices for members! Download the app.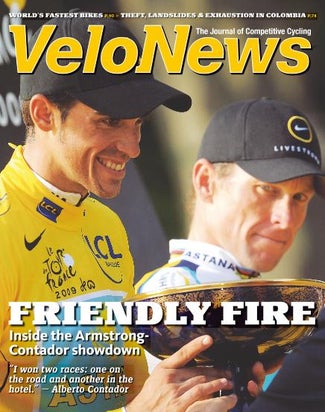 The view at the start line of stage 19 summed up the relationship — or lack thereof — between Lance Armstrong and Alberto Contador during the 2009 Tour de France.
Riders were lined up across the breadth of the road in the Rhone village of Bourgoin-Jallieu. A smiling Contador, dressed head to toe in yellow, was on the far right side. Armstrong was on the far left, leaning against the barriers, about as far as he could be away from Contador and still be in the Tour de France.
On one side was the legend, the cancer-survivor, the seven-time Tour champion, a force so big he had his own gravitational pull, able to charm, intimidate and overpower just about everyone in cycling's orbit.
On the other side was Contador, a small-town Spanish boy who, not as worldly or sophisticated as Armstrong, had an unbreakable inner strength to withstand three weeks of intense pressure both on and off the bike.
Forty-eight hours later, Contador was standing victorious on the Champs-Elysées, the first man to beat Armstrong at the Tour since the seven-win streak began in 1999.
"I won two races, one on the road and another in the hotel," Contador later admitted. "The days in the hotel were harder than those on the road. The situation was tense and delicate, because the relationship between Lance and myself extended to the rest of the staff."
That two-dimensional conflict made Contador's 2009 Tour victory all the more extraordinary.
Not only did Contador fend off new generational rivals, such as the Schleck brothers and the resilient Bradley Wiggins, but he also had to battle a distracting and potentially crippling psychological war with Armstrong.
Despite a remarkable third place, the Texan was in no mood to celebrate in Paris, at least not with Contador. He skipped the Astana party after the Mont Ventoux stage and instead hung with representatives from his new sponsor, RadioShack, and immediately set his sights on overall victory in 2010.
Then came the stories, leaked in the Spanish media by those close to Contador, about snubs and insults — both real and imagined — during Contador's three-week march: stolen water bottles, disappearing team cars, no-talk meals.
To millions of Spanish fans, Armstrong seemed like a sore loser, but the Texan was simmering. Frustrated by Contador's apparent lack of respect and lack of gratitude, both for him and the Astana team, Armstrong was already plotting his next move.
In Contador, Armstrong now had the enemy that he so often needed to motivate him during his ruthless seven-year run at the top. Contador might have beaten him, but 2010 could be a very different story.
Bumpy road to Monaco
The heat between Armstrong and Contador was on a slow boil for months before the pair arrived in Monaco for the start of the 96th Tour.
The big question fueling chat rooms and blogs was who would lead the powerful Astana team. Armstrong chided Contador, "you cannot win the Tour without a team," but Contador was wondering who was on his side.
Levi Leipheimer and Yaroslav Popovych seemed clearly in Armstrong's camp while Andreas Klöden and Haimar Zubeldia were savvy pros that would do what Bruyneel told them to. Contador could count on Sergio Paulinho, his roommate and only confidante during the three-week Tour.
Bruyneel seemed to hatch a compromise on team selection, leaving home Chris Horner, considered a rider in Armstrong's pocket, along with Benjamín Noval, perhaps Contador's closest friend in the peloton. In his place, appropriately enough from neutral Switzerland, was Gregory Rast.
Though Bruyneel, Armstrong and Leipheimer all downplayed tensions within the team and said it was overplayed in the media, when later asked what was the hardest part of the Tour, Contador flatly stated: "In the hotel."
The Belgian director was caught between a rock and a hard place. His personal relationship with Armstrong is so strong he could never betray it, yet he all but publicly admitted that Contador was the stronger rider.
"Contador is the best of his generation, he's won the past three grand tours he's started," Bruyneel offered diplomatically, "but the road will determine who is the leader."
That ambiguity was all Armstrong needed. The battle commenced.
From Monte Carlo to Arcalis
The first week of the Tour was essential to impose leadership on Astana, and both Armstrong and Contador played their cards early.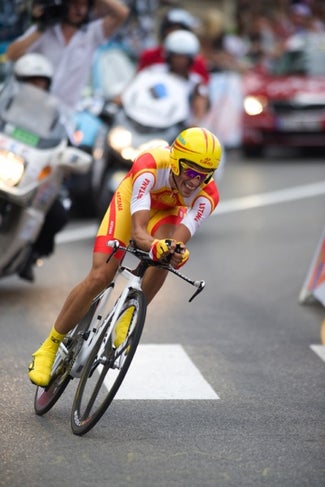 Those close Contador knew he would lose the war of words if he took Armstrong's bait, so they advised him to let his legs do the talking.
And talk they did. Contador blitzed the 14.5km individual time trial course around Monaco — with potential future team sponsor and friend, Formula 1 driver Fernando Alonso, following in the Astana team car — 18 seconds slower than Olympic time trial champion Fabian Cancellara, but 22 seconds faster than 10th place Armstrong.
The psychological balance tipped toward Contador, but it didn't take Armstrong long to prove he was up for a fight, sneaking into the front group of 27 when the pack busted up into echelons in the wind-blasted run into La Grande-Motte across the Camargue in stage 3.
If Armstrong was later frustrated that Bruyneel didn't let Yaroslav Popovych and Haimar Zubeldia take stronger pulls until the closing kilometers, he didn't reveal it. But the counter-punch stung, with 41 seconds in his favor, and Armstrong was back on "top," third to Contador's fourth, 19 seconds ahead.
"It doesn't take a rocket scientist to figure out that you have to go to the front," Armstrong said. "I have won the Tour de France seven times, why wouldn't we ride at the front?"
Armstrong was poised to inherit the yellow jersey with an Astana victory in the following day's team time trial, but the coup d'etat was stopped short by 0.22 seconds, a sliver that kept Cancellara in yellow going into the Pyrénées.
How much of a difference that fraction of a second could have made is fuel for speculation, but instead of riding in yellow into the first of three summit finishes at Arcalís and the cloak of team leadership on his back, Armstrong seemed to sense Contador was brewing something.
"I know Alberto wants to assert himself in the race," Armstrong said. "I don't need a team meeting to tell me that."
Arcalís was Contador's turn to show who was boss. Contador knew that the Arcalís climb was another chance to prove that he was the strongest rider in the race. Attrition whittled the group down to about 25 and Contador was biding his time, waiting for the first attacks. After Evans finally made a stab, then his Silence-Lotto teammate Jurgen Van den Broeck, Contador countered at 2km remaining with an electrifying acceleration.
"When Contador attacked, no one was going with him," said Christian Vande Velde (Garmin-Slipstream). "If the wind wasn't so strong, he would have gotten 1:20 instead of just 20. He was fast."
Armstrong clinched his jaw and played the loyal teammate, abiding by the unwritten rule of not chasing down an attacking teammate, and rode in with the main pack of GC contenders at 21 seconds back.
"That wasn't really the plan," Armstrong said. "But I didn't expect him to go by the plan, so no surprise."
The next morning, Contador was back on "top," just two seconds ahead in GC, but he found out how bad things had gotten. According to reports in the Spanish media, when Contador walked downstairs for breakfast, he saw Armstrong sitting alone at the big table reserved for the team. Contador sat at the other end, no words were exchanged, no congratulations, no good mornings.
"The day after Arcalís was, psychologically, the worse of the Tour," Contador said.
Little did he know it, the troubles were just starting.
'Querer es poder' — Contador's inner strength
One of Armstrong's most lethal weapons during his heyday was his ability to get inside his opponent's heads and rattle them. Marco Pantani and Jan Ullrich were both unwitting victims in Armstrong's sophisticated psychological warfare, but Contador seemed oddly immune.
"Alberto knows how to disconnect better than anyone and during the Tour, he never lost his concentration," said Noval, who talked daily with Contador via telephone. "Armstrong said a few things to throw him off, but it never worked. For Alberto to say that there were two races, one on the road and another in the hotel, it had to be really bad for him."
To fully understand how Contador withstood the pressure, it's necessary to go to his home in Pinto, a small "pueblo" that's since become a bedroom community for the sprawling Madrid metropolis. His parents moved there from Extremadura, one of Spain's poorest and most isolated regions. The third of four siblings, Alberto was a quiet, studious student who enjoyed animals. He keeps pigeons and canaries on his parent's roof and says he would have become a veterinarian if he didn't race bikes.
As a skinny pre-teen, Alberto started following around his older brother, Fran, a promising amateur, on training rides on the mountains west of Madrid. It was soon obvious that Alberto had a rare gift.
"We went out on a group ride with some of the other amateur racers, Alberto was on an old steel frame bike that was too big for him," remembers Fran. "He dropped us all on the climb. We knew right away Alberto was special."
The family didn't have much money to support Alberto's growing interest in bikes. Contador's father quit his job to stay home to take care of the youngest brother, who was confined to a wheel chair with cerebral palsy. His mother, Paquita Velasco, worked in the local government offices in Pinto. At night, she would take out the foam-pad shoulder pads in her dresses to piece together a homemade chamois for Alberto.
After impressive amateur results with the Real Velo Club Portillo de Madrid, notorious Spanish sport director Manolo Saíz signed him to a pro contact at age 20 with the powerful ONCE team.
The defining moment of Contador's young but eventful life came in the 2004 Vuelta a Asturias, a weeklong race in northern Spain. It was an important testing ground for the rising Contador, who was making waves in Spanish races, picking up some wins and creating a buzz as a rider to watch.
In the middle of a stage, Contador crashed without reason. He had suffered a seizure, and the attending race doctor saved his life, preventing him from choking on his own tongue.
Rushed to a nearby hospital, doctors quickly diagnosed that the young pro suffered a cerebral aneurism. Luckily, the blockage was in the frontal lobe area of the brain and permanent brain damage seemed unlikely. Doctors sliced open Contador's skull, leaving behind a scar of more than 60 stitches.
Fearful of a having a second son confined to a wheel chair, Paquita nursed her son back to health. She instilled within him an even deep inner conviction and stubbornness than he already had. "Querer es poder" were her soothing, encouraging words. It became his personal motto, words to live by: where there's a will, there's a way.
"I've already lived a lot in my life," Contador said last year. "Those experiences made me stronger."
Buoyed by his family, Contador read Armstrong's autobiography, "It's Not About the Bike," and it served as a beacon of hope and gave him inspiration to return as a professional.
Less than eight months later, like a latter-day Lazarus, Contador won the queen stage at the Tour Down Under in January 2005, a victory he called "the most important of my career, more than anything at any Tour or other race, because it signaled my return as a professional."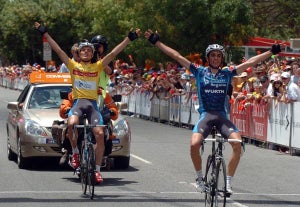 By the end of the season, Armstrong was retired and Contador was the most promising Spanish climber in a generation. No one could have imagined the two were destined to lock horns four years later on cycling's biggest stage.
Contador's family would be the base that would carry him through the 2009 Tour. Despite Armstrong's apparent efforts to isolate him, Contador could always count on his loved ones. Fran was with him throughout the Tour, traveling with ex-sports journalist Jacinto Vidarte, now acting as Contador's press agent. They were among Contador's closest allies during the tumultuous month.
While Armstrong had visits from Hollywood friends such as Ben Stiller and Matthew McConaughy, Contador couldn't wait to see his parents, and his girlfriend, Macarena. They were waiting at the top of Verbier — one more reason to get up the climb even faster.
High tension in the Alps
The closer the Tour got to the Alps, the more the tension ratcheted up. All eyes were on Contador to crack. It was the only hope the rest of the riders had to win the Tour.
Contador was quietly confident, even calling shoe sponsor Sidi to have a pair of yellow shoes on the ready.
Next was Verbier Ski Resort, high in the Swiss Alps, the second summit finish, and it proved to be Contador's consecration.
Saxo Bank played their card, revving up the chase to potentially isolate Contador. That was their only option, but Contador attacked before the Schleck brothers could do any mischief.
Contador soared into yellow and quietly worked behind the scenes to mend fences.
"Everything is good about Contador. Every day he surprises me every more," said Haimar Zubeldia, one of his Astana teammates. "He has no rival in the mountains. At Verbier, he surprised me by the amount of time he was able to take in six kilometers. At the end of the stages, he passes to each hotel room, thanking the riders for the work we've done."
With Contador clearly in yellow and Leipheimer out due to a flukey first-week crash, Astana still held out hope of putting Klöden and Armstrong on the final podium in Paris.
The cards were in their favor until the queen's stage to La Grand Bornand, when Contador made what many saw as his first real mistake of the entire Tour.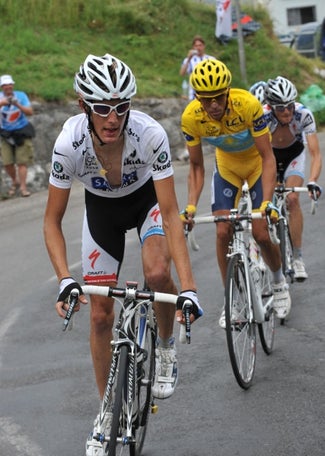 On the Cat. 1 Colombière, Klöden and Contador were riding in the slipstream of the Schleck brothers, who were desperately attacking to shed podium-threat Wiggins, and potentially Klöden. Armstrong, who had not able to make the initial selection, was marking Wiggins and wanted to drop the English trackie to bridge up to the leaders.
With 2km to the summit, and no need to come from behind the Schleck brothers, Contador attacked unexpectedly, exposing that inexperience and impetuosity that Armstrong had been harping about since the spring.
The lone victim of his aggression was Klöden, who had been at his limit but able to stay with the Schlecks until Contador moved. Realizing his blunder, Contador eased up, but the damage was done. The Schlecks poured it on. Klöden was dropped and Contador was outnumbered on the descent into Grand Bornand. Frank Schleck won the stage and the brothers slotted into second and third.
"Getting lots of question why (Contador) attacked and dropped Kölden," Armstrong tweeted. "I still haven't figured it out either. Oh well."
Bruyneel did. One team staffer said he'd never seen Bruyneel so angry. The Belgian stormed onto the team bus and chewed out Contador.
Later that night, Contador apologized to his teammates.
It was too late. The lines had been drawn long before.
Other doubts
Overcoming adversity and riding under psychological stress was nothing new to Contador.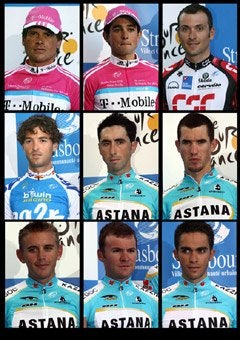 Before he could win his first Tour in 2007, he had to triumph over his most challenging and potentially destructive enemy: Operación Puerto.
In May 2006, a sting operation by drug investigators of Spain's Guardia Civil raided the offices of notorious sports doctor Eufemiano Fuentes and arrested Liberty Seguros team manager Manolo Saiz.
"AC" was one of the code names found in the Puerto files. Thought to be Contador, the initials were found on some training documents. Perhaps the most damning was one page that referred to as "AC: The same as Jaksche." (Jörg Jaksche, the confessed German doper and Contador's teammate at Liberty Seguros). That vague message was all that could link Contador to Puerto's nefarious activities. There were no hidden blood bags or doping diaries that scarred other riders, but the damage was done, and Contador was among nine riders singled out and forced out of the 2006 Tour.
Contador's future as a pro was thrown into turmoil, but the Spanish judge overseeing the case — and even Fuentes himself — later excluded Contador from any doping activities.
Bruyneel threw Contador a lifeline and signed him up to Discovery Channel in 2007, but the ghosts of Puerto would come back to haunt Contador yet again, this time in the bitter exclusion from the 2008 Tour when race officials, twice bitten by Astana and Vinokourov, vetoed the team.
When he learned that Astana was out of the 2008 Tour, Contador went on an anger-filled attack at the early-season Mallorca Challenge, pointing bitterly at his jersey, "Astana! En el Tour!" Instead he turned that anger to the Giro d'Italia and Vuelta a España, winning both grand tours in 2008, becoming just the fifth rider to complete the mythic "grand tour triple crown."
Friends say that turning a negative into a positive is one of Contador's great strengths, something he pressed to maximum during the turbulent 2009 Tour.
"I tried to cheer him up, even though he didn't need it, and in the end, it was he who was cheering me up," said Noval. "I never see him down, quite the opposite. Alberto grows in front of his adversaries."
Flash-forward to July 2009, a day after Contador's impressive performance up Verbier, and the old ghosts — and doubts — were back.
Cycling's curmudgeon with a conscience, Greg LeMond, wrote a public letter in Le Monde, demanding that Contador prove he's clean. Journalists pressed the issue during a tense press conference in Annecy, following Contador's stunning time trial win. The performance secured his yellow jersey, but fueled the doubters. How could he be so good?
Three times he was asked and each time Contador refused to answer, "Otra pregunta." Next question. It wasn't Contador's best performance. It reminded some observers of Floyd Landis's flippant answers about doping questions at his final press conference in 2006, just days before he would become the first modern Tour winner stripped of his yellow jersey for doping.
Sources close to the UCI say Contador isn't on its "blacklist" of riders said to be up to 50 individuals it closely monitors. In fact, sources say Contador's blood levels show surprisingly consistency.
Those close to Contador say he is genetically wired to race bikes.
"All the major riders have big hearts, and that helps them to consume oxygen and for the adaptation of the necessary big efforts," said Astana team doctor Pedro Celaya. "Some other recover better than others and Alberto has muscular cells that wash the lactic acid better than most."
These questions and scars only made Contador's resolve even stronger.
Final insults
Though he wasn't to win the race, Armstrong seemed intent on stealing the spotlight.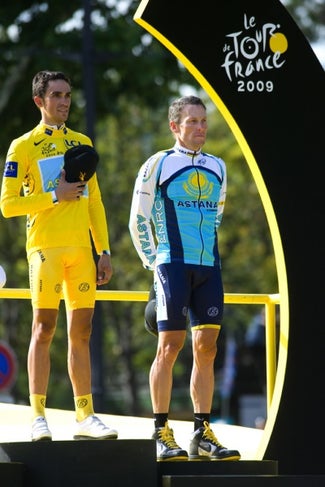 The decision to announce the new team — RadioShack — on the day of the decisive time trial at Annecy was measured to maximize publicity during the race, when the world's media is focused on the Tour.
But it also underscored divisions within the team. Armstrong and Bruyneel were taking with them the core of the Astana team: Levi Leipheimer, Chris Horner, Haimar Zubeldia, Yaroslav Popovych and Andreas Klöden. The RadioShack email announcement from the Armstrong camp was sent no more than 30 seconds after Contador's post-race press conference had ended, leaving journalists writing on deadline torn between writing about the stage winner or writing about the future of the sport's biggest name.
Once again, it was the Contador clan standing apart.
And there was more. A series of apparent snubs and provocations that came to light in the Spanish media in the fallout after the race revealed more of the depth of the split. One story had Armstrong snatching away a water bottle that a Spanish rider was passing to Contador on Mont Ventoux, but when Armstrong took a sip and passed it to Contador, Contador refused to drink it.
Another story that hit cyber-space was that Astana team cars were busy ferrying members of Armstrong's family to the airport just as Contador needed a ride to the start of the decisive time trial at Annecy. That was true, but Contador had already arranged a ride with his brother, Fran.
Stories that Contador was left stranded atop Mont Ventoux without a team car also proved hollow. Tour officials were forced to cancel a planned helicopter descent due to high winds, so Contador improvised and arranged a ride down with his brother, simply because there were only a handful of team vehicles atop the towering mountain.
Still, there was never much warmth between Contador and Armstrong throughout the Tour. According to sources close to the team, both kept to their familiar circle of friends and associates and rarely mixed.
Contador could never fully confide in the team, sources said, and was suspicious that Armstrong was trying to keep his options of victory open going into the Annecy time trial, so that's why Contador felt compelled to attack every chance he could.
At the end of the day, the unwritten rule that the strongest rider wins the Tour proved true again, something even Armstrong admitted after Ventoux.
"There wasn't anything else I could do," Armstrong said. "Alberto was far superior to anyone else in the race this year. Perhaps tactically, I made a few passive calls in terms of decision-making and that made the difference between second and third."
By the time the Tour arrived in Paris the next day, Contador was unable to fully enjoy his day in the French soleil. This time, Tour officials botched the ceremony and played the Danish national anthem instead of Spain's (they got it right and played the correct song when Astana won the team's prize).
"I thought they were trying to screw up the moment with the hymn," Contador said. "The second Tour victory is just as special but it's different due to the difficulties. Sharing leadership with Lance was one more complication. To win this Tour required physical and psychological strength."
Spanish observers were indignant when it appeared that Armstrong didn't look Contador in the eye when he shook his hand as he stepped on the third place spot, but happily greeted runner-up Andy Schleck.
Spanish papers were full of vitriol against Armstrong. Stories described in detail Armstrong's alleged insults — real or imagined — against Contador and portrayed him a sore loser.
Upon reaching Spanish soil, Contador was heralded as a hero and was feted by Prime Minister José Luís Zapatero and welcomed home by a huge rally in his hometown of Pinto.
Surrounded by the warmth and outpouring of support after enduring a month of intense stress, Contador finally let his true feelings out.
"My relationship with Lance is zero. I think despite whatever his character is, he's still a great champion. He's won seven Tours and played a big part in this one, too," Contador said. "But it's different to speak at a personal level. I have never really admired him that much, or ever will."
Armstrong fired back with his favorite new weapon, Twitter: "Seeing these comments from AC. If I were him I'd drop this drivel and starting thanking his team. w/o them he doesn't win." In another: "hey pistolero, there is no 'I' in 'team.' What did I say in March? Lots to learn. Restated."
The tug-of-war and psychological battle between the two champions harkened back to the mythical rivalries between Coppi and Bartali or LeMond and Hinault, but at the end of three weeks, Contador proved who was the strongest, winning stages and taking time in all the decisive moments.
Perhaps Bruyneel — who revealed his loyalties when he drove behind Armstrong, instead of yellow jersey Contador at the Annecy time trial — put it most diplomatically.
"I knew it was going to be difficult for the two of them to get along, but I am happy that we could get through these three weeks. Despite what everyone said, we demonstrated that we were the strongest team," Bruyneel said.
"It's still too early to talk about next year. I will be with Lance, but right now, Contador is the best and he showed it. If Armstrong wants to beat him, he has a lot of work ahead of him."
The 2009 Tour will be remembered for many things — Armstrong's comeback, Contador's assertion as the sport's new king and Mark Cavendish's unrivaled supremacy in the sprints — but it's the enmity between Armstrong and Contador that made the 96th Tour quite unlike any recent edition.
For seven unrivaled years, Armstrong was the master at playing all the angles. One of his strengths was his ability to play a multi-level chess match at all levels of the sport, both on and off the road, turning allegiances, jealousies and self-interests from rival teams, governing bodies, race organizers and the media all toward his benefit.
That sophisticated juggling act was short-circuited by a Spanish momma's boy who ended the myth of Armstrong's invincibility.
"I told myself that I'd be close, and I thought I could (win), but this thought process was hatched based on last summer's Tour," Armstrong said.
"I said, I think I can do this. I think I can ride that fast. The level I had this year would have done very well at that Tour. But this Tour is not that Tour. I came across Alberto, who was super, super, and Andy was in the right places at the right time. That doesn't add up to victory. But that's sports."
Next July should be very interesting indeed. One can only imagine Armstrong will want to have the last word.