Greipel takes down Cavendish in biggest win of career
CARMAUX, France (VN) — André Greipel won't tell you how much Tuesday's stage victory meant to him. He didn't have to, his triumphant fist and scream at the finish line said it all.
Heading out the door? Read this article on the new Outside+ app available now on iOS devices for members! Download the app.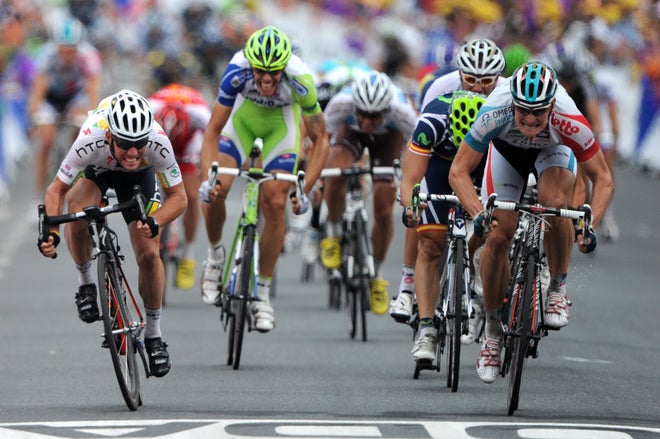 CARMAUX, France (VN) — André Greipel won't tell you how much Tuesday's stage victory meant to him. He didn't have to, his triumphant fist and scream at the finish line said it all.
After being dissed by Mark Cavendish as second-fiddle at the HTC-Highroad team, Greipel took the offer last year to ride for Omega Pharma-Lotto to have a chance to race the Tour and go mano-a-mano against his former teammate.
On a technical, narrow final kilometer in the Massif Central, Greipel managed to do what very few sprinters have done at the Tour — come around the Manxster in full sprint to win the stage.
"(Cavendish) has proved he's the fastest sprinter in the world. He's won 17 Tour stages and I've won just one, so that says it all. I have a lot of respect for him," Greipel said. "(Cavendish) has was not always friendly toward me in his comments, but that's not my style. I prefer to let my legs do the talking."
Omega Pharma-Lotto also pulled off something that very few teams have managed to do since Cavendish's dominance as the Tour's best sprinter starting in 2008: derail the HTC train. A hilly final 25km set the trap for Cavendish. Omega Pharma-Lotto ramped up the speed to either drop Cavendish entirely or at least isolate him without his top lead-out men, sending Philippe Gilbert on the attack. The tactic worked. Cavendish proved his grit to hang tough, but both Mark Renshaw and Matt Goss lost the wheel. Instead of having the HTC train, Cavendish had to fend for himself against Greipel.
Tour Essentials:
"We wanted to make the race as hard as possible on the last climb," said Omega Pharma-Lotto manager Marc Sergeant. "We wanted to isolate Cav and it worked out perfect. Cavendish had to do it all by himself. When it's a fair matchup, Greipel has a much better chance."
Without familiar HTC kits surrounding him in the final kilometer, Cavendish rode on instinct and nosed to the front of the peloton to safely negotiate a very technical final kilometer that featured two tight corners and a chicane. Lotto teammate Jurgen Roelandts deposited Greipel right on Cavendish's wheel and Lotto's Marcel Sieberg opened up the sprint. Daniel Oss (Liquigas) powered through the final sweeping right-hander and Cavendish started with about 170 meters to go. That was too early and it gave Greipel just enough rope to power past his left shoulder to claim an emotional and confidence-boosting win.
"Greipel will be free by this victory," Sergeant said. "He came with so much pressure to beat Cavendish. Now he's done it. André is always a nice guy. I told him to be tougher in the sprints. It's difficult to get him angry for the sprints, but today it worked out perfectly."
Cavendish, who's won two stages so far in this Tour, was gracious in defeat and refused to raise to the bait when journalists asked him about his sometimes contentious relationship with Greipel.
"Sieberg was first into the corner at 400 to go. He had Daniel Oss on his wheel and I was on Oss' wheel. Then Oss went. I knew it was a flat finish, so I tried to go at 250 off of Oss' wheel. I went early, but it wasn't too early on this type of finish. But I didn't commit early enough. I didn't kick, I just kind of rolled 'round. And I kicked with 170 to go," Cavendish said. "And yeah, Andre just came past and beat me. I'm happy for him. He's come to the Tour de France and he's won. I'm disappointed, I feel I made a mistake. But Greipel beat me, so there's no excuse I can say about that."
For Greipel, the victory means that he will no longer be in the shadow of Cavendish, at least not in terms of having not won a Tour stage. Greipel and Cavendish rose through the ranks at the Highroad team, but it was Cavendish who emerged as the team's go-to sprinter, the rider who always delivered the big-time results in the most important stages. Greipel and Cavendish each racked up 20-win seasons, but Greipel's victories often came at second-rate events where he could score victories, but he never made it to the Tour.
When Greipel had the chance to go to the grand tours — with trips to the Giro and Vuelta — he delivered stage wins, but it was clear that Cavendish was the apple in team owner's Bob Stapleton's eye. Greipel could read the writing on the wall. If he wanted to fulfill his dream of racing in the Tour de France, he would have to leave Highroad.
"It was André's decision to leave the team, we didn't want him to go, but André would not have been racing the Tour this year had he stayed at our team," HTC-Highroad team manager Rolf Aldag told VeloNews after the stage. "It's the biggest win of André's career, without a doubt. He deserves it. Of course, we would have preferred that Cav would have won today, but André was in the right position today. That was always a problem with him, but when he's in the right place like he was today, he can show his pure power. André knew if he wanted to take that next step and race against Cavendish, who is the best sprinter in the world, he would have to leave the team."
Greipel took that risk to leave the comfortable support he enjoyed at HTC-Highroad and sign on with Omega Pharma-Lotto, who were looking for a sprinter to fill a void left by the exit of Robbie McEwen three years ago.
But Greipel's first season as the outright sprint leader hasn't exactly lit up the victory column. Coming into the Tour, Greipel had only won five races, with two stages at the Tour of Belgium and individual stages at Three Days of De Panne, the Tour of Turkey and the Volta ao Algarve.
"It's been a different kind of season for me. I switched teams and I changed around my training to prepare for the Tour," Greipel said. "We also had Gilbert riding well in the spring, so we rode for him in many races. I had some new teammates and it always takes some time to get used to working together in the sprints. Of course, I am very happy with this victory."
The victory is also another huge boost for Omega Pharma-Lotto, which lost its GC captain Jurgen Van den Broeck with a broken shoulder blade Sunday. Riders and staff were heard screaming in celebration inside the team bus after the stage. Sieberg was in tears at the finish line after his longtime friend and sprinting partner Greipel reached the Tour's highest honor.
Greipel, ever humble to Cavendish's bravado, vows to keep trying for more. He'll do it his way, without showboating, without rancor. Greipel wins on pure strength.
"I am not like a robot and you just push a button and I go fast. Sometimes I have the legs to try to win and sometimes I do not. That's just the way that I am as a rider," Greipel said. "The other day, perhaps I went 50 meters too soon and I was swarmed. Today, I was in good position and I was able to come around him for the victory. It is very satisfying to win in the Tour. It is every rider's dream to win a stage in the Tour."
Greipel's dream might be short-lived. Wednesday's rolling stage is tailor-made for Cavendish and the HTC-Highroad train. If there's one thing about Cavendish, every time someone knocks him down, he comes right back up swinging. Wednesday's showdown between the Gorilla and the Manxster should be thrilling.