Hushovd hints he's leaving Garmin-Cervélo
PARIS (VN) — World champion Thor Hushovd strongly hinted that he is exploring his options for a new team in 2012.
Heading out the door? Read this article on the new Outside+ app available now on iOS devices for members! Download the app.
PARIS (VN) — World champion Thor Hushovd strongly hinted that he is exploring his options for a new team in 2012.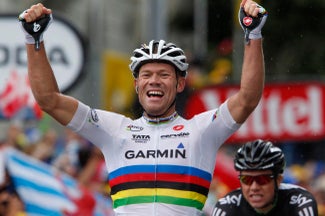 Moments after crossing the finish line as part of Garmin-Cervélo's effort to win the Tour's team classification, Hushovd suggested that he could be out the door.
"I seek safety. It's important to be at a team where I fit in socially and feel at home," Hushovd told Norwegian journalists. "And I want to be able to go to the races that are most important to me, and to be backed up at those races."
Along with six other riders, Hushovd came to Garmin as part of a merger when the Cervélo TestTeam folded in late 2010, immediately bolstering the team's spring classics squad.
But Hushovd expressed unhappiness with his new team following a lackluster classics campaign that reportedly reached a boil at Paris-Roubaix, when the world champ and Leopard-Trek's Fabian Cancellara marked each other out of the win, opening the door for Hushovd's teammate Johan Van Summeren to solo to victory.
Hushovd told Fædrelandsvennen in April that he hadn't agreed with the team's race tactics during the classics.
"It was not determined enough," Hushovd said. "We were not concrete enough on how to work and who we were racing for in each race. I think there should be a clear strategy before the start, and none of that 'The best rider on the day is the one we will race for.' That only causes uncertainty … I still have a lot of big goals that I would like to achieve. I have no intention to end my career as an auxiliary rider."
Hushovd's agent, Alex Carera, also expressed displeasure regarding a bonus Hushovd and Vaughters discussed after the Norwegian's 2010 world championship victory. Though a verbal agreement was reached, Vaughters was still seeking the funds to honor it.
Speaking with VeloNews prior to the Tour, Vaughters said that he hoped Hushovd would remain part of the team — and that he intended to honor the bonus agreement should Slipstream Sports land additional sponsorship.
"After Thor won worlds, he wanted to be paid more, but he had signed six weeks earlier," Vaughters said. "The night before the Tour of Lombardy we had dinner together, we sat down, and I told him, 'I agree, you should be paid more as the world champion, but I don't have the budget. I can pay you more but I'd have to sell the team bus.' What I said to Thor is 'if we find an additional sponsor, I'll give you additional compensation.' I'd love to pay him more, and I will try to. As far as his comment regarding tactics — we played a lot of different cards in the classics. We didn't play a singular team leader. We had a plan that was discussed and implemented, and I think it was implemented successfully at Paris-Roubaix."
There's been no word from Slipstream about landing an additional sponsor, and after wearing the maillot jaune for a week, and taking two spectacular Tour de France stage wins, Hushovd's market value only shot up in July.
When asked if he could be the new teammate of recently crowned Tour champion Cadel Evans, Hushovd wouldn't give anything away.
"I don't know when (Evans') contract is due. And I don't know where I'm going next year, either," Hushovd said. "I've had enough thinking about Tour de France for the last three weeks. I'm glad I made it to Paris. Tomorrow I'll start thinking about tomorrow."
Asked when a decision might be coming, he said, "I'll need a week at least."
VeloNews' Neal Rogers contributed to this story.