Inside Cycling with John Wilcockson: Can comeback kid Soler light up the Tour de France?
Big things expected of the Colombian after his stage win at the Tour de Suisse Editor's note: Every week through the 2011 road season, VeloNews Editor-at-Large John Wilcockson is writing about key features of the week's racing. This is the 18th installment. It's one of the credos of pro cycling…
Heading out the door? Read this article on the new Outside+ app available now on iOS devices for members! Download the app.
Big things expected of the Colombian after his stage win at the Tour de Suisse
Editor's note: Every week through the 2011 road season, VeloNews Editor-at-Large John Wilcockson is writing about key features of the week's racing. This is the 18th installment.
It's one of the credos of pro cycling that athletes reach maturity in their late 20s, by which time the average rider has learned most of what he needs to know about training, teamwork and the actual races. Only the truly gifted make waves in their first few seasons. That this ultimate success comes with experience and self-knowledge was confirmed this past week by Colombian Mauricio Soler, 28, who took a brilliant mountaintop stage win at the Tour of Switzerland before making a brave defense of his yellow jersey.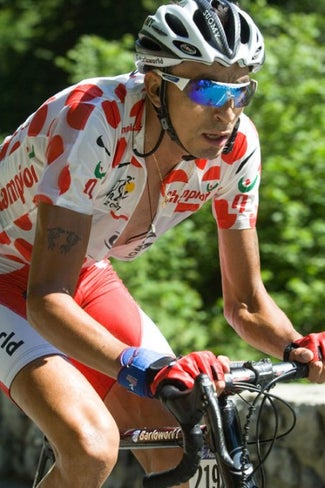 Soler, of course, is the young man with the broad smile who burst into his debut Tour de France in 2007 with two breathtaking rides in the Alps. A lean 6-foot-2, he's not the stereotypical climber from the Andes like Lucho Herrera (who won the 1987 Vuelta a España) or Fabio Parra (third at the 1988 Tour). Soler's a more complete rider in that his time trialing is well above average — while his climbing ability is out of this world!
Very few race followers recognized the Colombian's true strength at the '07 Tour. He was then 24 and riding for the second-tier Barloworld team, whose main player was expected to be South African sprinter Robbie Hunter (who did win a stage between the Alps and the Pyrenees). So when Soler slipped away from the peloton halfway up that Tour's first Cat. 1 climb in the Alps, no one took much notice.
Yet in 8km of uphill work on the Col de Colombière he closed almost three minutes of a five-minute gap on eventual stage winner Linus Gerdemann, and took 1:24 out of the race favorites. His 25-kph climbing effort was equivalent to a power output of 450 watts over 18 minutes. Only potential Tour winners are capable of achieving those numbers.
2011 wins for UCI ProTeams
(in UCI .1 races and higher through June 13)
1. HTC-Highroad 28 (nine riders)
2. Rabobank 17 (seven riders)
3. Team RadioShack 16 (10 riders)
4. Omega Pharma-Lotto 16 (four riders)
5. Garmin-Cervélo 15 (nine riders)
6. Movistar 15 (eight riders)
7. Lampre-ISD 15 (seven riders)
8. Sky 14 (seven riders)
9. Vacansoleil-DCM 13 (five riders)
10. Saxo Bank-SunGard 13 (four riders)
11. Leopard-Trek 12 (five riders)
12. Liquigas-Cannondale 11 (five riders)
13. Katusha 7 (three riders)
14. Euskaltel-Euskadi 6 (four riders)
15. Astana 5 (four riders)
16. AG2R-La Mondiale 3 (three riders)
17. Quick Step 3 (two riders)
18. BMC Racing 3 (one rider)
Two days later, Soler made an even more remarkable ride. It was the big stage over the Col du Galibier. This time, the former farmer's boy from Ramiriquí, a mountain town of 5,000 people, rode clear of the peloton at the foot of the Col du Télégraphe, precursor to the Galibier. Riding solo, he crossed a 2:40 gap to the day's main breakaway group and then dropped its remnants for two minutes by the Galibier summit and went on to win the stage in Briançon despite being chased by a group led by Alberto Contador.
Soler was timed at 1:25:45 for the 34.8km separating the base of the Télégraphe to the Galibier summit, a total of 6,860 feet (2,091 meters) of actual climbing. That's an average speed of 24.410 kph and an all-time record for the climb, 1:05 faster than the mark set by Marco Pantani in his famous breakaway at the 1998 Tour.
Soler ended the '07 Tour in 11th overall and won the climber's polka-dot jersey competition. It looked as if he was set to become a leading contender to that Tour's champion, Contador — especially when two weeks after the Tour he won the Tour of Burgos, taking a mountaintop finish and holding off Alejandro Valverde in the closing 15km time trial to take the overall win. But a fall in the subsequent Coppa Agostoni race aggravated tendinitis in his right forearm and it needed surgery.
Injuries and crashes
Soler returned to racing in early 2008 but a crash in the European season's first race damaged a knee cartilage and he returned to Colombia for treatment. On his return, he reconfirmed his promise by finishing second to Contador at the Vuelta a Castilla y León and taking fourth in an elite group of Italians on the main mountain stage of the Giro del Trentino. But then crashes and injuries again intervened.
At the '08 Giro d'Italia he fell on his right wrist on the second stage and sustained a micro-fracture that forced him to abandon the race before the major mountain stages; and at the Tour, he crashed on the first stage, falling on the same wrist and injuring his scaphoid. Again, a few days later, he was forced to quit.
Soler knew he wouldn't race the Tour in 2009 because his Barloworld team didn't get a wild-card slot, so he focused on the Giro. His buildup looked good: second to David Moncoutié on the Mont Faron summit finish at February's Mediterranean Tour, and then second overall at April's Settimana Lombarda. And his Giro began well when he took third on the first mountain stage to San Martino di Castrozza and was fifth on the long alpine stage to Pinerolo. But his knee tendinitis returned and Soler had to abandon another grand tour.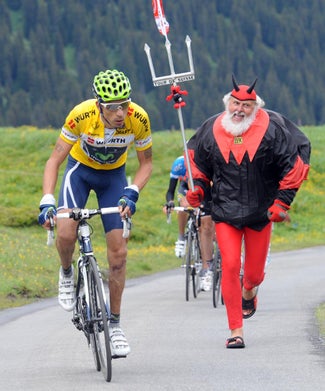 The unlucky rider hoped for a change of fortunes when he signed for top-tier team Caisse d'Épargne last year. But the season didn't start well. In January a car hit him head-on at the end of a training ride near his Colombian home, smashing his bike and helmet. He came away with cuts and sprains and he didn't start his season until late-March.
Soler soon had good form to finish second to Igor Anton (and ahead of Contador) on the summit finish stage at Castilla y León. He had a solid Tour de Romandie and headed to the Dauphiné before what he hoped would be a successful return to the Tour. But he banged his left knee on the opening road stage and, in pain, finished outside the time limit in the 49km time trial.
It was back to the hospital to check out the injured kneecap, which would keep him out of the Tour and the Vuelta a España. He returned to racing last August, but never had time to find the form he needed. So he went back to Colombia in the fall and began preparing for what he hoped (finally) would be an injury-free 2011 season with the Movistar team. He said his top goal was the Tour de France.
Is this his season?
This year began well enough for Soler at Argentina's Tour de San Luis, where he rode in support of teammate Xavier Tondo. After the Spaniard took the race lead on the first mountain stage, Tondo said: "Soler did excellent work in the finale … he's one of the best climbers in the world and I hope to reward him back with my work after what he's doing for me here."
When race leader Tondo crashed on a descent on the last big stage, Soler paced him back to the leaders, but in heat-wave temperatures a weakened Tondo blacked out on the last climb and could barely turn the pedals. Again, Soler stuck with his friend as they lost 15 minutes by the stage finish.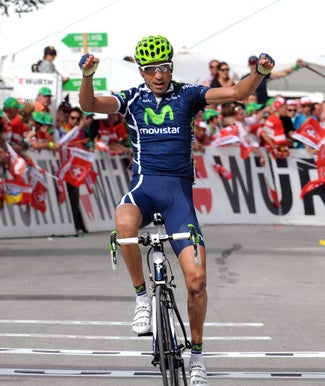 Back in Europe, Soler placed a respectable 16th at the Med Tour; but on stage 2 of the following Vuelta a Murcia he was one of several riders who crashed on the wet, dangerous descent to the finish in Alhama de Murcia. He was taken to the hospital, but his superficial injuries just kept him off his bike for a few days.
Out of shape, Soler rode the Tour of Catalonia in a support role for Tondo, quitting on the messy final stage into Barcelona. Still riding for the training, he came in 74th at April's Castilla y León race before returning to his home at 7,000 feet elevation in the Andes to prepare for the Tour — just as he did in 2007.
After "all the crashes and physical troubles," Soler said at the Tour of Switzerland this week, "the first two weeks were recovery time, in both mental and physical aspects. The last three weeks worked well for me…." What he didn't say was the shock he suffered on hearing the news in May that his friend and teammate Tondo had been killed in a bizarre accident in a garage at a training camp in southern Spain.
Despite his loss, Soler was ready last Saturday when he entered the start house in Lugano for the tricky stage 1 time trial at the Swiss race. He hadn't raced for seven weeks but Soler looked smooth and strong, if a little rusty, in placing 18th, less than half a minute behind stage winner Fabian Cancellara.
Then came Sunday's opening road stage through the Swiss Alps to the ski resort of Crans-Montana. This is where the Leopard-Trek team held their first get-together this past winter and the Luxembourg team's defending race champ Fränk Schleck was determined to make his mark. His constant accelerations cracked open the race field, but it was Soler who came through on the steeply uphill pitch to the line to take his first win since that Burgos victory 45 months ago.
Soler dedicated his win to Tondo, and he undoubtedly regretted that his departed teammate wouldn't be with him to defend the 12 seconds he gained at Crans-Montana on runners-up Damiano Cunego of Lampre-ISD and Schleck. But on Monday's stage over the long, steep and narrow Grosse Scheidegg, perhaps the gnarliest hors-cat climb in Switzerland, Soler showed what he's made of.
On the early slopes, the Colombian's teammate Pablo Lastras kept the select group of leaders within three minutes of the day's main breakaway that was led by Leopard's Andy Schleck and Jakob Fuglsang. But once his veteran teammate Spanish colleague blew, it was all up to Soler. And when Cunego put in a superbly timed solo attack on the steepest part of the climb, Soler was the only rider able to give chase.
Soler didn't quite make contact; and while Cunego went on the catch the break and narrowly lose the stage in Grindelwald to a flying Peter Sagan of Liquigas-Cannondale, Soler rationed his efforts, stayed with the other contenders on the dicey descent and ended the day in second overall, less than a minute down on new leader Cunego.
That performance confirmed Soler's hard-earned maturity. Now, if he can stay away from any more knee and wrist injuries, the exciting Colombian racer can challenge for the overall win at this week's Tour de Suisse — and, next month, take up the challenge he first laid down at the Tour de France four years ago.