Inside the Tour with John Wilcockson: Demolition derby nothing new, even for contenders
It's exceptional to have so many leading riders eliminated from the yellow-jersey stakes before reaching the first true mountain stages. But it's not unknown for potential winners and contenders to crash out of the race in incidents like those on Sunday.
Heading out the door? Read this article on the new Outside+ app available now on iOS devices for members! Download the app.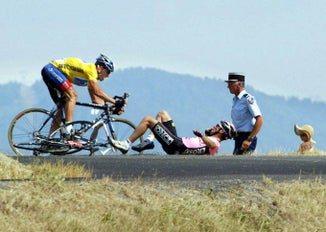 ST. FLOUR, France (VN) — Even though no edition of the Tour de France has seen quite so many pre-race favorites crash out this early, disastrous crashes to contenders have always been part of the race. And as this Tour's 22 teams thankfully have their first day off on Monday, some are hoping to recover, some are re-strategizing after losing their leaders, and others are thanking their good fortune that their top men have avoided the worst of the first nine days' demolition derby.
It does seem inconceivable that five of the top contenders have already headed home with broken bones: Sky's Bradley Wiggins (clavicle); Team RadioShack's Jani Brajkovic (clavicle) and Chris Horner (nose); Omega-Lotto's Jurgen Van den Broeck (clavicle and shoulder blade); and Astana's Alexander Vinokourov (upper leg). Or that another seven leaders have lost serious time or are nursing injuries after crashes: Saxo Bank-SunGard's defending champion Alberto Contador (four falls and 1:20 lost); RadioShack's Levi Leipheimer (three crashes and 4:05 lost) and Andreas Klöden (one crash and eight seconds lost); Rabobank's Robert Gesink (one crash, 1:05 lost); Garmin-Cervélo's Ryder Hesjedal (two crashes and 4:48 lost) and Christian Vande Velde (one fall and 1:28 lost); and Astana's Roman Kreuziger (two falls and more than half an hour lost).
It's exceptional to have so many leading riders eliminated from the yellow-jersey stakes before reaching the first true mountain stages. But it's not unknown for potential winners and contenders to crash out of the race in incidents like those we saw on Sunday.
1960: Roger Rivière
A half-century ago, the hottest rider in all of cycling was French prodigy Roger Rivière. At 24, he had already broken the world hour record, finished fourth at the 1959 Tour and beaten time-trial king Jacques Anquetil at his specialty. For the 1969 Tour, with Anquetil not starting, Rivière was leader of the French national team; and after gaining 17 minutes in a four-man break across Brittany and winning a stage in the Pyrénées it seemed like he was headed to victory.
Tour Essentials:
Then, early in the stage after the second rest day, Rivière was chasing Italian rival Gastone Nencini on the descent of the Col de Perjuret in the Cévennes. Racing alone, Rivière apparently misjudged a sweeping corner and fell some 60 feet into a ravine. He was paralyzed from a broken back, lived the rest of his life in a wheelchair and died of cancer at age 41.
1968: Raymond Poulidor
Perhaps French national hero Raymond Poulidor was the best cyclist never to have won the Tour (or even wear the yellow jersey); he was also one of the unluckiest contenders in race history. If it hadn't been for mechanical problems (and inept bike changes) he would have surely beaten Anquetil at the 1964 Tour, but his unluckiest moment came four years later when, as leader of the French national team, he was the Tour's super-favorite.
The first two weeks of Poulidor's race went according to plan and with the climbs of the Massif Central and Alps to come he looked set to win the Tour. Then, the day after the second rest day, toward the ends of a transitional stage from Font Romeu to Albi, a press motorcycle swerved to avoid a female spectator and rammed into Poulidor from behind. He was tossed over the bars and landed on his face, breaking his nose.
His face covered in blood, Poulidor battled heroically to finish the stage with the leaders, but suffered badly the following day and abandoned at Aurillac — where this Tuesday's Tour stage will start.
1971: Luis Ocaña
The unthinkable happened at the '71 Tour in the Alps when two-time defending champion Eddy Merckx was upstaged by Spanish rival Luis Ocaña, who took over the yellow jersey with an eight-minute margin on Merckx. Four days later, in the middle of a thunderstorm on the descent of the Col de Menté in the Pyrénées, Ocaña crashed on a sharp left turn made slick by the downpour. He didn't break any bones but was badly stunned and helicoptered to the hospital. Merckx refused to wear Ocaña's yellow jersey the next day but went on to win the Tour for a third time.
1983: Pascal Simon
Twelve years after Ocaña's disastrous fall, French climber Pascal Simon pulled on the yellow jersey at the end of a dramatic breakaway to Luchon in the Pyrénées. He had a four-minute lead on the next man and it looked as though he would wrap up the Tour in the Alps in the final week. But on his first day in yellow, on a transitional stage from Luchon to Fleurance, Simon tumbled in a benign crash near St Gaudens. A fractured shoulder blade was later diagnosed and he continued in the race though the Massif Central, bravely hanging on to the lead, until the pain finally forced him to quit a week after his crash.
Virtual GC, after stage 9:
1. Cadel Evans, 1,591km in 38:37:37
2. Fränk Schleck, at 0:03
3. Andy Schleck, at 0:11
4. Tony Martin, at 0:12
5. Peter Velits, s.t.
6. Andreas Klöden, at 0:17
7. Ivan Basso, at 1:10
8. Damiano Cunego, at 1:11
9. Nicolas Roche, at 1:19
10. Robert Gesink, at 1:35
11. Alberto Contador, at 1:41
12. Tom Danielson, at 1:56
13. Rein Taaramae, at 2:26
14. Christian Vande Velde, at 2:27
15. Samuel Sanchez, at 2:35
16. Jean-Christophe Peraud, at 3:06
17. Jérôme Coppel, at 4:09
18. Levi Leipheimer, at 4:50
19. Rigoberto Uran, at 4:54
20. Ryder Hesjedal, at 7:07
1997: Tony Rominger
Despite winning the Giro d'Italia and Vuelta a España multiple times, Swiss rider Tony Rominger could not get the better of Spanish rival Miguel Induráin through his Tour-winning reign from 1991 to 1995. It looked as though he might succeed at the 1997 Tour when he started out strongly with fourth place in the prologue time trial. But on the third stage, in one of a series of mass pileups on narrow roads (much like this year's opening week), Rominger crashed on the rainy run-in to Plumelec and broke his collarbone. Race over.
2003: Joseba Beloki
Spanish climber Joseba Beloki finished third, third and second at the Tour from 2000 to 2002, and he was lying second again to Lance Armstrong when the race emerged from the Alps on a stage to Gap (where this Tour will head next week). It looked as though Beloki might be able to challenge Armstrong for the yellow jersey in the climbing stages to come. Then, on the tricky downhill from the village of La Rochette into Gap, Beloki's wheels locked up as he went into a steep right turn on a road made slick by melting tar. He lost control and smashed sideways onto the road, breaking multiple bones including his hip and arm. That was the end of Beloki's Tour career.
In more recent years, crashes have continued to take out contenders, such as the spectacular mass pileup at Meaux on stage 1 in 2004, when dozens went down like dominoes as they raced through a chicane at 70 kph entering the final straightaway. Among those injured was Leipheimer, who fractured his tailbone and quit, while another pre-race favorite, Tyler Hamilton, broke his collarbone but continued in the race to finish fourth overall.
There have of course been hundreds of other crashes at the Tour de France; but this year is unique in having so many overall contenders falling out of the race with severe injuries. The rest day couldn't come soon enough.