Inside the Tour with John Wilcockson: What caused the crashes?
Team RadioShack's Bruyneel and Leipheimer have some answers
Heading out the door? Read this article on the new Outside+ app available now on iOS devices for members! Download the app.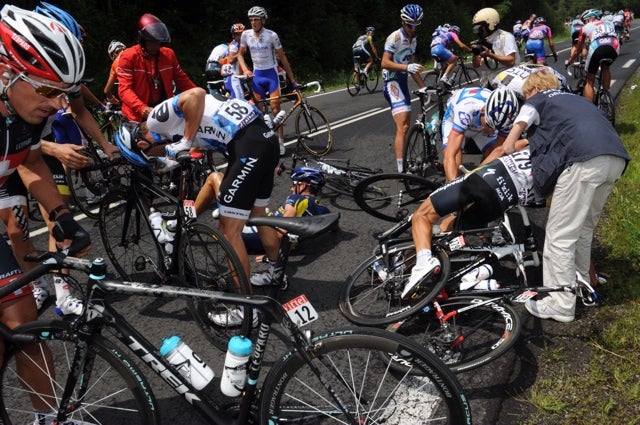 No team has suffered as much in the first half of the 98th Tour de France as U.S.-based Team RadioShack, with three of its nine riders already out of the race because of multiple crashes, and its remaining two leaders nursing a variety of injuries. So at the finish of Tuesday's stage 10 in Carmaux, I spoke with team manager Johan Bruyneel and the badly banged up Levi Leipheimer to get their feedback on why there have been so many crashes and to comment on the plan by the UCI, the sport's governing body, to study the reasons for the inordinate number of pileups.
RadioShack went into this Tour with high hopes of placing one of its four top men on the Paris podium, but with only 10 of the 21 stages completed those hopes have almost evaporated. Of its four leaders, Jani Brajkovic and Chris Horner crashed out with broken bones; Levi Leipheimer is a mass of injuries after being involved in four crashes (including another one on Tuesday); and Andreas Klöden is concerned that his back, injured in Sunday's awful crash on the Puy Mary descent, will be too great a handicap on the mountaintop finishes ahead.
Bruyneel — who guided both Alberto Contador and Lance Armstrong to a total of nine Tour victories by using dominant team tactics that steamrolled the opposition — believes that more and better teams is one reason for the 20 or so crashes that have marred this year's Tour.
Virtual GC
1. Cadel Evans 1,749km in 42:08:21
2. Fränk Schleck at 0:03
3. Andy Schleck at 0:11
4. Tony Martin at 0:12
5. Peter Velits s.t.
6. Andreas Klöden at 0:17
7. Ivan Basso at 1:10
8. Damiano Cunego at 1:11
9. Nicolas Roche at 1:19
10. Robert Gesink at 1:35
11. Alberto Contador at 1:41
12. Tom Danielson at 1:56
13. Rein Taaramae at 2:26
14. Christian Vande Velde at 2:27
15. Samuel Sanchez at 2:35
16. Jean-Christophe Peraud at 3:06
17. Jérôme Coppel at 4:09
18. Levi Leipheimer at 4:50
19. Rigoberto Uran at 4:54
20. Ryder Hesjedal at 13:06
"It's just a matter of the biggest bike race in the world getting bigger and bigger," Bruyneel said. "I think the teams, in my opinion, are getting better and better, and more organized, and more professional. And if you look at the way things move in the peloton you never see one rider moving up, it's always teams moving up, and I think this is what you've seen in the first week."
And why has that caused more crashes than usual? "The first week is always nervous and it all comes down to not losing time," Bruyneel said. "It's not about gaining time, it's about not losing time, so you have that pressure of not losing time. And because the teams are all starting to get better and better, you're not getting two or three teams moving up (in the peloton), but 10 or 15.
"Because there's so much stress in the peloton, I never see just one rider move up, it's always teams. So if a team moves up and two or three teammates do everything they can to stay with their team, and another team wants to move up in between, you're gonna get crashes."
Leipheimer conceded that the increasing number of good teams and the configuration of this year's Tour have both had an effect, but he felt there were other reasons, too.
"Cycling is changing," he said. "I don't know what it is, but the sport has changed and all the older guys think so. I was talking to David Millar today and we were trying to decide why. Obviously the route hasn't helped this year, the way they've designed it. But also the riders are stressed, and everybody takes more chances, everyone seems desperate for some reason.
"The crashes are (like) a vicious cycle. The more crashes there are, more people get more nervous and take more risks to avoid crashes, and that in itself causes more crashes. And the route has prolonged it because we're not seeing any separation, the peloton is staying together for longer, and until it's separated it's not going to calm down."
Bruyneel pointed out that though the teams are more tactically proficient and the riders use lighter bikes, most of the Tour de France roads haven't changed as much. "The equipment gets better and better, and the road surfaces are better, so obviously there's more speed," he said. "But there's one thing that doesn't get bigger, and that's the width of the roads.
"You have some narrow roads, but you also have a lot more roundabouts, a lot more traffic islands, bottlenecks, and if you have narrow roads on a course like this and a lot of crosswinds, that can lead to a lot of the crashes."
Tour Essentials:
Both Bruyneel and Leipheimer said there was more tension in the peloton and that's because there are more teams with legitimate contenders. And so most of the bad crashes are happening at high speeds near the front of the peloton rather than at the back, and so many more riders are being involved. Team RadioShack's leaders just happened to be involved in many of the crashes because they always ride near the front.
Asked about his injuries, Leipheimer said, "I'm sore everywhere. Left wrist is pretty bad. I've landed on that like three times. My back I got ran into. In fact, the first crash I had about 10 people ran into me, so that hurts. The shoulder…. And I've got cuts everywhere too."
On Tuesday, the American veteran actually landed on top of a big pile of riders just 11km into the 158km stage and as a result he had a soft landing. He was lucky then, but he remains wary of further falls, including on Wednesday's stage 11 that looks made for the sprinters but features constants ups and downs.
"I expect it's gonna be hard too," he said, "especially because here at the end (of stage 10) a lot of sprinters were dropped on the (later) climbs. I don't think they expected that … so tomorrow they'll take more chances at the bottom of climbs to be in the front, so as not to get dropped."
In offering one possible solution to the problem, Bruyneel said, "I think it's time to start to consider some different equipment. If you look at the bikes, they've become lighter and lighter, so why not consider disc brakes? They're heavier, but I think it would be perfectly possible. And discs definitely brake a lot better. I think with the light equipment and carbon rims (regular brakes) are sometimes a problem in the rain."
Hopefully, the UCI's proposed analysis of this Tour's most serious crashes will receive plenty of input from the riders, their team directors, the mechanics and the race organizers. Only then will some answers and possible changes result; and the UCI could start by talking with Bruyneel, Leipheimer and their colleagues at Team RadioShack.