Is the Tour de France in trouble?
Reckless fans, disappointing TV ratings, and controversy marred the 2018 Tour. We go inside the challenges facing cycling's biggest race.
Heading out the door? Read this article on the new Outside+ app available now on iOS devices for members! Download the app.
The scene in Paris had all the trappings of a poster-perfect Tour de France moment. Geraint Thomas sparkled as a feel-good winner in the yellow jersey. The Champs-Élysées was packed and the Arc de Triomphe provided the frame. Jets flew overhead releasing vapor trails of the red, white, and blue French "tricolore."
Yet what started three weeks earlier under a cloud of fury in the Vendée ended wearily in Paris. Just like the Tour of 20 years ago when the Festina Affair nearly brought the race to its knees, there was a sense of relief upon arriving in the City of Light.
"This Tour was a rough ride," race director Christian Prudhomme told Le Parisien. "With the Froome case, the hot temperatures, the crashes, the protest that blocked the road, and one idiot on Alpe d'Huez …"
With that, Prudhomme summed up what was indeed a challenging Tour that revealed deep fracture lines inside the sport's most important race.
Chris Froome's long-running salbutamol case and the subsequent bungled ruling cast a stench that lingered for weeks. A larger, almost unspoken threat of a terrorist attack loomed ominously in the background, only to be thrust into the open as a legitimate menace with cement-block road closures, machine-gun toting police, and bomb-sniffing dogs patrolling starts and finishes.
Tensions ran deep from the start when French fans gleefully booed Froome and Team Sky at the usually G-rated team presentation. That continued as French fans hissed and jeered at the four-time champion almost daily as he signed in at stage starts. The hapless Froome was later spat upon, had liquid thrown at him, and was even shoved once. Someone in an unruly mob on Alpe d'Huez knocked Vincenzo Nibali out of the race and another tried to grab Thomas as he sprinted toward the line. Protesters stopped the peloton and over-aggressive police sprayed them with tear gas that later wafted onto the peloton. At times, it seemed as if the Tour was unraveling at the seams.
"It's a disgrace to see it happen during the race," Froome said of the spitting and hooliganism. "The Tour is supposed to represent a celebration, and when people come to jeer and protest, maybe that's not my idea of a party."
And despite a unique course that blended gravel roads with the return of the fearsome cobbles of Paris-Roubaix and an innovative 65-kilometer climbing stage in the Pyrenees, the undeniable force of Sky and its $35 million budget could not be stopped. Fans keen on witnessing an exciting fight for yellow saw another Sky knockout in round one.
It seemed not only an entire nation was growing tired of Team Sky's dominance, but sports fans across the globe were tuning out as well. TV ratings dipped in some countries and roadside crowds were noticeably smaller.
By the time Sky methodically and impassively disassembled its rivals to win another yellow jersey, seamlessly substituting Froome with Thomas at the top of what L'Equipe likened as a "two-headed snake," it was all too much for some to take.
"We cannot blame them for winning," Prudhomme shrugged. "We have a machine that wins with three different heads [Bradley Wiggins, Froome, and Thomas] and they're preparing for the sequel."
Perhaps it was Sky's dominance, or Froome's lingering anti-doping case, or the combined weight of the socio-economic pressures gripping central Europe. For whatever reason, the 2018 Tour de France was held under the fog of malaise. At every turn, the race looked and felt smaller than Tours of years past. The various controversies that erupted during the three-week affair gave riders and journalists alike the feeling that fans were less than thrilled with cycling's biggest show. Was this another typical Tour de France, an event by its very nature rife with controversy, jealousy, mishaps, and sore losers? Or was there something more stirring beneath the surface?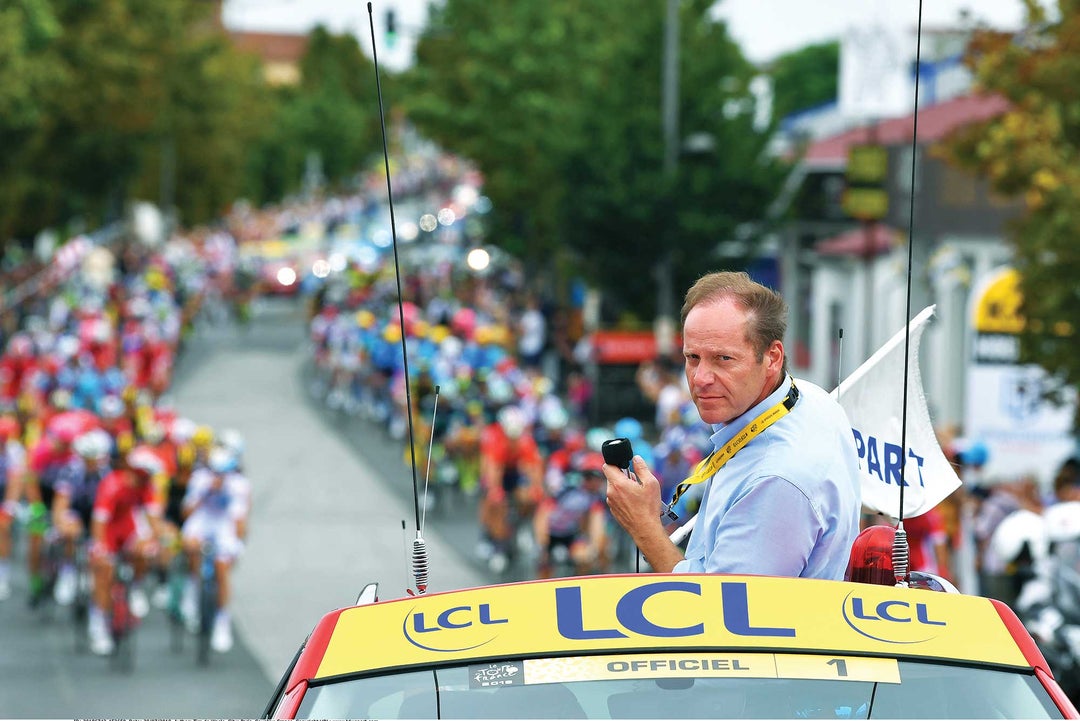 BY THE TIME THE Tour straggled into Paris, there were many flashing warning signs that this might be more than a one-year blip.
With Sky throttling the race yet again, fans were tuning out. Anecdotally, crowds felt smaller at the start and finish cities, and on some of the flatter stages, long stretches of the roadsides were empty. The famously raucous scene up Alpe d'Huez also lacked its usual energy. Race officials installed ropes along "Dutch Corner" in an effort to hold back the usually rowdy fans from The Low Countries.
Crowd size wasn't the only metric that was down. After matching near-record highs in TV viewership in France in 2017, ratings took a hit across most of Europe. Even in France, overall viewership was down, from an average of 2.3 million viewers per stage to 2.1 million. Peak viewerships, usually measured at the end of each stage, were down 500,000 compared to last year. According to L'Equipe, during the final stage across the Pyrenees, held on a Friday afternoon, half of France's television audience was watching the Tour, a strong indicator that the race had rebounded from its week one ratings dip.
Prudhomme blamed the low numbers on soccer's World Cup tournament, which saw France win the overall title. The nation's hyper-focus on soccer, he said, simply overshadowed cycling. "We expected a drop this year with the World Cup," Prudhomme said. "With 'les Bleus' winning the title, it's a small price to pay!"
Indeed, the World Cup hangover and an erupting scandal involving staffers of French President Emmanuel Macron pushed the Tour off the front pages for much of the summer.
But the viewership dip was not a French phenomenon. Every other European market showed a dip in 2018 as well. Italy was off 37 percent (no Nibali, no viewers) while the ever-faithful Spanish saw a dip of four percent. Even in the UK, which has fueled much of the growth in ASO's bottom line over the past several years, viewership was down 15 percent for ITV.
It's hard to say if the declining numbers will rebound next year or whether they present a more troubling trend for the Tour.
Much like other sports, the Tour is seeing a slow bleeding of its TV audiences as fans have more choices on where to watch the race. Websites and pirate feeds are new competition — ASO's own Le Tour race center saw record numbers in 2018 — and social media is the new digital "town square," where fans flock to sites such as Twitter to dissect each stage.
Another metric, though harder to measure, is star power. Lance Armstrong might have once been the most hated man in France — one newspaper ran a front-page headline that read "Welcome back, asshole" when he returned after retiring in 2005 — but he drew in crowds. As New York Times writer Ian Austen wrote this summer, he counted three American flags along the route during a stage that usually would see dozens during the Texan's heyday. The Brits came over in swarms in the early Sky years, but Froome doesn't seem to hold the same magnetic power over foreign fans as Wiggins or Armstrong ever did.
Bike tour companies say they're still selling out their trips each July, but one operator said, "people are more interested in the castles and wine than they are in the bike race."
There were some encouraging signs. NBC's numbers were up slightly, three percent among the U.S. audience, with a 23 percent jump in the highly valued 18-49 demographic. Eurosport Spain also saw a 10 percent jump in its cable viewer numbers.
Everyone inside the Tour organization knows they need to do what they can to spice up the race and to deliver a product the public wants to watch.
"We always try to innovate, and it is our duty to make the course interesting," Prudhomme said. "It's a shame that the teams are only thinking about defending what they have. No one seems willing to risk in order to win. We want more fight, more suspense."
Prudhomme's solution, however, stood in stark contrast to the current state of the Tour de France. How do you create more fight, more suspense, when one team can dominate the race from start to finish?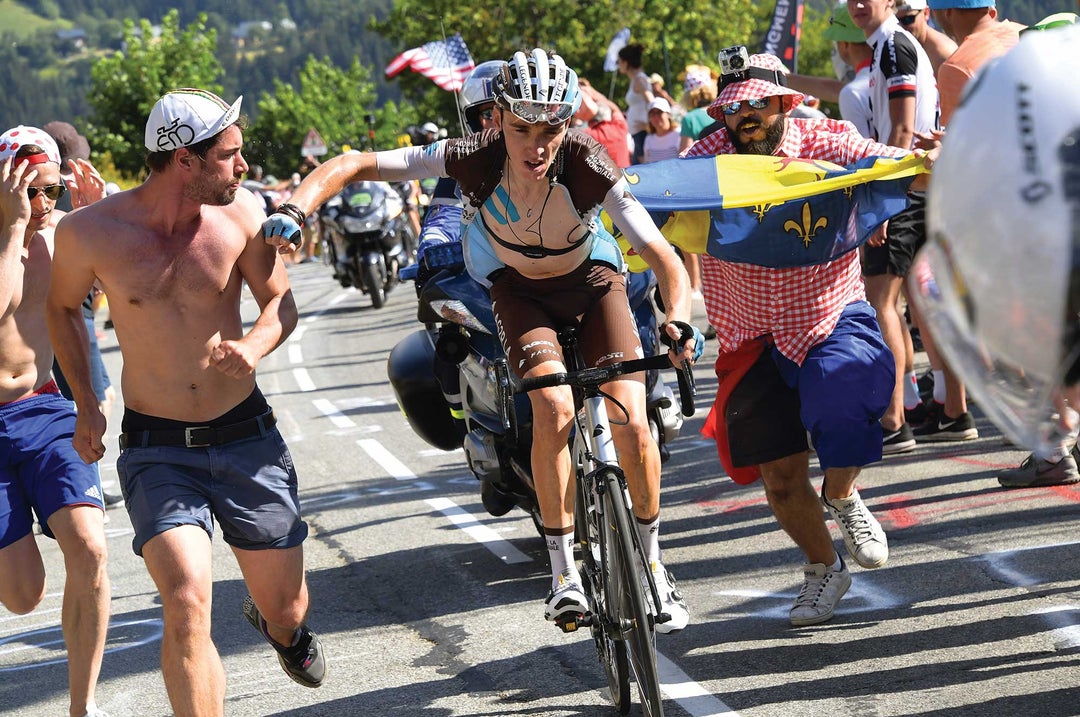 AFTER THREE LONG WEEKS, Movistar boss Eusebio Unzué stepped out of a team car at the end of the Espelette time trial. The stage bookended what was a very long month for the Spaniard who once won five yellow jerseys in succession with Miguel Indurain. His mask of exasperation only served to amplify his gloom.
"We came here looking for more than we have been able to achieve," Unzué said. "Each year, it's easier for Sky to achieve something at the Tour and harder for the rest of us."
Unzué's sense of futility echoed across the Tour paddock as the race neared its inevitable end. Teams and riders left the 2018 Tour more dismayed than ever. A feeling of frustration spread across much of the race and Sky's interminable domination dismayed just about everyone trying to snatch the yellow jersey.
"The thing is they have several 'teams' to bring," said Sunweb's Laurens Ten Dam, referring to Sky's depth. "They have the numbers to bring strong teams to each grand tour. That's their budget — Wout Poels makes 10 times more than I do."
L'Equipe put it best with a front-page epithet that read: "Le règne sans fins" — the unending reign.
The stats don't fully reveal the bleak reality. In what was its fourth grand tour victory in a row, Sky absolutely obliterated the peloton to win its sixth yellow jersey in seven Tours since 2012. Few outside the Sky retinue celebrated. Cycling's most important bike race seemed on a never-ending replay loop. Sky's ruthless and surgical domination of the Tour deflated everyone.
France's great hope, Romain Bardet, seemed demoralized even before the Tour started, and didn't put up much of a fight. After two-straight podium finishes, France's latest and greatest hope resigned himself after crashes and mechanicals marred his first week. His gloominess in the mountains seemed to capture the anxiety of many.
"There seems to be no longer space for a rider like me who races instinctually," Bardet said. "This is modern cycling, with a team packed with strong riders. [Sky] can capitalize on one or two big moments, and then race defensively."
Indeed, for as strong and consistent as Thomas was throughout the Tour, he hardly attacked during the race. He didn't need to. His rivals dropped like dominos all around him, crashing, abandoning, losing time, or suffering ill-timed mechanicals. All he had to do was follow the Sky train, with the last stop in Paris.
"The differences today are minimal between the best riders," lamented Ag2r La Mondiale boss Vincent Lavenu. "Riders only have one or two matches to burn. And when they make a big effort, they pay in cash for it later. We still dream of the days when we could attack from very far away, but that is no longer the case. Sky has a strong team to ride tempo. This is modern cycling."
Sky's continuing dominance reconfirmed the quandary facing cycling's most important stage race.
Traditionalists not only bemoan Sky's dominance, but some even say that its highly effective and calculating manner of racing is snuffing the life out of the Tour.
"Today everything is measured to a millimeter," UCI president David Lappartient said. "How many people are really captivated? In [soccer], you have these extraordinary comebacks, but we do not have that much on the Tour de France."
Sky has perfected its high-tempo, conservative style of racing. Though much is made of Sky's "marginal gains," its tactical playbook is not so different than cycling's other great dynasties. When a team has the strongest rider of its era and a budget to match, you hire the best riders to drill everyone else into the ground. And just like the other dynasties of Tour's past — from Renault to Banesto to U.S. Postal Service — Sky has the pocketbook and the infrastructure to keep piling on. That doesn't mean it's easy to watch.
The French daily Le Monde put it this way: "Cycling has become mathematics, and Sky is best at adding up the numbers. And it's terrible."
While fans and media are dismayed at how the Tour appears predictable and boring — it never truly is, just ask Richie Porte who crashed out in an innocuous incident early in stage 9 — riders inside the peloton said Sky was simply racing to win.
"What's the goal of the whole race? Is it the goal to make the race exciting? Or is it the goal to win the race?" asked UAE-Emirates' Rory Sutherland. "We are not playing to the fans or the press or not playing to make it exciting. The goal is to win. That's what they've done, and everyone says it's boring, but it's effective. Who wins the Tour? Sky does."
And that's the problem, at least to anyone expecting the unexpected.
THIS SUMMER'S DISSATISFACTION WAS more than just about Sky burnout. The ambiance in La Roche-sur-Yon bordered on incredulity when Froome was cleared in his long-running salbutamol case.
The nuances of the case were lost in the sea of negative headlines — particularly how it appeared the World Anti-Doping Agency did a major retreat on its salbutamol test — and no one bought into the narrative of an innocent rider being cleared. Instead, it was another well-funded, untouchable superstar gaming the system. After decrying a peloton at two speeds in the post-Festina era, this seemed to be justice at two speeds.
For many, Froome's presence seemed to spoil the Tour even before it started.
"We are specialists in cycling," said Quick-Step Floors manager Patrick Lefevere. "We love to shoot ourselves in the feet."
Later came grumbling about how the UCI and other authorities mishandled the Froome salbutamol case following a leak in December. Lappartient received criticism for trying to play both sides, at once hoping to be the principled defender of clean sport while on the other hand appearing as a self-serving bureaucrat.
"The UCI should have played more of a United Nations 'Kofi Annan role' instead of putting oil on the fire with the Froome case, especially in France. That did not help," said LottoNL-Jumbo manager Richard Plugge. "The UCI is our referee — either Froome is in the race, or he's out of the race. That message could have been communicated way earlier."
Ross Tucker, a South African sports scientist and vocal expert inside the anti-doping community, said the Froome case was a critical blow in cycling's attempts at rebuilding its believability.
"It's just another huge blow to the credibility of the anti-doping movement," Tucker said. "Testing catches a small proportion of dopers, and then the legal processes underpinning the testing successfully sanction only a small proportion of those. And meanwhile, it's hemorrhaging credibility at every step of the way."
Despite anecdotal evidence that the peloton is cleaner than it's ever been — confessed doper Thomas Dekker even went so far as to suggest he believes Froome is the cleanest Tour winner in history — many see Froome as the latest in a long list of suspicious Tour dominators.
Even if fans buy into the idea that the peloton is no longer fueled on EPO and blood bag transfusions, there is still a lot of tip-toeing up to the ethical line that leaves many uneasy.
Others simply don't see a difference between the drugs of yesteryear and things like salbutamol, and therefore still question the cleanliness of the sport.
EF Education First-Drapac manager Jonathan Vaughters, who has championed clean cycling since his own personal doping admissions, said many of today's fans simply refuse to or cannot see the new situation inside the peloton.
"That's just not the reality," Vaughters said. "I can say that all day, but nobody's going to believe it. It's not true and I think anyone inside the sport with any genuine knowledge is going to say it's not true. Unfortunately, many people look at us skeptically."
That ever-hardening skeptical view means trouble for Tour organizers trying to sell a cleaner sport when things like the Froome case keep bubbling up.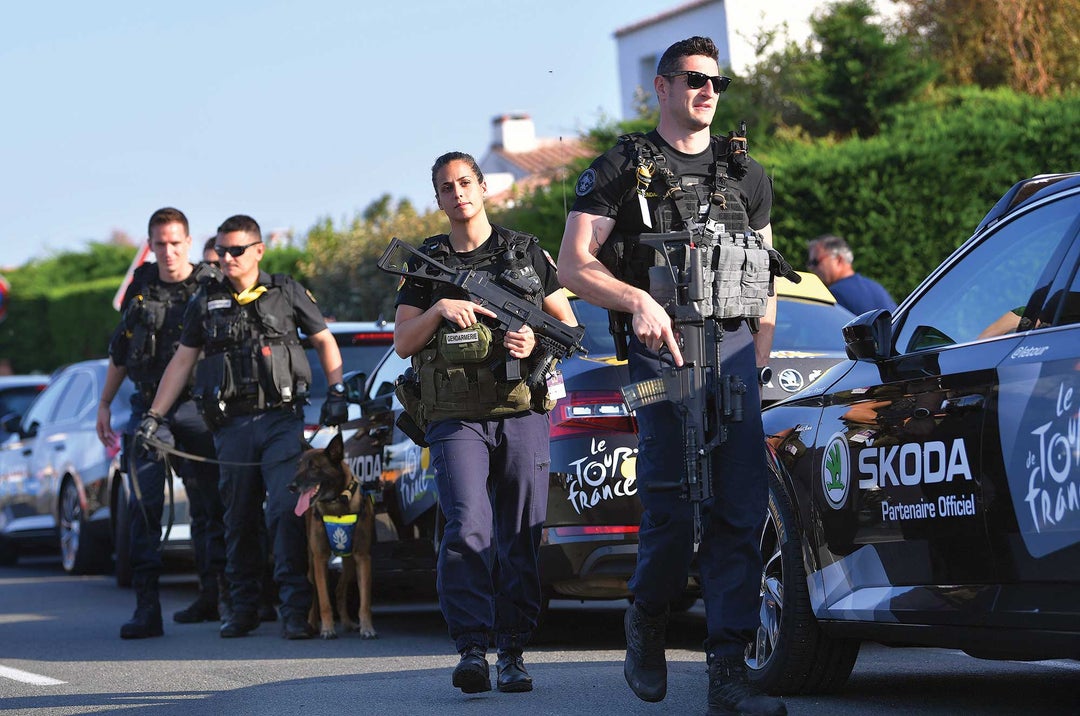 ADDING TO THE TOUR'S woes is something no one wants to publicly acknowledge — the fear of terrorism.
Race officials were so worried about a major terrorist attack it defanged cycling's biggest party. The scene on Alpe d'Huez was neutered by security measures. As riders pedaled up cycling's most famous climb, the peloton found barriers on the bottom and top four kilometers of the climb. Even more striking, when riders turned into Dutch Corner, usually packed with so many fans it's hard for them to choose a line, they instead found dozens of police, and fans kept mutely behind barriers.
What had happened? Publicly, officials said it was to tamp down the rowdiness. Privately, it was part of a larger campaign to make one of the sport's most vulnerable events as safe as possible.
"The Tour is so vulnerable, but no one wants to say it," said veteran reporter Francois Thomazeau, the French journalist who broke the Festina Scandal in 1998. "It was obvious that the No. 1 priority this year for police and officials was to avoid an attack."
Throughout this year's Tour, a heavy police presence was one of the race's major accents. Heavily armed police units were visible at every start and village along the route. Security guards searched bags and credentials of anyone trying to enter the race paddock or VIP village. Military vehicles and big blocks of cement cut off access roads. Bomb-sniffing dogs and an elite corps of undercover forces worked the crowds.
This year, 23,000 police and 6,000 firemen along with several thousand more private security personnel swarmed over the 2018 Tour. "It is the biggest single sporting event in France," ministry spokesman Frederic de Lanouvelle told AFP at the beginning of the race. "The threat of terrorism is real during the entire Tour, and we will deploy all means necessary to ensure the full security for the event." Police are jittery about large crowds in France, and rightly so. Starting with the Charlie Hebdo massacre in 2015 that left 17 dead, followed by the even more horrific Paris shootings later that year that left 113 dead, France was under a state of emergency until November 2017. When a terrorist plowed a truck into a crowd celebrating Bastille Day in Nice, leaving 86 dead in 2016, many wondered if an event as open and accessible as the Tour had a place in the post-terrorism world. With such robust police presence, it seemed to have a chilling effect on the overall sensation that the Tour is France's big summer fete. It was harder for fans to get to the race course, but for security officials that seemed a small price to pay.
Tour organizers, however, believe they found the right balance between security and maintaining the openness of the Tour.
"We never design the route thinking first about security," said Thierry Gouvenou, the Tour's lead course designer. "We always put the race first, and then build the security features around the stages."
Nearly everyone agreed tempers were flaring more than usual along the side of the road this year. There was a level of hooliganism and rowdiness unseen before at the Tour.
"This year was the worst I've ever seen it," said BMC's Porte. "It does seem crazy to barrier off long sections, but maybe that's what they need to start doing. Just look at what happened to Nibali. It should have never happened."
More police and security officials and wider gaps between the fans and the racers might make it safer, but it will only dampen the unique spirit of what makes the Tour so special in the first place. The Tour knows it must walk a fine line between security and tradition, or it could lose what makes it so special.
DESPITE PLENTY OF GLOOM from some quarters, the Tour shows few signs of abating. Having Thomas ride triumphantly into Paris was a welcome salve for the haggard Tour organization.
The race continues to tower over other events on the international calendar and remains the central ambition for every team and rider in the peloton. The Tour remains the sun of the cycling solar system. Without it, the entire sport would wither on the vine.
The Tour also remains a cash cow and is a major driver of the estimated 45 million euros per year in profits for ownership company ASO. And until the family-run, privately held business sees a genuine downtick in profits, nothing major will likely change. Quite the contrary, ASO continues to push into new markets across Europe, Asia, Australia, and the Americas. This summer, it revived the Tour of Germany in hopes of energizing Europe's largest market.
The Tour, however, isn't ignoring the warning signs. It knows there are real challenges to engaging the broader public as well as keeping fans safe and protected. There are a lot of ideas floating around on how to spice up the action — everything from a further reduction of team size to spending caps and banning race radios and power meters.
Everyone inside the Tour organization is well aware that if the Tour becomes predictable, fans will tune out permanently.
"We will always innovate to try to make the race more interesting and to push the riders to their limit," said Gouvenou, who travels months every year on France's back roads. "We will continue to mix classic design with new ideas, like the 65-kilometer short mountain stage we saw this year."
The big mistake ASO could make would be to get too gimmicky or panic. Part of the allure of the Tour is the history; if they overreach, in an effort to meet the demands of today's fickle and quickly changing media landscape, it could well backfire.
"I think the Tour today is more relevant than it's ever been," said French journalist Thomazeau. "Perhaps it is not as dear to the French heart as it was 30 or 40 years ago, but it's become a worldwide sensation. France and the Tour have become synonymous."
Despite the hiccups this year, Prudhomme is confident the Tour will endure. It's going to take more than a few boring editions to kick the legs out from underneath a sporting event that dates back more than a century.
"I think next year we will see a strong anti-Sky block," Prudhomme said. "I believe in Bardet, and next year we'll have [Thibaut] Pinot. And with Dumoulin, Roglic, and, hopefully, Nibali, there will be a big fight."
Hope springs eternal. And so it is at every Tour start.