Less wigged-out: Bradley Wiggins calm before Tour de France storm
LES HERBIERS, France — Bradley Wiggins enters the 2011 Tour de France a dramatically different man than the one who showed up last year.
Heading out the door? Read this article on the new Outside+ app available now on iOS devices for members! Download the app.
LES HERBIERS, France — Bradley Wiggins enters the 2011 Tour de France a dramatically different man than the one who showed up last year.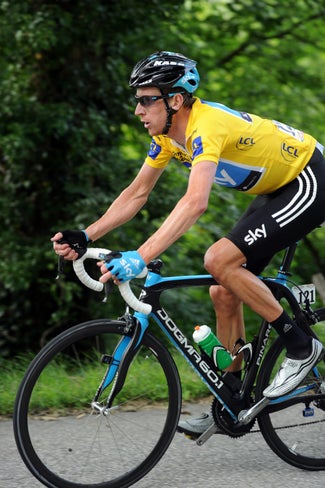 On Thursday, he calmly held court as dozens of journalists leaned in to hear what he had to say on the eve of the season's most important race. That's a dramatic switch from last year, when the pressure was piled on deep as Team Sky's million-pound man. The strain and nerves were hard to hide last year when he started the 2010 Tour with the heavy burden of having to top his fourth-place performance from the previous year.
"In 2009, I could do no wrong. I started the race as a no one and finished as a someone," Wiggins said. "After having that go so well, last year was always going to be a disaster even if I repeated the performance. I didn't do the work I had done for this Tour. I am as ready as I have ever been for a Tour."
Tour Essentials:
Wiggins and Team Sky took a hard look at their first year. Team manager Dave Brailsford admits they set the bar too high when they started off their debut season with talk of "winning the Tour with a British rider."
All that fell on Wiggins's shoulders and it was doomed to failure. Last year, Wiggins struggled through the Tour, limping into Paris with a lackluster 24th. His performance didn't live up to expectations and he even called his 2009 ride as a "fluke."
"We did learn a lot from last year. We felt we focused too much on one rider and one race," Brailsford said. "We entered these season with a different philosophy and we're taking each race on its own right. That's paid off for us and we've picked up some results over the season. We have built up the momentum coming into the Tour. This is only our second Tour as a team. We're happy to be here. If the opportunities are there, we'll take them."
Over the off-season, Wiggins opened up with team management and began working with a trainer rather than independently outline his own preparation. He skipped the demands of the Giro, in part to include altitude training into his training program for the first time. It seemed to pay off. Wiggins rode to third in Paris-Nice and won the Criterium du Dauphiné in June.
"I learned a lot of lessons from last year and I come to this Tour with a lot more experience and strength," Wiggins said. "I have two-three more years of experience, which counts a lot in the Tour. This is really just my second Tour with the goal of GC. In 2009, I just wanted to see what happened. Experience counts for a lot in the Tour."
Wiggins said winning at the Dauphiné will boost his morale, but said victory there was part of the process of arriving at the Tour in the best shape possible.
"There was a plan. Everything's been toward peaking for July," Wiggins said. "The next three weeks will be a test of that."
Despite the solid success, he tried to rebuff expectations of a podium run when the Tour ends in Paris.
"I don't think I have mentioned 'podium' once all season. Now everyone is throwing around the word. The podium is not a mark of success for me," he said. "Six months ago, no one would have talked about podium. I was written off after last year, now I am back in the limelight, but it's a long way to Paris."
Going into the 2011 Tour, it's obvious Wiggins is more relaxed and more prepared for what the Tour will throw at him, both on an off the bike. How long he remains a cool customer remains to be seen.