Levels take a back seat during stage-20 ITT of 2011 Tour de France
UCI commissaires left their levels at home for Saturday's stage-20 time trial, adjusting theirs methods for enforcing UCI Rule 1.3.012, which requires that the "saddle support be horizontal."
Heading out the door? Read this article on the new Outside+ app available now on iOS devices for members! Download the app.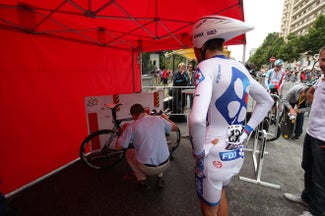 GRENOBLE, France (VN) — UCI commissaires left their levels at home for Saturday's stage-20 time trial, adjusting theirs methods for enforcing UCI Rule 1.3.012, which requires that the "saddle support be horizontal."
"We are checking them by sight today," commissaire Philippe Marien said in between bike checks Saturday morning. "We learned a lesson from last time."
Teams were taken by surprise on stage 2 when commissaires added a level to their toolkits, placing it on top of each rider's saddle during the regular pre-time trial UCI checks. Saddles that weren't level had to be adjusted prior to the start.
Nearly half of Alberto Contador's Saxo Bank-Sungard squad had to make last-minute changes. Team boss Bjarne Riis was furious, saying at the time, "I've never seen something like this before. Bullshit." Team RadioShack's Johann Bruyneel and Garmin-Cervélo's Jonathan Vaughters echoed the sentiment.
For that, the latter two were specifically called out in a press release issued by the UCI after stage 3, which stated "the UCI regrets and will not accept uncalled-for behavior from certain team directors … especially that of Mr. Johan Bruyneel and Mr. Jonathan Vaughters yesterday."
The press release also noted that teams had been informed that the rule would be enforced at the Tour this year. It also seemed to stand behind the commissaires' application of the rule: "The UCI would like to clarify that Articles 1.3.004, 1.3.008 and 1.3.014 referring to technical specifications and innovations, in particular the seat position, will continue to be applied as per the UCI regulations."
"Manufacturers didn't know how the rule was going to be interpreted," BMC chief mechanic Ian Sherburne said during Saturday's stage. "There are elements of saddle design that are inconsequential but have an effect on whether a position passes or fails when the enforcement was that strict. If that's the rule they're going to be enforcing, they need to go to saddle manufacturers as well."
Some saddles have a flared rear or cutout, making the use of a long level to determine whether they are horizontal absolutely fruitless. In addition, the jig upon which the commissaires were checking the saddles was itself not level (as pointed out by mechanics who brought their own levels), further skewing results.
"I think that's an unrealistic expectation with how the human body interacts with a saddle," Sherburne added. "There's a misinterpretation between what's flat and what's horizontal. If you read the rule it says the saddle support has to be horizontal, which is really ambiguous at best. That could be the saddle rails. There's some mistranslation going on."
For a little added security, BMC worked with saddle sponsor Fi'zi:k to build an Ares time trial saddle with a flat back for Evans by Saturday's time trial.
On Saturday, Marien made it clear that the rule was still being enforced, just without the use of a level. Teams expressed relief at the news.
"I think it's the correct interpretation of the rule," Vaughters said during Saturday's stage. "If a saddle falls within a margin of error it should be fine. That's what, 5 or 6 degrees off level for a person? I like that."