Nibali: It may seem boring, but that's modern cycling
Vincenzo Nibali says precise training has led to boring racing. He suggests budget caps on teams to liven up the action.
Heading out the door? Read this article on the new Outside+ app available now on iOS devices for members! Download the app.
LE GRAND-BORNARD, France (VN) — Tour de France stage 10 may have appeared boring on television, but Vincenzo Nibali (Bahrain-Merida) says that specialized training and in-form cyclists produce such a show — or lack thereof.
Julian Alaphilippe (Quick-Step Floors) celebrated the stage victory in Le Grand-Bornand. Greg Van Avermaet (BMC Racing) kept the yellow jersey for another day. None of the GC stars made significant attacks in the 2018 Tour's first mountain day.
"Maybe it seems boring at home, but when the speed's high like that there's no space to make the selection," Nibali said. "This 'new' cycling is produced thanks to precise training methods. We are all there at the same level, maybe just someone is bad one day and loses time.
"In a stage like this it's hard to see a big attack — it's harder to do. Over three weeks, legs start to get tired and you can sometimes see some moves. We are all specialized in our training, but unfortunately, the show suffers as a result."
The biggest gains through the Alps to Le Grand-Bornard were made not from a move off the front, but Rigoberto Urán (EF Education First-Drapac) sliding off the back. The Colombian, second in the 2017 Tour, is suffering from a crash two days ago. He lost 2:36.
"The difference today is seen by those who've made a mistake in their training or if you haven't recovered well from another day, you slept poorly, or you had a problem," Nibali continued.
"It's like in F1, all the cars there at the same level, and they are fighting for inches. So a mechanical problem or breakdown decides the race and brings out the differences. For a few years now, it's been like that in cycling. Maybe the fans say, this is boring, but if you look at the speed, it's high. High."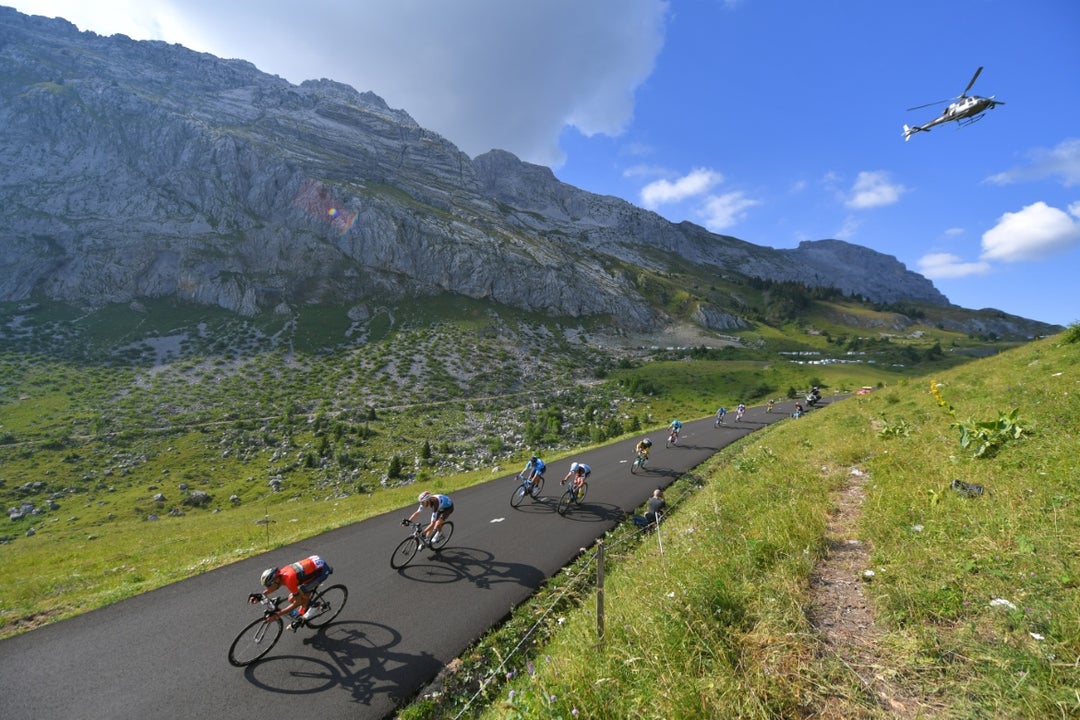 Nibali won all three grand tours, conquering the Tour in 2014. Sitting on the steps of the Bahrain-Merida bus after a shower, he brushed off ideas that could produce more exciting racing.
"Smaller team sizes? It was supposed to open up the races to more attacks. It's all proportional because one less rider is not just for one team, but for all teams," he said.
"Short stages? The short stages make things more interesting for everyone because the race becomes more explosive, so instead of waiting for the last 50 kilometers in a 200-kilometer stage, it might blow up midway into a 100-kilometer stage. Tomorrow is only 40 kilometers less than today, but something could happen or maybe nothing at all."
He wanted to talk more about budget caps for teams. Right now, the UCI allows teams to spend as much as they want on staff, equipment, and cyclists. Team Sky spends the most, around $42 million. Bahrain-Merida counts on a budget in the 15 million range. Other teams have only 10 million.
[related title="More Tour de France news" align="right" tag="Tour-de-France"]
"Sky has a big budget, they can have the best riders, and having the best riders who can control the race so it becomes a little easier for them. If Bahrain had a budget of 10 million more then things would change," Nibali said.
"Maybe we need a budget cap, that wouldn't be bad, it might balance things out and make things more interesting. I can say this now, but maybe it won't change until after two to three years when I'm already retired. Anyway, this is just an idea. I'm not trying to create controversy."
His idea may see the light of day as cycling's boss David Lappartient floated it this last winter.
"What everyone wants is that races are attractive," Lappartient said. "People want to see open races instead of races that are completely blocked by a team with the best riders."