Overcoming grief, Tyler Farrar mentally and physically ready for the 2011 Tour de France
From winning stages at Tirreno-Adriatico and the Ster ZLM Tour to burying his best friend following a fatal accident at the Giro d'Italia, it would be a terrible understatement to call the first half of 2011 a rollercoaster for Garmin-Cervélo's Tyler Farrar.
Heading out the door? Read this article on the new Outside+ app available now on iOS devices for members! Download the app.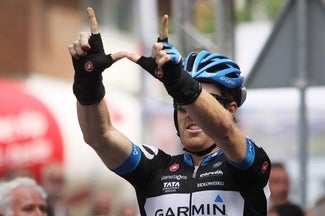 From winning stages at Tirreno-Adriatico and the Ster ZLM Tour to burying his best friend following a fatal accident at the Giro d'Italia, it would be a terrible understatement to call the first half of 2011 a rollercoaster for Garmin-Cervélo's Tyler Farrar.
The tragic crash of Belgian Wouter Weylandt, Farrar's training partner in his adopted hometown of Ghent, sent the American into an emotional tailspin. After riding a processional stage in honor of Weylandt the following day, Farrar abandoned the Giro and went home to Ghent, attending to Weylandt's funeral and taking several weeks off the bike trying to process his loss.
Tour Essentials:
Sadly Weylandt's death wasn't the first cycling-related tragedy Farrar has been forced to endure over the past decade. In April 2006 his friend and roommate Saul Raisin, a promising young American racing for Crédit Agricolé, crashed and suffered a head injury at the Circuit de la Sarthe — an injury that ended his career and nearly took his life. In October 2008 Farrar's father, Dr. Ed Farrar, a spinal surgeon, was hit by a car while riding his bike to work and lost the use of his legs. In May of this year Farrar was again forced to face the harsh dangers of his chosen profession. And again, America's best field sprinter over the last quarter-century pushed on.
In June Farrar returned to racing, taking the start at the Critérium du Dauphiné for the first time in his career. With sub-par form and still carrying a heavy burden, Farrar contended in only one field sprint, finishing a disappointing sixth.
It was at the Dauphiné that Farrar told a Dutch newspaper that he still was planning on racing the Tour de France — assuming he was fully prepared, a quote that would later be misunderstood, prompting misguided speculation that he might not be contesting the race.
On June 16, Farrar won the second stage of the Ster ZLM Tour, a lesser-known Tour warm-up race, a Dutch race held in the shadow of the Tour de Suisse. Crossing the finish line Farrar held his hands together to form the letter W in tribute to his fallen friend. It was an emotional finish for Farrar, who was near tears at the finish.
"It was a very important victory after the last month, which has been very, very tough for me," Farrar said after the race. "It's still hard to talk about it."
At the Tour de France Farrar faces his biggest challenge yet — battling against Mark Cavendish and the rest of the sport's top sprinters, for the green points jersey, with the pressure that comes with teammate world champion Thor Hushovd, a two-time green jersey winner, sacrificing himself for the goal.
Hushovd has sworn his allegiance to help Farrar don the maillot vert in Paris. The Norwegian also stated that he would like to win a Tour stage wearing the rainbow jersey; a stage 1 win in Mont Des Alouettes, which would also bring the maillot jaune, would go a long way in satisfying Hushovd's personal ambitions and easing any tension between the Garmin sprinters.
Though he's won Giro field sprints and beaten Cavendish head-to-head twice at the 2010 Vuelta a España, Farrar has not yet won a Tour stage. And still, at the 2011 Tour he's attempting to win stages and take green, just two months after the death of his friend and training partner. It's fair to call this year's Tour Farrar's toughest battle yet, mentally as much as physically.
Velo managing editor Neal Rogers caught Farrar by phone in late June, after the Ster ZLM Tour and before he headed to France's Vendee region for the start of the Tour.
Q. I was surprised to hear during Versus' coverage of the Dauphiné that you might not be racing the Tour. A week later you won a stage at the Ster ZLM Tour and were clearly back on your game. Can you explain what the confusion was about?
A. That was just a misunderstanding from an interview I did with (Belgian newspaper) Het Laatste Nieuws. I did the interview, which was printed in Dutch, and then probably run through Google translation or something, and it came across a bit different than what I had said. The interview was not so much about racing, but about Wouter. I talked about the fact that it had been a rough few weeks, but I never said I wasn't going to ride the Tour. I was asked if I would be ready for the Tour, and I said, 'I think so, but if I am not ready, the team shouldn't send me. The team only sends its best riders.' It was just a stock, standard interview, they printed it, and then the following day it showed up somewhere in English. It had been poorly translated, and all of a sudden I heard that on Versus they'd said I might not be racing the Tour. All these people started contacting me, and I realized right away that something had been screwed up. The first thing I did was contact the team, and told them not to think I was telling them one thing, and the media something different.
Q. How was it racing at the Dauphiné, your first race back after leaving the Giro peloton under such terrible circumstances?
A. It was a bit strange for the first few days, but I was ready for it at that point. After I stopped the Giro, I came back to Ghent and we did the funeral, and then I went home to America, to Seattle for two weeks, to just get away and clear my head. Ghent is not that big of a city, and because Wouter also lives there, it was hard being there. So I went back to the States. I was actually training hard in States, even though at first it was hard to get out on my bike. It was good to clear my head. Then I flew back and went to the Dauphiné. That was not easy. It's not a race I ever thought I would do in my career — every other year I've done the Giro and then had a rest period, so it was a bit of a shock to the system, but it served its purposes. I suffered, but I think I got stronger, and then I got to go home to Ghent for a few days before racing the Ster ZLM Tour, where I won a stage. That was a nice bonus.
Q. How do you rate your fitness heading into the Tour?
A. I did some good training in the States, and then had a nice block of racing. I certainly put in the work over the last month, and now I'm just resting up, recovering a bit, and concentrating on being fresh for the Tour. I feel pretty good. Winning a stage at the Ster ZLM Tour was good for my confidence. I'd say the fitness is pretty much on track.
Q. And what about your emotional state — where is your head these days?
A. It hasn't been the easiest last few weeks. It's hard, but you have to continue to move forwards. There's not much else I can do but try and get back into a normal life, get back into racing. That is my job; that is my life. The Tour de France is something I've been working towards all year. It was important for to me to stop the Giro and come back to Ghent and be part of the memorial service, to be part of that for Wouter. That did me some good, and it also did me some good to get away for a while, to remove myself from the cycling world, to work through everything. I'm doing all right; you have good days and you have bad days.
Q. You're a private person; you're not on Twitter, you don't go out of your way to bring attention to yourself. What was it like for you after Wouter's death, to suddenly be thrust into the spotlight, to be inundated with calls and emails of support during such an intensely private and upsetting time?
A. As a public figure, it's always nice to get well wishes. On the other side of the coin, when what is very painful and personal becomes public, that's also a little weird. Losing my best friend was really rough, and going through it in the public eye doesn't make it any easier. But that's part of being a pro cyclist, you're a public figure — it's part of the deal, whether you like it or not. I think a month ago I was going to do everything I could to go to the Tour, and if I couldn't do it, I couldn't do it. But I've been able to keep my head in the game. I think I'm healthy and in pretty good shape. The plan going into the Tour, as a team, is that we're going for sprint stages and GC. We have two sprinters, me and Thor, sharing the role as the team sprinter, depending on the day. And we have Christian Vande Velde and Ryder Hesjedal, two guys who have proven themselves, for the CG. We hope to put someone on the podium.
Q. In terms of the team's Tour squad selection, how important is it to you to have Julian Dean there as your lead-out man? You two seem to have good chemistry in the final kilometers of a sprint stage, and soon after the Garmin and Cervélo merger was announced, it seemed you swore an allegiance to each other, with Julian saying he would race wherever you race.
A. I was able to give my opinion, and I think it was heard, although just like everyone else, I don't know for certain until they announce the final team. That chemistry between Julian and me hasn't just come overnight. We've built up a partnership over the last three seasons, and I think it shows. We don't really have to talk much, we both know how we want to do it, we both know what to do, and we each trust the other one — I trust him to get me in to position, and he trusts me to finish the sprint. I think it's worked pretty well over the last few years.
Q. If you were to win a stage at the Tour, given everything you've been through over the past two months, just how emotional would that be for you?
A. Winning (at Ster ZLM Tour), it was pretty emotional. It's not easy losing a friend, and going through that. I got back to training and racing, but to win a race, it's a bit of an affirmation. And being able to win a race, and make that W with my hands for Wouter — it was the only thing I can do, and I realize it doesn't change anything, but it felt good to me to do it. It was my attempt at a tribute. Not that it changes anything, but it was my way of saying that I'm not going to forget him. I'm looking forward to the Tour. A stage win has eluded me the last two years. I've had a string of second places, so getting that monkey off my back, and after everything that's happened, it would be that much more emotional for me if it happens.