Horner and Leipheimer battered as RadioShack and Sky stunned by stage 7 crash
CHATEAUROUX, France (VN) — Riders came across the line in dribs and drabs. The nerves and fatigue of nearly a week of racing showing clearly on the riders' faces. Some survived after dodging another bullet, but others were not so lucky.
Heading out the door? Read this article on the new Outside+ app available now on iOS devices for members! Download the app.
Horner suffers concussion and broken nose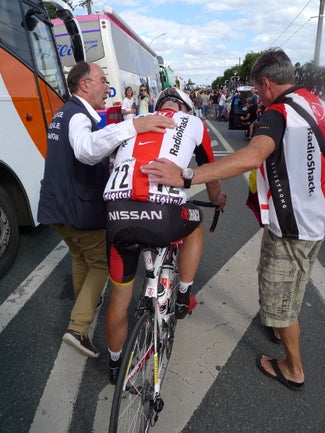 CHATEAUROUX, France (VN) — Riders came across the line in dribs and drabs. The nerves and fatigue of nearly a week of racing showing clearly on the riders' faces. Some survived after dodging another bullet, but others were not so lucky.
The Schleck brothers, OK. Alberto Contador, no scratches. Cadel Evans, still in second place at one second back. Behind them, the damaged was being assessed.
Crossing last was Chris Horner at 12:41 back. The RadioShack veteran was dazed and seriously banged up. VeloNews asked him how he was, and team spokesman Philippe Maertens said, "He cannot speak now! He doesn't know where he is!"
Horner wobbled off his bike at the RadioShack bus, wondering if teammate Levi Leipheimer had finished, asking what had happened. He was transferred to a local hospital in an ambulance for observation. Team officials later reported that Horner had suffered a concussion and a broken nose.
Leipheimer crashed for the third day in a row, this time getting caught up in the same crash as Horner and Bradley Wiggins with about 40km to go. He later punctured and had to use the Mavic neutral support for a wheel, ceding 3:06 on a day when GC riders couldn't afford to give up anything.
"It was a massive crash. It was huge. We were going 75kph. Someone went down pretty close to the front," Leipheimer told VeloNews. "I locked up for a good hundred meters and went down again, nothing bad for me, I am sure that some guys hit pretty hard.
"It's been a really nervous first week. We've had a lot of technical important finishes with the uphill finales, so that makes positioning even more important," Leipheimer continued. "There has been nothing to separate the GC, without a time trial, so it's kept everyone very nervous."
RadioShack started with four GC options, but suddenly it appears it's a one-man option. Jani Brajkovic crashed out with a broken clavicle. Horner looks banged up and might not be able to continue. Leipheimer dipped to 50th at 4:29 back. Andreas Kloden made it through safely and will carry the team colors into the Massif Central with fifth at 10 seconds back.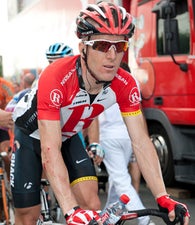 "Unfortunately, the race is being decided by crashes," Leipheimer lamented. "I know that crashes are part of the sport, but I don't think it's right to have it to this degree."
Bradley Wiggins (Sky) never made it to Chateauroux. The British national champion was hauled off in an ambulance with a broken clavicle, his Tour dreams crumbling in a crash with about 40km to go that split the peloton. High winds, narrow roads and team orders to be at the front of the peloton added up to disaster.
Tour leader Thor Hushovd (Garmin-Cervélo) has seen his fair share of nervous opening weeks at the Tour, but the reigning world champion said this year is even worse.
"It has always been nervous, but this year it has been more because of the weather; especially because of the wind," Hushovd said, who defended yellow with seventh. "Everyone wants to stay at the front. We have teams on GC who want to stay at the front. In the end there is no room for all the teams. Everyone becomes nervous and then crashes happen."
While Garmin kept Hushovd into yellow, Ryder Hesjedal and Tyler Farrar (Garmin-Cervélo) crossed the line in a group at 3:06 back, with the Canadian cursing his luck at losing valuable time on the GC while Farrar lamented missing a chance at challenging Mark Cavendish in the bunch sprint.
"Today was one of my big objectives, it was a perfect stage for me," Farrar said. "That's bike racing. Someone crashed right in front of me. I had no time to react. One second I was on the bike, the next I was on the ground."
Many wondered why Garmin didn't wait for Hesjedal and Farrar. Christian Vande Velde said the speed of the peloton was so fast that if anyone did wait, they would never regain contact with the front pack.
"It wasn't us pulling at the front," Vande Velde told VeloNews. "There was so much inertia in the pack it just keep on going toward the line. It was impossible to wait."
That was certainly the case with Geraint Thomas, who waited to see if he could help Sky captain Wiggins regain contact. Wiggins abandoned, but Thomas helped tow teammate and roommate Edvald Boasson Hagen to the line and toppled out of the top-3 into 38th at 3:18 back and ceded the white jersey.
Belgian classics star Tom Boonen (Quick-Step), who hasn't won a Tour stage since 2007, also abandoned, unable to withstand the pain from his crash two days ago. Remi Pauriol (FDJ) also pulled out.
It was another brutal and costly day at the Tour de France.