Riding through injury at the Tour: Brave or stupid?
How do riders and team doctors decide when an injury is too severe to continue racing the Tour de France?
Heading out the door? Read this article on the new Outside+ app available now on iOS devices for members! Download the app.
Lawson Craddock's heroic ride at this year's Tour de France has reminded cycling fans of the innate toughness and grit required to race on cycling's biggest stage. Craddock (EF Education First-Drapac) crashed heavily during the opening stage, crossing the finish line coated in blood. He suffered a fractured scapula and plenty of cuts and bruises, yet he has continued to race.
The story brings up a debate that is endemic to pro cycling: Is it heroic or foolish for a cyclist to persevere, despite injury or illness? Where is the dividing line between stupid and brave when it comes to soldiering on?
VeloNews spoke with longtime cycling physician Prentice Steffen, the current team doctor for Rally Pro Cycling (and the former doctor for Slipstream). Steffen said there are some injuries that present a clear sign for a rider to abandon. The lion's share of ailments, however, require a judgment call. Team doctors, directors, and most importantly, the rider, all weigh in on the final decision.
"You can apply an algorithm: Did they crash so hard they end up in an ambulance? That's the end of the story," Steffen said. "The game-over scenario is a significant head injury, end of story, that's it. But there are a whole lot of injuries that take more assessment."
In Steffen's algorithm, head injuries warrant instantaneous abandonment. Musculoskeletal injuries dictate moment-to-moment, and then — assuming the rider continues to ride stages — day-by-day assessments. Gastrointestinal and respiratory issues are more nebulous, also requiring constant monitoring. Seemingly innocuous injuries like tendonitis might actually be the easiest to assess. If it's clear it won't improve with more use, and therefore it jeopardizes the rest of the season or career, they're done.
"It gets stupid when you start to entertain something that doesn't take into consideration the individual's best interests," Steffen said. "That's where a team doctor's job is to protect the athlete from him or herself."
Steffen cites the Latin medical ethical code of "First, do no harm," as his guide in understanding whether a rider should carry on. First is understanding what the injury is, as best as can be determined. Next, Steffen attempts to determine the severity of the injury as best he can. Step three is to get the rider back on the bike. Can he safely ride? If so, then the physician will assess the situation alongside the rider, continuously monitoring symptoms and the rider's status from the team car.
"There are many decision points along the way: Can you make it safely to the feed zone? Can you make it safely to the finish? All within a reasonable estimate of making the time cut," Steffen noted.
[related title="More Tour de France news" align="right" tag="Tour-de-France"]
Whether the crash occurred in a stage race vs. a one-day race also factors into the decision. In one-day races, a crash often knocks a rider out of contention entirely, so abandonment is the logical choice.
In previous years, cycling's "hard man" ethos has created problems for riders. Chris Horner famously finished a stage of the 2011 Tour de France after suffering a concussion earlier in the stage. At the finish line, Horner told staffers that he did not know where he was. That philosophy may stem from a perceived need to project invincibility — pro cyclists are often labeled "warriors of the road" after all — something that in the past made riders prone to shake off a blow, particularly to the head.
Given that stubbornness, you might expect a physician and rider to occasionally butt heads regarding the safety of continuing on. Steffen couldn't remember a scenario where such a disagreement occurred and noted that even with head injuries, riders have come a long way in the past 10 years.
"Maybe a decade ago guys would carry on after a head injury, not necessarily because they wanted to, but because they thought they had to. The guys that get a concussion now, when we tell them this is serious, I almost sense that they're relieved. They thank me for taking them out," Steffen said.
What has also changed over the last decade is how doctors and first responders identify and manage head injuries. A pivotal 2008 Zurich conference hosted by the World Health Organization on concussion in sport issued a consensus statement on how to identify and manage head injuries. The paper wiped away a confusing and often-contradictory set of earlier protocols that got practitioners bogged down assessing various gradations of a concussion. In simplest terms, the Zurich consensus provided a clear set of symptoms that medics, sports trainers, and laypeople should look for in a matter of seconds to identify a concussion. They also provided a clear methodology for how to return to activity after the injury.
While it's not a strict protocol but rather a set of guidelines, Steffen said the Zurich consensus "really clarified the situation and it's fairly straightforward. It has to do with symptoms, and not really worrying about a grade one, two, or three concussion. And it categorizes recommendations on how well it is supported by the research."
Due to their length, grand tours provide further opportunities for medical evaluations — X-rays, ultrasounds, and the like — after stages and on rest days. Up until sign-in on the following stage, a rider, in consultation with the doctor and team officials, can decide if he or she carries on. The doctor can play a significant role in determining what the rider's objective should be on that stage, as well, or whether there is any expectation of contribution.
Depending on your perspective, the 23 days of a grand tour can be a blessing or a curse. It affords some riders the chance to race through the pain to get to the point where they can contribute again, perhaps even shine. But it can take days of suffering to get there.
"The amazing thing in a grand tour is you have such a long time to work with these guys to get them better. They're in survival mode," Steffen said. "A lot of these guys are domestiques, and you don't need them to be 100 percent. But if they can contribute, it's clearly a team sport."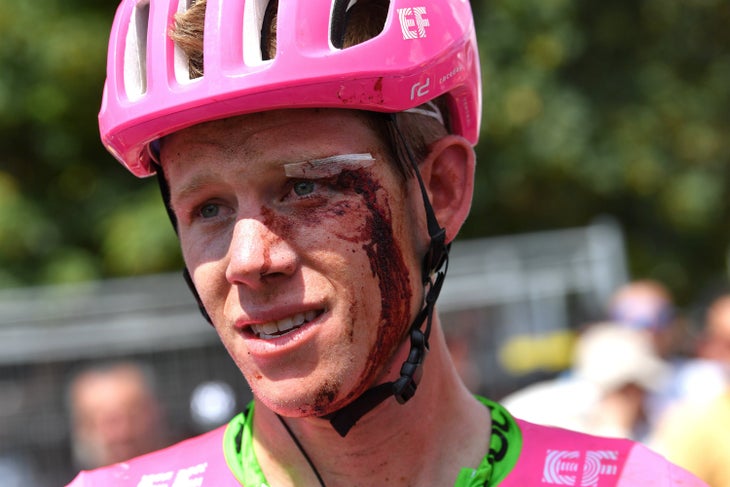 Mind over matter
We've all marveled at the rider who has crashed, has slid across the pavement on a worthless shield of synthetic fibers, tangled in carbon tubes and rivals' limbs, who then extracts himself and immediately looks for the team car, hoping a new bike will arrive soon, licking his wounds as he waits. Their anxious body language and gesticulations would seem to indicate they just want to get back on. And more often than not, sometimes against better judgment, they do. But why? Why do they stand and, at least, try to deliver? And how do they overcome the fear that would paralyze the rest of us?
Sports psychologist Julie Emmerman has never prepared a professional cyclist for such a situation, preemptively, and she doesn't think she has to. "When you spend that much time on your bike, that's your safe zone, that's where you're comfortable, that's where you know you're supposed to be, and if you're not, something doesn't feel right," Emmerman said. "So if you crash, even though you're injured and uncomfortable, it is an instinct because you just know that, if you can be on your bike, that things are going to be okay and you can continue to meet the goals that you've set out for yourself."
That strong sense of personal commitment, as well as a commitment to the team goals, helps foster that motivation. Steffen noted that the UCI's new rule that stipulates grand tour teams field eight riders rather than nine further adds to that sense of pressure.
Craddock's reaction after he finished the stage speaks directly to this point. Following a medical check-up, he said: "I've put too much work into it… " before choking up when asked if he might be forced to abandon.
An innate ability to surrender, to trust, and to vacate the mind of fear is part of what makes the best cyclists so great. When crashes happen, whether through carelessness or no fault of their own, the best cyclists rely on another part of that professional constitution: their capacity to keep a blue-collar mentality, do their homework on the bike and off, and commit themselves completely to the task of overcoming any fear they might have, both before, during, and after a race or crash.
"Crashing is a part of the sport. There is a total acceptance. It's as much a part of the sport as putting on a chamois," Emmerman said. "It's just gonna happen. Of course, there's that reaction of disappointment, anger, but at their level, they automatically start thinking of the best rehab they can get, what they can do, who the best doctors are, and what they need to do to get back on track as fast as possible."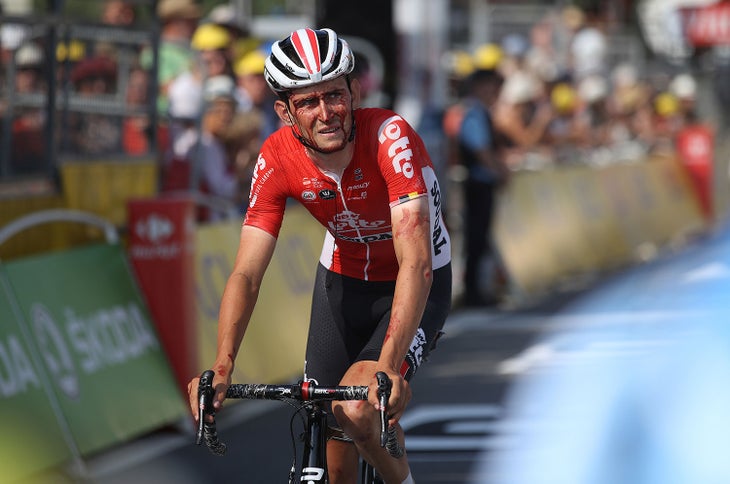 Brave is as brave does
There are no player substitutions in cycling. If a rider crashes early in a grand tour, they are out for the duration, not just the time it takes to get examined.
Once the Tour medical staff confirmed that he did not have serious injuries that might have forced him out of the race for his safety and for others in the peloton, EF officials supported Craddock the best they could.
"We basically left the decision in his hands if he felt safe to continue," said sport director Charlie Wegelius. "We tried to reinforce to him that he shouldn't put himself or anybody else in danger if he couldn't hold the bars."
Craddock managed to regain contact with the peloton, but could not hold the wheel as the pace ramped up in the final 20km as the bunch rumbled in for a mass sprint.
Determined to finish the stage, Craddock received a big cheer from the crowd at the line as he rode in as the 176th placed rider at 7:50 back.
Did he push too hard, through the pain, and risk further injury?
"No. Our medical staff is very conservative with stuff like that. He's totally in the clear — it just hurts," said the team's general manager Jonathan Vaughters.
Craddock completed the team time trial on stage 3, though he did not finish with the leaders of his team.
"I've been assured by the doctors that the fracture is stable and secure," the 26-year-old said. They say moving it isn't going to hurt anymore, that the best thing I can do right now is keep moving, not let it stiffen up, and go from there."
Another stage down, 18 more to go.