Ryder Hesjedal: 'Fitter and fresher' for Tour de France
Ryder Hesjedal will start his fourth career Tour de France under very different circumstances than the previous three editions following his break-out seventh place in 2010.
Heading out the door? Read this article on the new Outside+ app available now on iOS devices for members! Download the app.
Ryder Hesjedal will start his fourth career Tour de France under very different circumstances than the previous three editions following his break-out seventh place in 2010.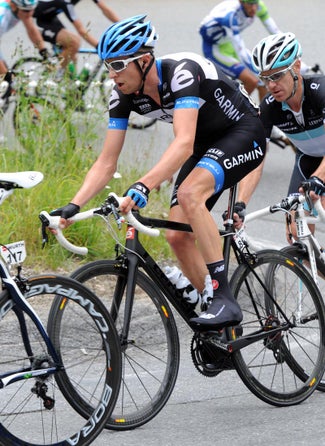 Last year, the Garmin-Cervélo rider rode from strength to strength throughout the Tour to arrive in Paris with the best Canadian result since Steve Bauer was fourth in 1988.
Increased expectations and renewed confidence underscore Hesjedal's approach to this year's Tour. Following yet another solid spring replete with scores of top-10s across one-day classics and week-long stage races, Hesjedal rolled out of the Tour de Suisse last week ready and motivated for the 2011 Tour.
Despite having the "weight of a nation" on his shoulders, Hejsedal enters the Tour as calmly and steadily as possible. He's not obsessing about improving on his seventh place, but at the same time, he's not setting any limits. VeloNews caught up with Hesjedal from his home-base in Spain about his expectations for the Tour:
VN: How are you feeling coming out of the Tour de Suisse?
RH: Better than I had hoped. Last year, I was involved in that crash with Mark (Cavendish) and Heinrich (Haussler), and even though I wasn't in the front of the sprint, I had a pretty solid crash that impacted my race. I suffered through the Tour de Suisse last year. I was just surviving and I didn't even race the final TT. With the pain in my elbow, it just wasn't worth it.
This year, I felt better to get through the race in a good way. I was there to get condition and support Tom (Danielson) and Thor (Hushovd). They both had good rides and I was able to come up with some good condition. I've been trying to recreate the same program and same schedule I had last year and it's gone to a T. I finished up the classics on a good note, then rode Cali and Suisse. So it was the same in regards to the schedule last year, but I feel stronger coming out of the Tour de Suisse race than last year.
VN: So compared to last year, you're coming into the Tour de France stronger?
RH: I think I am fitter. I feel fresher. I have one more season under me. And I am happy with how the season has gone so far. So now I just gotta show up at the Tour with the same hopes as last year, when I was the best I've ever been. I hope to have the best possible in the Tour this year. I have the result from last year in my mind and I know what I am capable of. We're going to the Tour with a lot of options and we have strong morale. The team is excited.
VN: It looks like Garmin-Cervélo will have a balanced team for all options, will it be the strongest Tour squad the team's fielded?
RH: We've always done that. When you have the reigning world champion (Thor Hushovd) and Tyler (Farrar), who is one of the fastest guys in the world, we go with that in mind. We have riders who have been high on GC. We go with all those cards to play. We're more well-rounded than ever before. I think it will be the strongest. The Tour roster will be with guys for every scenario, one that's a solid, complete team. That's the goal of the team, to keep improving, to have your best team possible for the Tour.
VN: Surprisingly, the team is still chasing a stage victory. How important is that during the Tour?
RH: That's a simple stat' and we still haven't been victorious in the Tour. We've had many good rides, but we're still chasing the 'W.' We'll be trying from Day 1. I am as confident as ever we'll be able to reach the goal of a stage victory.
VN: How has last year's big ride with seventh changed your expectations for this year's edition?
RH: In all honesty, it really hasn't changed anything. I approached the season the same way as I did last year and I hope for the same results this year. I've done the work and now I ready to start the Tour in the best way possible. I am quietly optimistic and confident there will be opportunities for me in this year's Tour. I am happy to be part of that and line up and try again.
I know the team is hoping for the same and expects a lot from me. The Tour is always unpredictable. I am not fixating on that I have to get sixth or better in GC in order to have a more successful Tour than in 2010. I am going with an open mind, see what I can do to contribute to the team. That's what I am focused on. That's the best approach. There's no sense on fixating on one single objective. I am not the sole leader of the team. We have many objectives and goals for this Tour.
We all need to support each other in order to fulfill each scenario. We have a lot of cards to play. We have riders for the GC, we have riders for the sprints. We have TT specialists, riders for the intermediate climbing stages. Our team's also pretty focused on the team time trial. We come to the Tour with a complete team.
VN: How does this year's course play into your style of racing? Is a hard final week good for you?
RH: That's when I've been at my best in all of my first three Tours. That's where I made all of my gains last year. That's when the race is decided and that's when I seem to be able to come through. If there's a 15km uphill finish on stage 2, and all the pure climbers are there, well, I'd probably lose time. I know that in the third week, I can be there and ride with the best in the big mountains. I need to be realistic about where my strengths come from and I will be trying to get there in good position. Let's see what happens, but in my first Tours, I've had my best in the latter part of the race.
VN: What's the difference for you now starting your fourth Tour compared to when you were approaching your first?
RH: It's night and day. When you're at your first Tour, it's a big point in anyone's career. My first Tour was very exciting and something I've always dreamed of when I made the commitment to road cycling. The Tour is the biggest race in the world, so to get there for the first time, that's something that you can never re-create. Since then, I've been learning and been riding in support, first for Christian to fourth, the helping Wiggins and Christian finish fourth and eighth. Then last year, riding to seventh. Each Tour has been a learning experience. Now you know what can happen and I have been working to be at my best come crunch time.
VN: How has your success played back in Canada?
RH: They caught wind of it. For the people who don't follow cycling, they still know the Tour de France. It seemed like last year there was suddenly this Canadian who came out of nowhere, at least in their minds, who's this guy who came out of nowhere? They must think that I can win it this year, of course, that's not the reality of it. If more people are watching the Tour, that's great. It's great for the team, for our sponsors, for our sport. I don't feel any pressure to get sixth place or better to have it a successful Tour. People in Canada are more aware of who I am and what the Tour is, so if more people are tuning in, that's great.
VN: How do you see the GC battle shaping up? Are Contador and Schleck above everyone else?
RH: They're the clear favorites. Their seasons are based on the Tour. Alberto is strong wherever he goes. He wins grand tours – that's what he does. Andy has stated its his goal and he's been second twice. So that means it's pretty wide open for that third spot. There are a lot of strong riders, but a lot of things can change during the Tour. No one would have mentioned me for seventh last year. There will some other unknown guy again this year who will move up. All you can do is have a plan and work for it. I know that Christian is healthy and he's as good as he's been in a couple of years. I am excited about going to the Tour with someone that capable and that experienced. Our team's excited. We have two guys who have been in single-digits on GC. We have the world champion, we have one of the fastest guys in the world. It's going to be pretty exciting.