Sagan endures epic suffering, still finishes final mountain stage
Fighting through severe pain from a crash two days prior, Sagan fights through the mountains to keep green jersey.
Heading out the door? Read this article on the new Outside+ app available now on iOS devices for members! Download the app.
LARUNS, France (VN) — Peter Sagan suffered like he has never suffered before.
When VeloNews asked the three-time world champion whether Friday's stage 19 of the Tour de France made him hurt worse than he'd ever hurt before on a bicycle, Sagan paused, thought for several seconds, and then delivered an emphatic answer.
"Well, for that long of a time? Yes, yes," Sagan said.
Sagan's day of suffering stems from his scary crash on Wednesday's stage 17 from Bagnères-de-Luchon to the Col du Portet. Sagan crashed hard on the descent of the Col de Val Louron-Azet, suffering cuts and road rash to his right side. Since then he has raced with thick white bandages on his right arms and legs to protect his various cuts and bruises.
The crash sapped Sagan of his usual strength on the climbs. He knew something was wrong just a few kilometers into Friday's stage when the peloton rolled up a short, innocuous ascent. The pace was nearly too much for Sagan, who found himself drifting off of the back.
"I was surprised on the first climb, I thought, 'F—king hell what am I going to do today,'" Sagan said. "It's just a two-kilometer climb, easy and I was already almost dropped. Afterward, we managed it well with the gruppetto and my teammates and [Arnaud] Démare's teammates from FDJ."
Sagan was dropped for good on the lower banks of the day's first climb, the Col d'Aspin. Sagan went off the back of the peloton on the climb and began to pour water on his head. His Bora-Hansgrohe teammates Daniel Oss and Michal Bodnar drifted back with him, hoping to pace him to the finish line.
TV cameras rolled as Sagan grimaced and gritted his teeth. For a few crucial moments, Sagan's future in this Tour de France hung in the balance. Should he lose too much time on the climb, he might miss the day's time cut. Should he drift too far back, he might abandon. Earlier in this Tour, five of Sagan's primary sprinting rivals left the race because they were unable to make the race's strict cutoff time.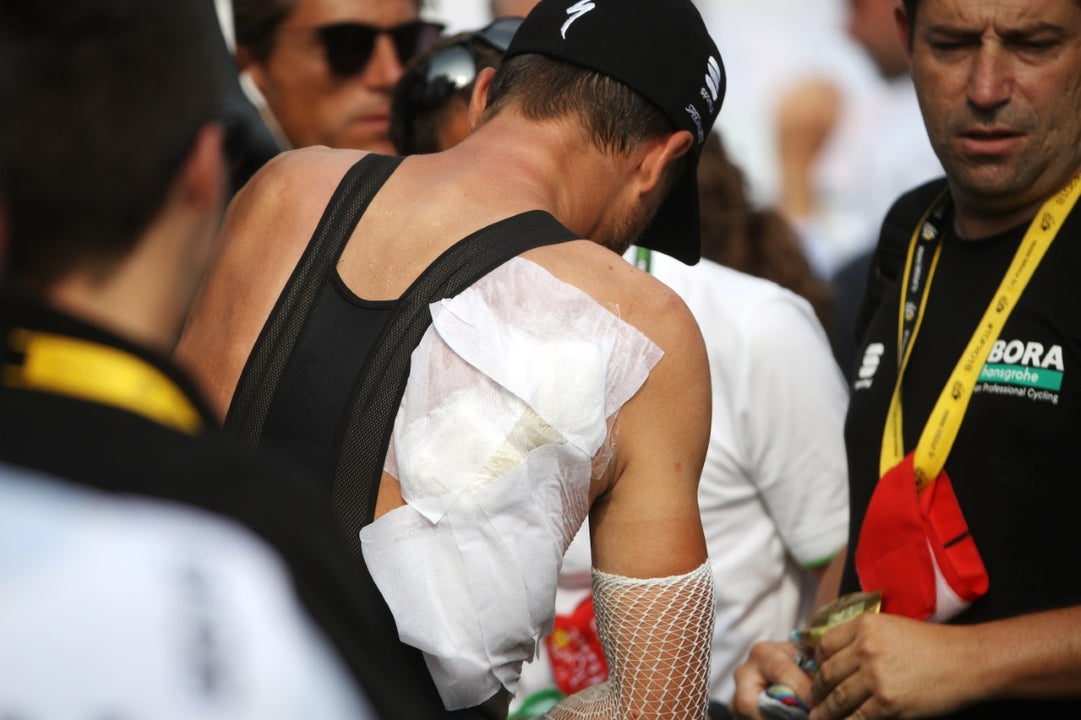 Bora-Hansgrohe's climber Lukas Postlberger was riding in the day's early breakaway when he heard a voice on the radio telling him that Sagan had been dropped. The new order was to drop back and help shepherd Sagan to the finish.
When Postlberger saw Sagan, he was in good spirits, however, he was in pain. So the team made a plan: ride at Sagan's tempo on the climbs and allow him to go ahead on the descents, where his world-class skills would give him an advantage.
"He's going his top pace the whole day, as long as possible, so we did not want to over-pace him," Postlberger said. "We were trying to set a pace for him but with all the injuries it's pretty hard for him. He's a fighter."
For the next 80 kilometers, Postlberger and his teammates rode ahead of Sagan. They talked very little. "Faster, slower, water, that's about it," Postlberger said. "We were all on the limit. When you ride a stage with 5,000 meters of climbing the conversation is very small."
[related title="More Tour de France news" align="right" tag="Tour-de-France"]
Bora-Hansgrohe's directors believed the cutoff time for the day would be approximately 40 minutes, which was a concern. By the base of the Col du Tourmalet, the squad had already lost 30 minutes. Sagan and his teammates upped the pace as they rode through the valley to the final trio of monster climbs, the Col des Bordères, Col du Soulor, and Col d'Aubisque.
After reaching the summit of the Col des Bordères, the radio crackled again. The time limit had been extended to 46 minutes.
"It was a shock when we heard the time cut was 40 minutes, and it was like eh, we're not going to make it," Postlberger said. "At the top, we had loads of time."
Sagan said that dropping out was never an option. He was determined to make it to Laruns, to secure his green jersey. After all, only an individual time trial and sprint day in Paris remain in this year's Tour de France, and Sagan holds an insurmountable lead in the points competition.
If making it to Paris meant suffering, Sagan said he was up to the challenge.
"Mentally, I'm good, I think because it wasn't an excuse for me to throw it away," Sagan said. "In my head, I knew had to finish the race. It didn't matter whether I was in the limit or not, I have to finish. Physically, it was really hard."
"It's impossible to describe," he added. "It was very painful, but in the end, I'm happy to make it and to continue in the race tomorrow."