Sastre rails against 'polite' peloton at Tour de France
Carlos Sastre says the peloton is taking things too far when it comes to 'fair play,' turning the sport into a 'baby's playpen' at times.
Heading out the door? Read this article on the new Outside+ app available now on iOS devices for members! Download the app.
Carlos Sastre (Cervélo) criticized the Tour de France peloton for trying to race too nice when it comes to the new cycling ethic of "fair play."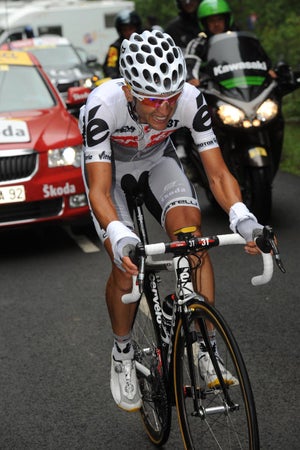 Sastre attacked just as podium contender Samuel Sánchez (Euskaltel-Euskadi) crashed early in Thursday's stage. Alberto Contador (Astana) waved for the peloton to slow down, but Sastre went away anyway.
Sastre railed against criticism that he should have slowed down as well.
"When I was attacking, Alberto Contador came to me and told me that there was a crash from behind. I replied that that seemed nice to me, but that I had a teammate up the road, the race was on and I was going to continue with my attack," Sastre said. "They slowed and later, when I arrived at the finish line, they told me who had crashed."
Sánchez and Contador are close friends, and Contador's loyal Astana teammate Benjamin Noval is the godfather to Sánchez's son.
Sastre said the peloton is taking things too far when it comes to "fair play."
"Whoever wants to make a polemic out of this can do it freely. I have fallen in this Tour, I fell during the Giro, I have had mechanical problems, and nobody ever waited for me," Sastre said. "I think we are turning cycling into a baby's playpen and that's what happens in these circumstances."
Much like Lance Armstrong's failed bid for a stage win Tuesday, Sastre's ride across the Pyrénées was his last shot at glory during this Tour.
Sastre got stuck in "no man's land" midway through Thursday's stage in a failed bid to bridge out to the day's seven-man breakaway and eventually was swept up by the peloton at the base of the Col du Tourmalet.
The 2008 Tour champion came into this year's Tour racked with injuries from two serious falls in the Giro d'Italia and has not been a factor on GC. After his stage victory bid fell short, he slipped to 21st overall at 25:50.
Sastre has not revealed if this will be his final Tour, but he sounded philosophical following Thursday's stage.
"Today's stage provided plenty lot of material for commentary. For some it was crazy, for others it was stupid, and others a day of courage and bravery. For me, it was a day to enjoy being on the bike," Sastre said. "Today's stage gave me something more than a victory. I believe that victories are important, but the defeats are even more so, because they teach you a lot. Today's stage taught me something new about myself that I didn't know. I am content to have tried, to have fought and to have come back to the race that I like more than any other with motivation."