The Explainer: That questionable Tour de France podium – Updated list and an important postscript
That questionable Tour de France podium - Updated list and an important postscript
Heading out the door? Read this article on the new Outside+ app available now on iOS devices for members! Download the app.
Q.Dear Explainer,
For years now, ever since the Festina Affair, there has been much talk about achieving a "drug free" sport in cycling. While this is certainly a noble cause, how realistic are we being? Tell me this. List every Tour de France podium since 1996 and tell me how many riders on that list never A) received a ban for doping, B) retired under a cloud of suspicion (I know that is subjective, but I think we can agree it fits both Armstrong and Ullrich) or C) are currently involved in a doping investigation? Once you go through that exercise it seems to me we are asking the wrong question. It's not "who has doped?" it's "who hasn't?".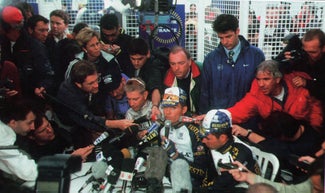 Personally, I remain skeptical that a "drug free" sport is any more realistic than America's War on Drugs program. Interestingly, other sports don't even put forth the effort of chasing that goal other than some lip service via a cursory program that pales in comparison to what cycling does.
Best Regards,
– Ron
A.Dear Ron,
Yeah, I have to admit that I was one of those starry-eyed optimists who thought the Festina mess in the 1998 Tour would, forever, clean up the sport of cycling. Standing in the media scrum on the courthouse steps in Lille, as the management and some riders from the team were in a hearing, one reporter asked then-French Federation president Daniel Baal whether the scandal and the ensuing public spotlight on the problem was "somehow a positive development" for cycling.
"Well these days, I wouldn't necessarily use the word positive," Baal said with a grin, "but I think this could be a step in the right direction. It will be harder to dope and get away with it."
Obviously that hasn't been the case. The scandal did lead to the creation of the World Anti-Doping Agency and so-called "harmonization" of testing procedures and penalties, but the system is still rife with problems and – as the answer to your question depressingly underscores – the sport is still populated by those who at least think they can get away with doping.
So, as one of my favorite sportscasters often says, "let's rollll the video tape," and look back at the last 15 years' worth of Tours and see what the record books might show.*
First off, in the interest of fairness, we can't just put a black mark or an asterisk next to a name and move on to the next. Each of these cases is different and each warrants at least a bit of explanation. Those explanations will accompany the first reference to a particular rider, even when the allegations or suspensions involve earlier or subsequent incidents.
1996
1. Bjarne Riis – Known by many in the peloton as "Mr. 60%," Riis admitted in a 2008 autobiography to have doped his way to the win. Since the confession came 12 years after the fact, the win is still treated as such in the record books.
2. Jan Ullrich – Once briefly suspended for the recreational use of ecstasy, Ullrich was later implicated in the 2006 Operación Puerto scandal and was barred from starting the Tour that year. Ullrich was also the subject of many allegations leveled by former teammates and former staff members in what became known as the "Telekom Affair." He retired after police claimed to have definitive DNA evidence linking him to blood seized in the Puerto case
3. Richard Virenque – Implicated in the 1998 Festina Affair, Virenque was suspended for six months, but denied involvement in doping until a public confession in 2000.
1997
1. Ullrich (See above)
2. Virenque (See above)
3. Marco Pantani – Although he never tested directly positive for doping, Pantani was ejected from the 1999 Giro d'Italia for having a higher-than-allowable hematocrit level as he was leading the race, just one day before the final stage. The decision eventually destroyed his career and he died of a cocaine overdose in 2004.
1998
1. Pantani (See above)
2. Ullrich (See above)
3. Bobby Julich – No allegations, no adverse analytical findings.
1999
1. Lance Armstrong – Armstrong has been the subject of numerous allegations since his first Tour win in 1999. He has always denied those and continues to do so. Armstrong is currently the subject of a federal investigation into doping practices and associated financial issues in the United States. A 2005 re-test of samples from the 1999 showed 16 samples to be positive for EPO. Six of those reportedly belonged to Armstrong. Due to several breaches of laboratory protocols and rules governing the handling of samples, the UCI cleared Armstrong of any wrong doing. Armstrong also tested positive for corticosteroids at the 1999, but later produced a prescription for a topical cream containing corticoids.
2. Alex Zülle – A member of the 1998 Festina team, Zülle admitted to having used EPO over several years. He was allowed to race the 1999 Tour. He retired after the 2004 season.
3. Fernando Escartin – No allegations, no adverse analytical findings.
2000
1. Armstrong (See above)
2. Ullrich (See above)
3. Joseba Beloki – Implicated in the 2006 Operación Puerto case. He was later cleared by Spanish authorities.
2001
1. Armstrong (See above)
2. Ullrich (See above)
3. Beloki (See above)
2002
1. Armstrong (See above)
2. Beloki (See above)
3. Raimondas Rumsas – On the final day of the 2002 Tour, Rumsas' wife Edita was arrested with a variety of steroids, EPO and growth hormone in her car, but claimed they were for her mother-in-law. Rumsas tested positive for EPO at the 2003 Giro d'Italia and was suspended for two years. Both he and his wife were given four-month suspended prison sentences for the 2002 incident.
2003
1. Armstrong (See above)
2. Ullrich (See above)
3. Alexander Vinokourov – Tested positive for homologous blood doping at the 2007 Tour de France. Ultimately suspended for two years.
2004
1. Armstrong (See above)
2. Andreas Klöden – Implicated in the Telekom affair. No action taken.
3. Ivan Basso – Implicated in the 2006 Operación Puerto scandal, Basso was barred from starting the Tour that year. He denied involvement in blood doping, but eventually admitted to having intended to dope as an explanation for seized blood bags having been linked to him by use of DNA evidence. He was suspended for two years.
2005
1. Armstrong (See above)
2. Basso (See above)
3. Ullrich (See above)
2006
1. Óscar Pereiro – Named the winner of the 2006 Tour, after disqualification of Floyd Landis for a testosterone positive, Pereiro, a former teammate of Landis' was among those riders against whom Landis later leveled charges. Pereiro offered a very narrow and carefully worded (some have said "tepid") defense against those allegations.
2. Klöden (See above)
3. Carlos Sastre – No allegations, no adverse analytical findings.
2007
1. Alberto Contador – Implicated in the 2006 Operación Puerto case. He was later cleared by Spanish authorities. Tested positive for clenbuterol in the 2010 Tour and is currently awaiting resolution of that case.
2. Cadel Evans – No allegations, no adverse analytical findings.
3. Levi Leipheimer – Leipheimer was suspended for three months for a positive test for ephedrine in 1996. He was accused of doping by his former Gerolsteiner manager Hans-Michael Holczer. Leipheimer denied the allegations and no action has ever resulted.
2008
1. Sastre– No allegations, no adverse analytical findings.
2. Evans– No allegations, no adverse analytical findings.
3. Bernhard Kohl – Kohl finished third in the Tour and also won the climber's jersey that year. Following the Tour, he was found to have tested positive for CERA. Kohl later confessed and was suspended for two years. He has since retired from the sport. His 2008 Tour results have been stricken from the record books.
2009
1. Contador (See above)
2. Andy Schleck – No allegations, no adverse analytical findings.
3. Armstrong (See above)
2010
1. Contador (See above)
2. Schleck– No allegations, no adverse analytical findings.
3. Denis Menchov – No allegations, no adverse analytical findings.
OK, Ron, you've really depressed me, now. It kinda reminds me of a few years ago when we were doing an end-of-the-year issue of VeloNews and one of the editors asked me to do a summary of doping cases that year. I thought I might need a full page. By the time I got done, I filled four and only because we all tried to keep the accompanying text to a minimum.
Anyway, so there you have it. A lot of these, Armstrong's for example, remain merely allegations. There has been no definitive action taken in some of these matters and they remain allegations until proven otherwise.
But no matter how you look at it, it's disheartening to scroll through the record books and see even question marks hanging over the heads of many who have stood on that hallowed podium in Paris. Some stories, like Pantani's downward spiral, are just tragic. Others, like the portable pharmacy in the Rumsas family car or the weepy denials that ultimately led to Virenque's confession, elicited a few laughs in the press room.
Either way, the list should serve as a reminder that this sport has a long, long, long way to go. It may seem when you look back at the scandal of the `98 Tour, that there hasn't been a lot of progress, but – starry-eyed optimist that I still am – there are glimmers of hope out there. No, I wouldn't stake a positive outlook on any one single rider, but there is a trend developing and there are opportunities for young riders out there who may not have to face a decision to either dope or pack it in and go home.
I don't think the effort is unwinnable. It just seems that it's taking a helluva lot longer than many of us would have thought back in 1998.
* Update, corrections and a postscript: Several readers have pointed out that I "overused" the "No allegations, no adverse analytical findings" tag in my list. Both Andreas Klöden and Óscar Pereiro have had allegations leveled at them in the past and I have updated the list to reflect that. I appreciate the feedback and take your comments to heart.
Finally, I wanted to add one note about the depressing nature of the data we've listed above. I've wrestled with the implications of all of that for years and have often struggled with a way to answer the inevitable question of why I still love the sport of cycling. The doping depresses me. I am often skeptical of what I see, but there is something indescribable about the beauty of cycling … well, indescribable until today. A friend just sent me the attached YouTube video and I kinda think it sums how a lot of us feel about the bike … and perhaps even the momentary rush we feel when we do it well. Frankly, it IS about the bike and how that wonderful example of human ingenuity makes us feel.

Yeah, I know, it's sappy, but starry-eyed optimist that I am, I still think we can get rid of the cheats by the time this guy is old enough to race. As the man says, let's just keep practicing until we get it right.