The top-10 stories of the second half of the 2011 Tour de France
After a week in France, Velo editor in chief Ben Delaney wrote about his choice for the top-10 moments of the first week. Now with the great gift of hindsight, we'll pick the top 10 most impressive moments of weeks 2 and 3.
Heading out the door? Read this article on the new Outside+ app available now on iOS devices for members! Download the app.

After a week in France, Velo editor in chief Ben Delaney wrote about his choices for the top-10 moments of the first week. Now with the great gift of hindsight, we'll pick the top 10 most important stories of weeks 2 and 3.
10. Greipel beats Cavendish straight up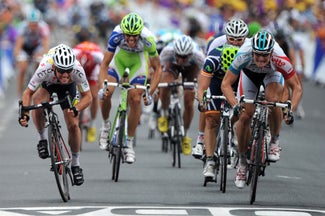 It's a story that had been building since at least 2010: HTC was blessed with at least two star sprinters: Mark Cavendish and André Greipel. Greipel realized he would never get a chance to compete for stage wins as long as he was on the same team as Cavendish, so he switched to the more modest Omega Pharma-Lotto squad for 2011. His new team lacked the lead-out train horsepower of HTC, but finally, on stage 10, Greipel and Cavendish wound up positioned for a straight up, man-to-man sprint. The result? Greipel outpowered Cavendish in the final meters.
Cavendish later said he made a mistake by jumping too soon, but was gracious in defeat. "Yeah, André just came past and beat me. I'm happy for him. He's come to the Tour de France and he's won. I'm disappointed, I feel I made a mistake. But Greipel beat me, so there's no excuse I can say about that."
Cavendish ultimately won five stages and the green jersey, while Greipel didn't win another. But he took away a satisfying stage win and accomplished something very few other sprinters have done in the last four years — beating Cavendish in a straight-up, side-by-side sprint. With Cavendish reported to be looking to other teams for 2012, Greipel may get more opportunities in future Tours.

9. Danielson's debut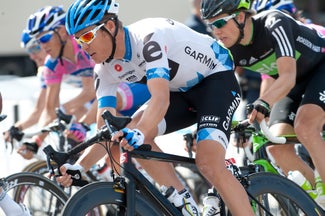 Garmin-Cervelo's Tom Danielson's ninth place finish came in a long-overdue Tour debut for the American veteran. Danielson's ride was the result of a rare combination of the maturity, experience and discipline (and deep fitness) of a 33-year-old with the just-happy-to-be-here attitude of a Tour rookie. Danielson rode within himself on the high climbs but never failed to enjoy racing the legendary Tour ascents for the first time. It seems like forever ago that the Coloradan was burdened with the designation as America's Next Great Stage Racer. It's worth noting that after a solid 11th place finish in the stage 20 time trial (a half a minute ahead of Andy Schleck), Danielson crossed the line on the Champs-Élysées Sunday as the top American finisher.

8. Cavendish scores green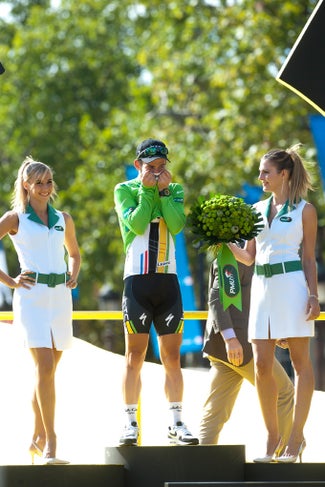 Mark Cavendish listed winning the Tour points competition as among his most important goals for 2011, and he kept that focus throughout the spring season and until the very end of the Tour. Cav was criticized for a lack of form early in the season and when Tyler Farrar won the Tour's first flat sprint finish on stage 3. True to form, he made headlines by accusing Romain Feillu of reckless riding, getting penalized himself (along with Thor Hushovd) after an unruly intermediate sprint on stage 3; he also was accused by fellow riders of taking a tow on a mountain stage — an accusation that was never backed up with any evidence.
But Cavendish kept to his focus, winning four stages and nabbing intermediate sprints to protect his lead. He earned the respect of many by winning stage 5 without the assistance of a lead-out train in the final kilometers.
Determined to make it to Paris, Cavendish struggled through the mountains, watching the sprint competition tighten as officials docked points for missing the time cut on two stages. He entered the final stage with just a 15-point margin ahead of José Joaquim Rojas. But he finished ahead of Rojas in the day's only intermediate sprint and then capped off the Tour with his third successive win on the Champs-Élysées, his 20th career Tour stage win.

7. The blessing of the rainbow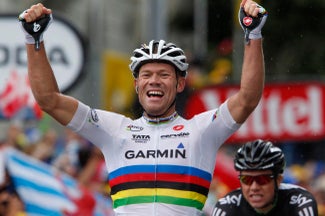 World champion Thor Hushovd secured his place in cycling history and the hearts of many fans with dramatic wins on stages 13 and 16. Both wins were earned with savvy tactics, fearless descending and overwhelming strength and determination. Hushovd also contributed to Garmin-Cervelo's team time trial win, Tyler Farrar's stage 3 win and Garmin's team GC victory. Oh, and he wore the yellow jersey for seven days.
If they ever made a Saturday-morning cartoon about a cycling superhero, he would look and ride like Hushovd.

6. Vino's departure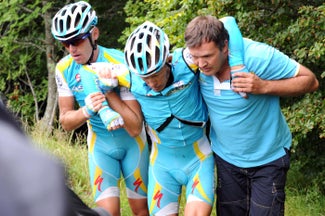 Many years from now, it is likely that the first sentence of Alexander Vinokourov's obituary will mention that he was thrown out of the 2007 Tour de France and suspended for two years after testing positive for blood doping. However, Vino helped draft some positive additions to his legacy with his post-suspension career, which included wins at the 2010 Liège–Bastogne–Liège and the ninth stage of the 2010 Tour.
Although he remains one of the most divisive figures in cycling, even many of his critics recognized his love of competition and the bike and were touched by the anti-climatic end of his career, which came after he broke his leg on stage 13.

5. Pierre Rolland emerges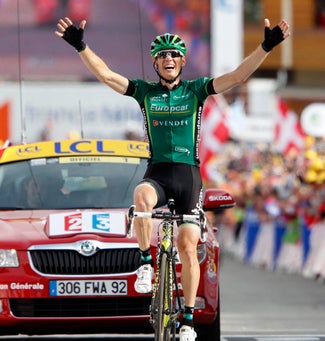 A loyal supporter of Thomas Voeckler's improbable run in yellow, Pierre Rolland was finally given free rein to ride for himself on stage 19's journey to the top of l'Alpe d'Huez.
The young Frenchman made the most of the freedom and showed impressive resilience on the Alpe, attacking early, being caught and passed by Alberto Contador, and then coming back at the end to hold off Contador and Sammy Sánchez for the stage win. The win — France's only stage win of this Tour — vaulted Rolland into the lead of the young rider's competition, a position he defended to the end.
He inevitably has been given the dubious distinction as the great French hope for future GC success in the Tour. How he handles that pressure will remain to be seen, but his story is already part of cycling's great narrative.

4. Voeckler's next chapter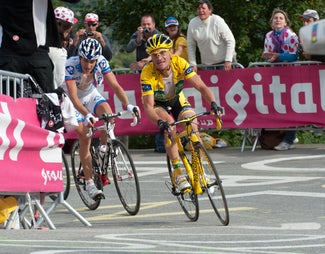 Prior to this Tour, the common wisdom was that despite his distinguished career in the last seven years, Thomas Voeckler would always be best remembered as the fresh young face who defended the yellow jersey in the 2004 Tour for ten days. But his story took a surprising turn when, now 32 and in his most successful season ever, Voeckler once again found himself in yellow. Once again, France was captivated and fans everywhere debated whether the scrappy all-rounder could somehow defy the odds and hold the lead all the way to Paris.
As in 2004, Voeckler astounded all by retaining his lead through the mountains, fighting to keep the jersey by just 15 seconds after Andy Schleck's Hail Mary breakaway on stage 18. He finally gave up the yellow on the final day in the Alps, but hung on to finish fourth in Paris, the best French GC finish since 2000.

3. Contador's weakness — and his attacks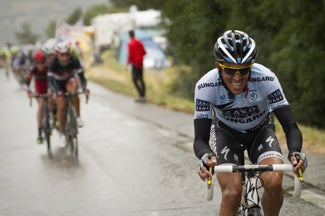 The 2011 Tour will be remembered for the times Alberto Contador revealed weaknesses unseen since he began his six-grand tour winning streak. On stage 12, the cracks began to show when he could not stay with the Schleck brothers in the final kilometer to Luz-Ardiden, ceding a handful of seconds. Later, on stage 18 he cracked in the final 4k and admitted that he would not win this Tour, something many had concluded more than a week earlier.
But this Tour also will be remembered for Contador's aggression and determination even when doubts grew about his ability to win. On stage 16 and 17, he attacked over the final summits to take seconds away from the more cautious Schlecks on the descents. Although weak from Giro fatigue and a bum knee, he showed his bike-racer bag of tricks contains more than his normally lethal uphill attacks. As he risked everything on the wet descent into Gap on stage 16, the look in his eyes revealed an unsurpassed passion for winning.
Just because it's a sports cliche doesn't mean it isn't true: Champions show their humanity, and earn their fans' love, more in defeat than in victory. Contador's (ultimately fruitless) attacks and his gentlemanly concessions in the final days of the Tour earned him many fans who hadn't previously seen these sides of his personality. Still, many cycling fans will never overlook his 2010 doping positive, and how they react after the conclusion of his upcoming CAS appeal remains to be seen.

2. A cleaner Tour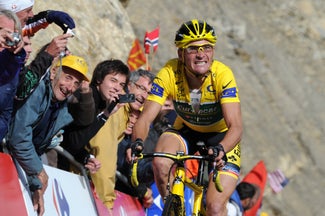 Many insiders declared this year's edition a 'cleaner' Tour than in recent years, pointing to slower climbing times, the inability of any one rider or team to dominate and the fatigue of many riders at the finish as evidence of less doping in the peloton. Pierre Rolland's Alpe d'Huez climb, at 41:57, was the slowest winning time on the big hill since 1989, more than four minutes slower than Marco Pantani's 1997 record time. The phrase 'level playing field' was in common use among journalists covering the race.
So far, only one doping positive has come out of this Tour, that of Katusha's Alexander Kolobnev. Remembering post-Tour revelations about Floyd Landis in 2007 and Contador last year, fans are protecting their emotions. But in prior years, we all saw extraterrestrial performances that our guts told us were too good to be true. In many cases we later learned that our instincts were correct. This year, for what it's worth, most of our guts, most of the time, told us we were seeing the truth.

1. Evans at last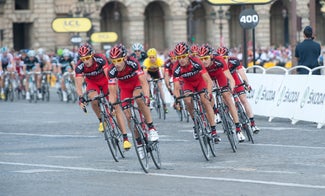 A classic form of story telling features a hero who tries and fails, learns, tries and fails again and on the third try, succeeds at last. The exciting thing about Cadel Evans' Tour win is that we all saw him over the last decade try and fail, learn, grow, and at last succeed. His Tour win was an overnight success that began 11 years ago when he switched from mountain biking to road racing full time.
Evans was two times second at the Tour and broke his elbow last year just before taking the yellow jersey. Over the years he learned patience and he learned how to make his own luck.
During this Tour, Evans never crashed or was delayed by crashes. He had chosen and helped build a team that was not as star-filled as some but was 100 percent focused on his GC success and surprised many with its second place in the team time trial. On the tallest climbs, Evans was often without teammates, but that's when he stepped up to do his part of the job, charging to the stage 4 win, attacking on the stage 16 descent to take seconds from his rivals, putting his nose into the wind to chase Andy Schleck up the Galibier on stage 18 and to rejoin the leaders after a mechanical on the way to the Alpe d'Huez on stage 19. And finally, in Saturday's individual race of truth, riding the time trial of his life — exactly the one that he's always believed he was capable of.