Thomas Voeckler takes lead in 2011 Tour de France as Luis-Leon Sanchez wins stage 9
Crashes once again played a decisive role as Thomas Voeckler took the yellow jersey in stage 9 of the 2011 Tour de France on Sunday.
Heading out the door? Read this article on the new Outside+ app available now on iOS devices for members! Download the app.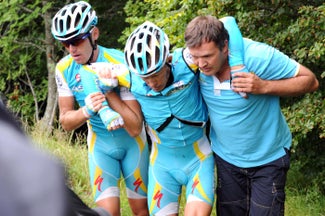 Crashes once again played a decisive role in stage 9 of the 2011 Tour de France on Sunday.
Thomas Voeckler (Europcar) drove the remnants of the day's breakaway to the line, taking the yellow leader's jersey from Thor Hushovd (Garmin-Cervélo) as Luis-Leon Sanchez (Rabobank) won the stage ahead of the former French national champion and Sandy Casar (FdJ).
But the real story of the stage took place long before the finish line. First, a massive pileup on a wet descent that sent riders flying into the woods at roadside took out Alexander Vinokourov (Astana), Dave Zabriskie (Garmin-Cervélo) and Omega Pharma-Lotto teammates Jurgen Van den Broucke and Frederik Willems.
Vinokourov had to be carried from the ravine, apparently with a broken femur. Garmin boss Jonathan Vaughters said Zabriskie broke a wrist. For Van den Broucke it was a shoulder blade, a collarbone for Willems. All four abandoned the Tour.
RadioShack's Andreas Klöden, BMC captain Cadel Evans and Garmin's David Millar and Christian Vande Velde also hit the deck, but remounted and rejoined the race, though Millar required a visit to the medical car.
Then a reckless bit of driving saw a Euro Media car sideswipe two members of the day's five-man breakaway — Juan Antonio Flecha (Sky) and Johnny Hoogerland (Vacansoleil) — knocking the former to the tarmac and blasting the latter through a barbed-wire fence.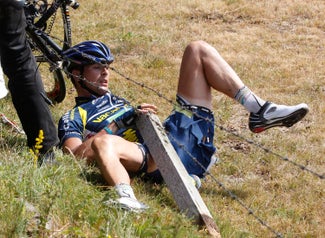 Both men remounted and continued, but their time in the escape du jour was over — after getting patched up by a medical moto Flecha soldiered on for a while, but a bloodied Hoogerland quickly slipped back to the bunch and out the back for a lonely 22km ride to the finish.
He would cross in 139th place, 16:44 down — but in time to collect a fresh polka-dot jersey before heading to the hospital. A man must have his priorities.
Going up
The hilly, twisting 208km race from Issoire to Saint-Flour featured eight rated climbs — three Category 2, three Cat. 3s and two Cat. 4s.
• The Category 3 Côte de Massiac , a 3.4km climb averaging 6.2 percent and summiting at 43.5km.
• The Cat. 2 Col du Pas de Peyrol Le Puy Mary (1589 m), a 7.7km climb averaging 6.2 percent and summitting at 99.5km.
• The Cat. 2 Col du Perthus (1309m), a 4.4 m climb averaging 7.9 percent and summiting at 116km.
• The Cat. 3 Col de Cère (1294m), a 2.9km climb averaging 6.3 percent and summiting at 127.5km.
• The Cat. 3 Côte de la Chevade , a 3km climb averaging 7.9 percent and summiting at 139.5km.
• The Cat. 2 Col de Prat de Bouc Plomb du Cantal (1392m), a 8km climb averaging 6.1 percent and summiting at 154km.
• The Cat. 4 Côte du Château d'Alleuze , a 2km climb averaging 4.9 percent and summiting at 193km.
• And finally, the Cat. 4 Montée des Orgues , a 1.6km climb averaging 6.1 percent and summiting at the finish, at 208km.
And going down
Crashes and injuries sent more riders skidding out of the Tour — Juan Manuel Garate (Rabobank) did not start, thanks to lingering injuries from a crash on stage 5, and Amets Txurruka (Euskaltel), Pavel Brutt (Katusha) and Wouter Poels of Vacansoleil abandoned in midstage.
Txurruka was one of several riders to crash early in the stage and pulled out after just over an hour of racing. Brutt, the Russian national champion, soon followed, while Poels, a 23-year-old who was making his Tour debut, quit after an hour of racing.
One rider who was very much in the race was the perpetually active Voeckler, who slipped away at the first KOM. Rabobank's Laurens Ten Dam and Flecha bridged, though Ten Dam couldn't stick; Next to link up were Hoogerland, Casar, Sanchez and Niki Terpstra (Quick Step), and at 53km the break led the bunch by 55 seconds.
At 64km the break had nearly four minutes' advantage, and that's the way it would stay for a while. Terpstra dropped out of the break, leaving a quintet up the road.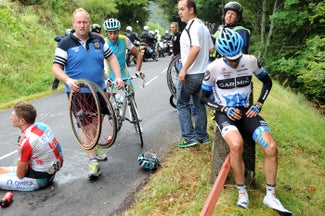 Alberto Contador (Saxo Bank-Sungard) crashed at 84km after getting tangled up with Vladimir Karpets (Katusha) and had to switch bikes. And then there was a real disaster — a huge crash on a wet, 70-kph descent at 102km took out Vinokourov, Willems, Van den Broeck, Zabriskie, Vande Velde, Klöden, Evans and several others.
After some discussion among green jersey Philippe Gilbert (Omega Pharma-Lotto), yellow jersey Hushovd and Fabian Cancellara (Leopard-Trek), the yellow-jersey group moderated its pace to give those slowed by the spill to catch back on — in the process giving the break a chance to take time.
With 76km to race the gap was all the way out to 7:20, and Voeckler (19th at 1:29 behind Hushovd) was the virtual leader on the road by quite a margin. The former French national champion wore yellow for a long stretch during the 2004 Tour and clearly was hoping to do so again.
An end to the truce
With 70km to go the break's advantage was dwindling, to five and a half minutes, with Omega Pharma on the front and Leopard-Trek on their wheels. Liquigas-Cannondale was hovering near the front, too.
Voeckler flatted and took a rear wheel, but made it safely back to the break with 5km to climb on the Cat. 2 Col de Prat de Bouc Plomb du Cantal. The rain was a distant memory; it was getting hot out there as Omega Pharma's Jurgen Roelandts and Jelle Vanendert drove the bunch forward, trimming the break's lead to 4:35.
With 40km to race the break was holding on to nearly five minutes and there seemed to be no real urgency back in the bunch. Hoogerland was solidly back in the mountains jersey, while Voeckler was focused on the yellow.
The disaster struck again — this time in the form of a French TV car that sideswiped Flecha and Hoogerland, taking both men down and leaving a trio out front — Voeckler, Casar and Sanchez.
Flecha was quickly back up and riding, albeit something the worse for wear, but Hoogerland somersaulted over a barbed-wire fence and took longer to get rolling again, sporting a large bandage on his left leg and getting some assistance from a medical moto. He fell back to the bunch and straight out the back, and Flecha likewise went backward shortly thereafter.
"The biggest disappointment of this moment is that we don't have the jersey, and I think we deserved it," said Vacansoleil team director Michel Cornelisse. "It's good that tomorrow is a rest day, but Johnny knows that he is going to defend his jersey, so for sure he is going on the attack again.
"He is bleeding a lot. He needs a few stitches. The crash happened at 60k an hour, it was unbelievable." After Hoogerland crashed through the barbed wire, then got himself untangled, Cornelisse added, "His pants were completely off. He was completely naked."
An insurmountable lead
With 20km remaining the leading trio was 4:23 ahead of the yellow-jersey group , now led by Garmin. They still had four minutes of that as they hit the bottom of the Cat. 4 Côte du Château d'Alleuze, and it was looking as though there would be a new race leader at day's end.
Behind, Gilbert had a mechanical — he took a spare bike and began racing back to the bunch, led by Garmin's Tom Danielson and Christian Vande Velde. The chase was making no headway, and 12km from the line the Voeckler group still held some four minutes' advantage.
And then the Garmin gang simply threw in the towel, and none of the other teams stepped up to take their place. The stage winner and the race leader would come from the trio up the road.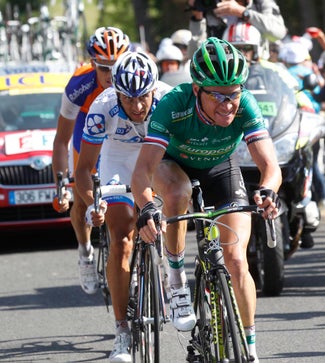 The break hit the base of the final climb with nearly five minutes on the yellow-jersey group, Voeckler at the front, Casar on his wheel and Sanchez third. Behind, Leopard-Trek finally came forward and went to work.
Too late. Sanchez shot away for the victory and Voeckler took second — along with the yellow jersey.
"I didn't want to have any regrets on the Tour this year, but I have to say I didn't expect to be pulling on the yellow jersey again," said Voeckler.
"I really didn't think I'd have it a second time in my career. In 2004, people said that the peloton let me take the yellow jersey. Today I went out and went for it."
As for Sanchez, who was collecting his first victory of the season for Rabobank, he was happy to have taken some vengeance on Casar.
"Last year Casar beat me in a two-up sprint (at Saint-Jean-de-Maurienne) but that time it was my fault because I hadn't checked out the finish," he said. "This time I did my homework. I knew the finale and it suited me well."
The GC bunch followed more than four minutes later, led home by the green jersey. Hushovd crossed nearly seven minutes down, to cheers from the crowd, finally ending a spirited defense of the yellow jersey.
Patrick O'Grady and Agence France Presse contributed to this report. Stay tuned for more news, photos, video and results from stage 9 of the 2011 Tour de France.
Quick results
Stage 9
1. Luis-Leon Sanchez, Rabobank
2. Thomas Voeckler, Team Europcar, at 0:05
3. Sandy Casar, Fdj, at 0:13
4. Philippe Gilbert, Omega Pharma-Lotto, at 3:59
5. Peter Velits, HTC-Highroad, at 3:59
GC
1. Thomas Voeckler, Team Europcar
2. Luis-leon Sanchez, Rabobank Cycling Team, at 1:46
3. Cadel Evans, BMC Racing Team, at 2:26
4. Frank Schleck, Team Leopard-Trek, at 2:29
5. Andy Schleck, Team Leopard-Trek, at 2:37