Tom Boonen aims for return to glory at Tour de France
Tom Boonen (Quick-Step) says returning to the winner's circle will be his top priority when he lines up for his first Tour de France following a few tumultuous seasons marked by injury and controversy.
Heading out the door? Read this article on the new Outside+ app available now on iOS devices for members! Download the app.
Tom Boonen (Quick-Step) says returning to the winner's circle will be his top priority when he lines up for his first Tour de France following a few tumultuous seasons marked by injury and controversy.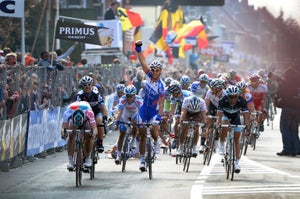 The Belgian star admits it will be tough going against the dominance of Mark Cavendish in the sprint finishes, but he hopes to win a stage and return to Tour glory that's eluded him since 2007, when he won two stages and the green jersey.
"I go to the Tour with a lot of ambition. I'd love to win a stage again," Boonen told VeloNews. "Perhaps my best sprinting days are past me, but I think there are a few hard stages that suit me. The training has been good coming into the Tour this year. We are motivated to have a good Tour."
Boonen missed last year's Tour due a knee injury caused by a crash in the Tour de Suisse. In 2008, he was sidelined following a positive test for cocaine. The story repeated itself in 2009, yet Boonen raced the Tour, but without winning a stage. According to the World Anti-Doping Agency, cocaine is considered to be a performance-enhancing drug when found during in-competition tests. Both of Boonen's positives were from out-of-competition tests, but the ensuing controversies have sullied the Belgian's career.
Back on track?
After a solid spring campaign, highlighted by a victory at Ghent-Wevelgem, Boonen is hoping to turn the page and return to the winner's podium with the realistic goal of winning at least one stage.
A winner of six career Tour stage victories, Boonen admitted that the emergence of Cavendish and his dominant HTC-Highroad team will make it more complicated in the mass sprints. Boonen said going head-to-head against Cavendish is never easy, but said a string of challenging stages in the first half of the Tour will provide for more than a few opportunities.
"Cavendish is the best sprinter in the world right now. He brings a team that works entirely for him," Boonen said. "You have to ride smart and try to find opportunities. I think there are some hard stages that almost look like a classic stage. I think I will have a chance to win a stage."
That difference in attitude reflects a transition for Boonen, who admits his top-end sprinting speed isn't the same as it was when he was in his mid-20s and emerged as one of the sport's top stars in the 2000s. Now 30, the former world champion says he must race with more intelligence and tactical savvy than before when he could count on winning on pure speed in the sprint finales. With Cavendish and HTC looking to dominate the sprints, Boonen says the team will be looking for other opportunities to chase stage wins.
Quick-Step brings a mixed squad of stage hunters and attackers, with the likes of Sylvain Chavanel and Jerome Pineau having a free hand to attack. That means Boonen will have less riders dedicated to him for the bunch sprints, with Gert Steegmans back as his top lead-out man. Both Steegmans and Boonen have won Tour stages, but it's been a few years for either man. Boonen said the team will race the Tour in a different manner.
"It's not worth it to bring an entire team just for the sprints when it might only work once if everything goes right," he said. "It's better to race aggressively, to attack. I would love to try to get into a breakaway and win like it's a classic."
Boonen said he will not start the Tour with the clear objective of chasing the green points jersey, which he won in 2007, but instead will consider his options a week or so into the race. New rules that create a points-heavy mid-race sprint will change the dynamic of the hunt for the green jersey.
"The new points rules change everything. Before the intermediate sprints didn't count for much before, so we have to see how things go," he said. "When I won the points jersey in 2007, I don't think I challenged for more than two or three intermediate sprints during the entire Tour. Now we will have to make two sprints a day. We will see how it develops and if we are in the hunt for the green jersey, then we will change our priority. Right now, we want to try to win a stage and be aggressive."
Boonen also said that the elimination of finish-line time bonuses means that the sprinters have no chance of capturing the yellow jersey, something he said takes away a lot of the drama of the first week of racing.
"Well, it certainly makes it less interesting for the big sprinters. There was always a big battle in the first week among the sprint teams. During the prologue, I remember all the sprinters used to go full-gas to have a shot to take the yellow jersey with bonuses. It means a lot to a team to win the yellow jersey," Boonen said. "Now they've taken that away from us. Now they seem to be pushing cycling in favor of the climbers. I think there's more to cycling than just that."
Boonen has weathered a lot of storms and will start the 2011 Tour with the confidence of knowing that he has a place on the Quick-Step team for two more season. The squad announced this week that he will stay with the Belgian outfit through the 2013 season.
With a sprinter-friendly worlds course on tap later this season in Copenhagen, Boonen knows that he will have a chance for more redemption later this season.
"I want to enjoy this Tour," he said. "I've achieved a lot in my career. When you go to a race like the Tour and you have a lot of pressure on your shoulders, you race it in a different manner. I can start this Tour with less pressure, maybe that's a good thing. I still have goals, but I can have more fun racing."
And for Boonen this year, there would be nothing more enjoyable than returning to the winner's podium with a stage victory.