Trek-Livestrong's Taylor Phinney tops in Tour of Utah prologue
Chalk up another time trial win for Trek-Livestrong in 2010, as Taylor Phinney blitzed the 2.8-mile Capitol Prologue at the Tour of Utah Tuesday night
Heading out the door? Read this article on the new Outside+ app available now on iOS devices for members! Download the app.
Chalk up another time trial win for Trek-Livestrong in 2010, as Taylor Phinney blitzed the 2.8-mile Capitol Prologue at the Tour of Utah Tuesday night in a time of 6:02:59. Phinney's teammate, European U23 TT champ Alex Dowsett, finished second in 6:05:45, while last year's prologue winner Brent Bookwalter (BMC Racing) came third in 6:13:79.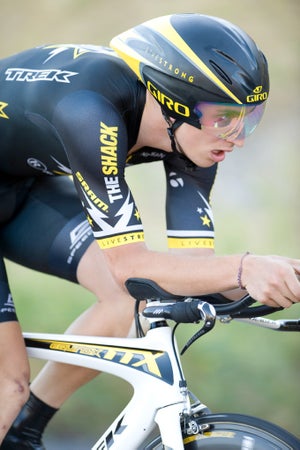 With his win, Phinney earned the first yellow leader's jersey of this year's race. The best Utah rider's jersey went to Jeff Louder (BMC), the 2008 overall winner, who finished seventh at 15 seconds.
Up the Canyon
For the second year in a row, the Utah State Capitol was the site for the kickoff of the final National Racing Calendar stage race of the season. One hundred forty riders rolled away from the start house and immediately faced a sharp, 250-meter riser that carried them up a section of sidewalk onto Bonneville Boulevard.
The Bonneville drag carried riders, starting every 30 seconds, for one mile up a mild false flat to the turnaround in City Creek Canyon. From the coned-off overlook parking lot, riders returned down the slight decline to a tight chicane onto the finish ramp. Riders topped 40 mph as they mashed gears past thousands of fans lining the descent.
Lea leads it out
Coming off of three weeks at altitude in Durango, Colorado, Bobby Lea (On The Rivet-Ion) turned a frustrating season into a solid ride. The seventh rider to start, he registered a 6:15:07. Riding for the On The Rivet elite team that rose from the ashes of the Bahati Foundation program's collapse, Lea sat in the hot seat at his team van for nearly an hour.
"In a six-minute race like this, it feels terrible whether you're going fast or slow," said Lea. "I didn't give it a single thought for the first 15, 20 minutes at least. I was the seventh rider off, so I thought, 'Sure, the time's standing now, but there are a lot of good riders in the field behind me.' I just figured it was a matter of time before the faster times started kicking in."
Those faster times didn't come until Dowsett rolled across the line just before 7:00 p.m. The Cascade Classic prologue runner-up bested Lea by 10 seconds, a difference of just under 1 mph average speed. Bookwalter came seven minutes later and could only muster a 6:13:79, putting him into second, eight seconds in arrears.
"Going out I was kind of watching the speed and using my average from last year to calculate on the way out so I wouldn't blow up and obviously those guys went a lot faster than that, so maybe I over-thought it a little bit," said Bookwalter, who finished second in the same event at the Giro d'Italia in May. "That said, too, I feel like I went as fast as I could."
Capitol records
Dowsett's time would have stuck, had it not been for his world pursuit champion teammate, who left the start ramp three minutes after the Brit crossed the line. Phinney, who found out that he would ride in Utah 27 hours earlier, unleashed the massive torque of his 6-foot-6-plus frame on every inch of the course.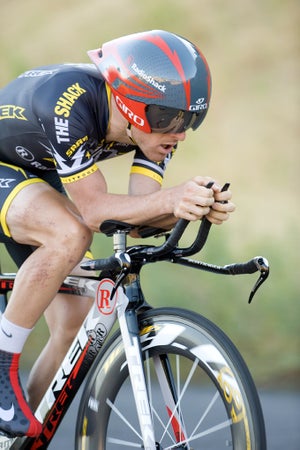 The RadioShack stagiaire stopped the clock in 6:02:59, good for the race lead and the course record. "It's a prologue that suits me and it's something I was looking forward to doing before I turned stagiaire," said Phinney. "I had the opportunity to come back and race for my old team and it's really great. I'm really happy."
Phinney crashed at the Cascade Classic and missed Utah with a concussion in 2009. "I was sad to miss this race last year and this year, it's kind of special to pop in at the last minute and race a race that I wasn't able to do last year," he said. "It's cool to come out here and kind of stick it to the old guys."
The GC Picture
Louder, Levi Leipheimer (Mellow Johnny's) and Francisco Mancebo (Canyon Bicycles) fared best of the GC favorites Tuesday. While Louder sits 15 seconds down, Leipheimer and Mancebo clocked in 18 and 19 seconds back, respectively.
Asked if he was satisfied with his ride, Leipheimer said, "No, but I kind of expected that. I was still feeling tired today from Leadville, so I decided that … I didn't do a very big warm-up and I was just going to take it how it comes. I don't think it would have been such a great thing for me to win anyway because I've got no teammates. I don't think I could have won. No way I could have won."
When he learned his time while cooling down on the trainer, Leipheimer told VeloNews that he would not be chasing the overall this week and that he would be hunting for stage wins and fitness for the September ProTour events in Canada and the world championships.
As if he were ever out of it, NRC second-place Rory Sutherland (UnitedHealthcare-Maxxis) closed the day in the overall conversation, finishing fourth, just 12 seconds down. Coming off two weeks of racing at sea level in Europe, his teammate Marc de Maar lost 44 seconds and potentially his shot at the overall win. Phil Zajicek (Fly V Australia) finished on the same time as his teammate Darren Lill, at 24 seconds, even after touching down. Zajicek said in a text message "I'm fine … I was on track to be up there!"
Big Mountain, bigger implications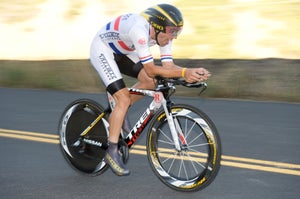 Stage 1 starts at Union Station in Ogden Wednesday morning at 11:00 a.m. The 85.2-mile course climbs Ogden Canyon and winds around the mostly flat perimeter of Pineview Reservoir before reaching the day's first sprint point near Huntsville.
The day's first KOM climb at Old Snowbasin Road takes riders up a 2,500 vertical foot ascent to Snowbasin Ski Area. The road then plunges on a wide open highway into the Morgan Valley, where the day's second sprint point awaits in the town of the same name.
The gradual rise to the East Canyon Dam gives way to the Big Mountain climb, which has proven decisive each of the last two years. In 2009, overall winner Mancebo and Oscar Sevilla escaped high on the climb and held off the chase group to the finish, earning the former the leader's jersey. The long, exposed descent down Emigration Canyon is a fight in the wind, but if history proves anything, it's that a well-timed attack on Big Mountain pays big dividends.
Phinney is no mountain goat, but the multiple-time world champion said that he would fight hard to defend his lead — and lend his legs to any of his more spry teammates. "I'm going to give everything to try and be there if there's a selection that's made," he said. "We're going to ride the front and we're going to try and defend the jersey. We have a couple of good climbers in Tim Roe, Ben King, Julian Kyer, Chase Pinkham, so we'll be there for them. If they need me or Alex, we'll help them out because at the end of the day they're going to be up there in the big mountains and I have a lot of kilos to lug up there because I'm sort of a big person.
"I'll give it everything, but they're big climbs and I've only been at altitude for a week because I just got back from Europe, so I feel that a little bit. I'm still out of breath."
Brief results:
1. Taylor PHINNEY, (USA) Trek-Livestrong, 2.8km in 6:02 (44.689kph)
2. Alex DOWSETT, (GBR) Trek-Livestrong, at 0:03
3. Brent BOOKWALTER, (USA) Bmc Racing Team, at 0:11
4. Rory SUTHERLAND, (AUS) Unitedhealthcare Pro Cycling P/b Maxxis, at 0:12
5. Robert (Bobby) LEA, (USA) On The Rivet P/b Ion Sports Nutrition, at 0:13