2011 Vuelta a España notebook, stage 7: Matthew Busche rides Vuelta for future; Heinrich Haussler hoping to rebuild
Matthew Busche says he's riding the Vuelta for his future; Heinrich Haussler is hoping to rebuild his form.
Heading out the door? Read this article on the new Outside+ app available now on iOS devices for members! Download the app.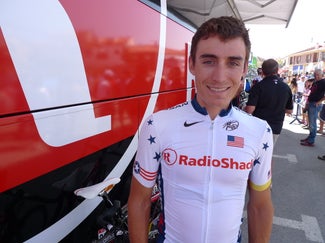 TALAVERA DE LA REINA, Spain (VN) — Reigning U.S. champion Matthew Busche (RadioShack) says racing the Vuelta a España is more important in the big picture of his career than competing this week at Colorado's USA Pro Cycling Challenge.
Busche is getting his first taste of three-week stage racing during this year's Vuelta and has already ridden into a major breakaway in stage 4 up the Sierra Nevada.
"Racing in Colorado would be awesome, especially in the championship jersey, but doing the Vuelta is key to my future as a cyclist," Busche told VeloNews. "As much as it would be fun to be in Colorado, being here is better for me at this point of my career."
Busche, 26, has quickly made a mark on the road in just a few seasons since discovering bike racing after a successful collegiate athletics career.
RadioShack team boss Johan Bruyneel believes he could develop into a grand-tour rider, but the team is letting Busche learn the ropes during his first Vuelta without putting any expectations on him beyond the goal of finishing.
"The team is letting me figure it a little bit on my own as well. We are taking it day by day. You cannot look more than a day ahead," he said. "I'm hoping to make it to Madrid and put this one inside the book of experience and hope that it makes me stronger physically and mentally."
During his rookie season last year, Busche posted some solid European results, including a podium spot with third in the Tour of Denmark.
This season, he's enjoyed a world-class calendar, with starts in Paris-Nice, the Basque tour and the Ardennes classics and the Tour of California, a racing schedule that put him in top shape for the U.S. nationals in late May.
He won the road race and took bronze in the TT, results that bode well for his future.
"I don't know how far I can go," he said. "I am hoping to do the Tour and at some point I can be a big help to some of our current riders in the Tour and maybe someday I can try to do a good GC. It's all pretty unknown. I am pretty young still and I am new to this sport. I am just taking it as it comes and hope for the best."
Despite his steady progress, Busche said he still has not signed a contract for next season, but he's hoping he can stay with RadioShack.
Busche says he sometimes has to pinch himself, given how fast and how far he's come in road cycling, and says wearing the U.S. national champion's jersey in his first grand tour is "something special."
"It's pretty exciting to have this jersey," he said. "It's hard to believe that it can happen so far and I am happy to be where I am. I feel lucky to have the successes that I have had and I've enjoyed the support of everyone, from my family to the team to others along the way. That's been very helpful. I feel lucky and blessed."
Haussler racing Vuelta to get back to top level
Heinrich Haussler is hoping he's turned the page on nagging injuries that have kept him from his best since his breakout campaign in 2009 that saw him win a Tour de France stage and take second at Milan-San Remo and Tour of Flanders.
Haussler is racing his first grand tour since that 2009 season. He crashed out of the 2010 Tour de Suisse in a finish-line fall with Mark Cavendish and took himself out of the Tour this year because he was still not fully recovered.
He's hoping this Vuelta will see him back on top for the 2012 season.
"I need this three weeks into my legs," Haussler told VeloNews. "I haven't done a grand tour for two years. When you do a three-week tour, it puts you on a different level. Get through this, do the worlds and go to Beijing, so that's heaps of racing to get into my legs to go into next season."
Haussler is also expecting to make his debut with Australia in this year's world championship team for Copenhagen. Haussler has dual citizenship and raced for Germany before deciding that he felt more like an Australian.
"That's the good thing with the team. Whitey and the guys from the Aussie team have a decision to make. They have a few weeks to see who's on form to make the right choice," he said of the worlds. "There are two weeks before the worlds, so there's time to freshen up."
Haussler said this year's challenging Vuelta, with scorching temperatures and a mountainous route, is an ideal way to get back into top shape. He admitted it's not easy.
"It's good racing, good training for the worlds, then again, it's really, really hard," he said. "Everyone in the bunch is saying how hard it is, but the heat makes it even harder. We're getting used to it now, but in the first few days, if you went deep once, the heat just takes it out of you. You just blow."
Jerseys
Red: Sylvain Chavanel (Quick-Step) defended his lead for the fourth day and will carry his 15-second lead to Dani Moreno (Katusha) in Saturday's eighth stage.
Mountain: Moreno kept the jersey on a day without any rated climbs.
Points: Pablo Lastras (Movistar) took four points on the stage to move into the lead, 52-50, to slot ahead of Moreno.
Combined: Moreno continúes to lead.
Teams: RadioShack kept its lead, 47 seconds ahead of Rabobank.
Peloton
All 190 starters finished the stage, but a handful probably won't be starting tomorrow's stage.
Weather
Cooler temperatures, with highs of 25C, continued clear skies with gusting winds from the west.