Aru apologizes to Ernesto Colnago for stage 17 meltdown
After an outburst was caught on TV in stage 17, Fabio Aru begs for forgiveness, making a personal call to the venerable bike manufacturer.
Heading out the door? Read this article on the new Outside+ app available now on iOS devices for members! Download the app.
LLEIDA, Spain (VN) — Ernesto Colnago wants Italy's star rider Fabio Aru (UAE Team Emirates) to show some respect for the bicycles he races on.
Overnight, Aru had to call the famous frame maker and ask for forgiveness after cursing at his bike several times on live television during the Vuelta a España's stage 17. Colnago sponsors Aru's UAE team.
On Wednesday, late in the stage, the 2015 Vuelta winner crashed and stood up, repeatedly shouting "Cazzo di bici!" — translated as: "shit bike!" That phrase zipped through the airwaves and rang through the internet, soon reaching Colnago's Cambiago headquarters near Milan.
"You know how many riders in these 60 years who've raced on my bikes," Colnago told Tutto Bici. "You know our story.
"I understand everything and everyone, but this is a very bad episode, which hurt me. I accept the apologies, but I ask everyone for respect. Fabio understood."
Aru also yelled that his derailleur was blocked. The team said that before the crash, he was trying to get the chain from the 11- to 12-tooth rear cog using his hand.
The episode punctuates Aru's terrible season. Team UAE signed him and took the Sardinian to the Giro d'Italia to win. Aru never showed the form that he had when he finished second and third in past editions. He abandoned on stage 19.
He explained tests showed he has some dietary problems. He changed his diet and returned to racing. He hoped the Vuelta would be an opportunity to build toward the world championships — perhaps he could even earn a stage win or place in the overall. Instead, he crashed in stage 2 and again in stage 17.
"I understand he's having a bad season and it's all going wrong for him," Colnago said. "I told him that he has to be professional and that things will go his way sooner or later.
"If his gears were blocked, then he wouldn't have crashed, but locked up. The bike's not at fault."
Aru climbed back on his bike and raced to the Balcón de Bizkaia finish, where Michael Woods (EF Education First-Drapac) won from an escape. Aru finished 14:14 behind. His ripped shorts revealed blood running down his backside.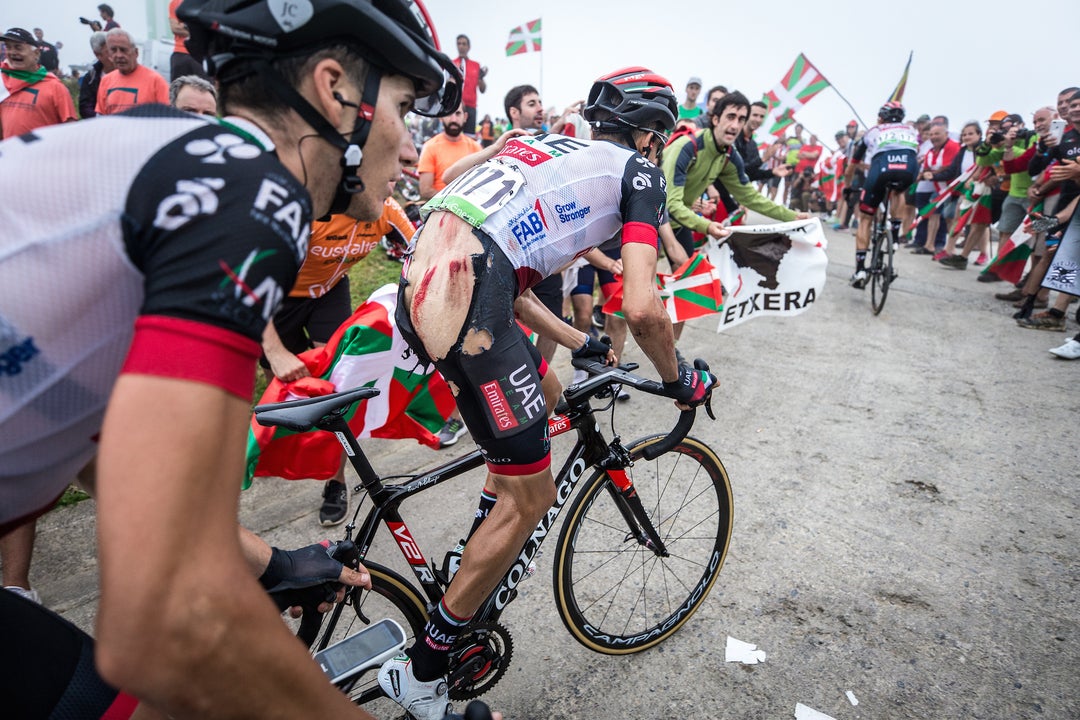 The team manager Joxean Fernández Matxin spoke with Aru after the stage. He said this morning ahead of stage 18 that he understands Aru was upset. "Anyone would be crashing at 70km an hour," Matxin said. "He didn't need to apologize."
Last night, though, Aru called Colnago to ease the tensions. Earlier this year, the team reportedly was ready to make a deal with Bianchi bicycles for 2019. However, over the last month, it agreed to stay with Colnago.
"I took an impact to my lower back, which worries me, as well as the pain," Aru said. "We were descending at 70km and it could have been a lot worse.
"I apologize for how I reacted after the crash but my adrenaline was running. I was aching and you lose the control sometimes. I hope to recover quickly. We'll see tomorrow morning, it depends on how I get through the night."