Froome: Out of Africa into Vuelta's lead
Froome surprised himself by taking the lead. Photo: Graham Watson | www.grahamwatson.com SALAMANCA, Spain (VN) — The French like to say Africa begins at the Pyrénées, but the Vuelta a España saw its first African-born leader Monday as Chris Froome (Sky) powered into the race leader's red…
Heading out the door? Read this article on the new Outside+ app available now on iOS devices for members! Download the app.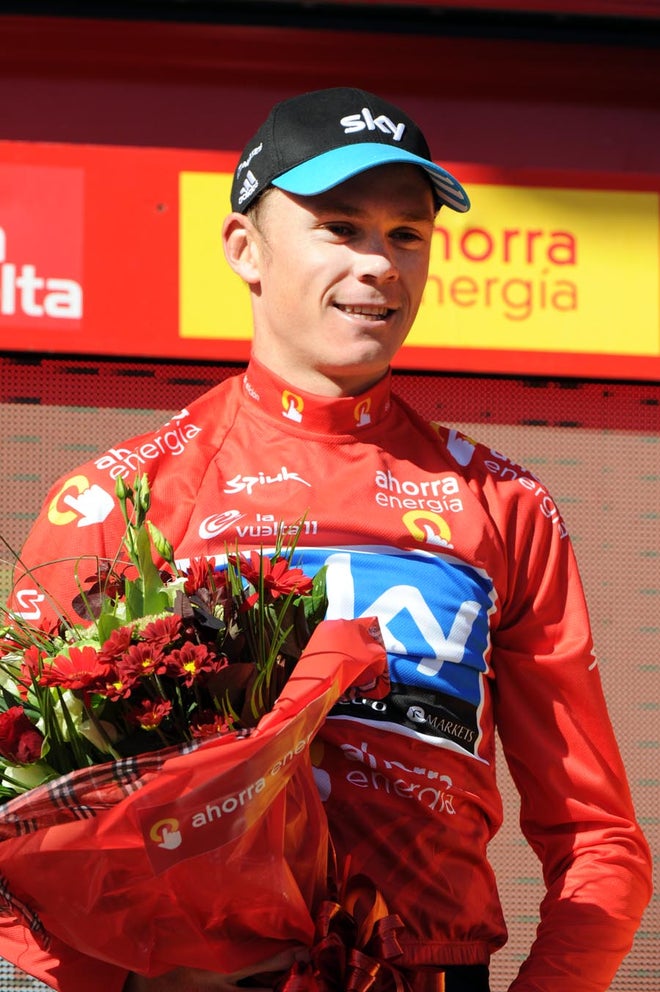 SALAMANCA, Spain (VN) — The French like to say Africa begins at the Pyrénées, but the Vuelta a España saw its first African-born leader Monday as Chris Froome (Sky) powered into the race leader's red jersey.
Froome blew away expectations in the 47km time trial, with only TT monster Tony Martin beating him by 59 seconds. When the dust settled, Froome held a 12-second lead to Dane Jakob Fuglsang (Leopard-Trek) and 20 seconds to Sky teammate Bradley Wiggins.
"It's nice to have the red jersey. I did not expect to have this," Froome said. "It was never part of the plan for me to be where I am right now. We are all here to ride for Wiggo."
Froome is one of the most unusual riders in the peloton, an African-born rider who switched to a British nationality in 2008. Since 2010, he rides for the UK-backed Team Sky and trains with the British national team.
The blonde-haired Froome says he feels more British, but you wouldn't realize that when you hear his African accent.
Froome was born in Kenya and then moved to South Africa as a teenager. His passion for cycling was built on childhood adventures in the African bush.
"I rode the bike mainly for transport as a kid. It was a way of freedom and there's no better place to explore with a bike than Kenya," Froome said. "The outdoors there are fantastic and I had the time of my life growing up there, riding my bike everywhere."
Froome's mother was a physical therapist and his father worked in event management. A job opportunity brought the Froome family from Kenya to South Africa.
"I spent my childhood just exploring with the bike, but it's when I moved to South Africa is when I saw more of its sporting aspect," he said. "I started to go to races and get involved in the sport. That's how I got to Europe."
A natural-born climber, Froome had close ties with South African sprinter Robert Hunter. That helped him open doors to Europe. After racing his rookie season with a South African team, Hunter helped recruit him for Barloworld in 2008.
"I hope it can inspire people who come from unconventional backgrounds. They should not think it's unreachable," he said of his journey from Africa to Spain. "Anything is possible if you want it. It's a question of setting small goals and ticking them off."
In his first European season, he was thrown into the 2008 Tour de France and finished, 81st, an important achievement for any young rider. In the 2009 Giro, he rode to 35th and showed promise.
With the demise of Barloworld, Team Sky gladly picked him up. On a team stacked with talent, Froome has had to play a patient hand. Given the chance to race at the Vuelta, Froome is taking full advantage to show his stuff.
Froome's unique background and round-about way into the European peloton reveals how international the sport has become in the past few decades.
An Australian won the Tour de France for the first time in July with Cadel Evans, but can Froome become the first African-born rider to win a grand tour?
"It won't be easy to hold onto it," he said. "I have only been thinking about this Vuelta day by day. I will keep doing that. We are in a perfect position as a team. We have to keep our options open."
If Froome does lose the jersey Wedensday at the summit of the Manzaneda climb, it probably won't be to a Spanish rider.
Only two national riders are among the top-10, with Juan Cobo eighth at 1:47 back and Haimar Zubeldia in 10th at 2:13.
And the French, who look down their noses at the other side of the Pyrénées? The best-ranked Frenchman is David Moncoutie (Cofidis), in 34th at 10:28 off the pace.