Juan Jose Cobo won't declare the 2011 Vuelta a España over until the finish line in Madrid
Juanjo Cobo says he cannot breathe easy yet despite only having a short, sprinter-friendly stage standing between him and a surprising Vuelta a España victory.
Heading out the door? Read this article on the new Outside+ app available now on iOS devices for members! Download the app.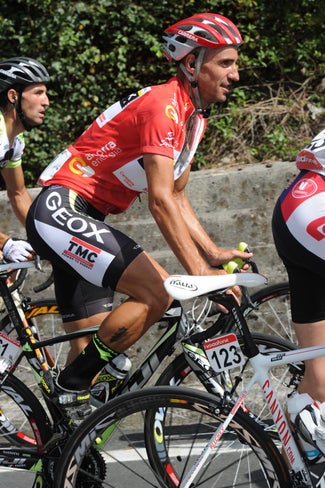 VITORIA, Spain (VN) — Juanjo Cobo says he cannot breathe easy yet despite only having a short, sprinter-friendly stage standing between him and a surprising Vuelta a España victory.
Sky rider Chris Froome hovers at just 13 seconds back going into Sunday's 95.6km final stage in Madrid and the Geox-TMC leader said he's not expecting a victory parade.
"Mathematically, the victory is still not mine. There are intermediate time bonuses and finish-line bonuses, so I have to be attentive right to the final sprint," Cobo said Saturday. "I am very close to victory, but I still have to race tomorrow."
The big question is whether Froome will contest the final sprints and try to use the time bonuses to his benefit, or honor Cobo's lead and turn Madrid's final stage into a victory parade before the final mass gallop.
Froome remained ambiguous at the finish line Saturday in Vitoria about his plans for Madrid.
"My brother and father have been following the race the past few days and I still would like to have them see me as the winner in Madrid," Froome said at the finish line. At Saturday's start, he said: "The Vuelta is over with the final stage in Madrid."
Team Sky sport director Servais Knaven hinted strongly that Froome will not try to battle for the time bonuses tomorrow.
"We will try to win the stage tomorrow — but another Chris," Knaven told VeloNews, referring to CJ Sutton, the winner in stage 2. "Tomorrow is a sprint stage. Even if we won the two intermediate sprints, that would only be 12 seconds. That's not enough time. We tried the past two days and Cobo defended. Tomorrow is the last day, it's a sprinter's day."
Cobo, meanwhile, acknowledged Froome could make it hard all the way to the final sprint.
"We'd like it to be a fiesta tomorrow, but he has every right to race. Tomorrow is another stage and the race isn't over until we cross the line," Cobo said. "Normally, it's a day to celebrate and be tranquil. We (Froome) and I have not spoken about it."
With Cobo's narrow lead, the time bonuses have become a point of debate during this Vuelta because they've proven decisive in the final podium. Without the time bonuses, Froome would have won the Vuelta by 19 seconds.
"We have no regrets about this Vuelta," Knaven continued. "We cannot look back and think about a time bonus or where we might have gained time there. We fought every day to win this Vuelta and Cobo is the one who came out on top. We are very satisfied with this Vuelta. To have won two stages and have two of our riders on the podium in Madrid is a big success for the team."
Froome battled through Saturday's stage, even charging out of the pack when he mistook a 20km-to-go banner for the second intermediate sprint. Cobo was quick to react when Froome mistakenly bolted out of the blue, thinking that the Sky rider might have something up his sleeve, when the real sprint was still 5km down the road.
Sky sport director Steven de Jongh said taking back time on Cobo in Saturday's final hilly stage was unlikely from the beginning. The day's final climb, the Cat. 1 Urkiola summit, was 50km from the finish line. Cobo was safely protected by his Geox-TMC teammates and stuck to Froome's wheel all day long. De Jongh also said that the team didn't want a long-distance attack to backfire on them and risk losing more than they could have gained.
"It was unlikely that we were going to be able to put 14 seconds into Cobo. Brad (Wiggins) did well to take a couple of seconds when he did (with third in the final sprint) and Froomey also tried to attack but misjudged the distance barriers. That caught everyone by surprise, actually, as they thought we had sprung a shock move!" De Jongh said.
"We were never going to put it all on the line today, though, and risk their podium positions because at the end of the day what we have achieved here is still a fantastic result. Brad and Froomey haven't put a foot wrong all Tour and the whole team can be proud of themselves. Credit to Cobo and his Geox team as well. They have proven to be very strong and have ridden a very clever race."
For Cobo, whether Sunday is a victory lap or one more hard-fought battle remains to be seen, but even he could not believe that he's poised to win the Vuelta.
"It's a big surprise for me to have victory almost in my grasp," he said. "I came here with the idea of helping (Denis) Menchov and (Carlos) Sastre, but I also knew that I had good form after the Vuelta a Burgos two weeks before the Vuelta started. Things went my way and I felt good right at the correct moment.
"But I never thought I would be sitting here right now when the Vuelta started."