Phinney starts Vuelta with both feet on ground
BENIDORM, Spain (VN) — Taylor Phinney knows that the next few weeks of his life won't be easy.
Heading out the door? Read this article on the new Outside+ app available now on iOS devices for members! Download the app.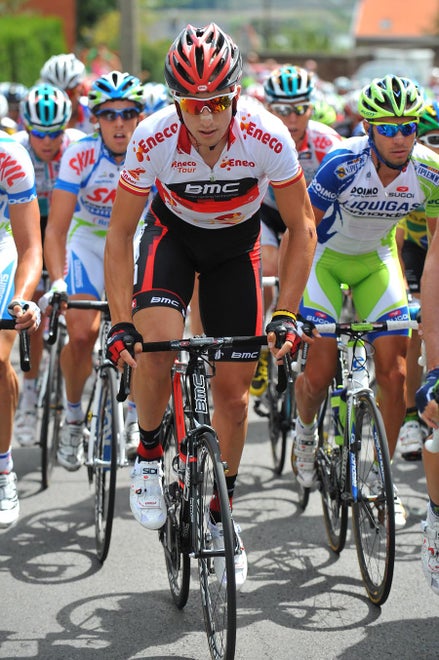 BENIDORM, Spain (VN) — Taylor Phinney knows that the next few weeks of his life won't be easy.
The BMC rider is little more than halfway through his first pro season, but he's been around long enough to know that 46 rated climbs, temperatures in the high 90s and a peloton full of Spanish mountain goats equals little more than pain and suffering.
The 21 year old rookie is about to embark on his first grand tour with both feet firmly planted on the ground.
"I have a whole range of emotions. I am excited, I am not sure what to expect," Phinney told VeloNews on the eve of the Vuelta start. "For the most part, this Vuelta will be just trying to survive and hang in there. If I can get on a sprinter's wheel, maybe I can try something in the sprints. Or if I have a great day on one of the mid-mountain stages, maybe I can get into a breakaway. I have to be realistic. I know it's going to be hard. It's more about survival in this Vuelta."
Phinney is one of three American rookies making their grand tour debuts during this Vuelta.
Andrew Talansky is lining up for Garmin-Cervélo and Matthew Busche is here for RadioShack, but Phinney has the added weight of media and fan expectations that few American riders have ever faced so early in their careers.
BMC has done a good job of insulating Phinney throughout the year, giving him the time and space he needs to develop his potential without piling on unrealistic expectations.
When he developed knee pain early in the season, they quickly rejigged his schedule and let him fully recover. The payback was that he nearly won the prologue in the Tour de Romandie in Switzerland, losing by less than a second.
It was often Phinney, not BMC team brass, who was raising the stakes.
Six months into the pro peloton, however, Phinney realizes that nothing comes easy.
"I've learned a lot so far this season. The main thing is the amount of work you have to put into training, into eating right, into living a very simple lifestyle, before ever getting any results," he said. "It's been interesting approaching every day of your life with riding your bike as your job."
Phinney thanked Max Sciandri, the Italian ex-pro BMC tapped to work with its bevy of young riders, for helping him get his head around how hard things were in the pro ranks.
In the Under-23 division, Phinney admits he was getting huge results thanks in large part to the genes he inherited from his world-class cycling parents — Davis Phinney and Connie Carpenter — and without making the same sacrifices that he now realizes are necessary at winning at the elite level of the sport.
"In the U23s, I could rely on natural talent. Last year, I managed to scrape up a lot of big results just on natural talent without doing some of that hard work," he said. "I didn't realize it until I came into the pro ranks just how much hard work goes into these results. It sounds stupid now, but I have realized that now. Max has really helped me a lot. He put me on the right path and now I've been able to start to reap the benefits."
Those "benefits" included a breakout prologue victory at the Eneco Tour in Holland and Belgium, roads where Phinney is dreaming that he can someday dominate during the spring classics.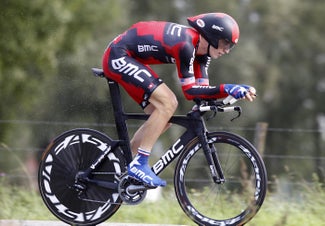 Phinney held the leader's jersey for a few days and finished fourth overall, just behind a heavyweight podium that included winner Edvald Boasson Hagen, Philippe Gilbert and David Millar.
"That was just huge for me," Phinney said of his Eneco win. "I was really excited and relieved. It's been an interesting season for me. There's been a lot of learning. I had to put in a lot of hard work to get to that level of competition. To get those results, against those giants of riders who were coming off great form from the Tour de France, that was super-special for me."
Phinney is now carrying that new-found confidence with a touch of humility into the three-week Vuelta.
Whether or not he makes it to Madrid for the final stage on September 11 remains to be seen, but Phinney knows that the cliche of "taking it day by day" has more than a grain of truth when speaking about stage racing.
The longest races he's done have been a week or so. The Tour de l'Avenir was eight days, the Tour of Austria a week. He knows the 3,000-plus kilometers of the Vuelta is something else entirely.
"When I was growing up, I thought the Vuelta would be the first grand tour that I would potentially do," he says. "I spent part of my childhood in Italy, so I was more familiar with the Giro. And, of course, I followed the Tour. But somehow I knew the Vuelta would be where I would start. I have raced a few days in Spain this year. I know it's going to be brutal."
For the Vuelta, the first goal is trying to make a run for victory in Saturday's team time trial. BMC will not be among the top favorites, but could deliver a surprise with some strong motors, including Phinney's.
For the sprints, BMC brings an on-form Greg Van Avermaet and plenty of depth for the mountains with riders like Johan Tschoop, Ivan Santaromita and Mauro Santambrogio. Classics riders such as Karsten Kroon and Manuel Quinziato will be on the hunt for stages. Phinney hopes to hang on for as long as he can, with an eye toward the 47km individual time trial in Salamanca on stage 10.
"We'll work for Greg in the sprints and maybe I will have a chance if I am on a good day. The TT is the big focus. I am looking forward to playing my part when I can," he said. "The (Salamanca) TT might be a goal to start with, but I have to make it there first. There are some hard stages in the first week. I cannot do too much, too early. I've never done a race with this length before. If my legs are good, it will be a great test ahead of the worlds. There are some of the biggest TT names in the world here right now. It will be an hour of pain, an hour of power. The main thing is to make it that far."
That's the new Taylor Phinney talking. After six months in the pro ranks, he's already starting to sound like a grizzled veteran.