Reijnen's 'best rest day' ideal for final Vuelta push
Without overall ambitions, Kiel Reijnen takes it easy on stage 16 so he can be fully rested to support Mollema and Nizzolo's stage hunting.
Heading out the door? Read this article on the new Outside+ app available now on iOS devices for members! Download the app.
TORRELAVEGA, Spain (VN) — Kiel Reijnen had his best rest day ever with his Trek-Segafredo teammates, riding, skinny-dipping, and watching surfers in the Cantabrian waves Monday. The rest day/reset will serve the American as he tries to help Bauke Mollema and Giacomo Nizzolo win a stage in final five days of the Vuelta a España.
Reijnen squeezed his brakes and stopped after the stage 16 time trial inland in Torrelavega. The men not fighting for the race overall or the stage win usually call it a rest day.
"It's not a rest day!" Reijnen said. "I don't care what they say, you still have to push a steady amount of watts. Yesterday, that was the best rest day I ever had."
Mollema went with the directors to preview the 32-kilometer time course, the other riders, including Reijnen, rode from the team's hotel in Hoznayo.
"We went over to the coast [yesterday] and went skinny-dipping at this crazy beautiful remote beach. We had the whole beach to ourselves and the waves were crashing and we went swimming," Reijnen said.
"We rode a bit further to a cliff to watch surfers at another beach. We watched them for a while and then had a coffee and went back to the hotel.
"It was just an hour and a half of riding, ignoring our bike computers and relaxing. Mollema and the other guys were getting down to business and they will have us in their service in the next few days."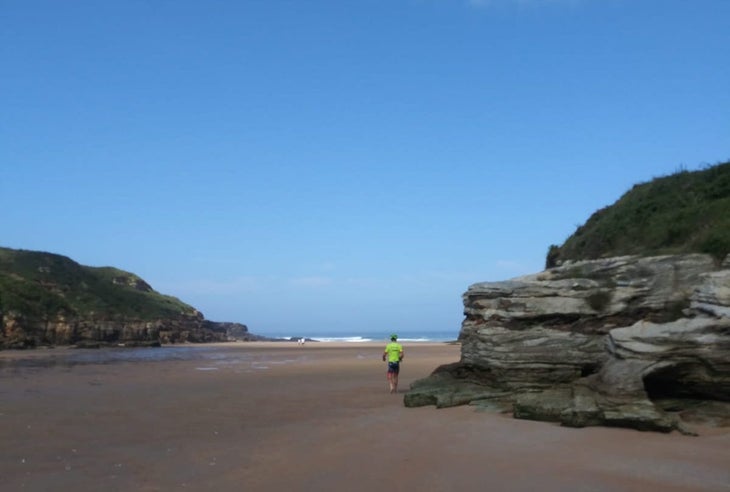 Dutch climber Mollema and Italian sprinter Nizzolo gave Trek-Segafredo a string of podiums, but not yet a win in the 2018 Vuelta a España. The last time Mollema came close, American Ben King kept him at bay in second.
"Hopefully we can get that elusive win here in the next week. The team has been great and you see us up there fighting. We had a string of podiums but no wins," Reijnen added. "One more week, so we're going to do whatever we can to get this."
Reijnen's big Washington state motor has been put to work to position Mollema and lead Nizzolo to the sprints. He needed to let it cool off yesterday in the Bay of Biscay to be ready for the three mountain stages and two sprints remaining.
"I was brought here as a serviceman for Giacomo. With the split squad have to be tactical. We don't have a whole sprint train ready to go, and we are doing what we can with limited resources, but he is always good in those situations," he continued.
"Absolutely we are running out of chances. Years ago at the Giro d'Italia, he was on the podium five times and then he finally won on the last day. Sometimes it takes 21 stages to do it."
During the Vuelta, when the television scanned the peloton, the cameramen showed him speaking with Richie Porte (BMC Racing) on a few occasions. Next year, Porte will rely on him and the Trek team as he is making the switch this winter. The Australian climber has been asking him about the team kit, bikes, and schedules.
Reijnen could start his 2019 season with Porte at the Tour Down Under. First, he will close the Vuelta a España and the 2018 season in the Tour of Turkey. "I'm excited about that to use this good form instead of going through all this work in the Vuelta and not using it," he said. "I'm excited to be [in Turkey] and be competitive."
Over the winter, he will be swinging a hammer, having received a permit to build a house on Bainbridge Island. It will be a short window of time, "but I'm ready to get going on it. It's great news and something that will keep me happy over the winter before starting again in 2019."