Tyler Farrar abandons during stage 8 of 2011 Vuelta a España
Tyler Farrar called it quits during stage 8 of the 2011 Vuelta a España after twice coughing up blood.
Heading out the door? Read this article on the new Outside+ app available now on iOS devices for members! Download the app.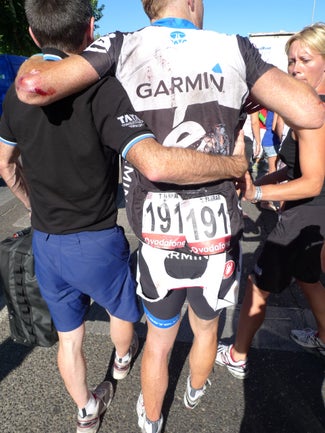 EL ESCORIAL, Spain (VN) — Tyler Farrar succumbed to the inevitable about 35km into Saturday's hilly stage of the Vuelta a España, but put up a brave fight as he tried to continue in the race a day after a horrific finish-line crash.
Farrar proved he's one of the toughest riders in the bunch by trying to push on despite waking up battered and bruised Saturday morning.
"I don't know how far I can make it," Farrar told reporters before the start. "I want to at least try."
X-rays taken last night confirmed that Farrar didn't break any bones when he slammed to the ground in Friday's sprint. He suffered several cuts and scrapes to his back, elbow, knees and his left gluteus.
The initial blow was so intense that Farrar could not put any weight on the leg and had to be carried into a waiting ambulance after the stage by two Garmin-Cervélo staffers.
Without any fractures, Farrar decided to try to continue Saturday. Team officials said he could put weight on his left leg this morning and went for a quick spin on the bike to confirm that he could turn the pedals.
Farrar coughed up some blood this morning, however, and the team rushed him back to the hospital before the start. More X-rays and exams did not disclose any serious injury, so doctors cleared him to race.
Farrar hustled back to the team hotel to dress for the stage, but was so rushed to prepare for the start in Talavera de la Reina that he forgot to pin on his race number.
Later in the stage, Farrar coughed up more blood. That was enough for the team to pull him out of the race.
"He coughed up a little blood this morning and went to the hospital. The doctors said they couldn't see any serious injury, so Tyler wanted to give the stage a try," said Garmin sport director Bingen Fernández. "Later in the stage, he saw more blood when he coughed and we pulled him out."
How this will affect Farrar's approach to the world championships remains to be seen. He was racing the Vuelta to prepare for a shot at the rainbow jersey on the sprinter-friendly course in Copenhagen.
Fernández said it's too early to say whether Farrar will be able to recover in time to resume training ahead of the worlds, set for September 25.
"Farrar is like a toro (a bull). He's one of the toughest riders I've ever seen," Fernández said. "We will see how can recover in the coming days. With nothing broken, the worlds could still be possible. There's nearly a month before the race, but it's too early to say one way or the other."