Vuelta Roundtable: Will the battle for red heat up this weekend?
What are the big takeaways from the Vuelta a España so far? Will the battle for red kick into high gear this weekend? Roundtable time!
Heading out the door? Read this article on the new Outside+ app available now on iOS devices for members! Download the app.
We're just past the halfway mark at the 2018 Vuelta a España. We've seen some exciting breakaway wins and a few sprint finishes too, but it's still a wide-open race in the GC department. What are the big takeaways from the race so far? Will the battle for red kick into high gear this weekend?
Let's roundtable!
What has been your impression of the Vuelta so far? What will you remember most from the first half of the race?
Fred Dreier @freddreier: I've appreciated this Vuelta for the staying power of the breakaways. No one team is strong enough to control the peloton. The GC men do not appear to be concerned with chasing everything back, and the sprint teams are not strong enough to squash every break. Thus, breakaways have thrived, and I have enjoyed it, particularly the two breakaway victories of Ben King. Every day has provided another race within the race. I'll always remember this Vuelta as the race of the breakaways. It's such a nice dynamic after a very controlled Tour de France.
Spencer Powlison @spino_powerlegs: It has been a bit of a siesta, especially among the GC riders. There have been few attacks or unexpected twists in the first half. I will definitely remember Ben King's two exciting breakaway wins, but otherwise, this Vuelta has lacked that Spanish spice we often see right from the start.
Dane Cash @danecash: The GC battle has been a bit quiet so far, but that's fine by me. Things should heat up in the next few days. In the meantime, we've gotten some excellent stage-hunter showdowns. Breakaway riders like Ben King, as well as the indomitable Alejandro Valverde, have made things plenty interesting as the Vuelta rolls towards northern Spain.
Andrew Hood @eurohoody: Two things. First, Ben King winning two stages. Huge breakout for a hard-working pro who finally had the health, the luck, and determination to win. His first victory was a measure of brute strength and his second one revealed tactical acumen. And second, Sepp Kuss. What a debut so far! More good things to come.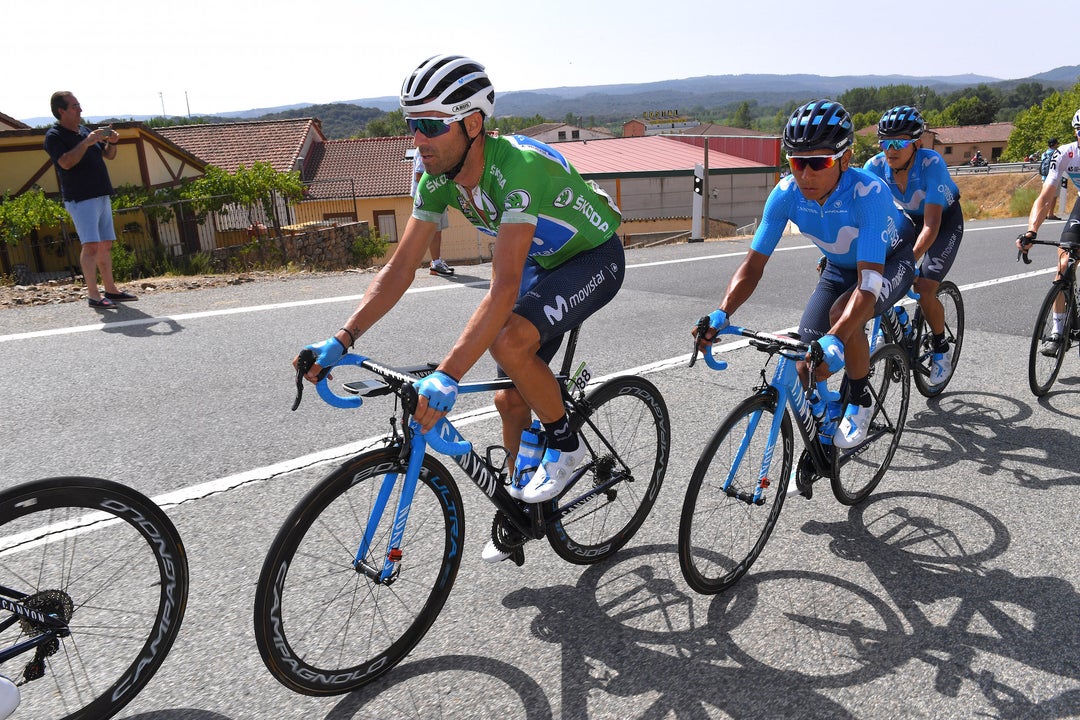 Fred: On paper, it's Mitchelton-Scott, since they had the red jersey. But to be honest, Movistar is the home team and likely the strongest team, so I understand why Mitchelton placed the work at their feet. We've seen this with Sky before, pulling the TDF peloton around even though the team did not have the race lead. He who has the most resources sometimes must bear the burden of working the hardest.
Spencer: Mitchelton should be pulling — they have had the lead after all — but they are smart not to pull. Cycling is a game of brinksmanship, and on stage 11, Movistar blinked first.
Dane: Mitchelton had the jersey when Movistar's riders were doing their complaining, so they had de facto pulling duties, but Quintana is the oddsmaker's top favorite for this race. He and his teammates can't act like they're not a factor in the overall. In any case, I've got no problem with Mitchelton not pulling. There's no law that says the race leader's team has to pull. If they can get away with saving energy, more power to them.
Andrew: Movistar — it's the strongest team racing with the pre-race favorites on home roads. Mitchelton-Scott has been playing it smart by forcing Movistar to share the workload.
We're in for three straight uphill finishes in the next few days. How do you expect things to play out?
Fred: My insight is based on that summit finish to La Covatilla, and thus, I expect to see a similar dynamic play out on these uphills. I expect to see Miguel Ángel López attack the front group and draw out Nairo Quintana, Rigoberto Urán, and Simon Yates. The battle for red will then be contested between Quintana and Yates. I'd love to see Wilco Kelderman in the mix as well, but unfortunately, he's simply too far behind.
Spencer: Sunday will be the day for real GC favorites to move. Friday's first climb is such a long, gradual slog, that no one will put their nose to the wind. The finish to La Camperona is short and steep, but I don't know if it will completely detonate the field. I think the riders will then be a bit cautious on Saturday's stage 14 to save matches for Lagos de Covadonga Sunday, which is a brute.
Dane: Friday's La Camperona finish is steep enough to create small gaps even if it's not long enough for those gaps to be huge. Ditto for Saturday at Alto Les Praeres. López and Yates are the ones I'll be watching the most on those days. On the tough finale of stage 14, I'm expecting Quintana to really shine. I'm expecting Yates or Quintana to be in red by Monday's rest day.
Andrew: I expect Quintana to take the jersey and likely hold it all the way to Madrid. There are a lot of weary riders in the bunch and anyone with legs will want to capitalize now rather than try to wait. La Camperona on Friday will see the GC field further reduced while Sunday should see a clear GC favorite emerge. This weekend could also set the stage for an all-Colombian podium sweep of the Vuelta with Quintana, Urán and López (not necessarily in that order).
Who is your dark horse to watch in the second half of the race?
Fred: Emanuel Buchmann. We've been told for years to watch out for Germany's climbing sensation Manny Book-man, and I'm watching.
Spencer: Rigoberto Urán has kept a really low profile so far this Vuelta, but he is within 40 seconds of the key GC favorites. I like his chances especially given that he's often a more proficient time trial rider than the rest of the men in front of him currently.
Dane: I'm curious to see how Ion Izagirre does in the next few days. He's a great one-week racer (and excellent against the clock) with absolutely no track record contending for the GC in a three-week event. He's not in my top three favorites or anything, but who knows?
Andrew: Ion Izagirre — if he can stay steady in the mountains, he has a strong TT waiting for him Tuesday. He has the class to win a grand tour and this is his best shot.