Boulder Roubaix is a dirt road race that celebrated its 30th anniversary this Saturday in Boulder County, Colorado. With a 60/40 mix of dirt roads to pavement, if it were launched today it would probably be called Boulder Gravel. But instead it's of course an homage to Paris-Roubaix, with dirt washboards being the closest thing we have to cobblestones. (For the record, they're not that close.)
Like many dirt-road and gravel races, part of the fun is trying to figure out the ideal gear or at least tire set-up. (If you're an Olympian, it doesn't matter.)
The day before Boulder Roubaix, my 20-year-old neighbor Martha Riedel passed away after a seven-year battle with cancer. Talk about putting a local bike race into perspective.
As a matter of fact, one of Martha's brothers, Sean, did talk to me and my wife that day about the importance of community around athletics. For Sean, a collegiate runner at UC Santa Cruz, his team coaches and other runners have formed a supportive bond that pays dividends well beyond the race course.
For Martha, the Boulder High mountain bike team was a part of her community. She would do races even while on chemotherapy, finishing the course no matter the time, cheered on by her teammates. On Thursday, the Boulder High team came and paraded around her house to give her one last cheer.
For me, cycling has been my social fabric for two and a half decades now. When Covid shut down racing and group rides, my social life evaporated. What I thought was just pedaling was actually a lot more.
The morning before Boulder Roubaix, I taped Martha's name to my bike. I didn't know what else to do.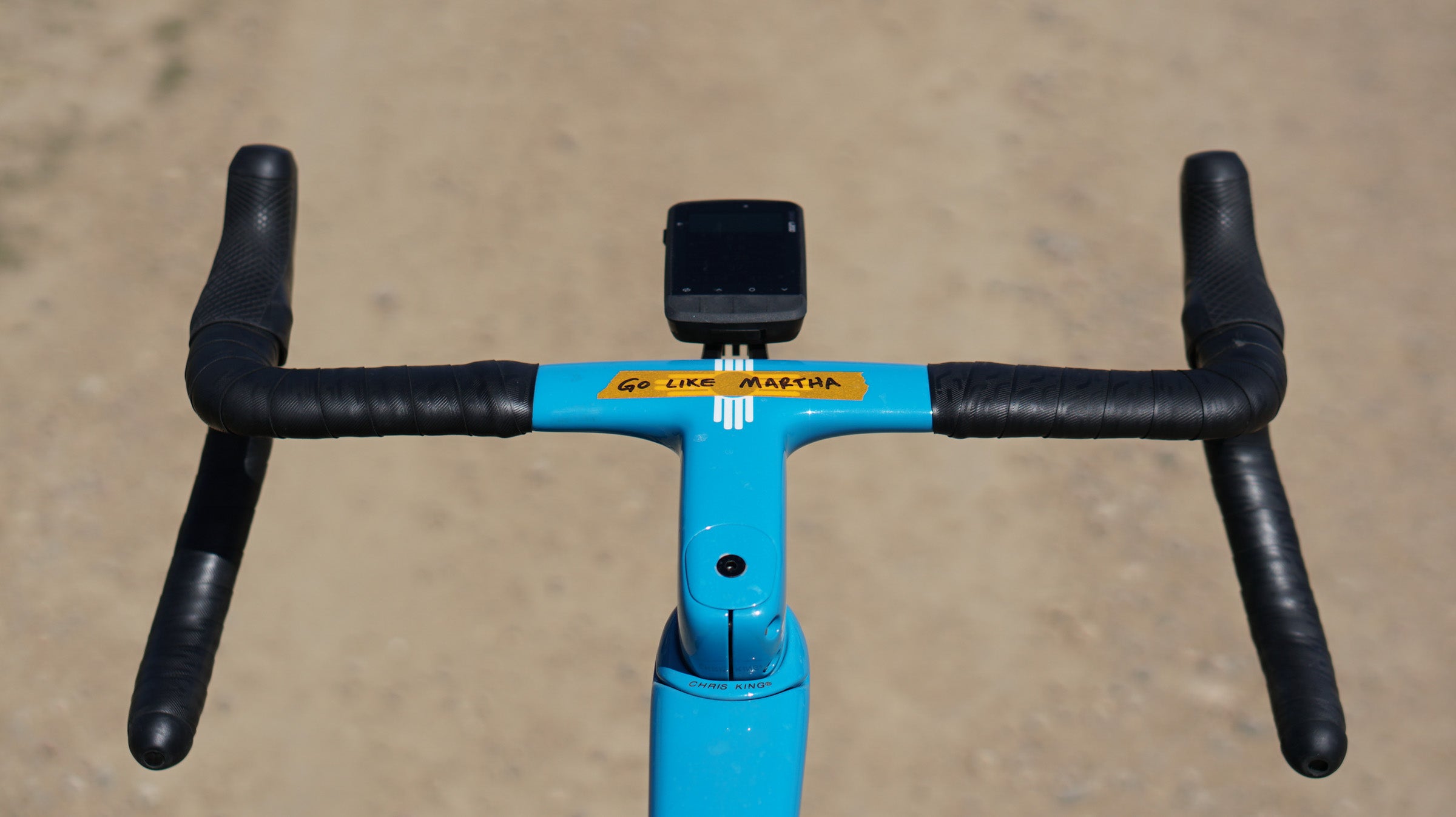 Brand and community connections
It takes a global village to build a bike, and a local village to put on a bike race.
For Boulder Roubaix, I raced an Enve bike with Enve SES AR 3.4 wheels, an Enve saddle, 32mm Cadex Classics tubeless tires, a Giant Dash L200 computer, a Shimano 9150 group, and Stages power meter. Beyond the simple assembly of parts, there's also collaboration between many of these brands. For instance, Giant's Dash is designed by Stages Cycling (which in turn uses Giant's massive manufacturing to build the Stages Bike smart bike). The Cadex tires are made by Maxxis, Enve's saddle is made by Selle Italia, and Stages builds its power meter onto a Shimano crank.
There's no shame in collaborating with specialists.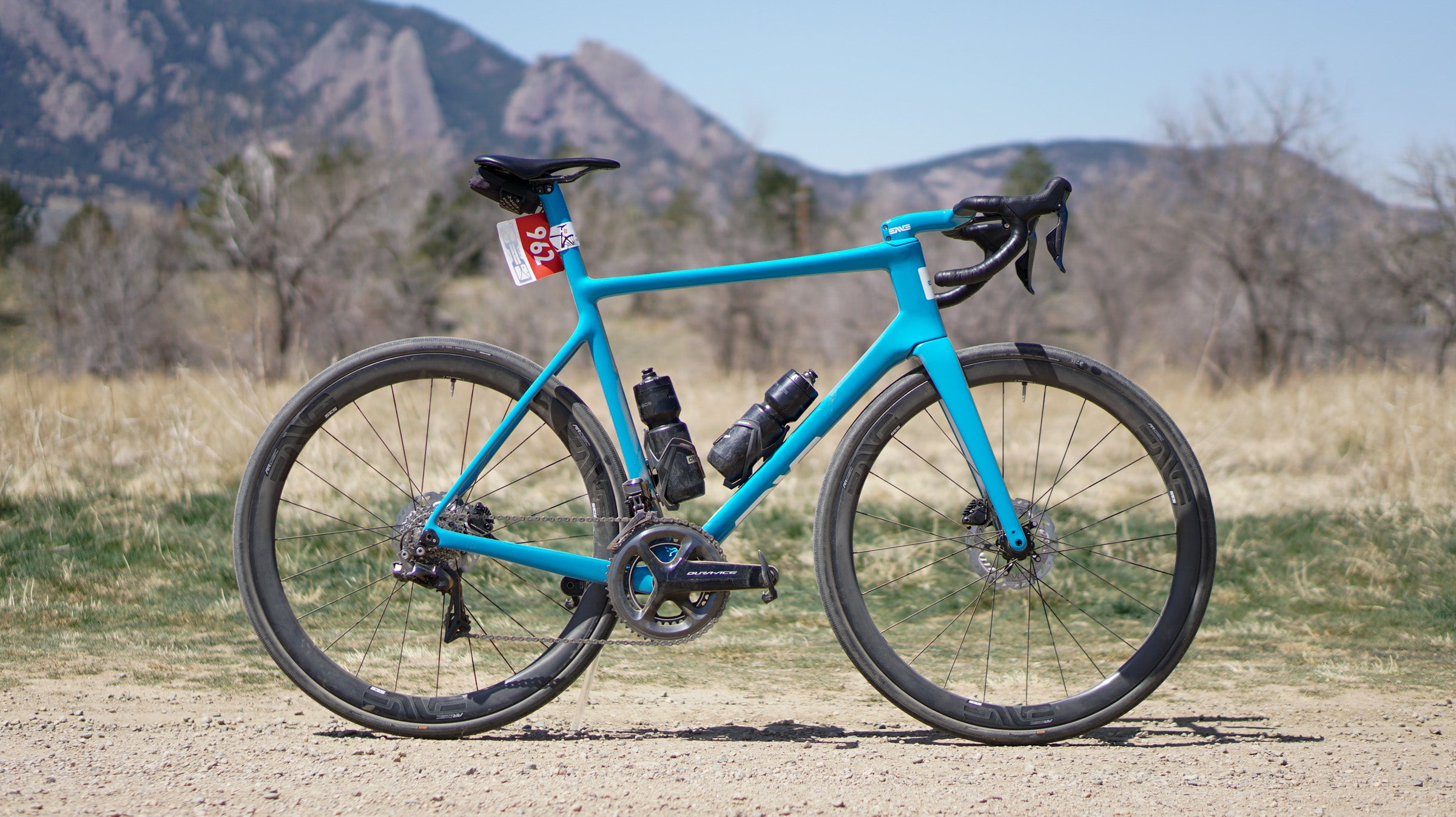 I'm friends with people at many of these brands, and race with the Stages Cycling club. For years I declined to join Stages because I was worried about the perceived conflict of interest as I tested product (first for BikeRadar, and now for VeloNews). Recently I decided, hey, these guys and gals are my friends whose company I value — why pretend otherwise? So now I simply put a note into any article I write about Stages. Integrity is important to me and everyone on the VeloNews editorial team.
For sure I enjoy the adrenaline and the endorphins and whole game of bike racing. But I'm also trying to take a moment to appreciate the personal connections that come from bike racing, too, whether that's catching up in the beer garden or just enjoying the chat on the way to and from the races.
Thanks for reading my ramblings. Here are my takes on the gear I used, and other thoughts on the day.
What worked, what came up short, and what matters
Boulder Roubaix is a dusty dirt road race of attrition. Flat tires and crashes affected seemingly every category.
Enve now makes custom bikes in two geometries: road and all-road. They are the same bike but with a more relaxed front angle on the all-road. I got the road version, and love the aesthetic of having my preferred stack and reach without even the thought of a spacer top or bottom. The bar width and stem length are also custom, in increments of 5mm.
One thing I didn't love above the Enve bike were the custom bottle cages. Painted to match, they looked dope. But they also didn't do their primary job on dirt roads, and I lost a bottle in an earlier dirt-road race. So I swapped in Elite's CustomRacePlus, which held the Specialized bottles from Boulder Cycle Sport snug.
The 40+ race was 75 miles, long enough to have a feed zone. I have not asked my wife to come stand in a feed zone for more than 20 years, so isotonic gels seemed like a good way to carry a bit of extra hydration in the jersey pockets. Both the SIS and the Etixx gels (the latter nabbed at the Flanders sportive) taste okay, but are drinkable instead of a normal gel that is more like thick jelly. I went through four or five.
The Dynaplug double-headed Racer tubeless tool weighs virtually nothing and has proven to be a quick, handy tool. Luckily I didn't need it.
Cadex Classics tires in 32mm may have been a bit overkill, but set to 50/52 psi they felt smooth on the dirt and still fast on the pavement. Cadex prides itself on a few things with the tire, including a tight tolerance on the bead diameter and strength. Even before I put sealant in, the tires held air on the Enve SES AR 3.4 wheels, which is absolutely not the case with many other tires. Also, I can get them on without tools. They are tight, for sure, but not ludicrously so.
The Enve road bike has clearance for 35mm tires. These are 32s.
The SES AR 3.4 is 30mm in front and 40mm in the rear. Enve was out front early with both the dual-depth and the wide-and-aero wheel concepts.
Shimano Dura-Ace 9100 braking is very good. Know what's better? The 9200 series. I can't say I notice a difference in the modulation, but I absolutely notice a difference after hard braking, in that the 11-speed group tends to rub a bit after long, hard braking, whereas the 12-speed group has much, much less of that due to wider pad spacing. It's something I notice when going back and forth between 9100 and 9200 bikes.
Stages Cycling senior designer Michael Stowe captured a few lovely images of the race.
I'm married to Shimano road pedals for life. Preferably Dura-Ace, please.
Stages power meter cranks are easy to install and use. I put them on most test bikes that come through VeloNews.
While clearance can be an issue for some bikes, most frames fit a Stages no problem.
The new Giant Dash L200 (and the smaller Dash M200) are essentially the same as the new Stages Dash L200 and M200, just with different branding.
Being a power-meter company, the Stages Dash computers center around training data, often color coded whether in summations, current output, or target zones. I appreciate the battery-life warnings for peripherals like lights (or meters or heart-rate monitors) that pop up on screen, and the 'Automatic' profile that detects which sensors you have connected and builds pages to that. My one complaint is that pressing the buttons causes the bottom of the screen to temporarily change color.
Cuore is an international clothing company with headquarters in Boulder. It manufacturers clothing for a few high-end brands you would certainly recognize, and it also does custom clothing for clubs and teams, including Team USA. I appreciate how you can order custom lengths on the jersey sleeves and bib short legs. This 'visibility' kit I ordered with 6cm extra sleeve length.
Here I'm showing off the latest in old-man chicken dance moves, and the Cuore kit with +8cm sleeves. Photo of Jenn Valente's bike courtesy Michael Stowe. I have had my butt soundly kicked by two generations of the Eckmann family who run Cuore, by I try not to hold that against them.
The Vento is Lazer's latest aero helmet with built-in crumple zones that are designed to act like MIPS to reduce direct and rotational impacts. For me, it's a comfortable lid but perhaps not the most ventilated of aero helmets. I appreciate that Lazer added little rubber grips for holding sunglasses. I did manage to have a pair rattle off once (not during the race), but perhaps that's because I didn't have them properly secured. Unlike slotting arms into a helmet where you feel them against your head, it's hard to tell on the Vento if the glasses are correctly placed.
Martha Riedel
January 10, 2002 – April 15, 2022