Canadian cyclist Rob Britton is a newcomer to the gravel scene, but he found his bearings quickly in his first attempt at Unbound Gravel 200 this year, finishing sixth in the fastest ever edition after battling through epic mud and rain.
After retiring from road racing at the end of last season, where he most recently rode for Rally Cycling, he's on a familiar brand in Felt, which also sponsors Rally. Though this year he's on something with a little bit fatter tires, the Breed Carbon, Felt's announced but still unreleased gravel race bike that features tire clearance up to a whopping 700x50c — something which certainly came in handy on Saturday as mud caked up and clogged frames and drivetrains.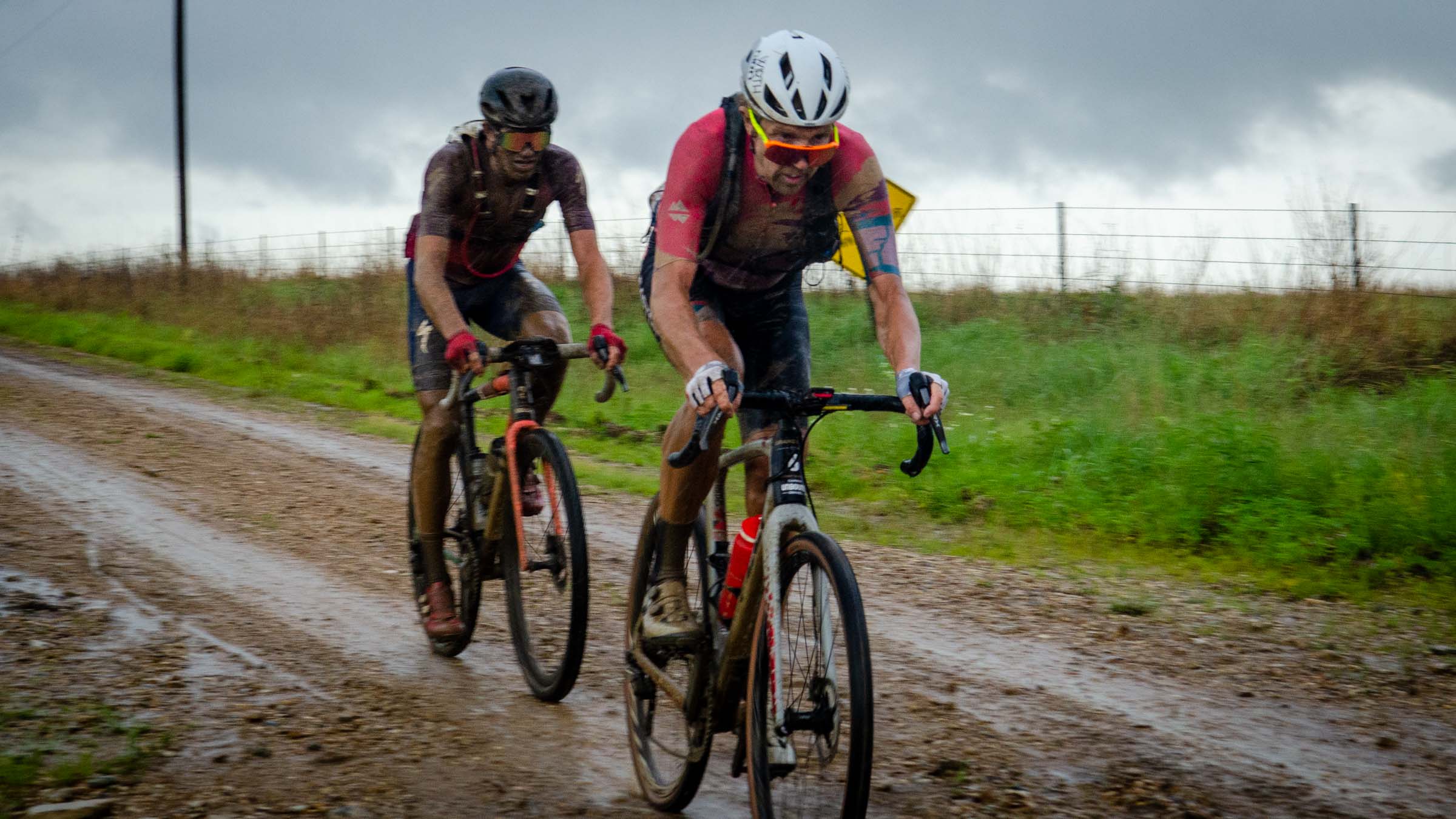 Britton had another advantage in the mud courtesy of the Classified PowerShift hub that replaces the front derailleur and inner chainring with a two-speed internal hub. It wirelessly actuates in a fraction of a second and provides a virtual low gear, meaning he had no issues with mud clogging up his front derailleur — because there wasn't one to clog up.
"I think not having a front derailleur today was, like, the ticket because shifting the front end of a bike sucks in weather like that," Britton told VeloNews after the race. "So that was massive."
Otherwise, Britton ran a Shimano GRX Di2 group with an Easton crank, cockpit, seatpost, and wheels. Take a closer look at the entire build below.
Britton's Felt Breed Carbon is heavy on Easton components, including an EC90 SL Crankset with a 48T ring, EC90 AX Handlebars, EA90 SL Stem, and EC90 SL Seatpost. Britton sits on a Fizik Antares saddle with carbon rails.
Britton praised the performance his Classified system after Unbound Gravel. It is controlled by a remote shifter located at the brake hoods.
Britton spent 12 seasons racing professionally on the road, where he spent a year as the Canadian time trial national champion, before moving over to gravel racing this year.
If you didn't know Britton's nationality already, it's pretty easy to figure out.
Nick Pastura provided the custom paint for Britton's Felt Carbon Breed.
Easton EC90 AX Wheels were created specifically for gravel and adventure riding.
The fork on the Breed Carbon features clearance for 700x50c tires, giving Britton ample space to shed mud.
Britton had good things to say about the new Schwalbe G-ONE RS tires he raced on. "They were super fast — cleared mud like crazy," he told VeloNews after the race.
Arundel Mandible cages are a tried and true lightweight carbon option for securing bottles in place. Britton only ran two bottles on his bike, which has the option for a third beneath the down tube in addition to many gear attachment points.
A Wahoo ELEMNT BOLT computer provided Britton with all the data he needed for the race.