Pinarello launches new Grevil F gravel race bike ahead of Unbound Gravel
Pinarello athletes will be racing on the new Grevil at Unbound Gravel this weekend.
Some gravel bikes want to do it all — be a fast, reactive bike almost akin to a road bike, while also being an adventuring machine and slack and stable enough for comfortably taking on singletrack. Then there's the new Pinarello Grevil F, which is very clear about one thing: it's a race bike through and through, just one adapted to excel away from the paved roads. But it's perfectly happy on tarmac too. 
The Grevil F is an update to the existing Grevil model, introduced four years back. It keeps a lot of the form factor of the original, with some important updates.
Consistent geometry
Some of the most important updates are to the geometry, where Pinarello focused on consistency in ride quality across sizes. The end goal was to keep the trail the same across every size, so each size features a different rake (50mm to 55mm) and headtube angle (70.25 degrees to 72.25 degrees). The chainstays, meanwhile, at 422mm to 425mm, are on the shorter end for a bike with as large of tire clearance as it has (but more on that later). Pinarello says this length is the best balance between power transfer and vibration absorption. Additionally, as a gravel bike, the Grevil F features a shorter reach and a taller stack than Pinarello's road bikes.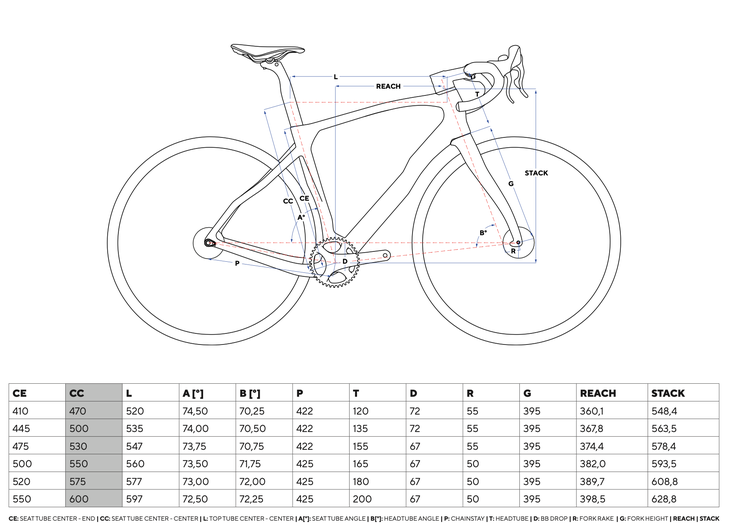 The seat post can also flex more on this latest design, increasing comfort. And at the front of the bike, Pinarello uses its Onda wave shape fork which helps further dampen road vibrations.
Like usual for Pinarello, the bike is asymmetrical at the downtime and bottom bracket between the non-drive and drive sides, accounting for the differing forces applied to the drive side from the drivetrain
As with all of its bikes, Pinarello sources the carbon fiber from a single supplier, Toray, in Japan. Pinarello opted for a T700 carbon fiber for increased impact strength — riding off road makes it a little more likely that you will take a spill here and there, and when you do you don't want it to cost it your $6,500 bike
Aerodynamics matter, especially on gravel
Pinarello has made the Grevil F marginally faster, saving a claimed 5 Watts at 40 kph, through a few features. The Italian brand borrows its TiCR internal cable system from the Dogma road bike, hiding the cables completely except for just before the brake calipers. The result is a very clean bike. The headset and stem will be familiar to anyone who has spent time on a Dogma recently. 
Other aero improvements are to the tube shapes on the bike. The downtube features a flat trailing edge, while the fork, including a flap that shields the brake caliper, is designed to smooth airflow at the front end, keeping turbulence to a minimum as air flows across the rest of the bike. 
They're all small aero improvements, but gravel races are among the longest you can do, so every advantage counts. 
Huge tire clearance
While it has gotten more aerodynamic, it has also gained some more versatility as well. A tweaked geometry, with a more vertical seat tube angle, has allowed Pinarello to squeeze in up to 700x50mm tires. With 650b wheels, the tires can be up to 2.1". Dual dropped chainstays help Pinarello squeeze in this much rubber without resorting to messing with the Q-factor of the cranks or other tricks that can affect fit or performance in a detrimental way.
Weight
Pinarello has never been trying to win the weight war with its bikes, opting for a more holistic approach that factors in things like ride quality and aerodynamics. The Grevil F is certainly not the heaviest frame, though it is not winning accolades from weight weenies either. A size 53 frame weighs a claimed 1,090 grams unpainted. The fork adds 500 grams. A size 53 built with Campagnolo Ekar and Fulcrum Rapid Red 500 wheels weighs a claimed 8.85 kg. 
Drivetrain Compatibility
The Grevil F can run both 1x and 2x groups, mechanical and electronic, with the one exception being Sram 2x mechanical groups. A removable front derailleur hanger lets you keep the bike looking clean and as aero as possible when running 1x groups. 
Storage
Pinarello has designed the Grevil F as a performance bike first and foremost, aimed at speed, not so much at adventuring. Though you can certainly strap bags to it still, it lacks any on-bike bag mounts at the top tube or fork. There are the traditional two bottle cages in the front triangle, as well as a third beneath the down tube. 
Pricing, builds, and availability
Thankfully, this bike's price tag is not as eye-watering as its cousins on the road. A Campagnolo Ekar build is available now for $6,500. The build features a 40T crank with a 9-42T cassette, Fulcrum Rapid Red 500-700cc wheels, Maxxis Rambler 700×40 tires, and a Pinarello saddle and cockpit. 
More builds will follow in the fall, including Sram and Shimano builds. Pricing or other info is not available on those yet. 
Pinarello athletes will be racing on the new Grevil at Unbound Gravel this weekend.