Garmin-Transitions' Tour de France skinsuit: Is it fast? Should it be legal?
Garmin-Transitions riders used a special skin suit in the time trial Saturday that appeared to re-shape the riders' profiles.
Heading out the door? Read this article on the new Outside+ app available now on iOS devices for members! Download the app.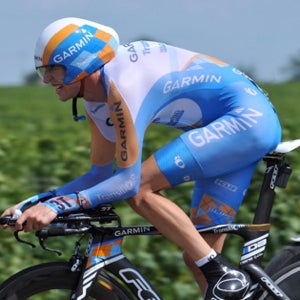 Team Garmin-Transitions riders sported an unusual skinsuit from clothing sponsor Pearl Izumi in Saturday's stage 19 time trial.
The suit, which from some angles makes the rider look like a flying squirrel, with extra flaps of fabric behind the arms, was used by Dave Zabriskie in the Tour of California time trial and David Millar in the Tour de France prologue earlier this month. On Saturday, the majority of the team, including Zabriskie (who was fifth in the stage) and Hesjedal (who moved up to seventh overall following the time trial), used the new suit.
While no race officials have questioned the suit, it wouldn't be a stretch to imagine the suit going afoul of UCI rules banning "non-essential items of clothing or items designed to reduce air resistance."
Pearl Izumi and the team have been mum about the suit. But in a public message on Twitter, one coach – who had not worked with Garmin – said he had tested a similar suit in a wind tunnel and found it was worth a "free 20-plus watts."
Instead of wrapping tightly up the back of a rider's arm and around the torso, the new suit stretches fabric between the upper arm and chest to create what appears to be a more aerodynamic shape behind the arms. It also appears to stretch fabric down and away from the rider's chest. It looks like the riders pulled on suits that were a few sizes too small.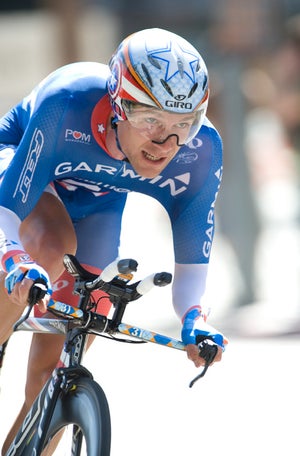 The "wings" of fabric behind the arms are most noticeable when a rider is out of the aerodynamic tuck, while braking or turning with hands on the bullhorns, but are still apparent even in the normal tucked position.
Is it legal?
Where Garmin may run into trouble is the in the application of UCI Rule 1.3.033, which bans fairings. Race commissaires have discretion to rule on what constitutes a fairing (a practice that occasionally leads to inconsistent enforcement). Officials at the Tour of California and Tour de France evidently believe the suit is within the rules.
USA Cycling technical director Shawn Farrell said he had not yet seen the suit, but said, "I know the commissaire that was in charge at the Tour of California is very rigorous in his application of UCI rules, so if he did not see anything wrong with it, then I would not deign to disagree with him."